Turku Music Centre
The new Turku Music Centre on the banks of the Aura River will combine world-class acoustics with innovative design and functionalities. The collaboration with the Turku Philharmonic Orchestra will ultimately convey an immersion into music through a tailored-made ideal soundscape in a low carbon footprint and energy efficiency building.
Projectgegevens
Nieuwbouw Turku Music Centre www.turku.fi
Locatie Turku, Finland.
Bouwkosten 84 million €.
Periode Competition: 2021. Design: 2021-2022. Construction: 2023-2025. Opening: End of 2025.
Opdrachtgever City of Turku, Owner member of Alliance.
Architect(en) PES-Arkkitehdit Ltd, Helsinki www.pesark.com Architect member of Alliance • WSP Finland Oy, Helsinki www.wsp.com Engineering member of Alliance.
Contractant(en) Hartela Länsi-Suomi Oy, Finland www.hartela.fi Contractor member of Alliance.
Capaciteit Two auditoriums: a 1 300-seat concert hall optimized for symphony orchestra concerts, also housing operas and amplified music events, and a 300-seat multipurpose hall for performances, events and orchestra rehearsals.
Gebruik In addition to housing the Turku Philharmonic Orchestra, the centre will accommodate large orchestral ensembles together with choir and organ, amplified music performances, rehearsals and recordings included, congresses or other functions.
Werkzaamheden Full-service acoustics consulting for the concert hall and ancillary spaces, including room acoustics design, acoustical shaping and optimisation of the concert hall, tuning of the acoustics for opening, sound isolation design and services noise control, in collaboration with Akukon Oy.
Adviseur(s) Yann Jurkiewicz, Vincent Berrier, Eckhard Kahle, Kahle Acoustics • Henrik Möller, Akukon Finland Oy.
1/7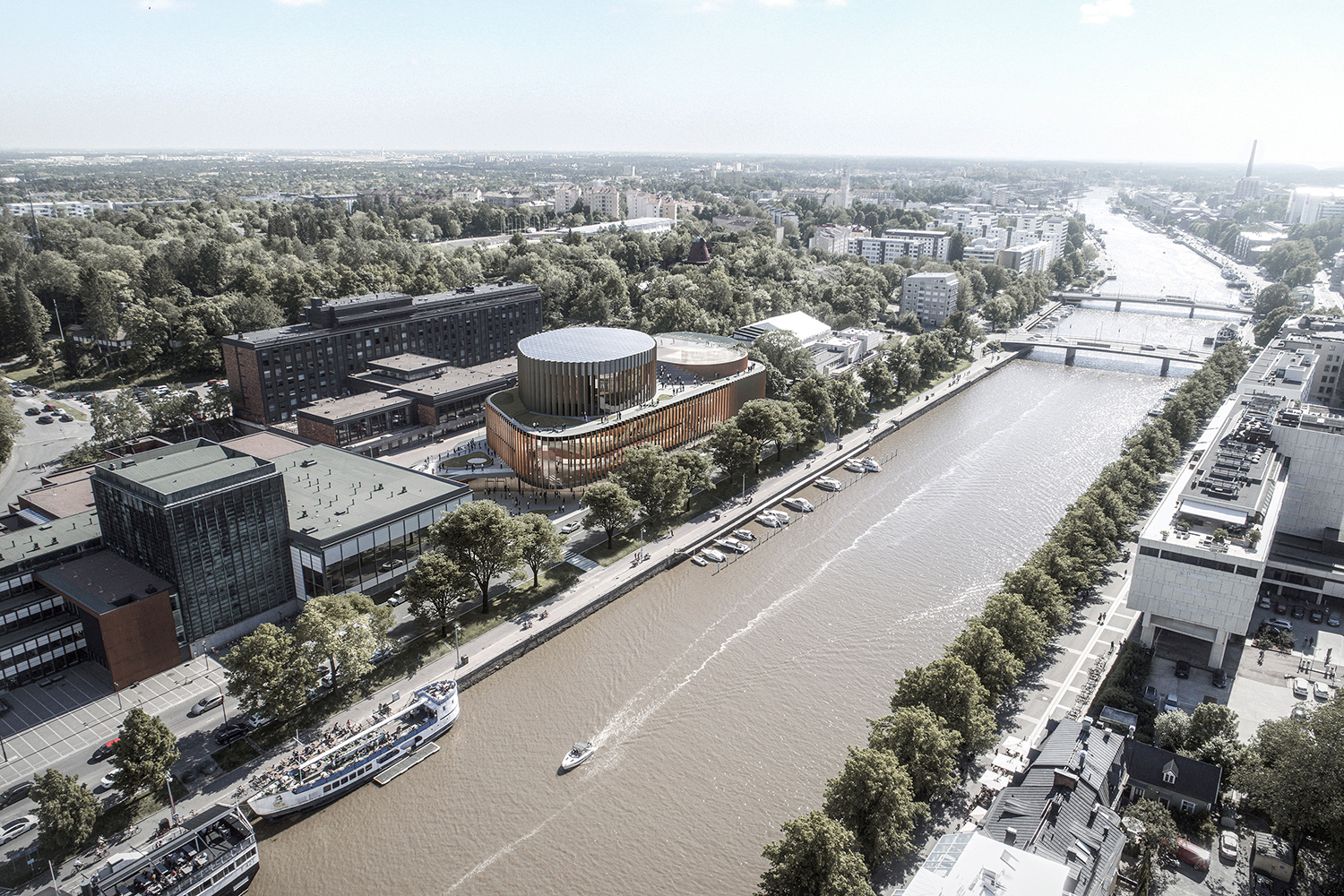 Aerial view of the Turku music Centre by the Aura riverbanks.

Foto © PES-Architects
2/7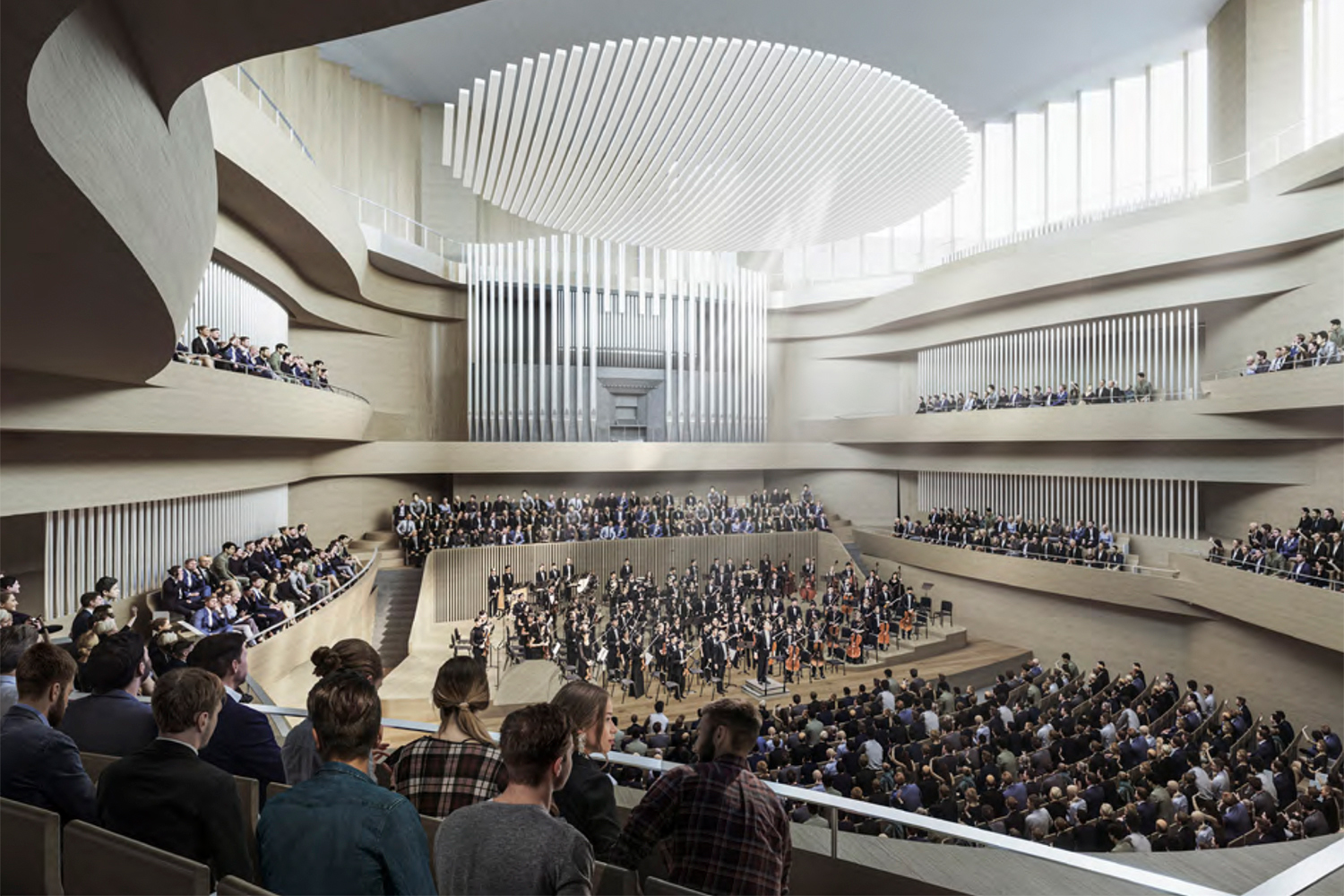 The 1 300-seat concert hall for acoustic orchestral music with an orchestra pit that can accommodate opera performances will offer a warm wood atmosphere and a natural light through clerestory windows that can be blacked out when needed. Its choir balcony, at the back of the stage and in front of the pipe organ, can be used as audience seating.

Foto © PES-Architects
3/7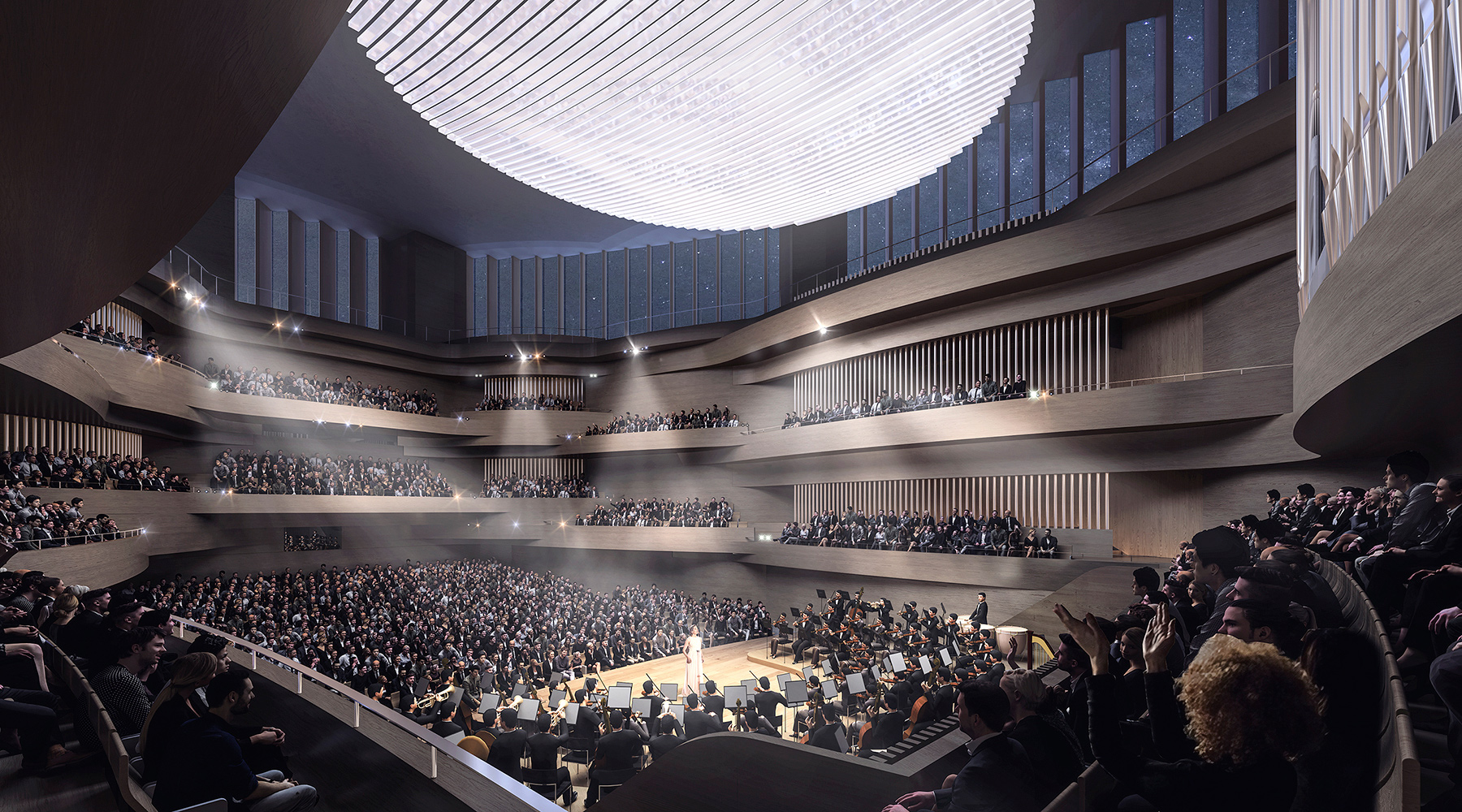 The 1 300-seat main concert hall takes the form of a modified shoebox, with curved balconies that wrap around the stalls and stage to create an immersive space where the audience and orchestra are enveloped by music.

Foto © PES-Architects
4/7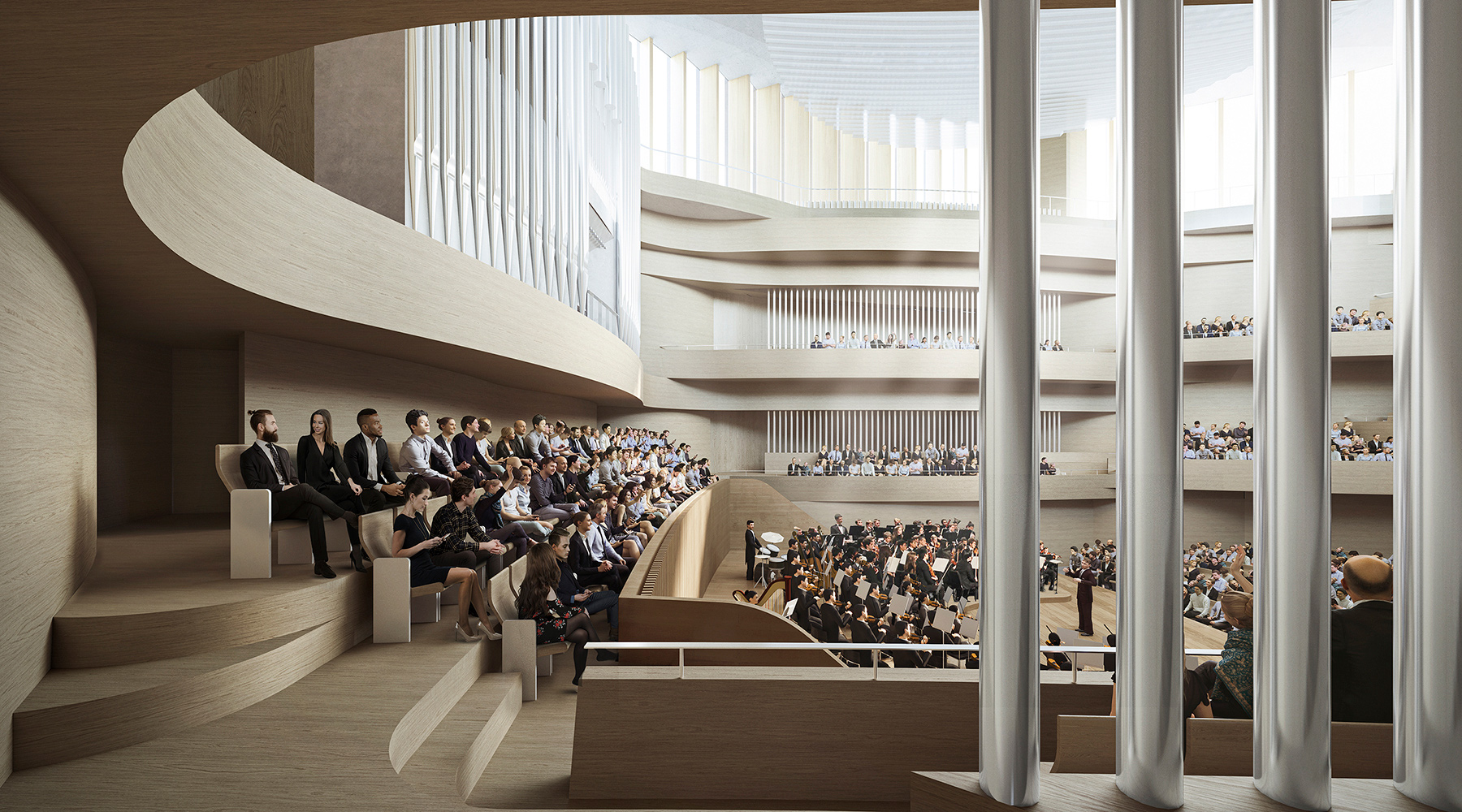 View from the side balcony onto the stage, the choir balcony and the pipe organ.

Foto © PES-Architects
5/7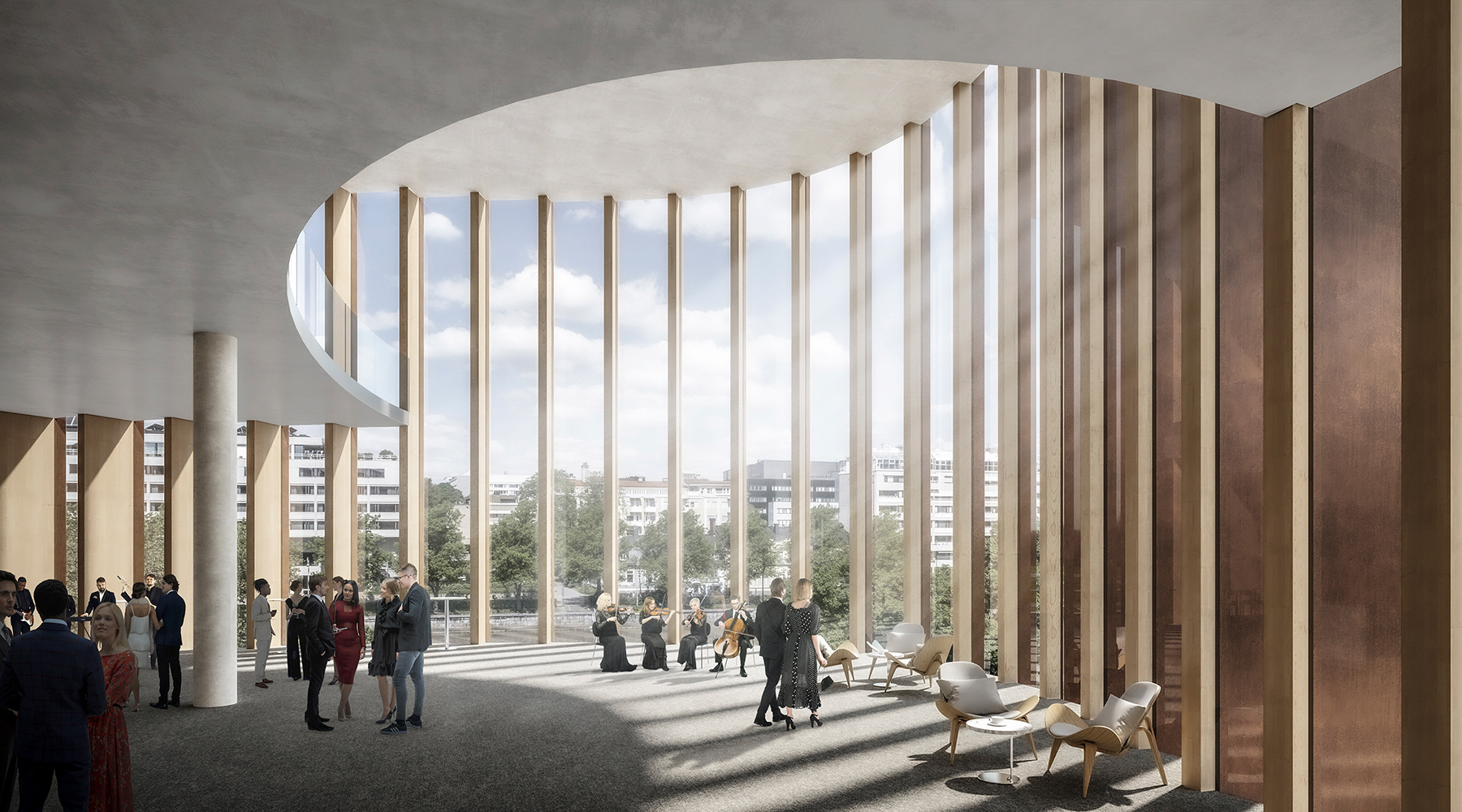 First floor lobby with its vertical openings in the copper-clad timber and glass façade offer a view on the banks of the Aura river which border the Turku Music Centre.

Foto © PES-Architects
6/7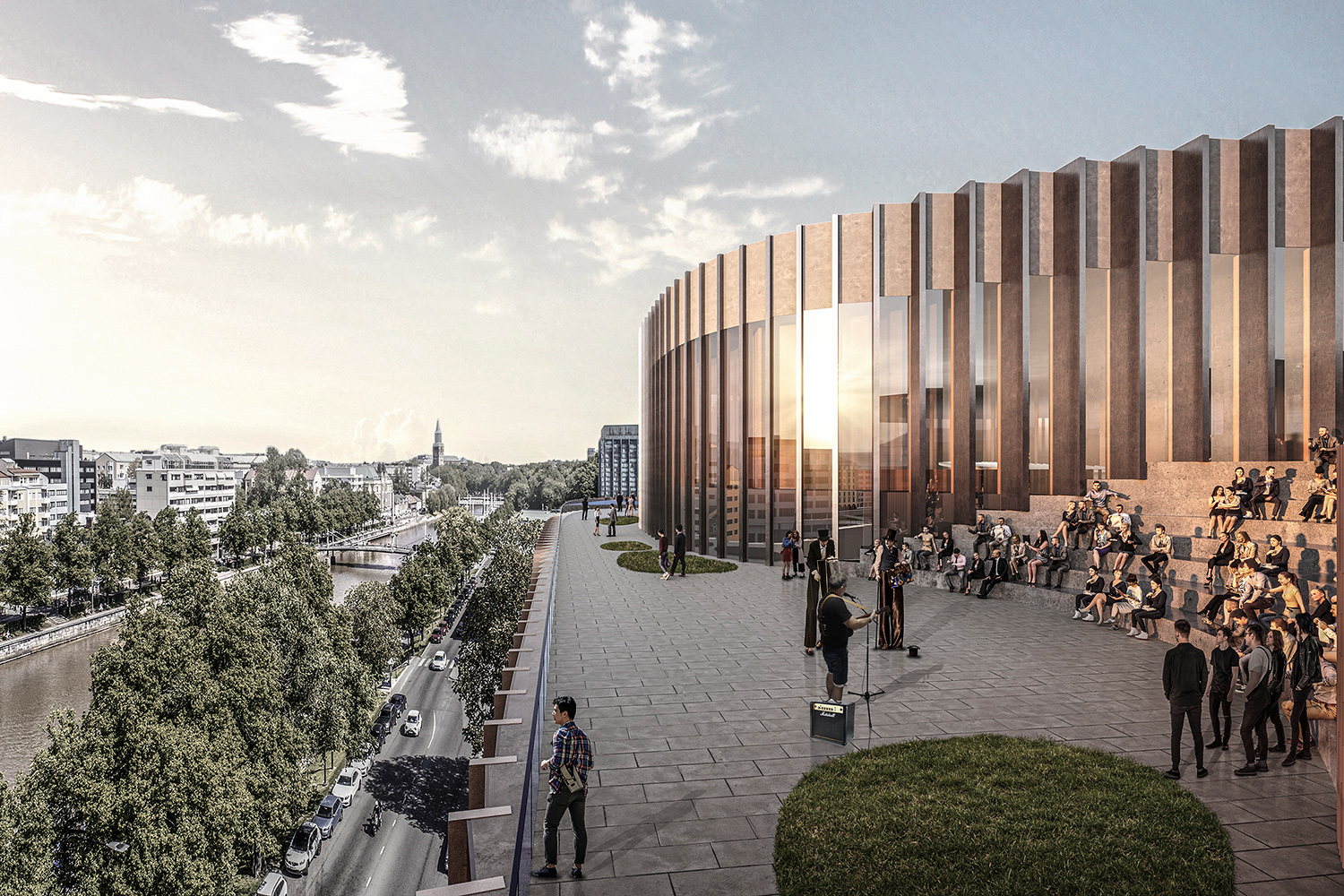 Outdoor esplanade with stepped audience seating.

Foto © PES-Architects
7/7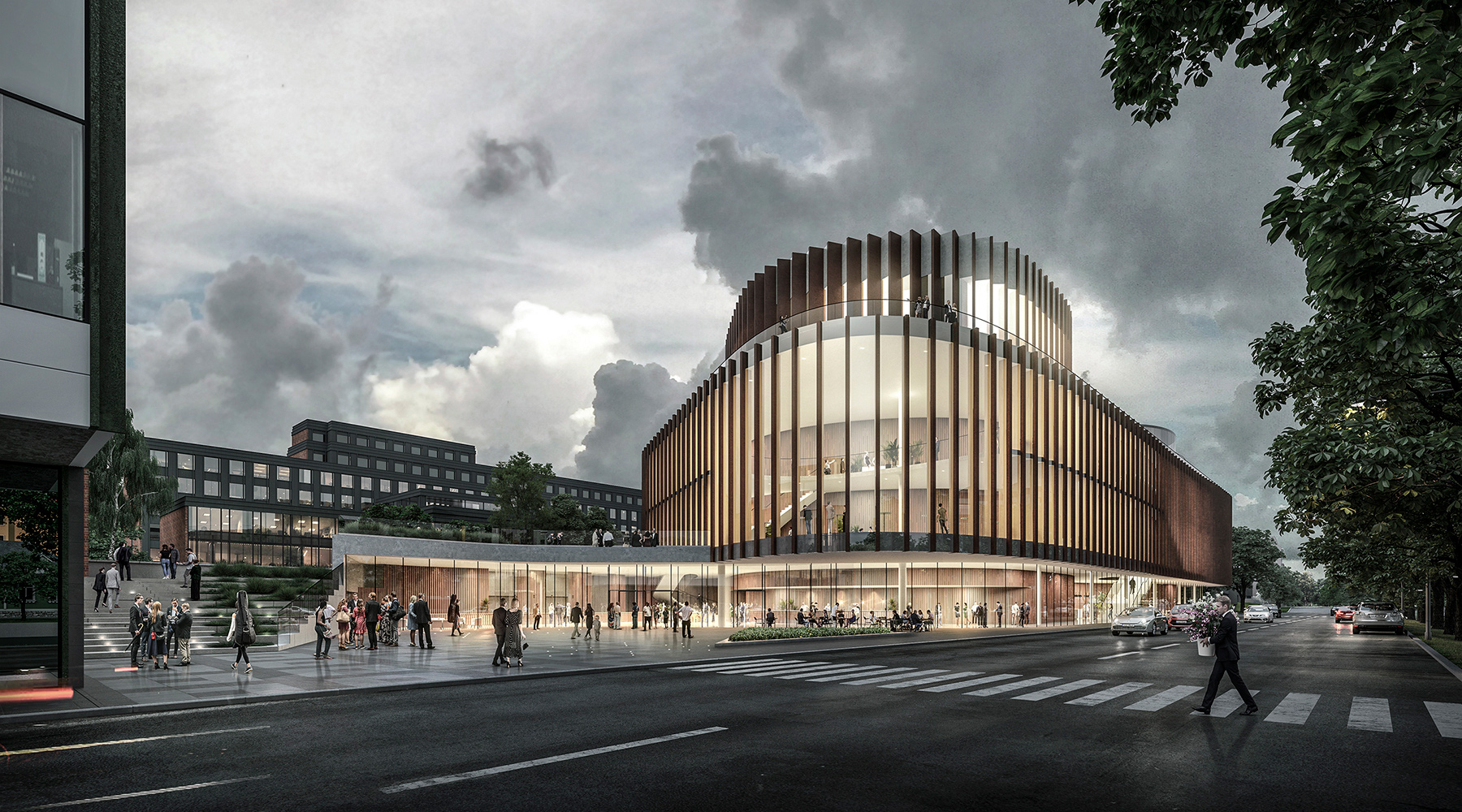 The future Turku Music Centre with its soft curving forms and its copper façade cladding will be located on Independence Square between the City Theatre and the Wäinö Aaltonen Museum.

Foto © PES-Architects