Hermitage Amsterdam
Kerkzaal — or church hall — is part of the Unesco World Heritage's Hermitage Amsterdam museum. This 160-seat capacity hall is alternatively used as an exhibition and/or concert hall. Kahle Acoustics was asked to imagine new flexible acoustic solutions for concerts by the Amsterdam Sinfonietta ensemble in the Kerkzaal, a long, narrow and overly reverberating room. Landmarked building.
Information Sheet
Tuning/Intervention Hermitage Amsterdam hermitage.nl
Location Amsterdam, Netherlands. Landmarked building.
Time Frame Investigation: 2009-2010. Live tests: May 2011. Opening: September 2012.
Client Stichting Instandhouding Amstelhof-Neerlandia cum annexis (STIANCA), Netherlands.
Venue Kerkzaal or church hall, contains a maximum capacity of 160 seats. Exhibitions, receptions, conferences, and concerts from the Amsterdam Sinfonietta Ensemble are held in here.
Acoustics Consulting Purpose A request to improve the church hall acoustics especially during rehearsals and performances of the Amsterdam Sinfonietta ensemble.
Services Kahle Acoustics designed the final acoustic solutions for the Ensemble's performances in the church hall. Acoustic panels were positioned at different heights around the stage in order to reduce the reverberation time both during rehearsals and concerts, and to balance the sound energy level in the hall.
Consultants Cees Mulder, Thomas Wulfrank, Eckhard Kahle, Kahle Acoustics.
1/7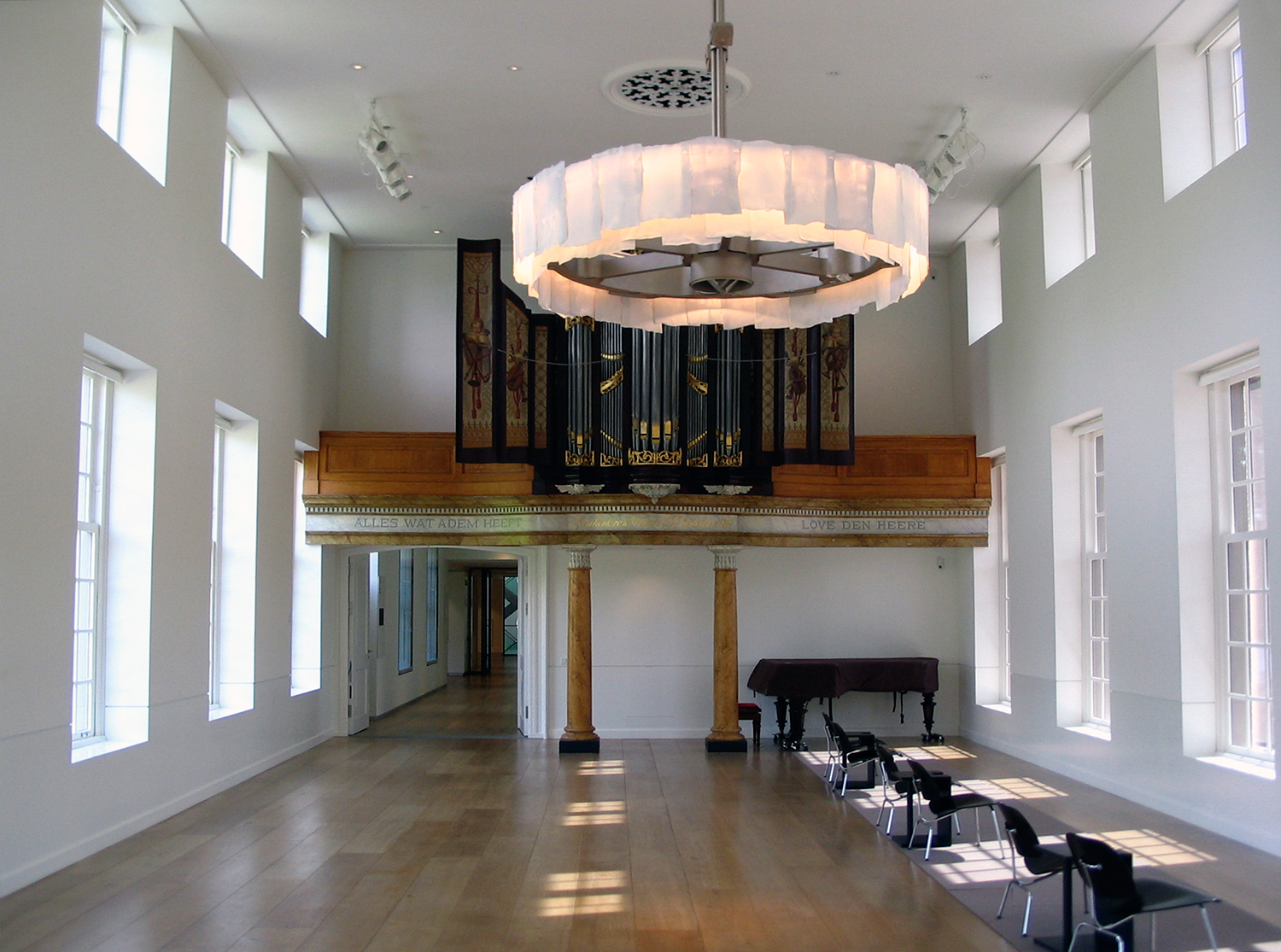 1/ The empty Kerkzaal. When concerts occur a podium for the musicians is set up in front of the organ's balcony.

Photo © Kahle Acoustics
2/7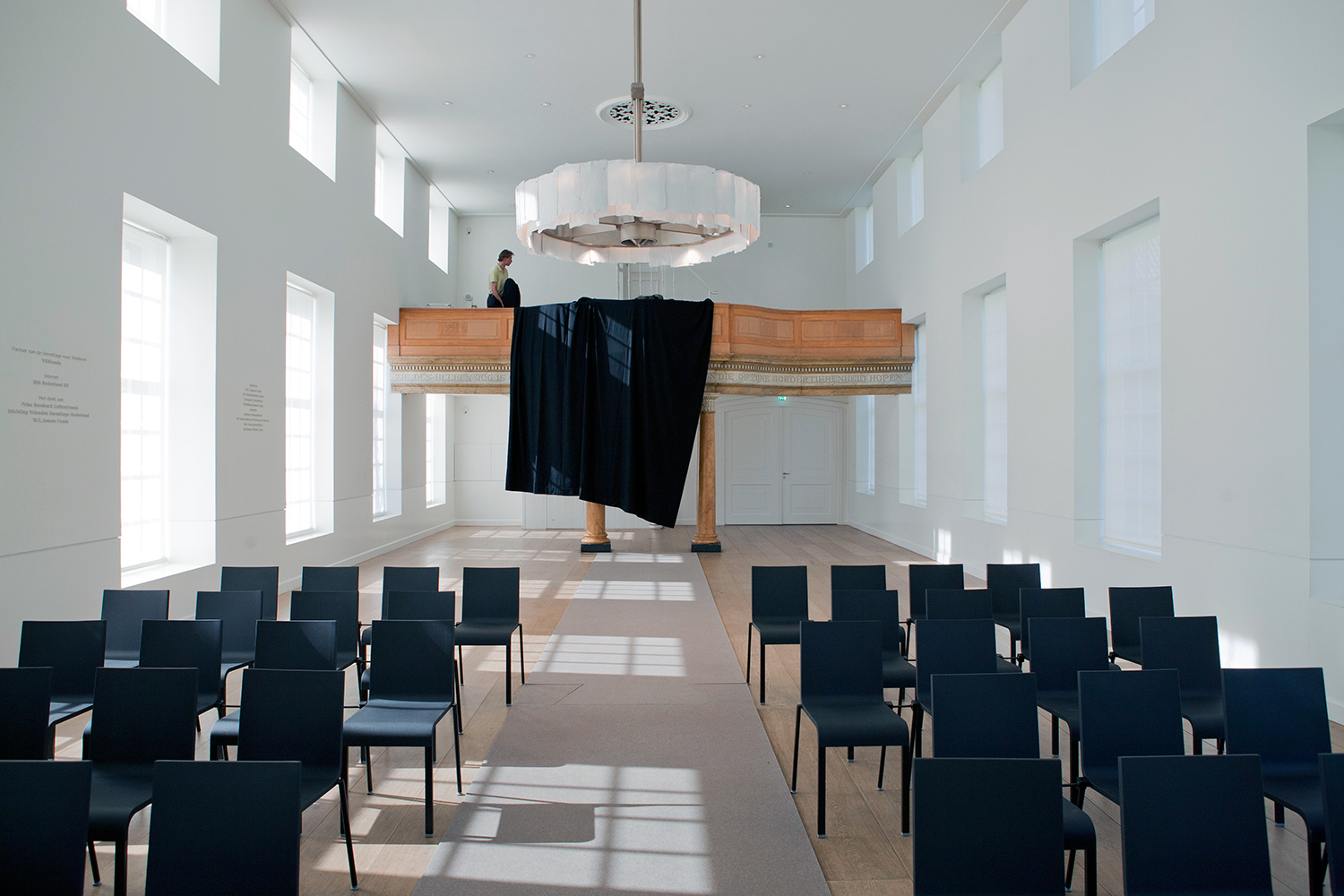 2/ As seen from the stage, temporary installation of a carpet in the central aisle, chairs as well as an acoustic curtain on the opposite balcony, in order to measure the influence on the excessive resonance of the space.

Photo © Kahle Acoustics
3/7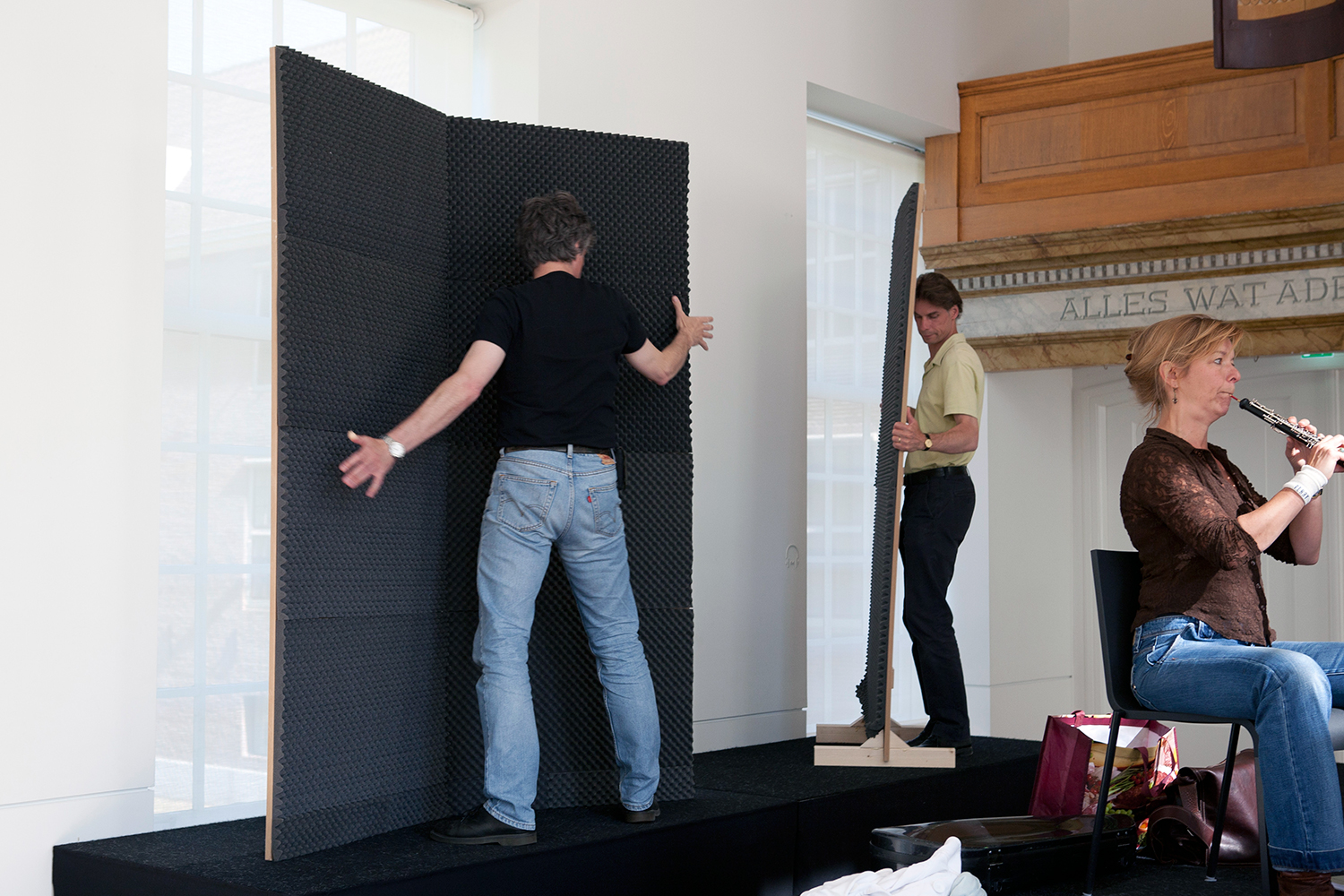 3/ Acoustic tests during rehearsals with an installation, on stage, of lateral acoustic panels.

Photo © Kahle Acoustics
4/7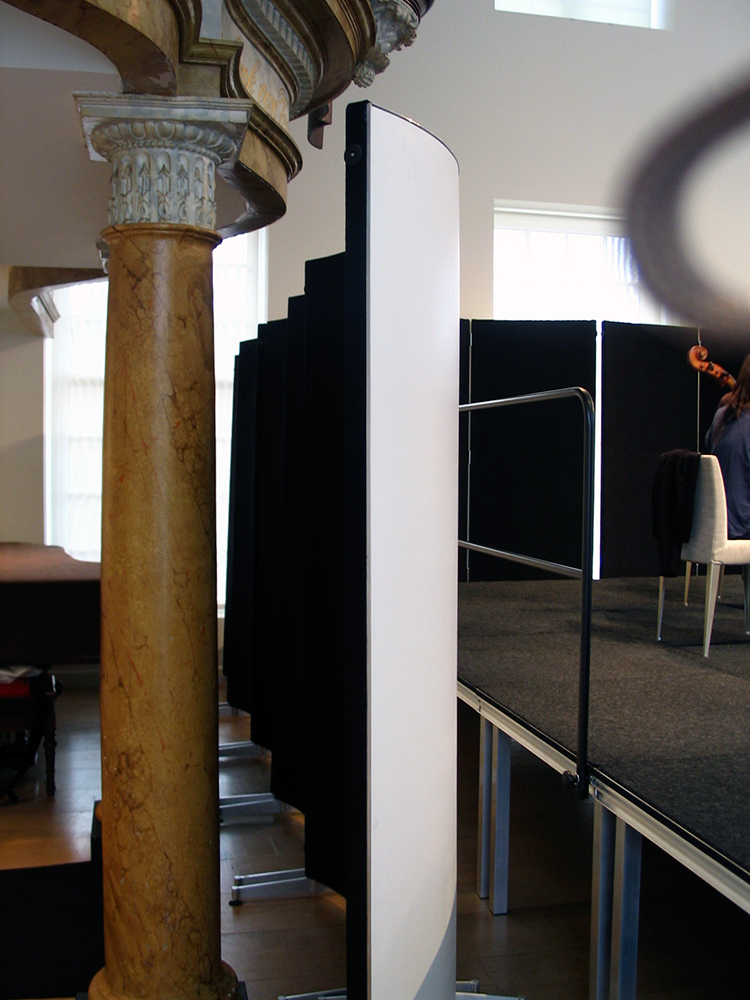 4/ Tests with curved acoustic panels added behind the stage (view in profile) to support the lateral panels' role.

Photo © Kahle AcousticsA
5/7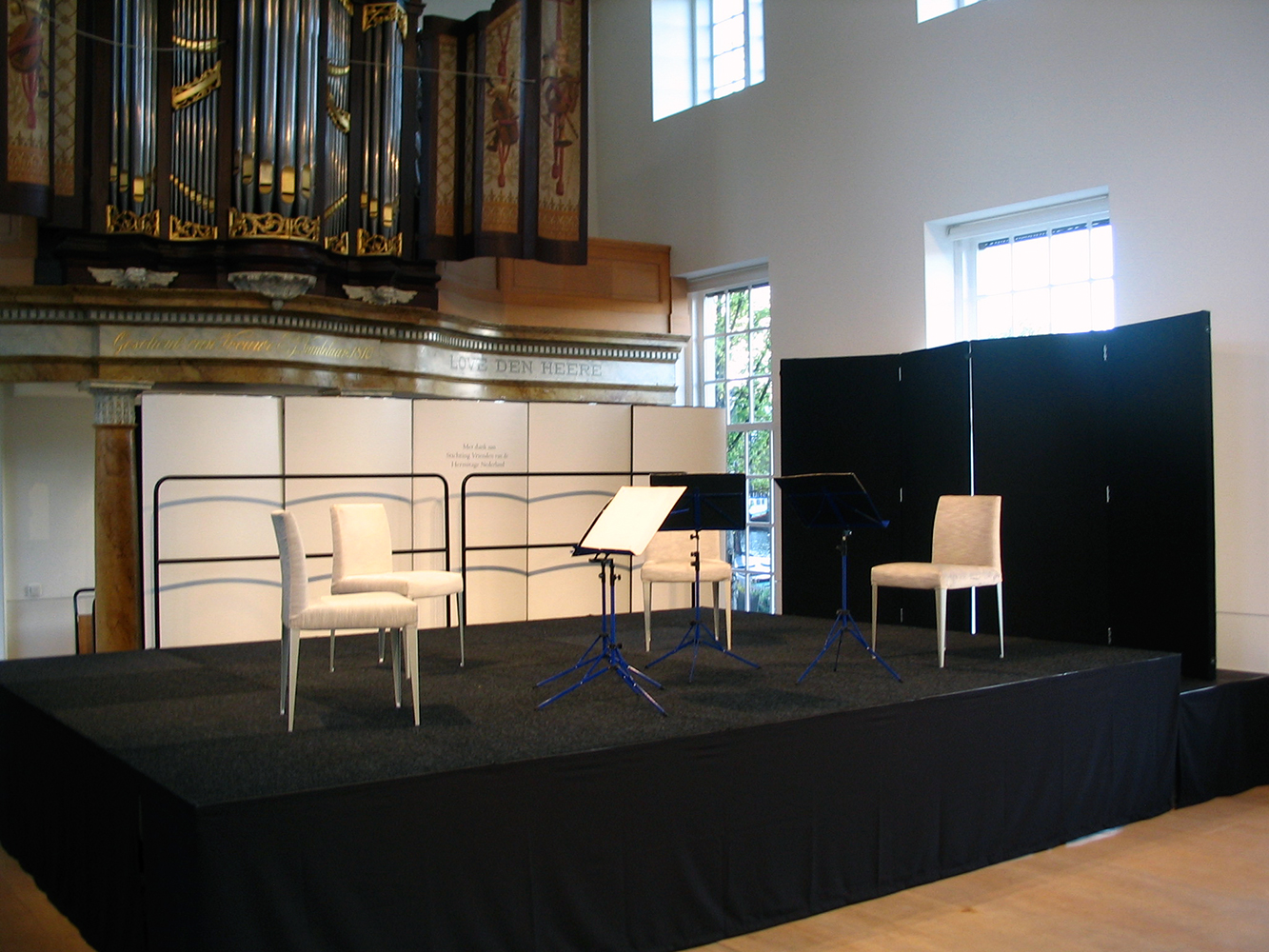 5/ Podium with curved acoustic panels behind the stage and with Accordion style panels on each side of the stage.

Photo © Kahle Acoustics
6/7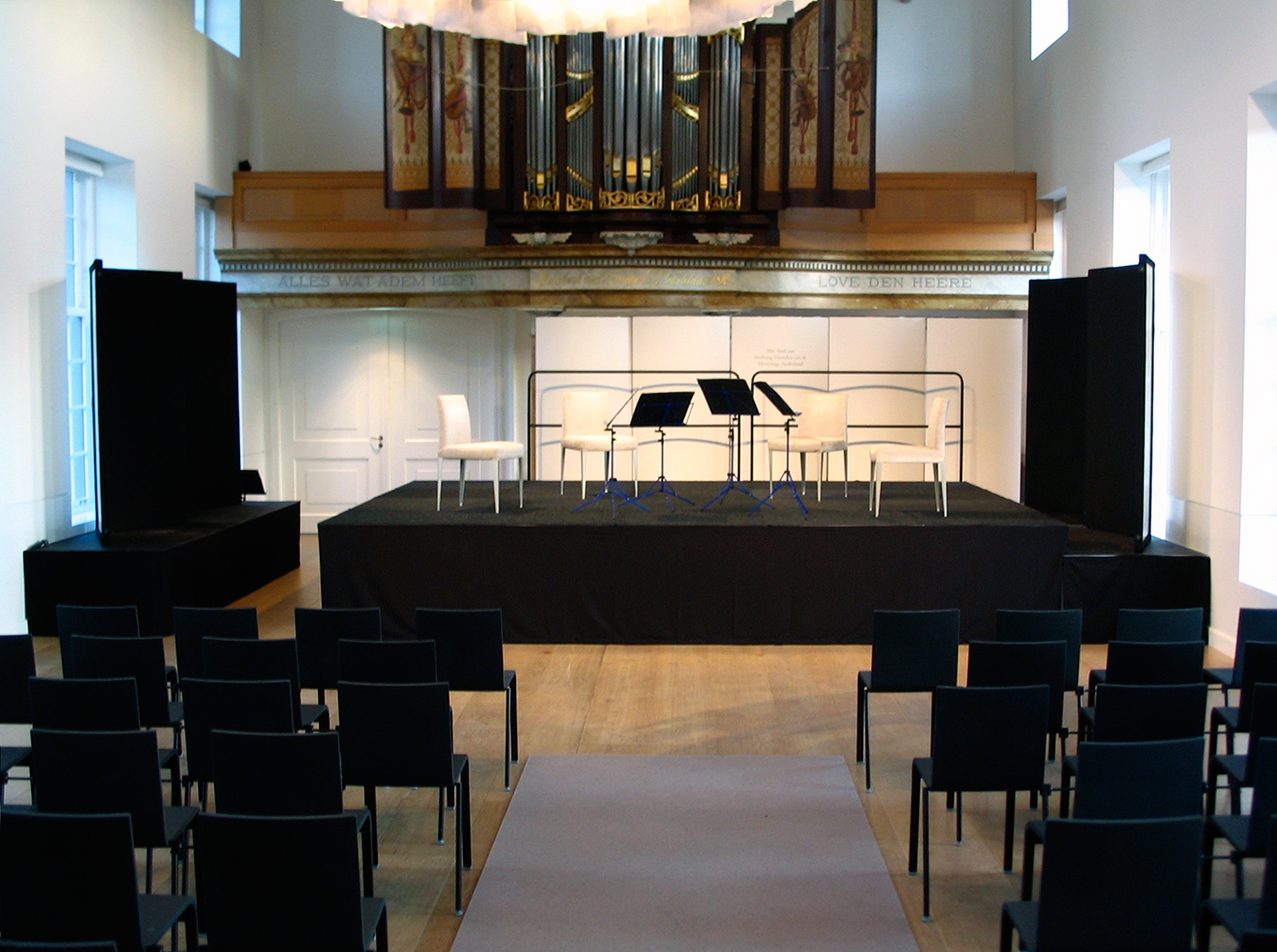 6/ The existing sunblinds were replaced by acoustic ones very similar in design. The use of acoustic sunblinds (sunblinds made of an acoustic fabric) significantly reduces the reverberation time of the Kerkzaal.

Photo © Kahle Acoustics
7/7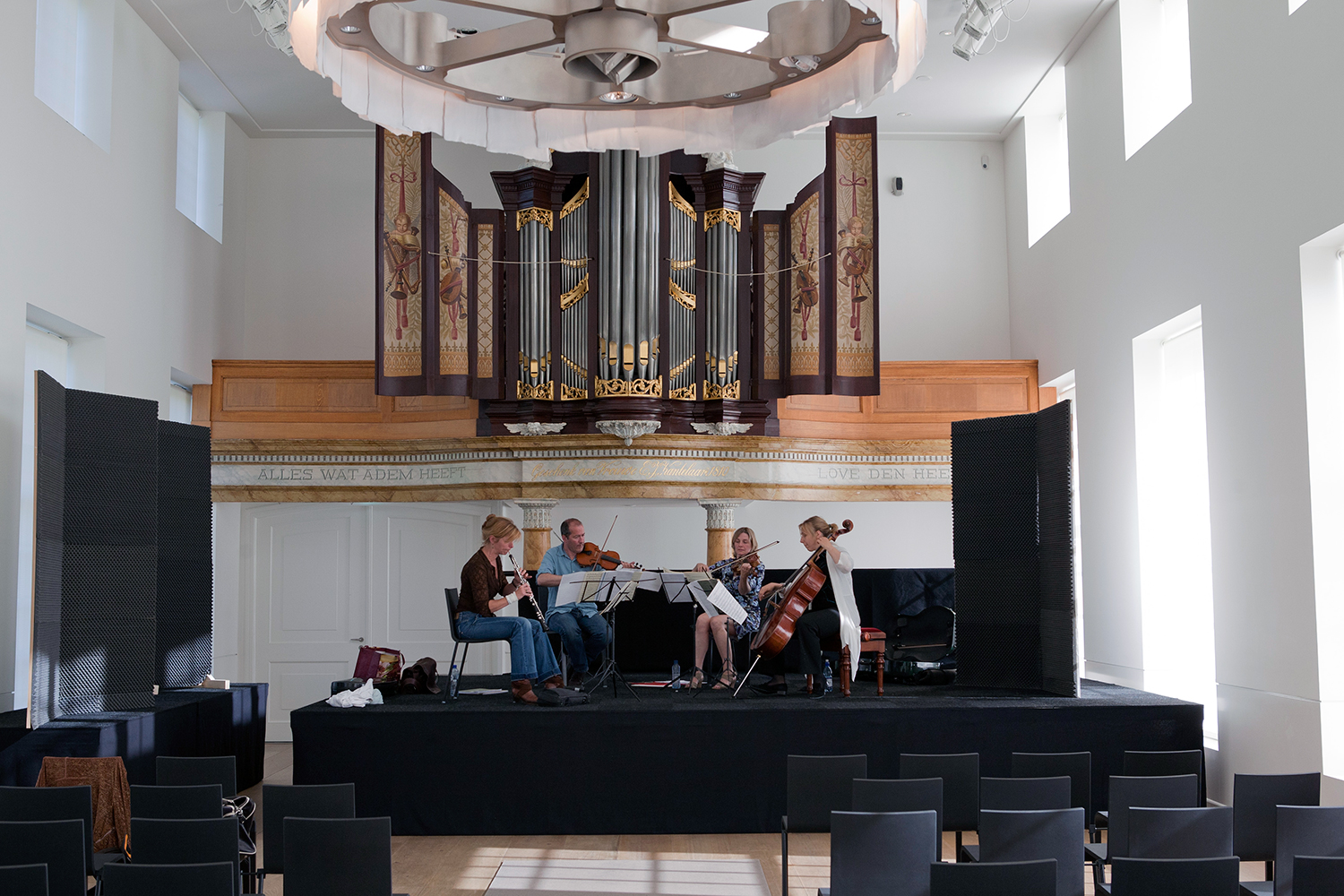 7/ Final configuration chosen for the performance by Amsterdam Sinfonietta, with movable acoustic panels both to the sides and at the rear of the stage.

Photo © Kahle Acoustics