Nationale Opera & Ballet, Amsterdam
Due to production needs for the 2020-2021 programming season at the Amsterdam Nationale Opera & Ballet, Kahle Acoustics was invited by Décor Atelier to design an orchestra shell for the 1 600-seat auditorium, one of the largest in The Netherlands. The Amsterdam Nationale Opera & Ballet is "the" home to the Dutch National Opera and the Dutch National Ballet. More than just a host, the theatre also produces a diverse programme of music, dance, opera where nearly everything is made-in-house — from the music and dance to the scenery, costumes, wigs, special effects and props.
Information Sheet
Tuning/Intervention Nationale Opera & Ballet www.operaballet.nl
Location Amsterdam, Netherlands.
Time Frame Winter 2020-2021.
Client Amsterdam Nationale Opera & Ballet Foundation, Amsterdam.
Venues The 1 600-seat auditorium is a unique location for opera and ballet performances, and also for conferences, presentations, awards, shows and premieres. The stage can be equipped with a large projection screen. Auditorium floor area 2 500 m².
Services The Amsterdam Nationale Opera & Ballet (NO&B's) had been longing for an orchestra shell for semi-scenic performances. Due to the pandemic, the need was made more prescient as orchestras could no longer perform in the pit. Productions were adapted to enable orchestras to perform on stage, and Kahle Acoustics was invited to help and design an orchestra shell for this purpose. The shell's purpose is to better on-stage communication and cohesion of the orchestral sections, and to support the orchestra sound projection towards the listeners, would any audience be allowed in the auditorium. The requirement was for the shell to be modular, in order to accommodate a wide range of production sets and also for storage purposes. Through the use of 3D-modeling and ray tracing, an architectural model was created by Kahle Acoustics, of which a production model was created by NO&B's workshop: Décor Atelier. Wooden elements (2.4 m by 1.15 m) were manufactured so as to fit on NO&B's rolling wagons, and for these wagons to fit into sea containers.
Kahle Acoustics then supported several opera productions, offering a specific tailored layout of the orchestra shell so as to fit appropriately into the theatrical scenery production. Kahle Acoustics also advised on orchestra seating arrangements and choir set-ups. And during rehearsals fine tuning was also executed by Kahle Acoustics in close collaboration with the production and musical staff.
Consultants Cees Mulder, Kahle Acoustics.
1/8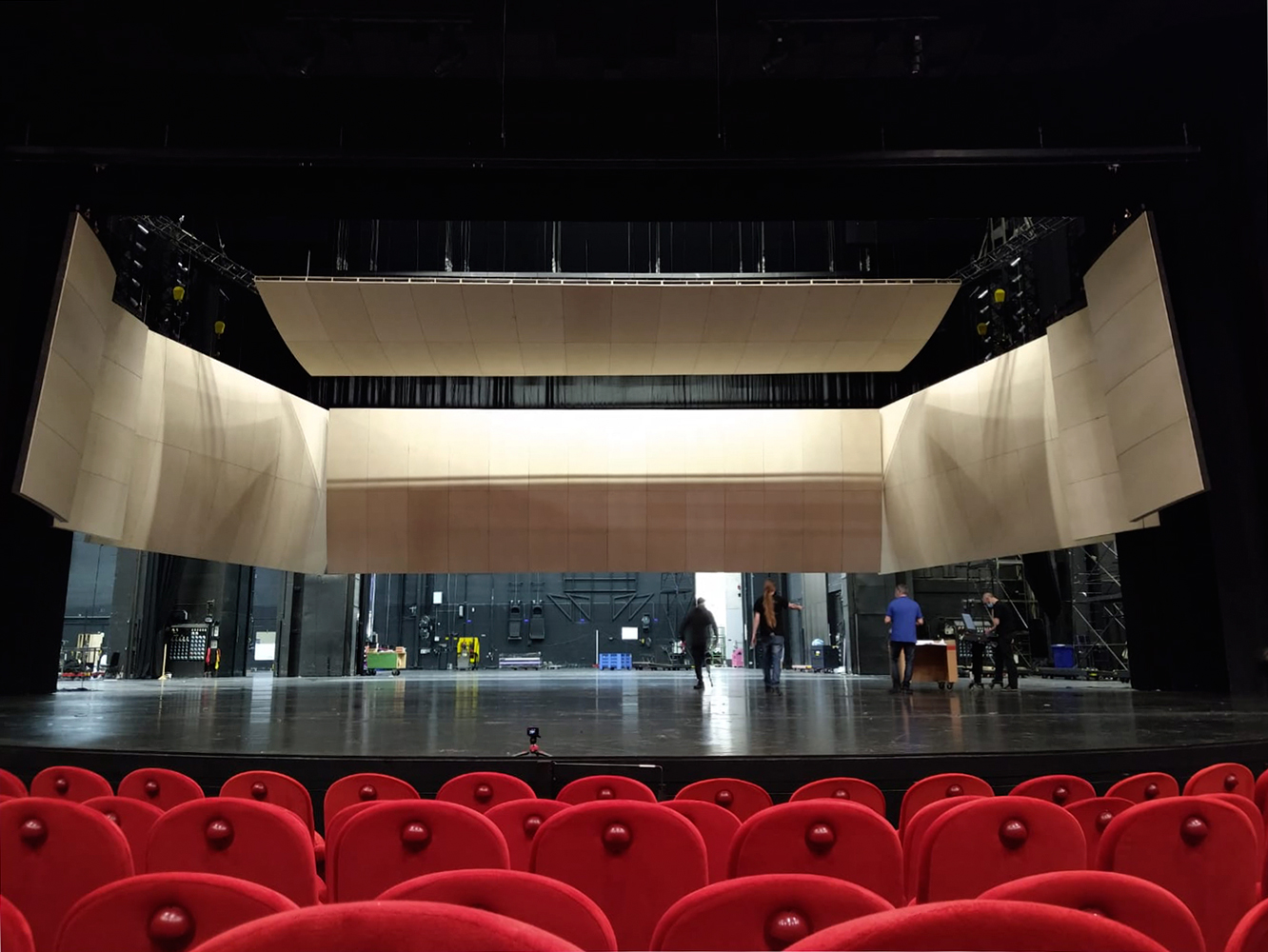 1 / Test with the acoustic orchestra shell, designed and manufactured by Décor Atelier, in collaboration with Kahle Acoustics, on the stage of the 1 600-seat auditorium of the Amsterdam Nationale Opera & Ballet.

Photo &copy Kahle Acoustics
2/8
2/ Rehearsal and audio recording of "Springtime", with the acoustic shell on stage. The modular shell is made out of small wooden curved panels easy to adapt to specific scenery set-ups, and also easy to store and to transport.

Photo &copy Kahle Acoustics
3/8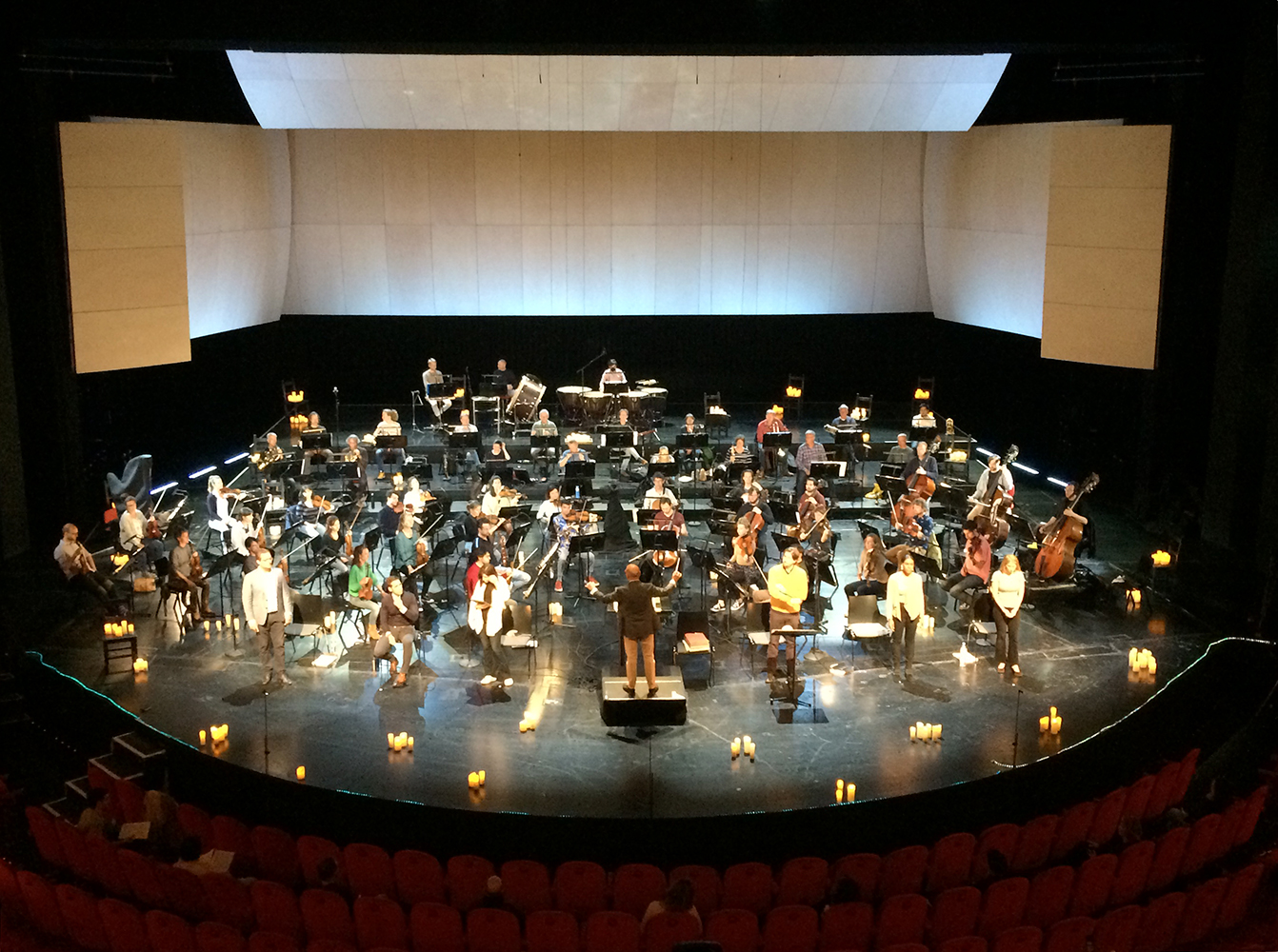 3/ Audio and Video streaming performance of Donizetti's Queens with the acoustic shell on stage and the choir in the parterre. The modular orchestra shell is made out of small elements that enable to adapt the shell to specific scenery set-ups and to ease storage and transport.

Photo &copy Kahle Acoustics
4/8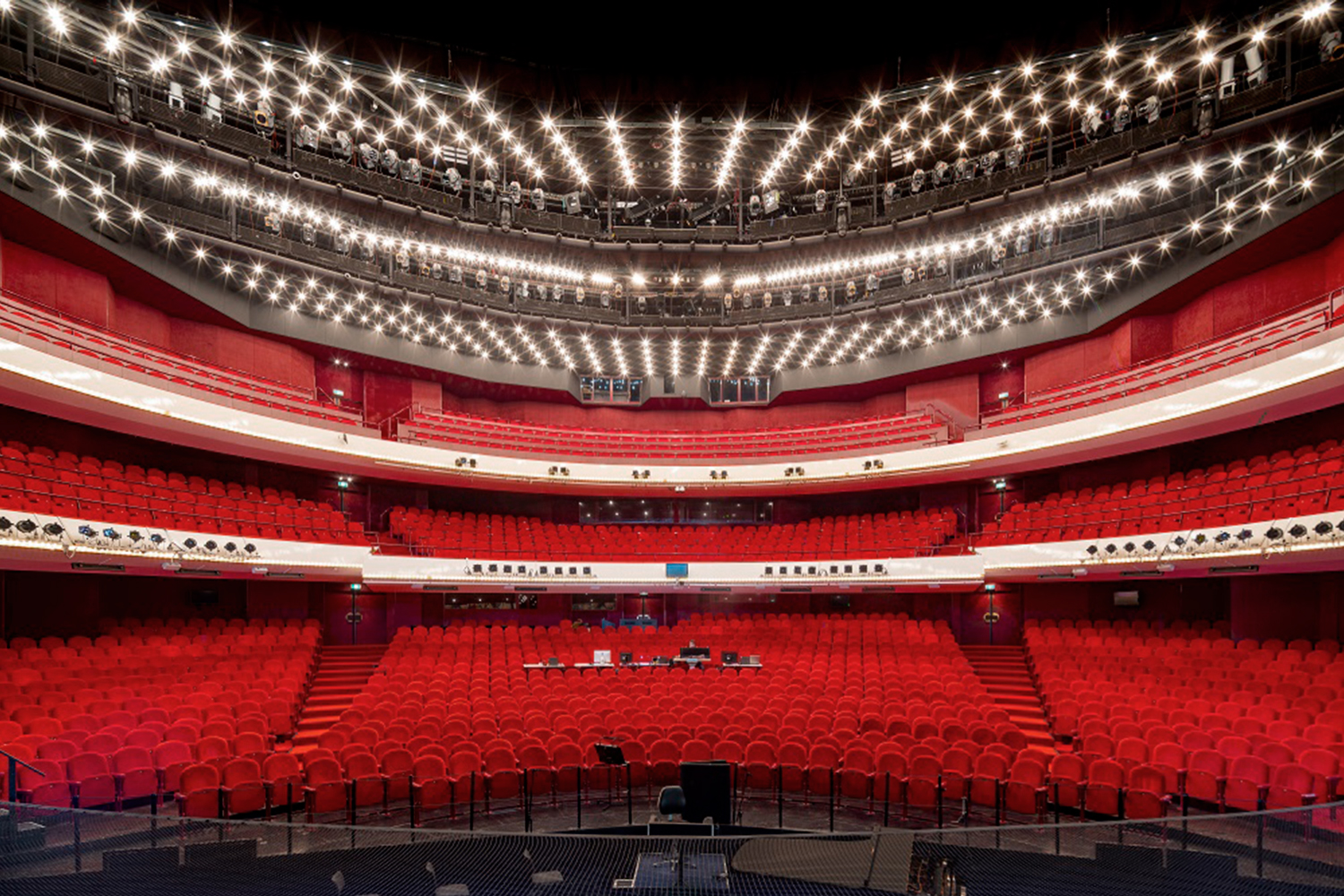 4/ The 1 600 Auditorium, as seen from the stage, with its starry ceiling, an artwork by Peter Struycken comprising 500 computer-controlled lights.

Photo &copy Nationale Opera & Ballet
5/8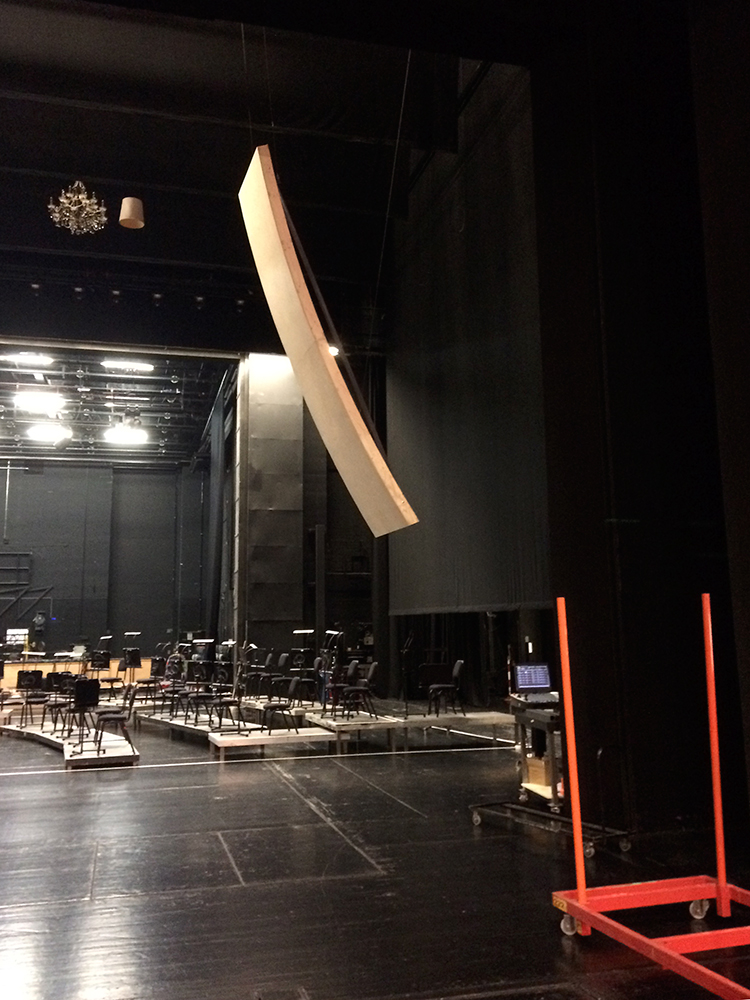 5/ One isolated panel of the orchestra shell...

Photo &copy Kahle Acoustics
6/8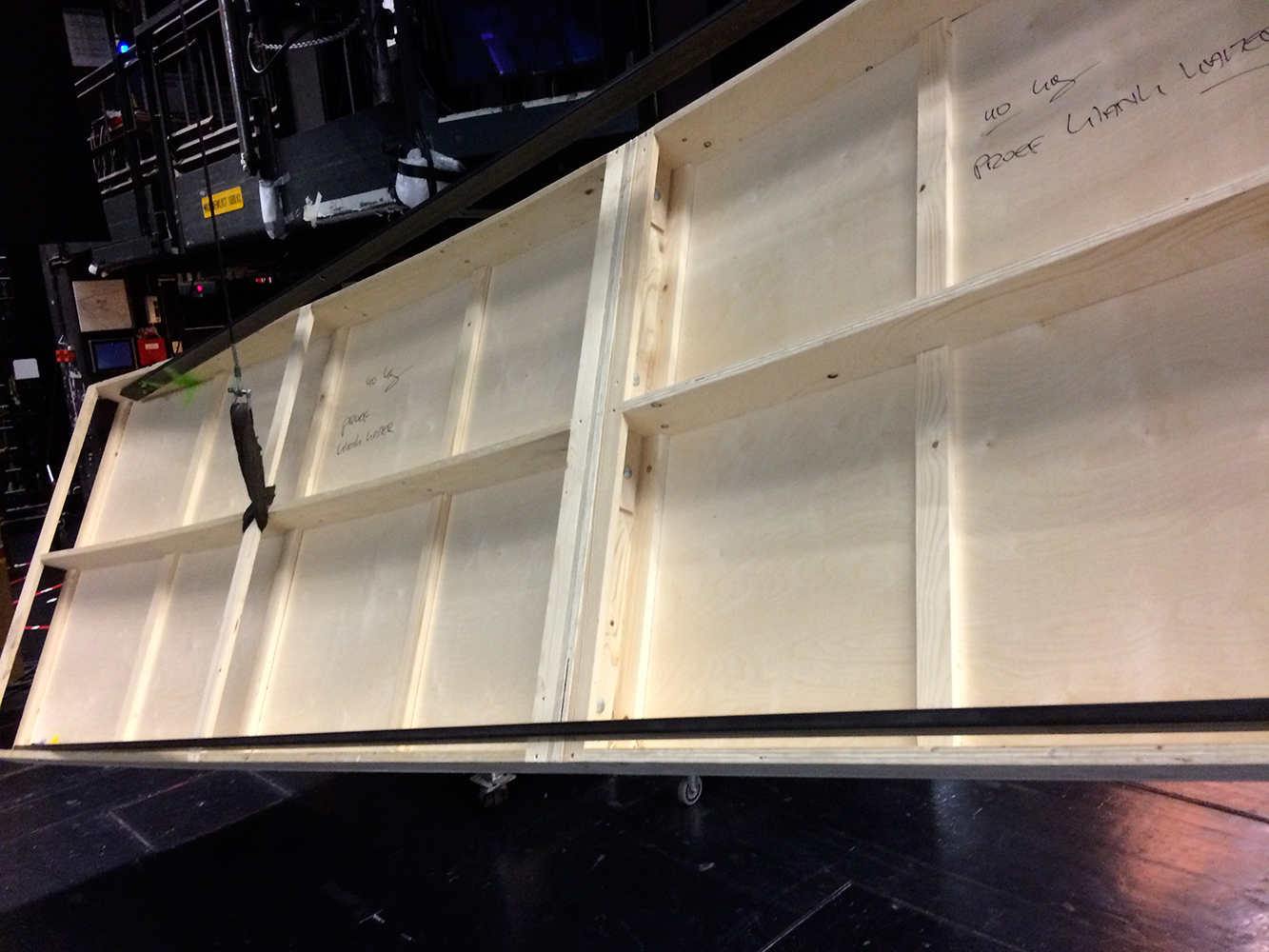 6/ ... which can be assembled according to the production set's needs.

Photo &copy Kahle Acoustics
7/8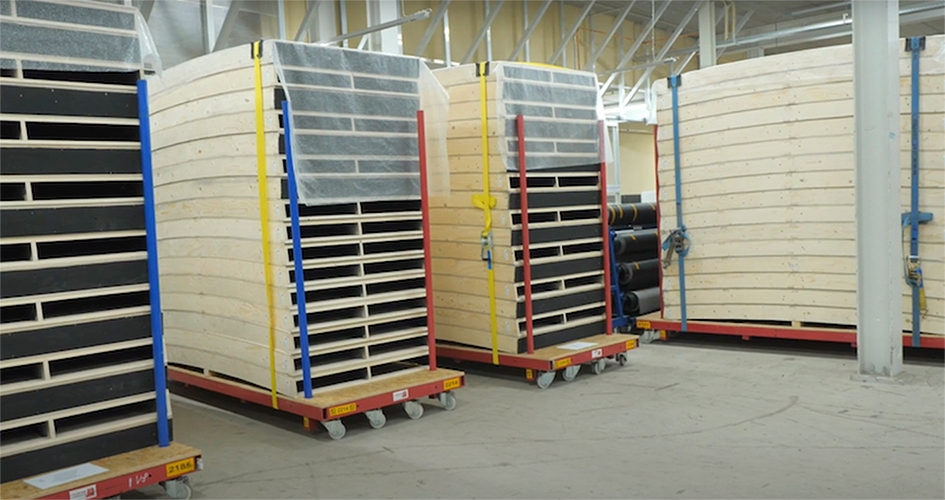 7/ Piled-up wood panel pieces (2.4 m by 1.15 m) that make the orchestra shell, here on their rolling wagons to ease their storage and transport.

Photo &copy Kahle Acoustics
8/8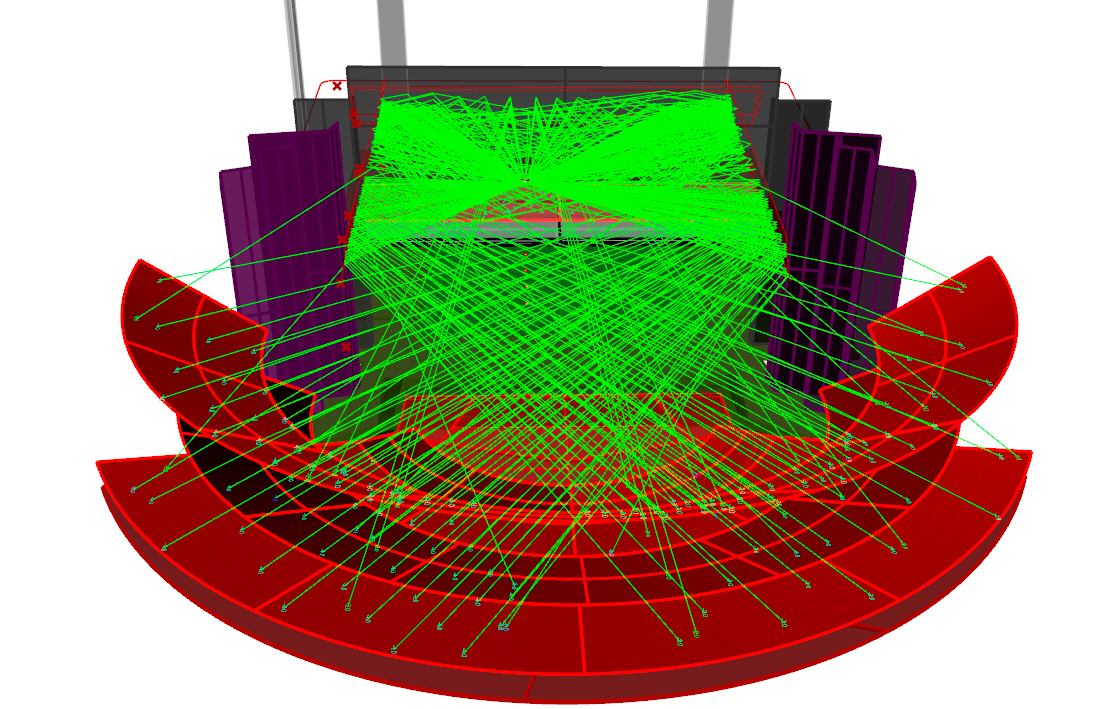 8/ Any configuration asked for by the Nationale Opera & Ballet production team can be quickly tested and optimized through the use of Kahle Acoustics' home-made visual programming and specific ray tracing software. Shown here is the set-up for Oedipus Rex.

Photo &copy Kahle Acoustics