Nationaltheater Mannheim
In 1957 the Nationaltheater was the first new building to be constructed in Mannheim after the end of the Second World War. With over 350 000 spectators per season in each of the two main venues — the 1 156-seat opera and 639-seat theatre — the NTM is one of the most important cultural institutions in the city. Listed building.
This striking modernist building is now a cultural monument and over five years will be completely renovated and expanded. Both venues will be fully refurbished while enhancing the room acoustics and simultaneously preserving their historic character. A large orchestra rehearsal hall, choir rehearsal hall, recording studio and multiple music practice rooms will be added in the new 3 500 m² basement extension. Kahle Acoustics is providing specialist room acoustics consultancy for the musical and performance spaces, in collaboration with the main project acousticians EGS-Plan (Stuttgart).
Information Sheet
Renovation/Transformation Nationaltheater Mannheim nationaltheater-mannheim.de
Location Mannheim, Germany. Listed building.
Project Cost 300 million €.
Time Frame Design: 2021-2023. Construction: 2022-2027. Opening: Summer 2027.
Owner NTM, City of Mannheim.
Architect(s) Schmucker und Partner Planungsgesellschaft mbh, Mannheim schmucker-partner.de
Theatre Planner(s) Skena Planungsgesellschaft, Heidelberg skena.de
Seat Count Opera house with 1 156 seats, theatre with 639 seats, orchestra rehearsal hall, choir rehearsal room, recording studio, individual and ensemble rehearsal rooms, multiple foyers and cafes. Gross floor area existing building: 32 000 m². Gross floor area new build: 3 500 m².
Uses Opera, theatre, orchestra and chamber music concerts, dance, orchestra, choir and rehearsal, recording.
Services Kahle Acoustics provides specialist room acoustics design and planning for all musical and performance spaces, in collaboration with EGS-Plan (Stuttgart) as the main acousticians for the project.
Team Evan Green, Eckhard Kahle, Kahle Acoustics • Benjamin Hanisch, EGS-Plan.
1/9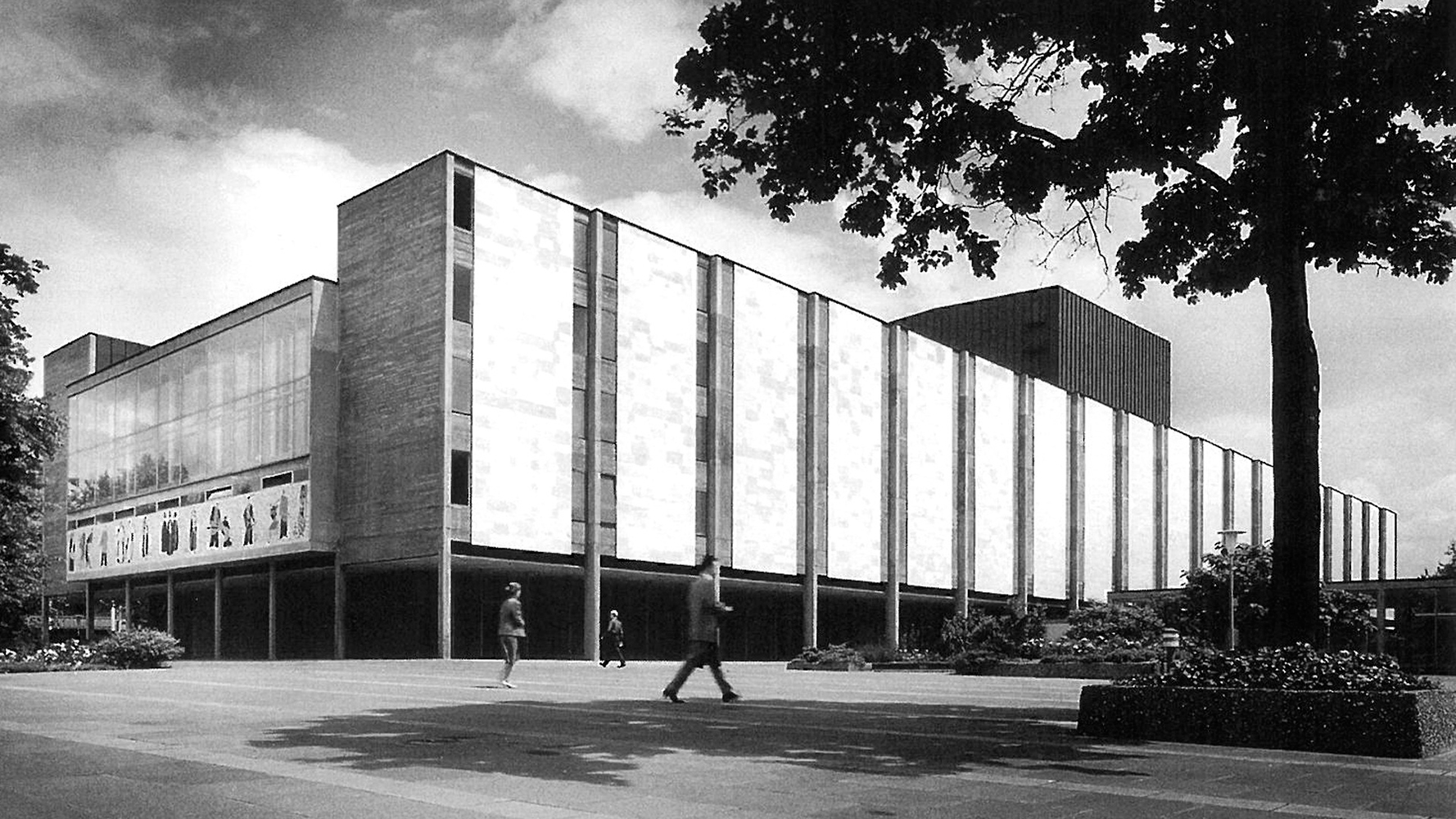 The Nationaltheater Mannheim (NTM), a striking 1950s modernist building, was the first newly constructed building in Mannheim after the 2nd World War. The building is now listed.

Photo © NTM, Stad Mannheim
2/9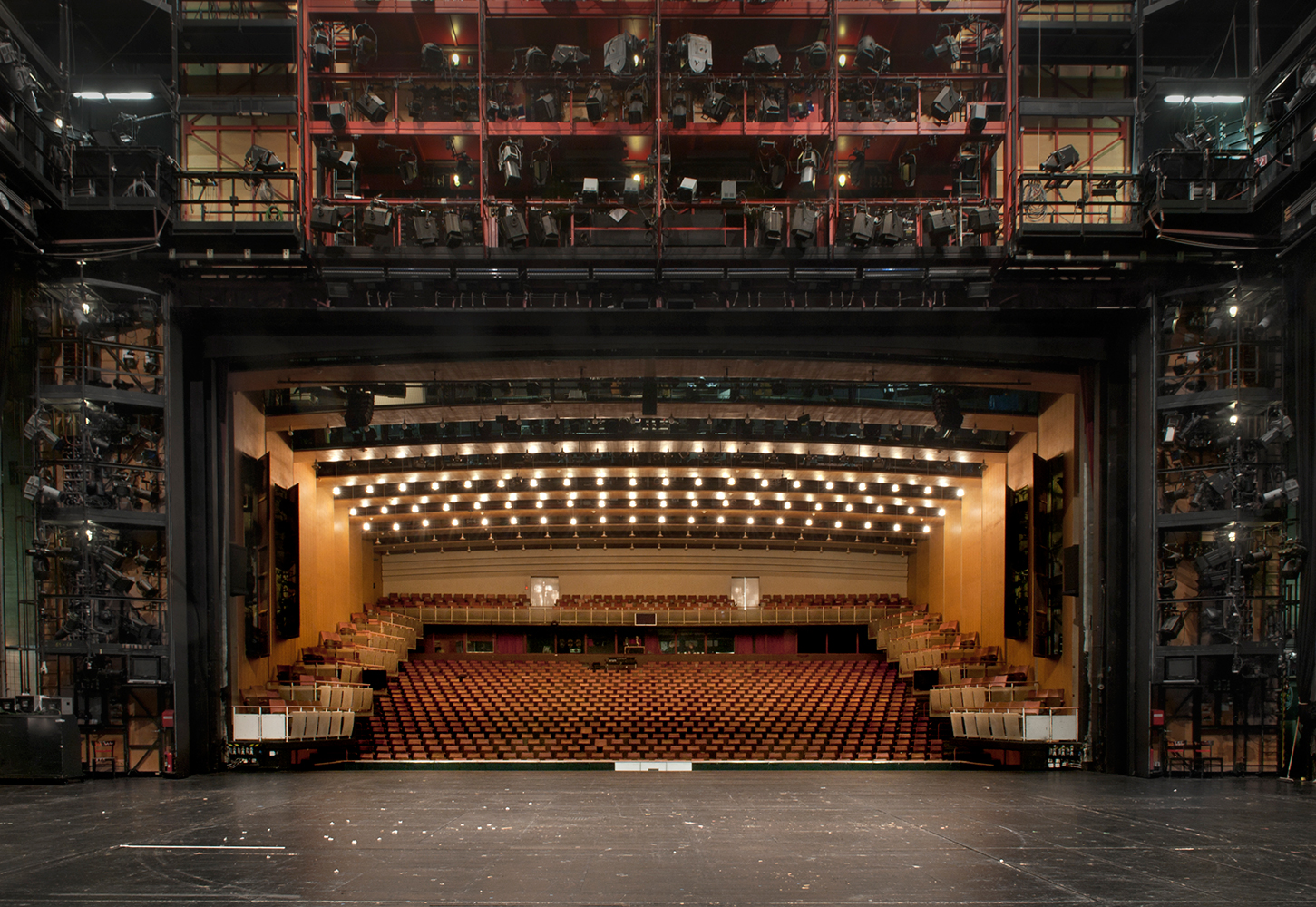 The current NTM opera house, as seen from the back of the stage house.

Photo © Skena
3/9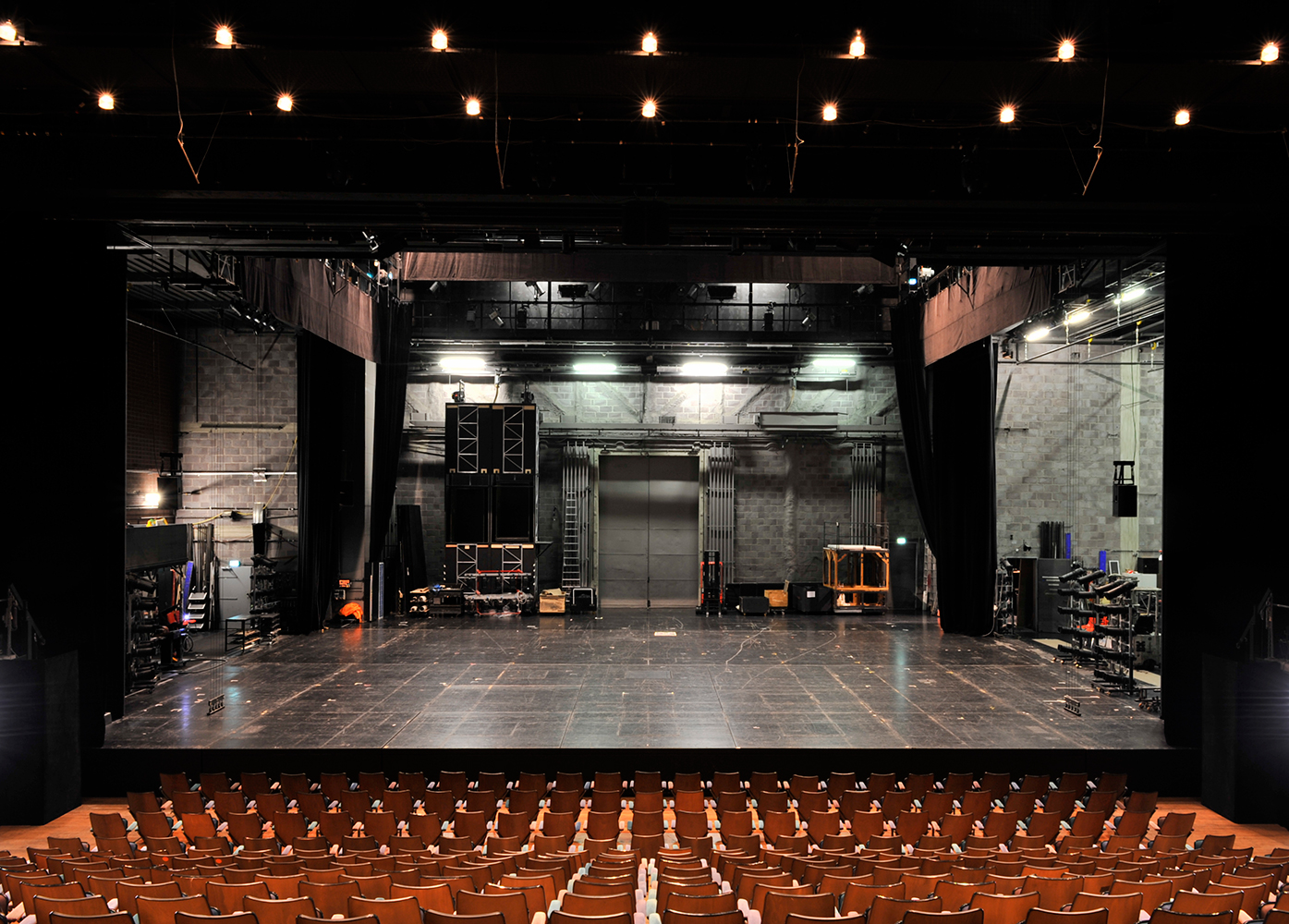 The actual playhouse.

Photo © Skena
4/9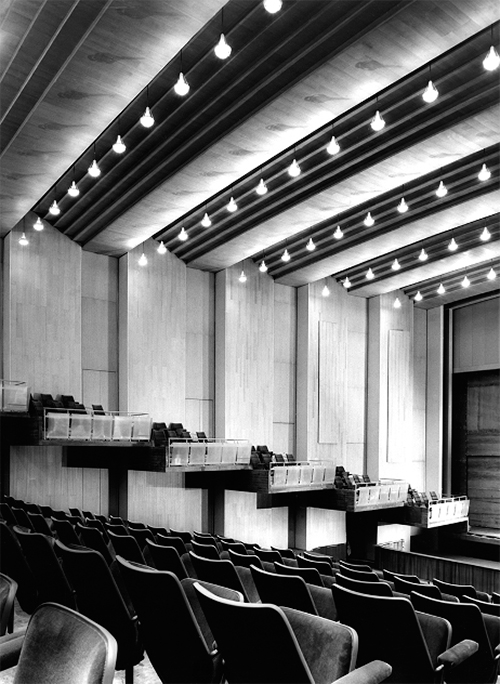 The existing 1 156-seat opera house will be fully renovated and the theatre technology brought up to date. Acoustic improvements will be sensitively integrated into both the audience areas and orchestra pit, while preserving the architecturally protected interior.

Photo © Schmucker und Partner
5/9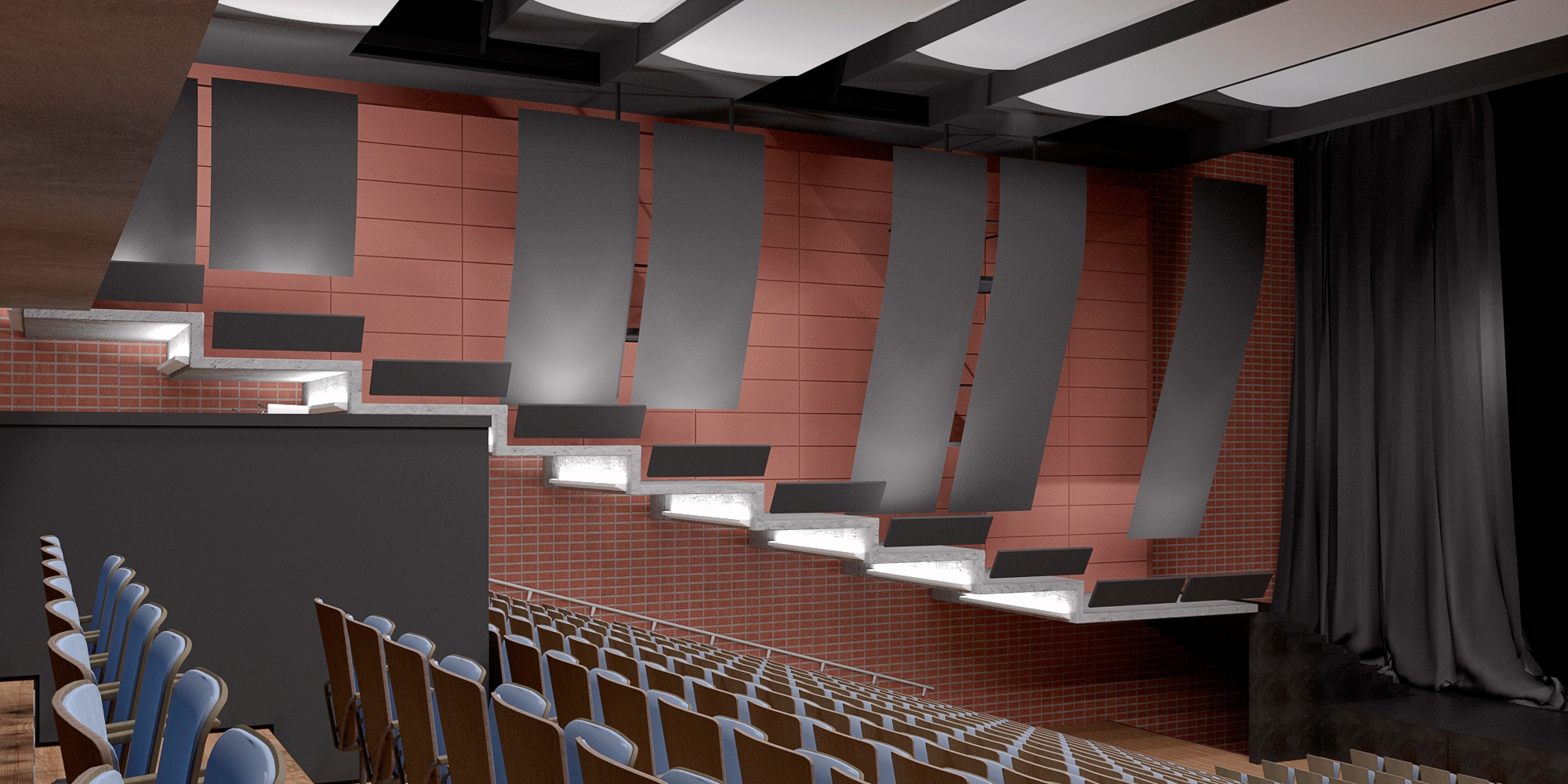 3D Rendering of the theatre. The new design for the theatre introduces sound reflecting sails and integrates these around the original brick and concrete interior finishes. The sound-sails are tilted and curved to ensure that early sound reflections are provided to all areas of the audience, thereby enhancing the speech intelligibility of the actors on stage.

Image © Schmucker und Partner
6/9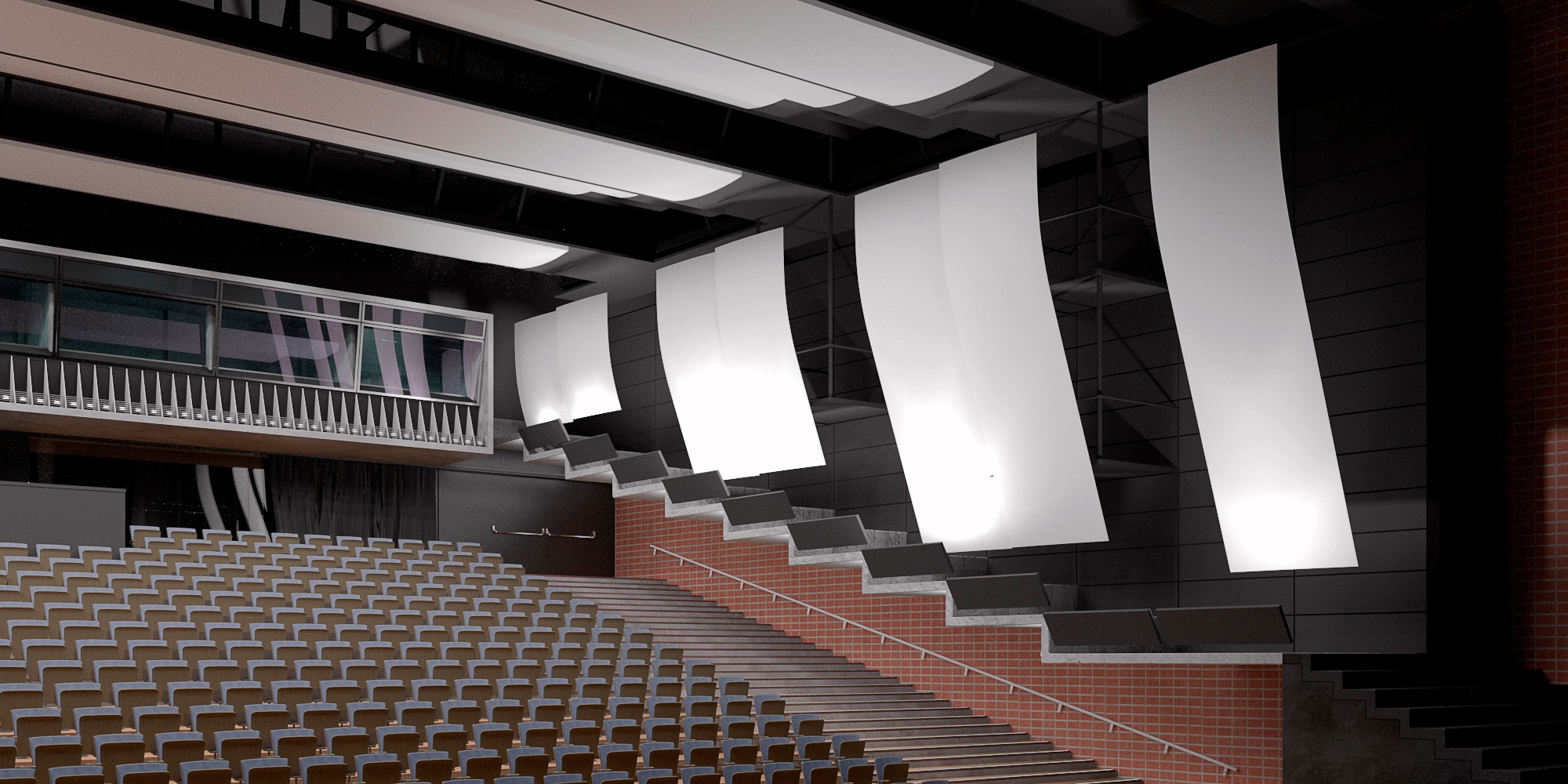 3D Rendering of the theatre. The new design for the theatre introduces sound reflecting sails and integrates these around the original brick and concrete interior finishes. The sound-sails are tilted and curved to ensure that early sound reflections are provided to all areas of the audience, thereby enhancing the speech intelligibility of the actors on stage.

Image © Schmucker und Partner
7/9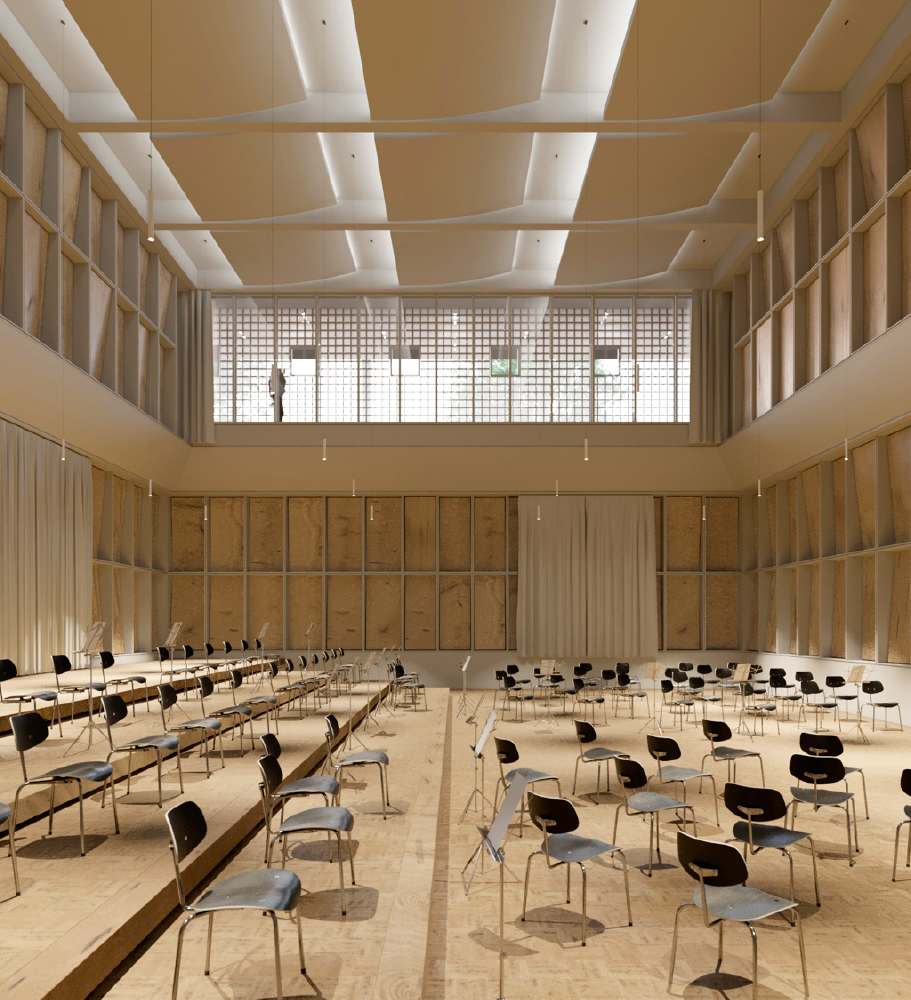 Rendering of the new orchestra rehearsal hall. The existing building from 1957 will be extended with the addition of a 3 500 m² basement to house the new orchestra rehearsal hall, choir rehearsal hall, recording studio and music practice rooms.

Image © Schmucker und Partner
8/9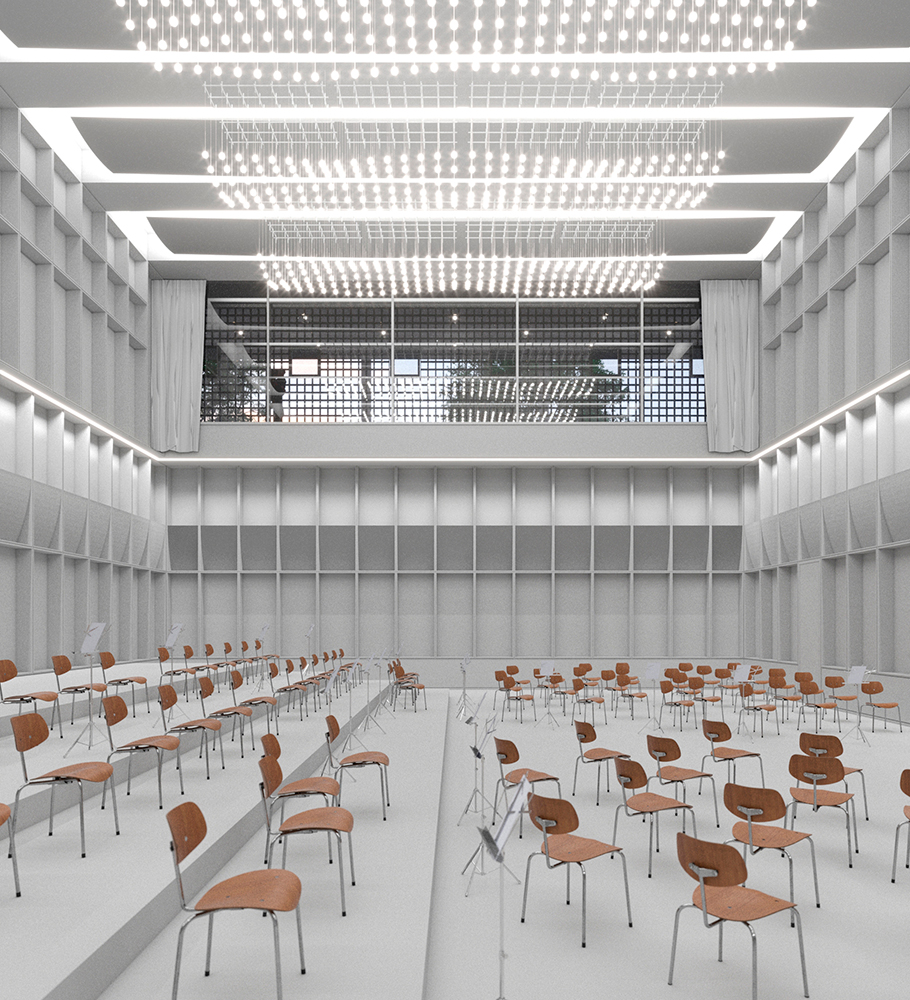 The orchestra rehearsal hall has been acoustically optimised for musical communication within the orchestra and a high degree of clarity. Curved ceiling reflectors and the curved reflector "crown" ensure that early reflections are provided to all musicians. To control the loudness with large ensembles, tilted wall surfaces and variable acoustics curtains have been introduced into the design.

Image © Schmucker und Partner
9/9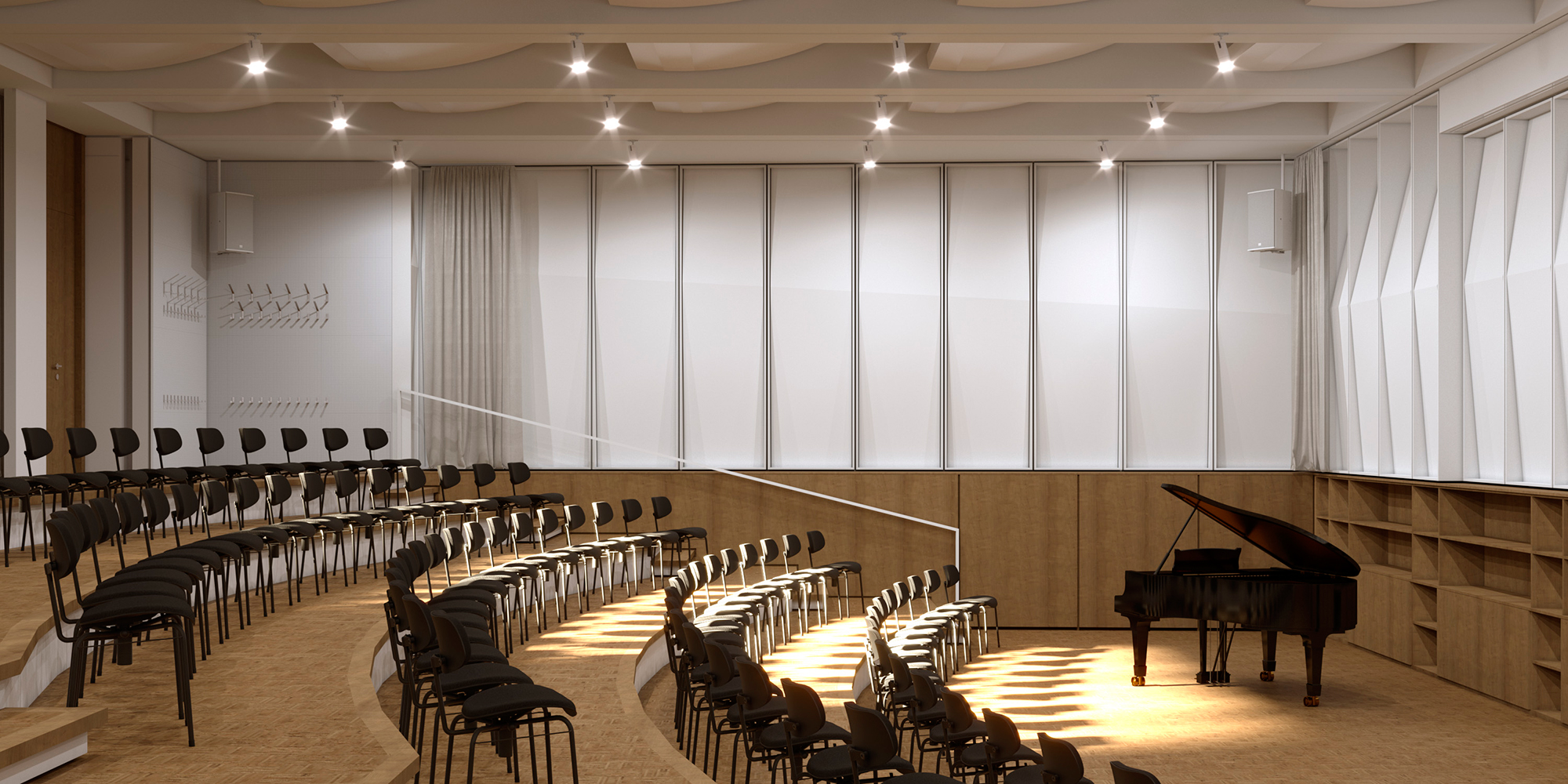 The choir rehearsal hall takes the acoustical concepts from the Orchestra Rehearsal Hall and adapts these for choral rehearsal. The acoustically shaped ceiling and wall panels provide musical communication reflections to all singers, while also providing the conductor with a complete and balanced presentation of the sound quality. Variable acoustics curtains on all four walls enable the reverberation and loudness to be adjusted to the ensemble size and repertoire.

Image © Schmucker und Partner