Sala Palatului, Bucharest
The George Enescu Festival is a bi-yearly event initiated in the late 1950s by the Romanian music composer George Enescu (1881-1955). It gathers orchestras from around the world to perform in the 4 000-seated Sala Palatului which is an extension of the former royal palace of the capital of Romania. The hall was primarily designed for speech intelligibility in order to accommodate congresses but not concerts of classical music.
Consequently, for this Enescu music festival, an acoustic setup and acoustic tuning was required so as to support performers and users the best possible way, notably on the question of orchestral balance and on the use of electro-acoustic. We gladly fulfil this role since the 2009 edition and are proud to mention but a few collaborations notably with Kristian Järvi and the National Romanian Youth Orchestra in 2015, with the London Philharmonic Orchestra conducted by Vladimir Jurowski in 2017 and more recently with Paavo Järvi and the Philharmonia George Enescu in 2021.
Information Sheet
Tuning/Intervention Sala Palatului, Festivalul George Enescu salapalatului.ro/festivalul-george-enescu
Location Bucharest, Romania.
Time Frame Bi-annual, from 2009 to 2021.
Client George Enescu Festival.
Seat Count Sala Palatului (or Palace hall) has a 4 000-seat capacity for congresses and is set-up for 3 000-seats in concerts/music festival configuration.
Uses Symphonic music concerts.
Services Acoustics support throughout the festival, from MCR system tuning to orchestral balance monitoring along with fine tuning from rehearsal to live performance, and overall acoustic support to production and musical staff.
Consultants Cees Mulder, Émilie Carayol, Kahle Acoustics.
1/6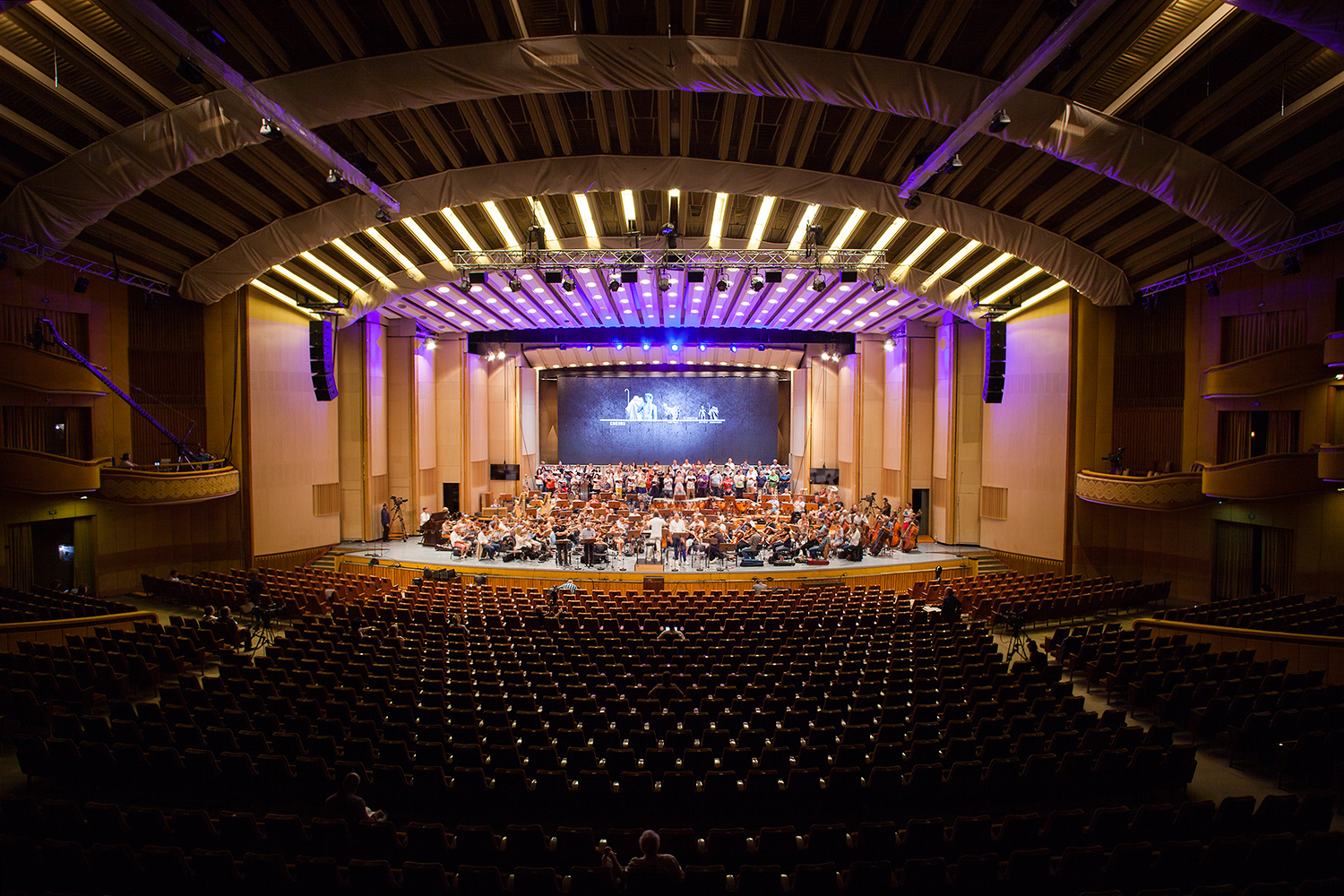 London Philharmonic orchestra's rehearsal during the 2017 Enescu Festival in Sala Palatului as seen from the top of the 4 000-seat former palace hall initially dedicated to congresses.

Photo © Ilina Schileru
2/6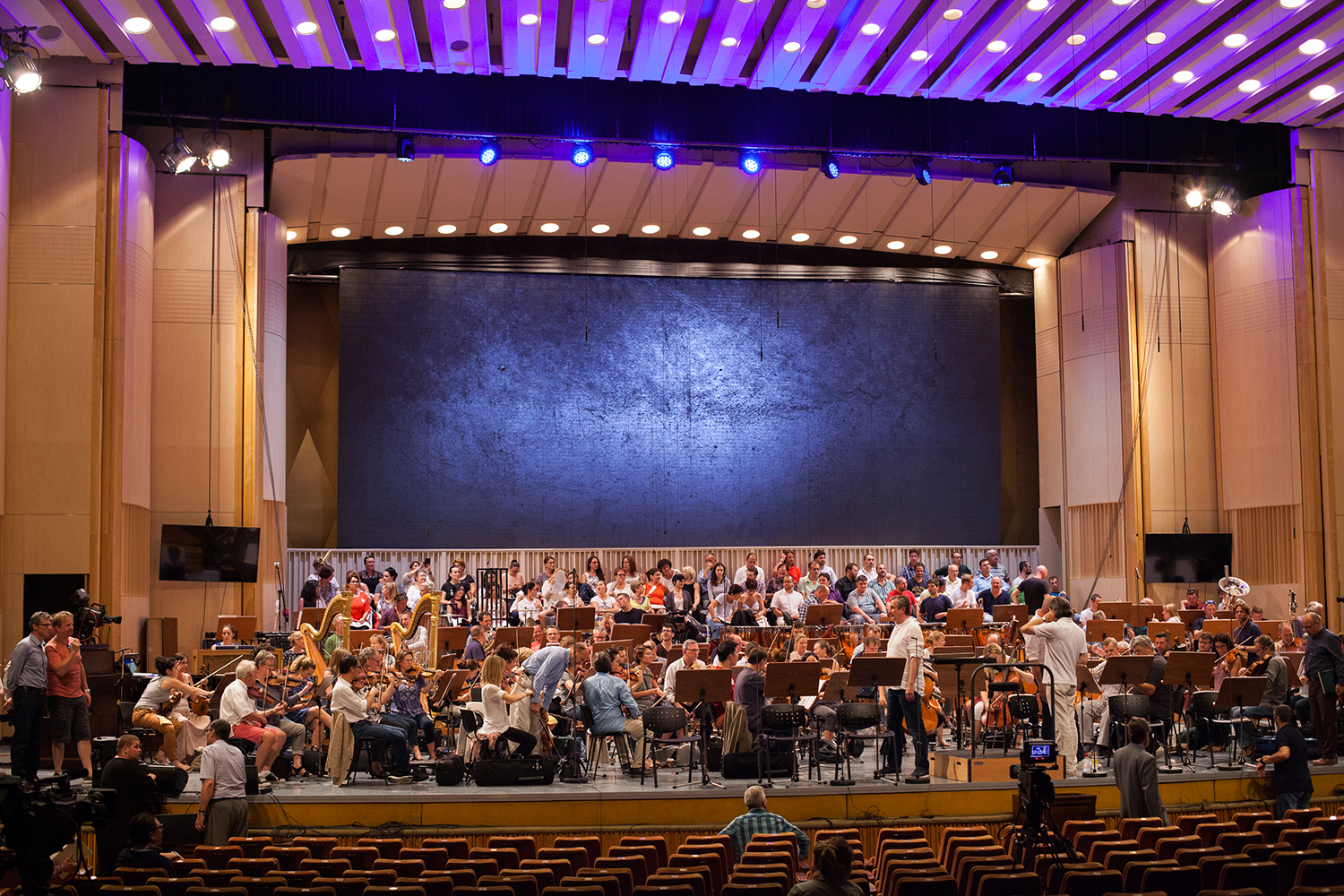 Tuning of the electro-acoustic system along with stage acoustic optimisation here during the rehearsal of the London Philharmonic Orchestra directed by Vladimir Yurowski (2017).

Photo © Ilina Schileru
3/6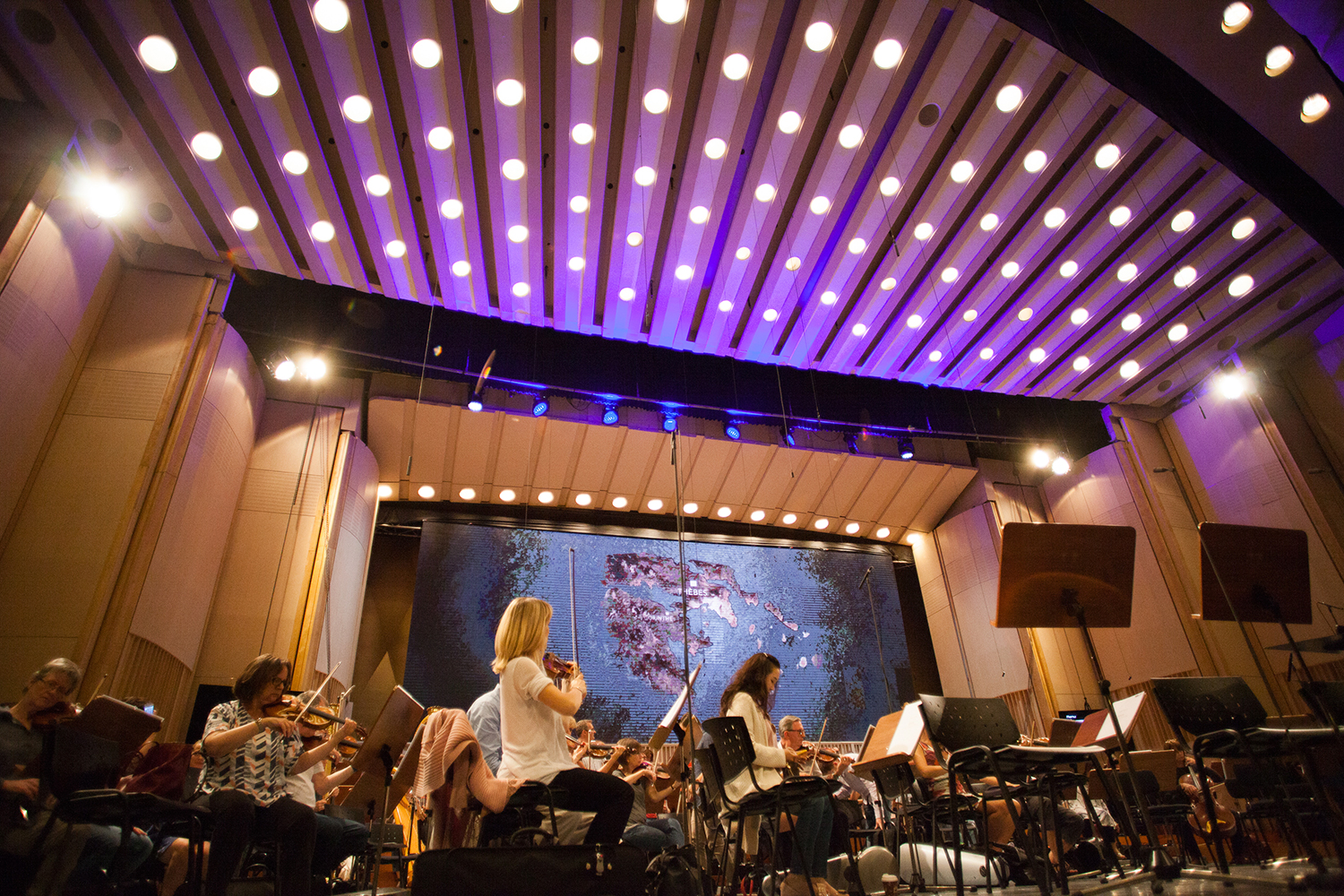 The use of hung microphones acting as an electro acoustic canopy or overhead sound reflectors.

Photo © Ilina Schileru
4/6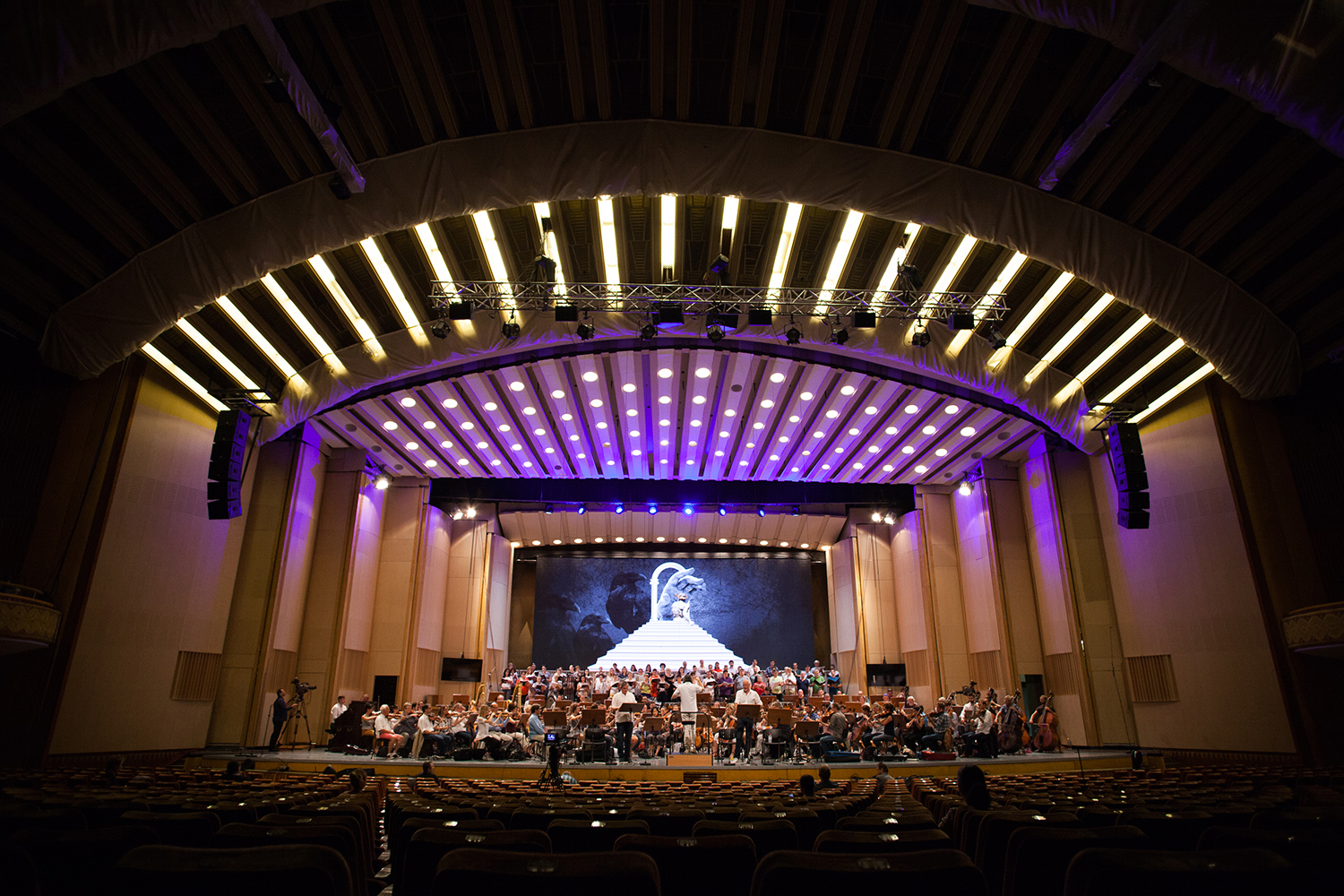 Electro-acoustic canopy created through the integration of six loudspeakers in the truss above stage.

Photo © Ilina Schileru
5/6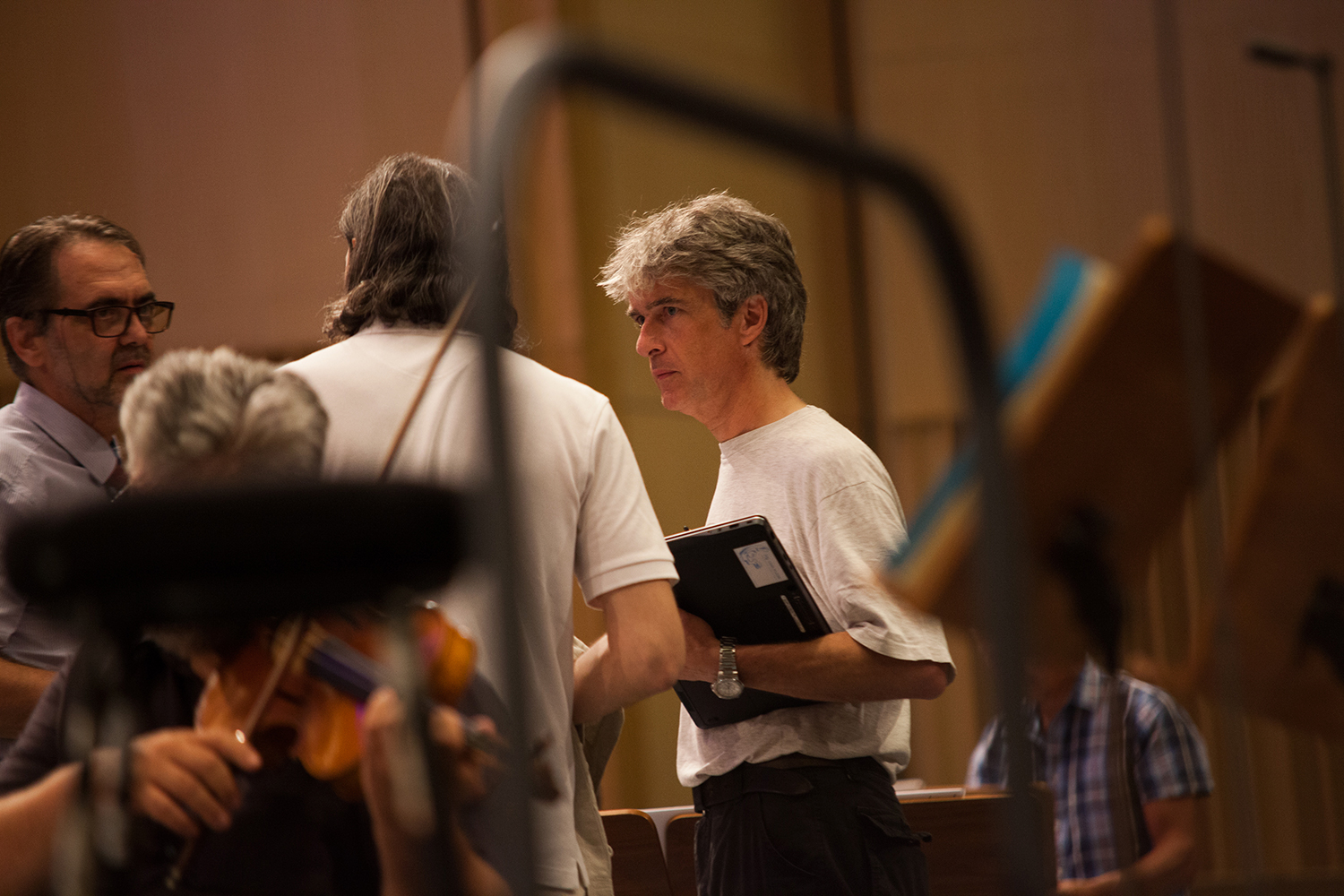 Discussion on the orchestral balance, here with both the festival director and the conductor.

Photo © Ilina Schileru
6/6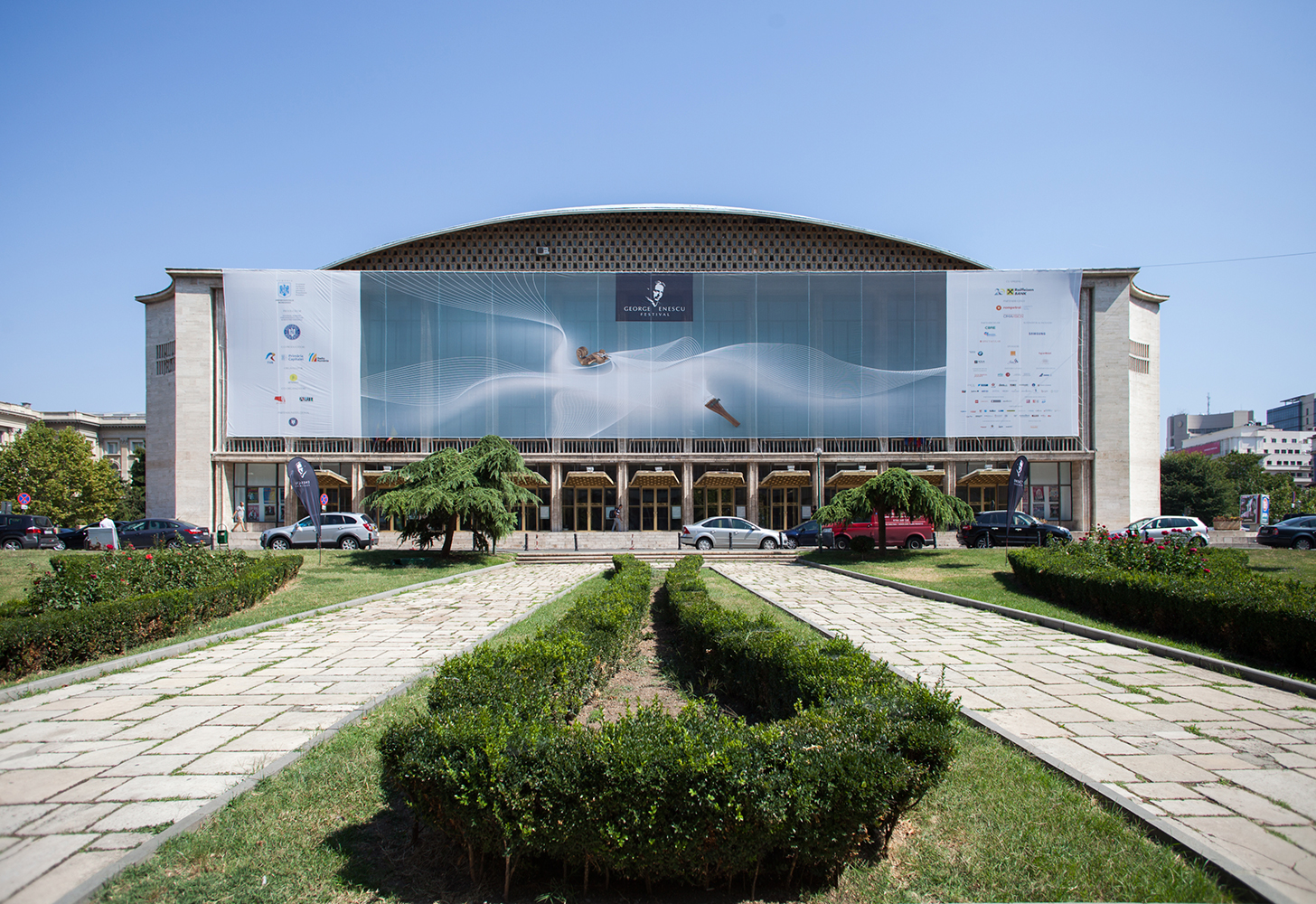 Entrance façade of Sala Palatului, hosting the bi-annual Enescu Festival, with the former Royal Palace in the background.

Photo © Ilina Schileru