Chapelle Corneille — Auditorium de Normandie
Transformation of a 17th century chapel into a 690-seat auditorium dedicated to vocal and music performances. Acoustical installations include a height-adjustable, rotating acoustic reflector chandelier, acoustic reflectors integrated into the seats and motorized sound absorbing banners stored in mobile boxes. Landmarked building.
Information Sheet
Renovation/Transformation Chapelle Corneille — Auditorium de Normandie.
Location Rouen, France. Landmarked building.
Project Cost 6.25 million €.
Time Frame Construction and transformation: 2014-2015. Completion: February 2016.
Owner Haute Normandie Region and its Heritage Branch.
Architect(s) Atelier d'Architecture King Kong, Bordeaux kingkong.fr
Theatre Planner(s) dUCKS Scéno, France www.ducks.fr
Seat Count A 690-seat auditorium in a 17th-century chapel, national historic landmark. Total area 1 140 m².
Uses Concerts, chamber and baroque music or orchestra.
Services Acoustic consulting and design services for the entire project. Design for the acoustic transformation of the chapel with the addition of specifically designed "acoustic furniture". In particular, the spherical chandelier meets the needs for stage lighting and an acoustic canopy. Acoustic design of the new spaces (entrance, foyer, dressing rooms, etc.).
Team Yann Jurkiewicz, Eckhard Kahle, Kahle Acoustics.
Press
01/12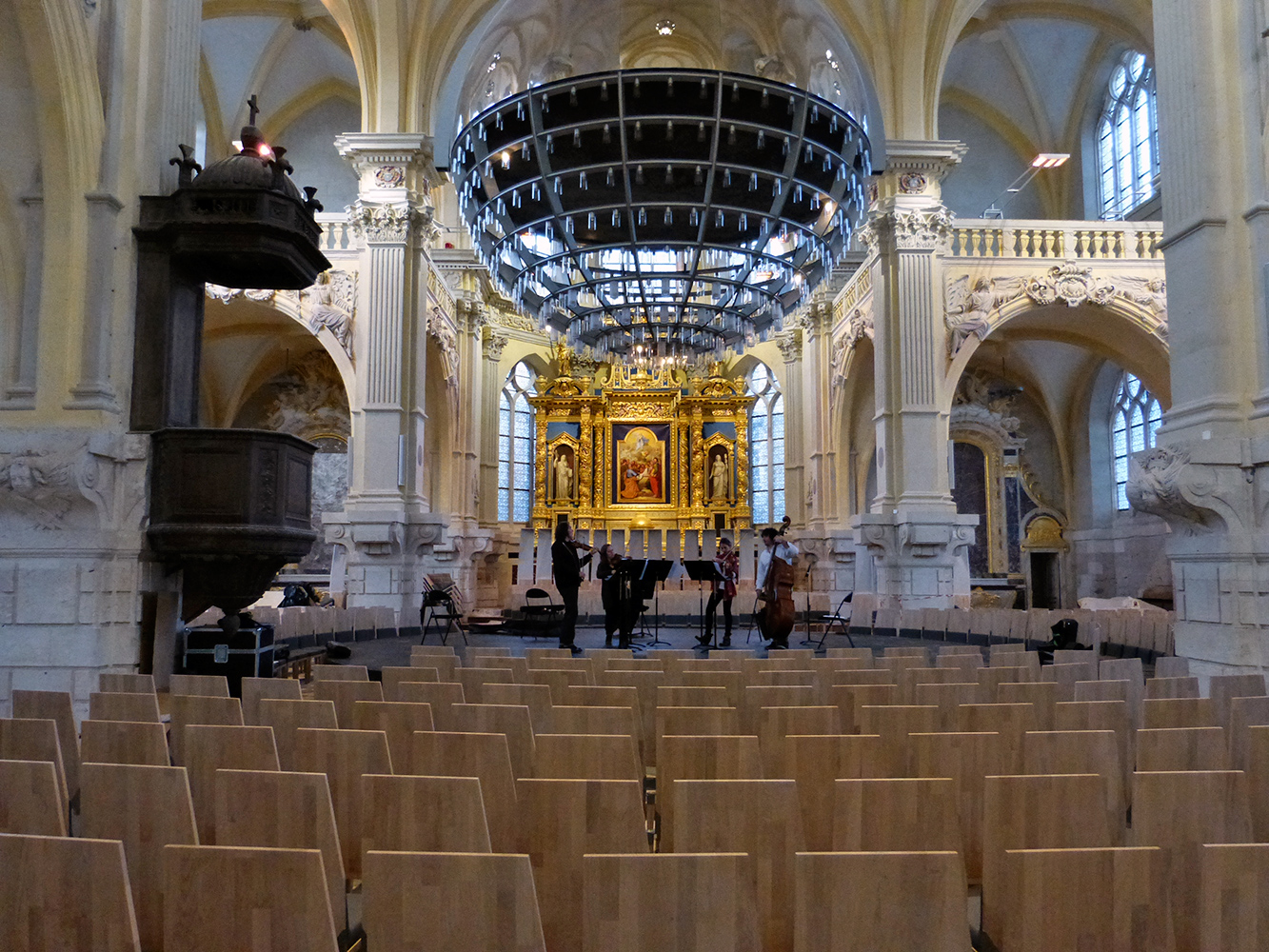 The 690-seat auditorium. The "performance" side of the chandelier is orientated downwards and includes a sound reflecting surface and stage lighting.

Photo © Kahle Acoustics
02/12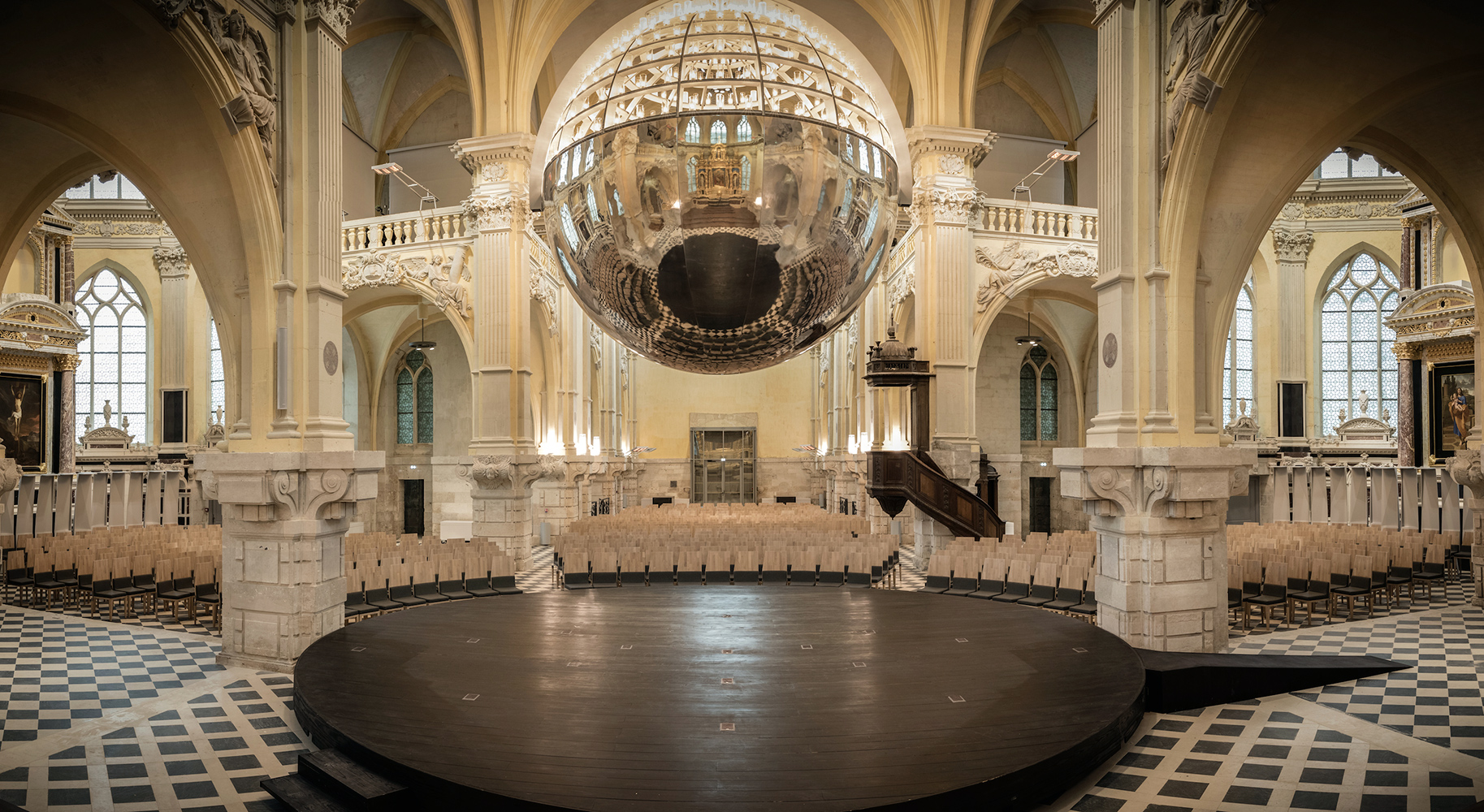 Panoramic view of the auditorium from the choir.

Photo © Eric Peltier
03/12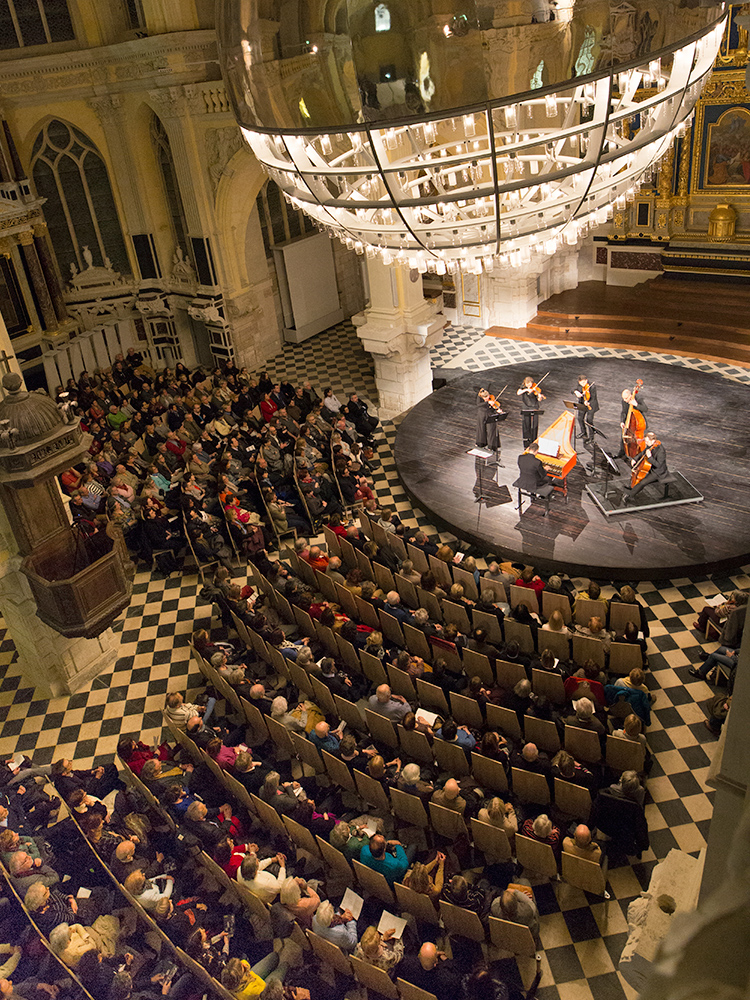 The auditorium as seen from one of the galleries. Here the mobile stage is located next to the choir with audience surrounding the stage on three sides — in the nave and the transept. The chandelier is orientated with the "performance side" — the acoustical reflector and stage lighting — facing downwards.

Photo © Eric Peltier
04/12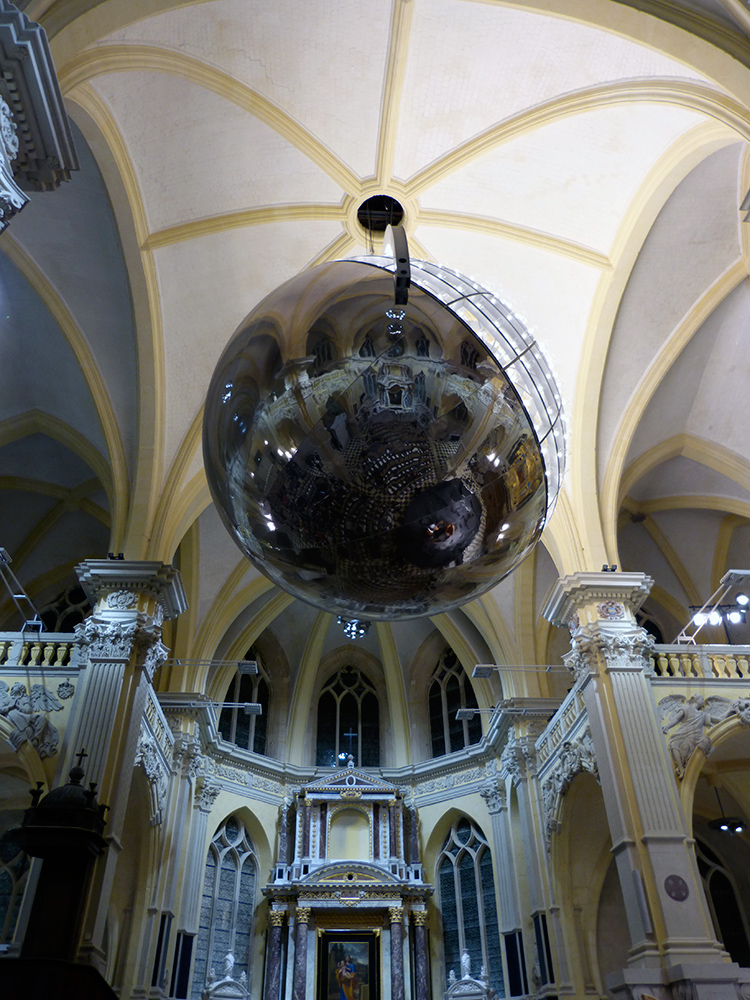 Both the chandelier's rotation on axis and height can be adjusted to optimise the acoustics and scene-setting.

Photo © Kahle Acoustics
05/12
The 6.5 meter diameter chandelier is suspended at the centre of the transept. It consists of two hemispheres joined by a convex acoustic reflector that sends sound back towards the musicians and to the audience.

Photo © Kahle Acoustics
06/12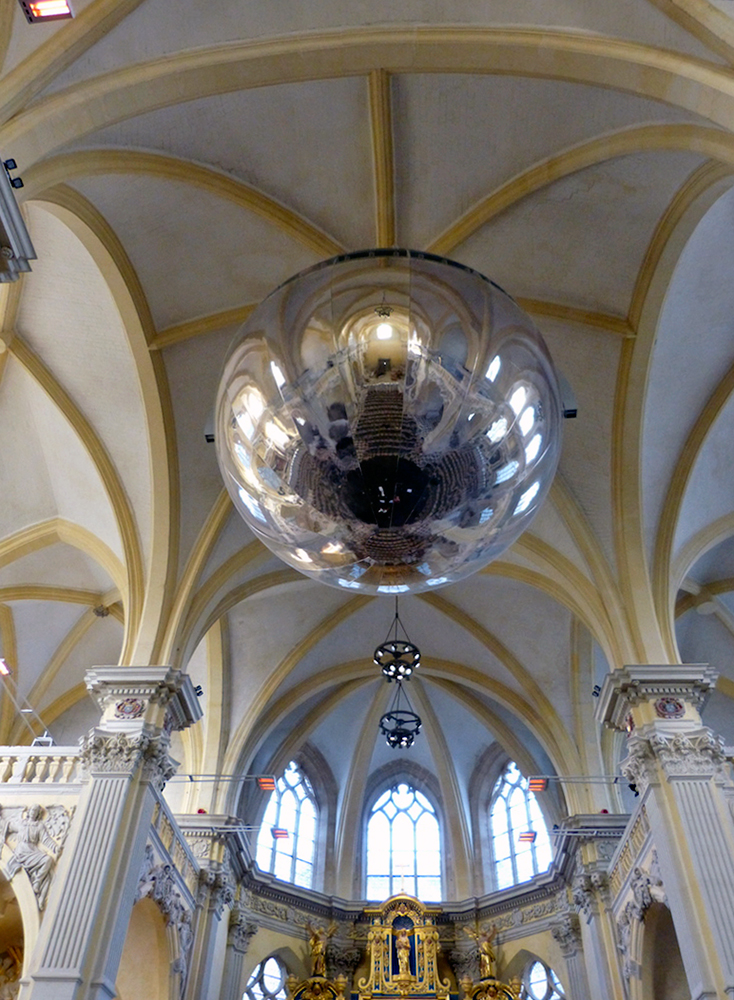 View of the chandelier from below. With the mirror-side of the chandelier orientated downwards, light and sound are reflected throughout the chapel, thereby creating true church acoustics.

Photo © Kahle Acoustics
07/12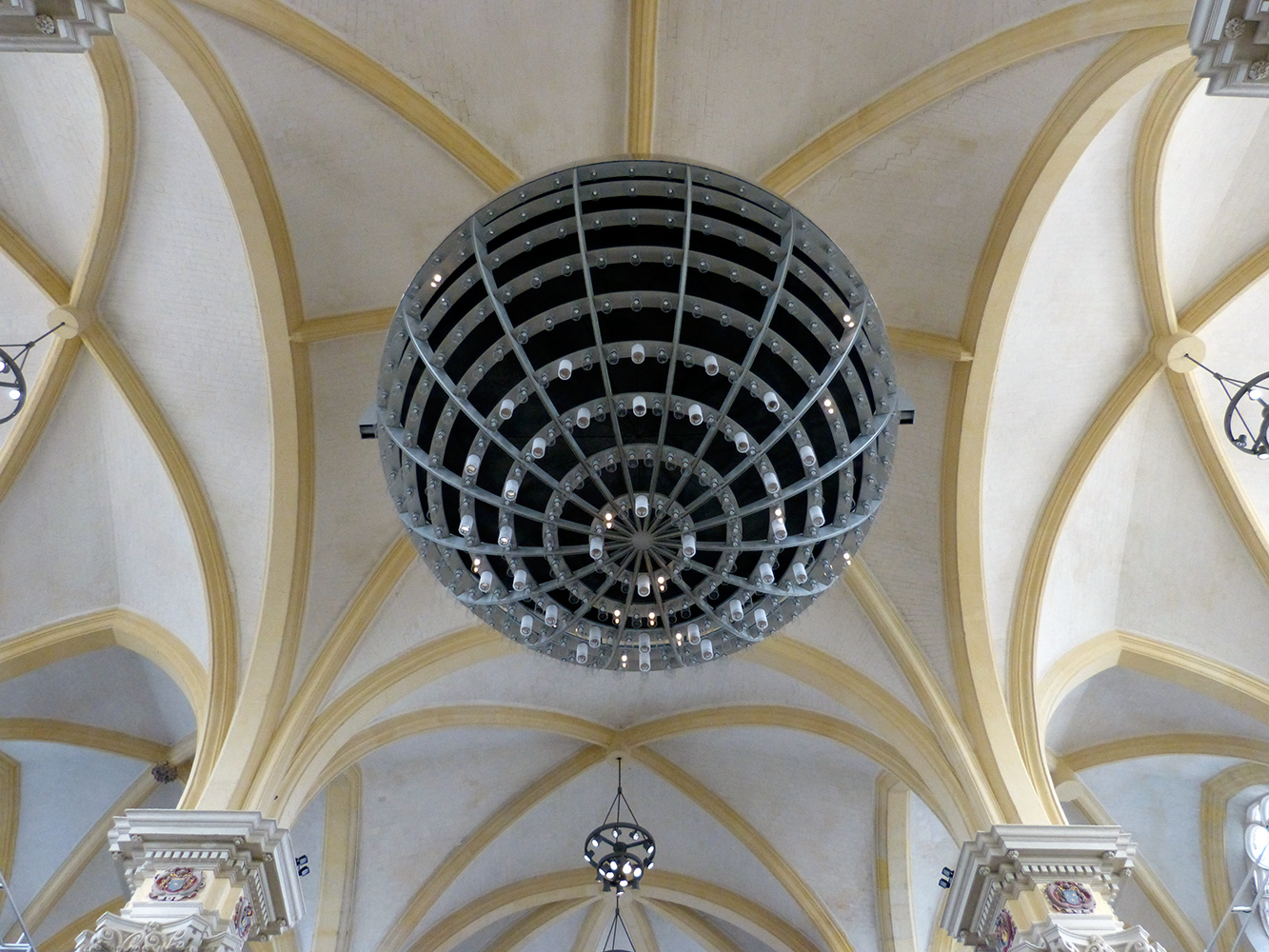 The "performance" hemisphere of the chandelier. The dark surface is a convex sound reflector that joins the two hemispheres. For excellent concert acoustics, strong reflections back to the musicians and to the audience are generated by the relatively flat radius reflector.

Photo © Kahle Acoustics
08/12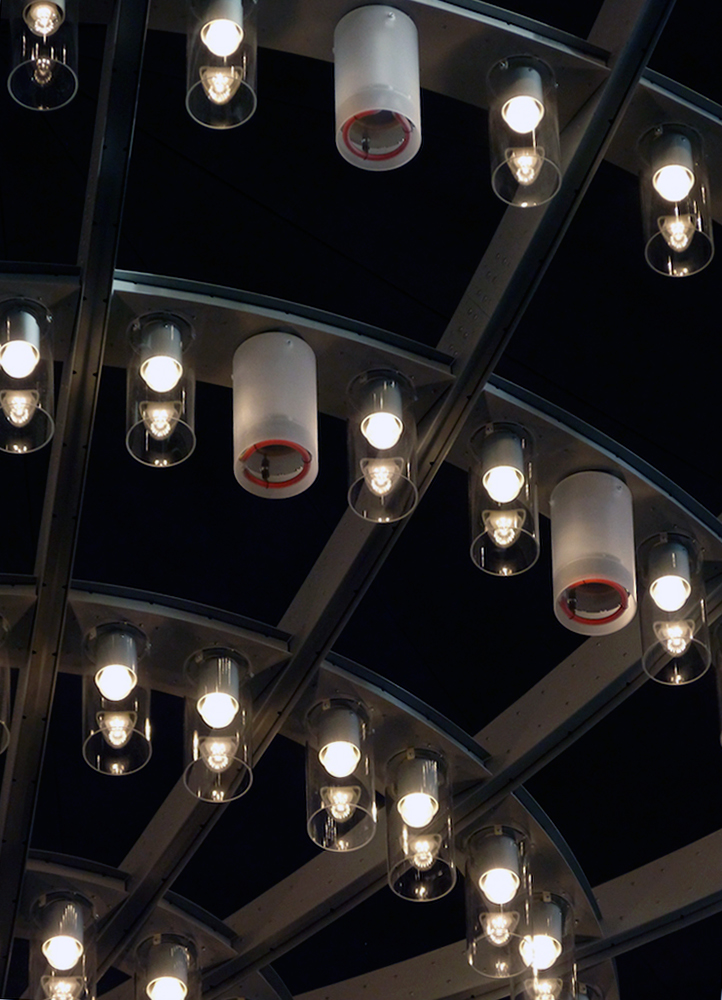 The "performance" side of the chandelier integrates stage lighting and radiant heating devices.

Photo © Kahle Acoustics
09/12
Acoustic reflectors are attached to the back of the last row of chairs. Four types of reflectors with different inclinations and angles provide a homogeneous distribution of sound.

Photo © Eric Peltier
10/12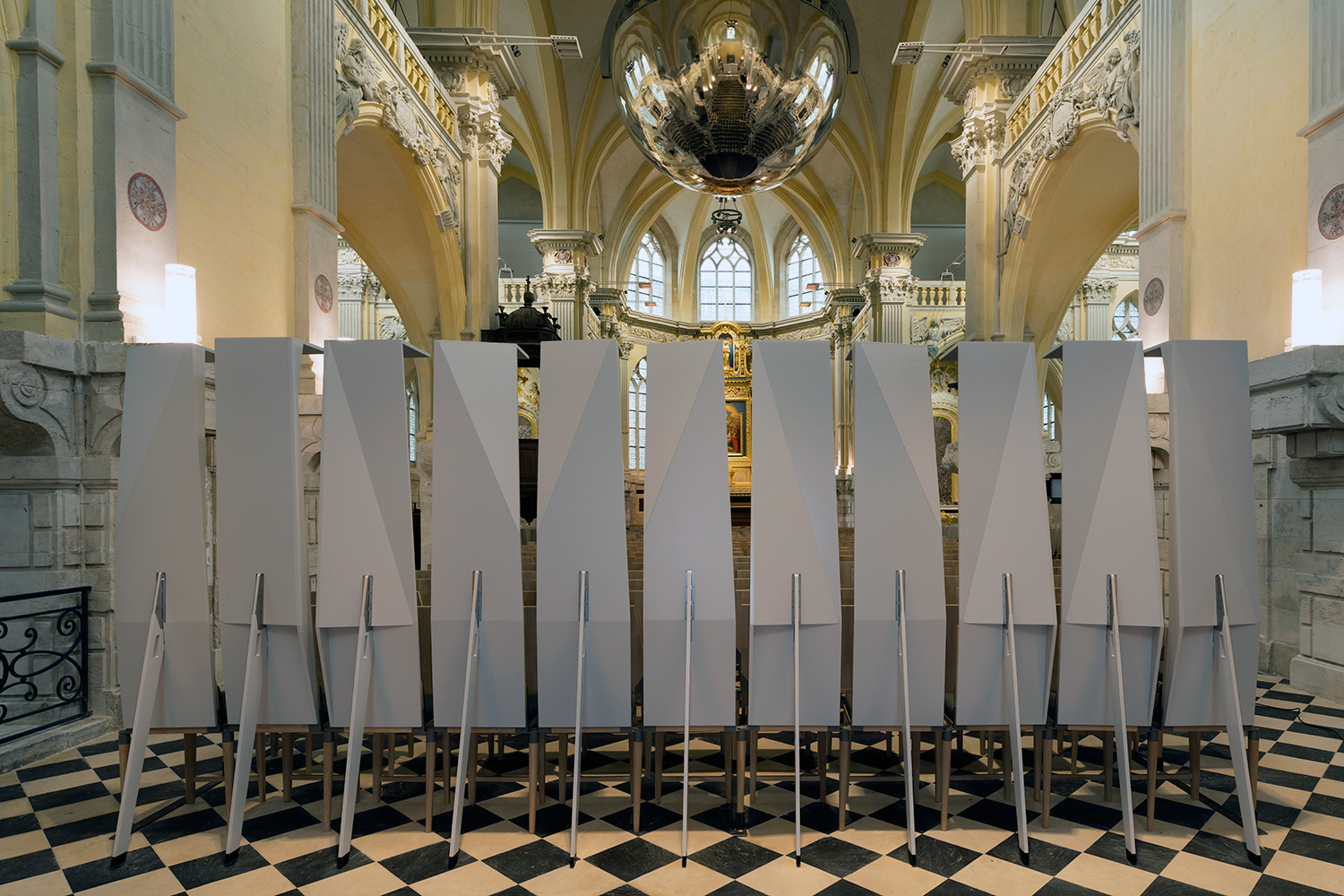 Rear of the 2.5 meter tall acoustic reflectors.

Photo © Eric Peltier
11/12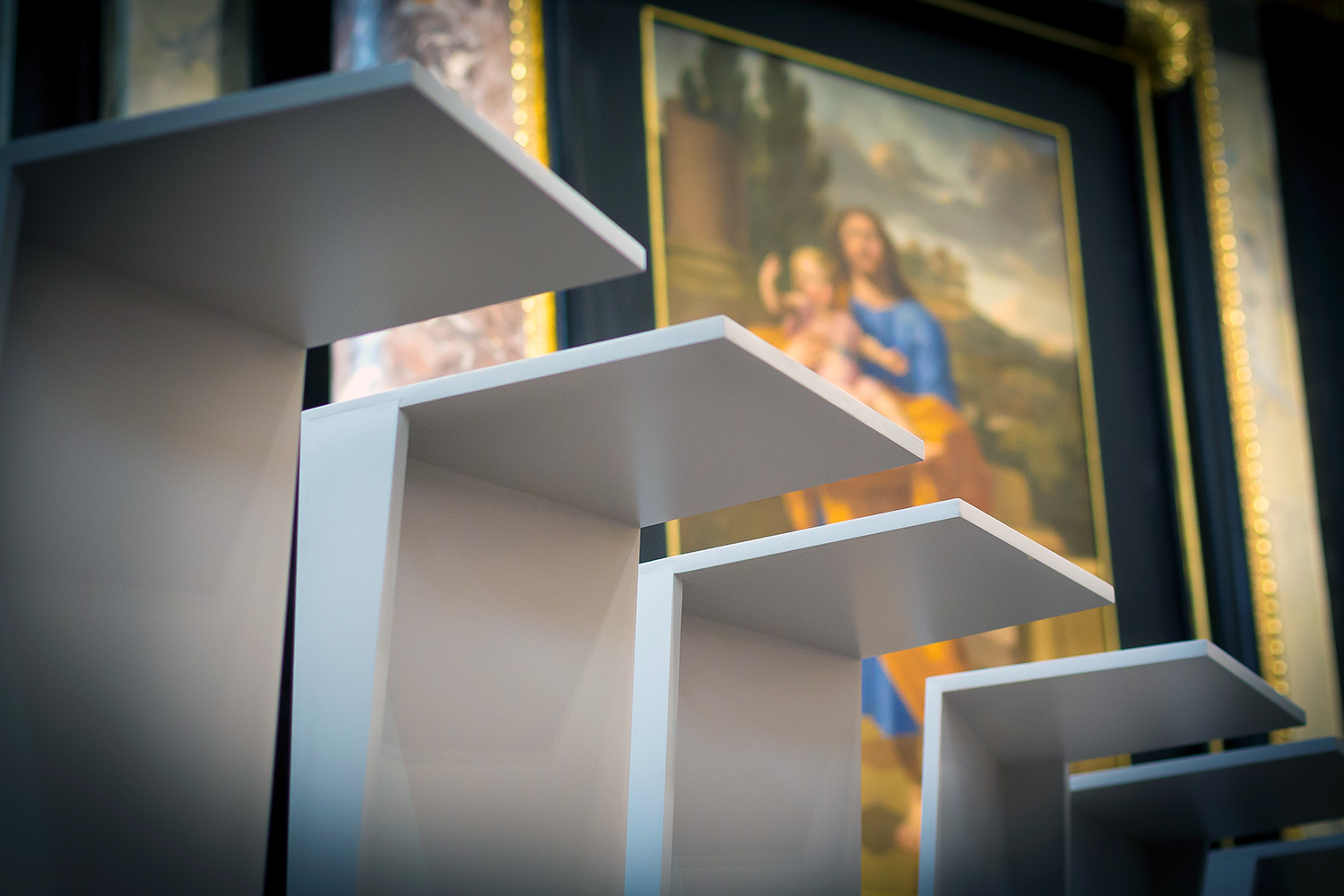 The acoustical effectiveness of each reflector is further increased by the horizontal reflecting surface at the top.

Photo © Eric Peltier
12/12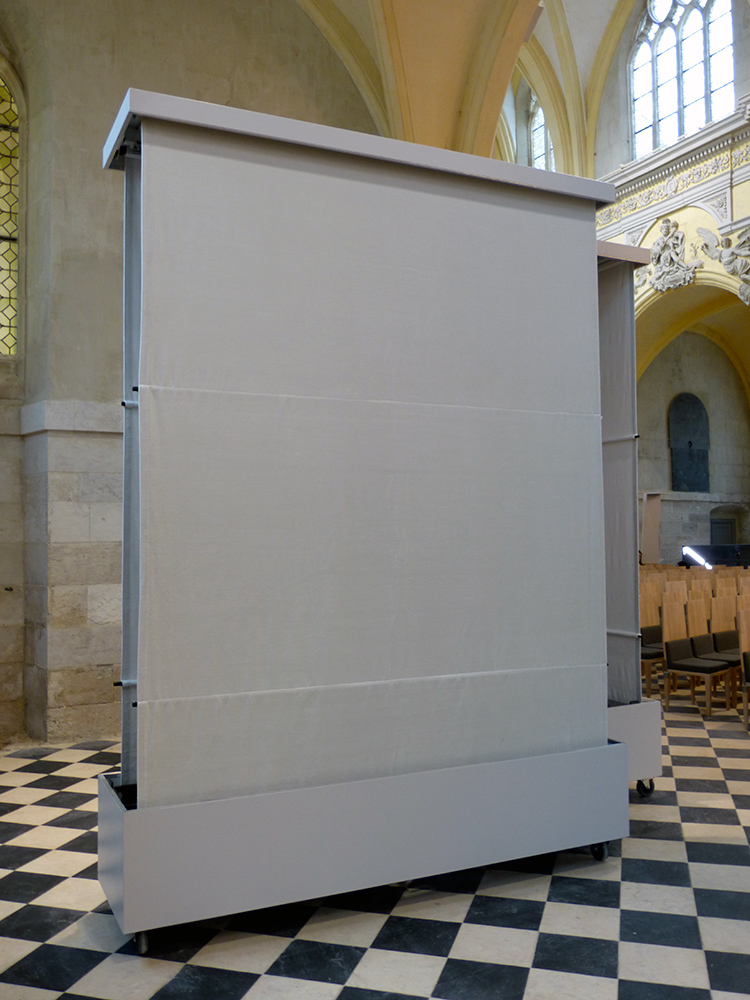 Sound absorbing banners rise from a series of mobile boxes, which can be positioned in different parts of the chapel depending on the type of concert.

Photo © Eric Peltier