Friche la Belle de Mai, Marseille
The conversion of unused spaces on the Friche la Belle de Mai' site in Marseille offered the Gmem-CNCM-Marseille (national centre of musical creation) an opportunity to relocate into improved and extended spaces. This includes the addition of a new dome-shaped creative space — combining the spiritual acoustic of a vaulted church with controlled absorption. The building complies with the highest environmental standards: Bâtiments durables méditerranéens, silver level.
Information Sheet
New Build Friche la Belle de Mai www.lafriche.org
Location Marseille, France.
Project Cost 2.9 million €.
Time Frame Feasibility study and design: 2015. Building phase: 2016. Opening: March 2017.
Owner Scic Friche la Belle de Mai, Marseille.
Architect(s) Caractère spécial § Matthieu Poitevin Architecture Marseille caractere-special.fr
Theatre Planner(s) Kanju, France www.kanju.fr
Seat Count A 220 m² dome-shaped creative space to accommodate an audience of up to 100 people; a recording studio, two production studios, foyer, workshop spaces and offices. Total area: 3 700 m², of which 1 000 m² are allocated to the Gmem.
Uses The Gmem-CNCM-Marseille is an institution dedicated to the creation and composition of contemporary musical works, offering residencies and technical support to composers and artists.
Services Comprehensive consulting services including acoustic feasibility study, acoustic concept, design and construction supervision.
Team Johan Brulez, Eckhard Kahle, Kahle Acoustics.
1/8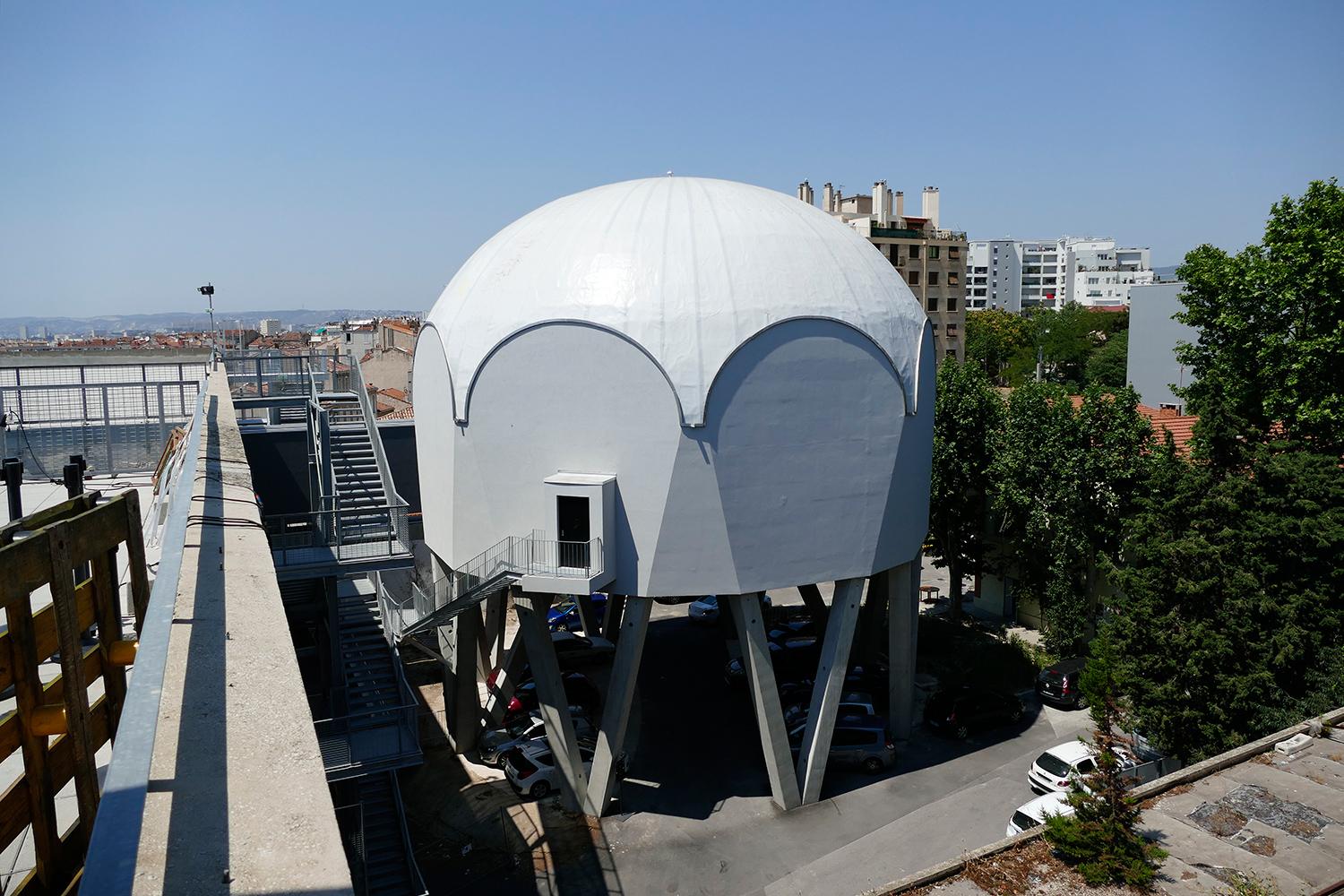 Outside view of the new creative space built on the Friche la Belle de Mai' site.

Photo © Kahle Acoustics
2/8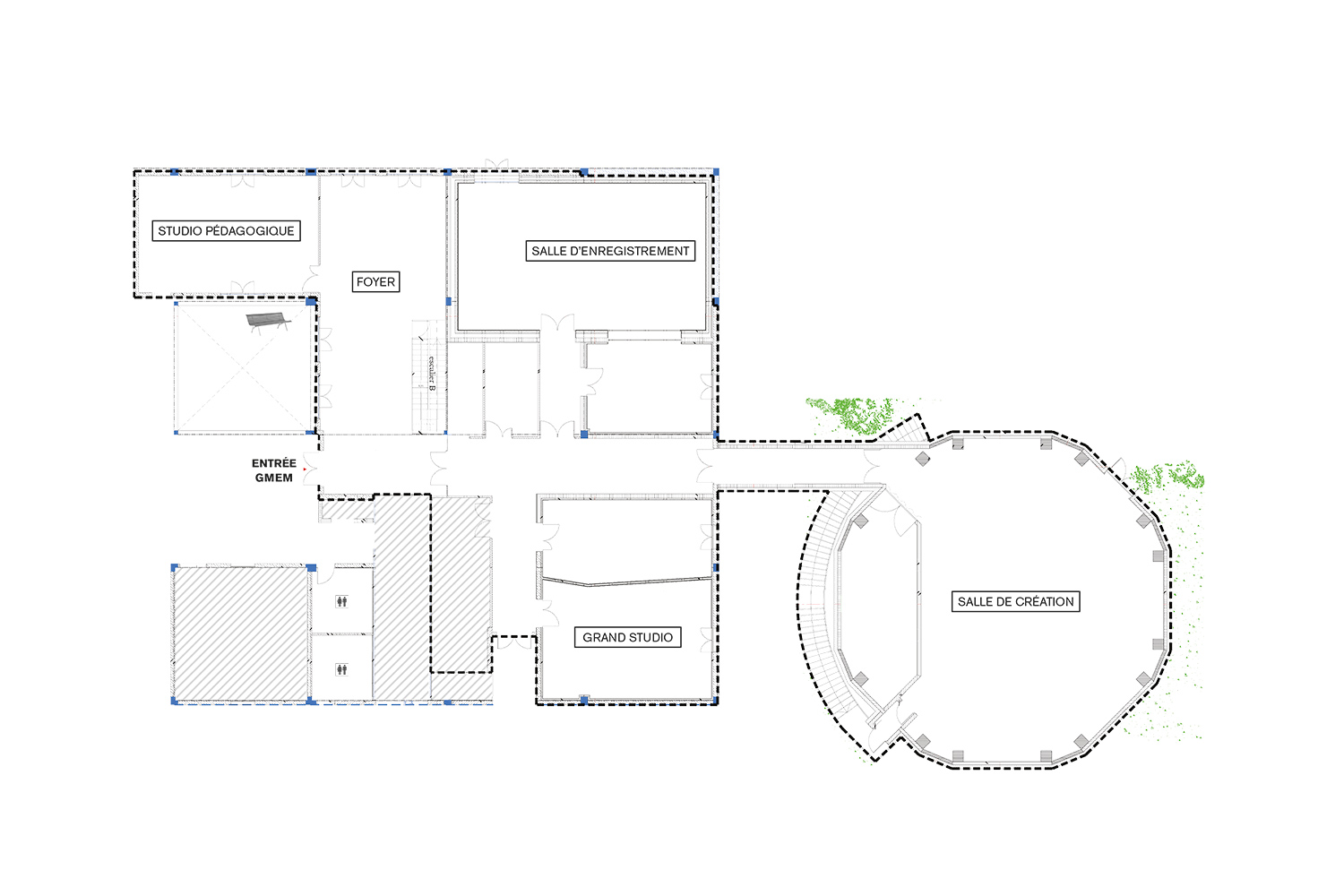 Studios plan.

Photo © Gmem
3/8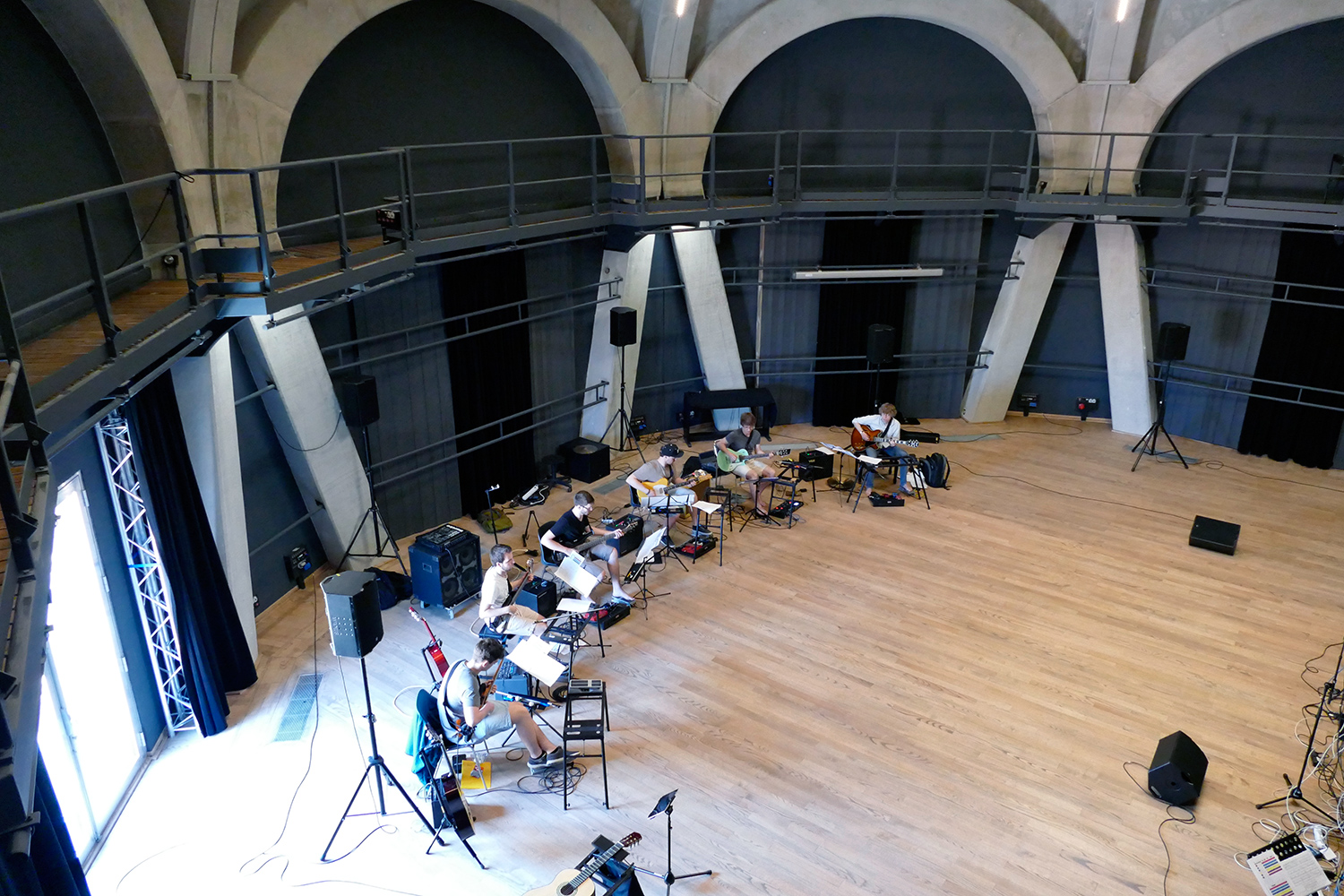 To enable the acoustics to be adjusted, sound diffusers and curtains have been integrated onto each wall between the pilasters of the creative space.

Photo © Kahle Acoustics
4/8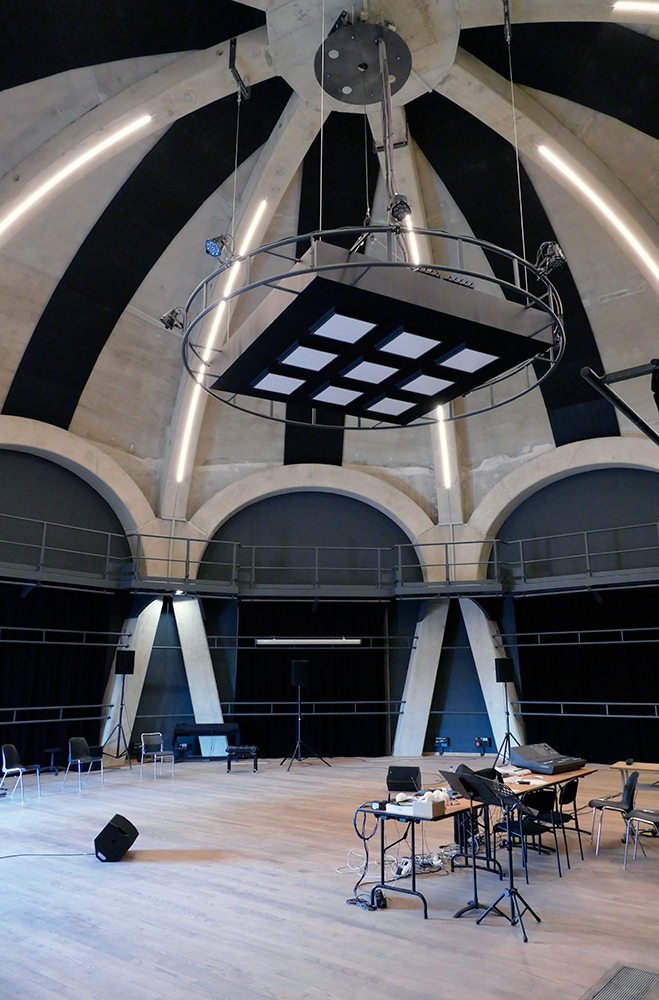 Black sound absorbers made of polyester control potential sound focussing from the vaulted dome of the creative space.

Photo © Kahle Acoustics
5/8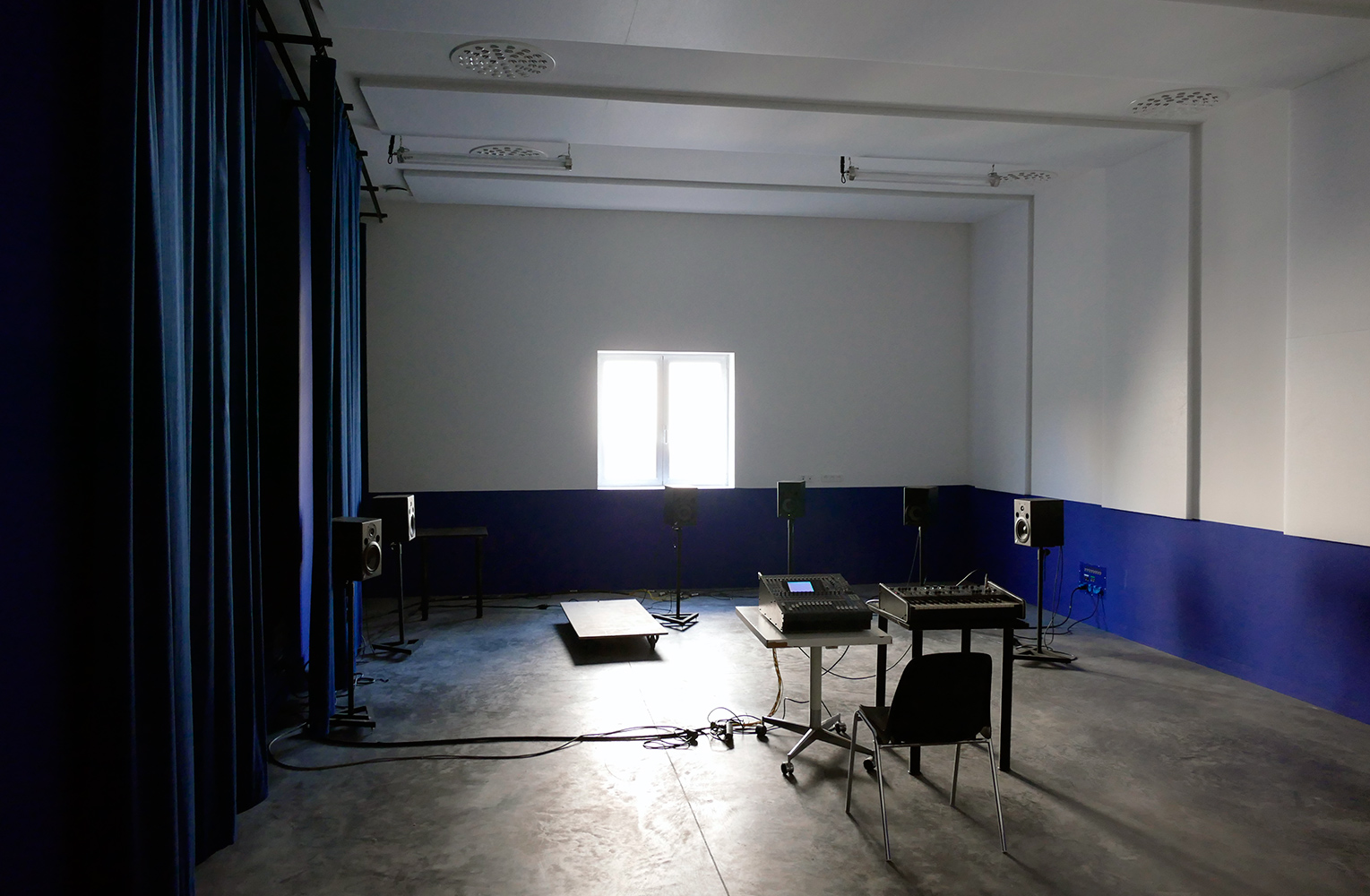 This production studio includes white stripes of acoustic absorption made of polyester fixed to the ceiling and on one of the non-parallel walls. The acoustics can be varied by means of the blue curtains on the opposite wall. These two walls are deliberately non-parallel.

Photo © Kahle Acoustics
6/8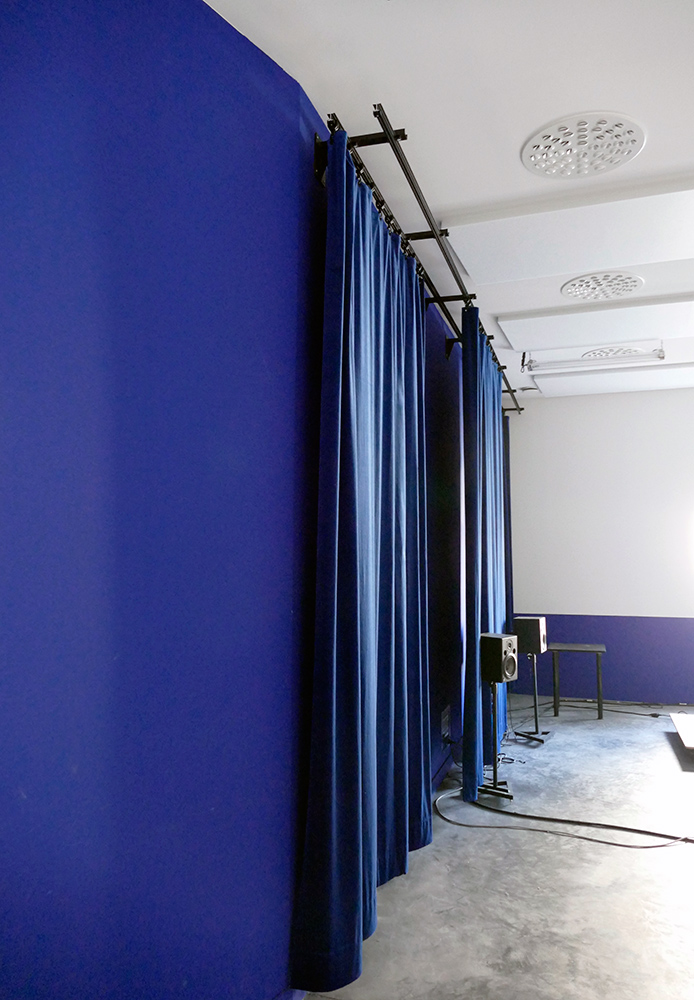 In this production studio, the acoustics can be varied by means of the blue curtains hung on two tracks.

Photo © Kahle Acoustics
7/8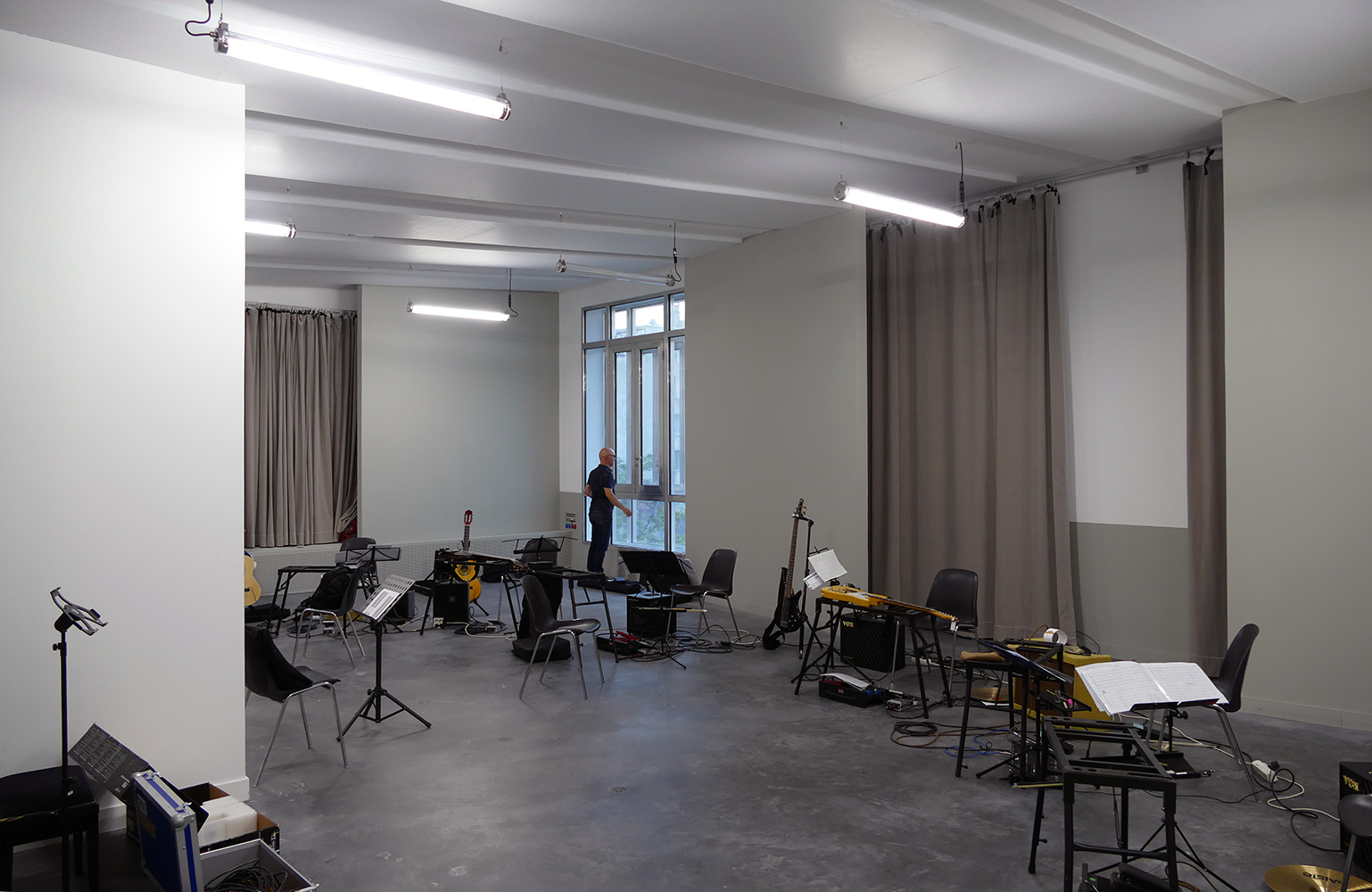 Recording studio. In front of the main walls, non-parallel lightweight partitions have been put up, behind which curtains for variable acoustics can be stored.

Photo © Kahle Acoustics
8/8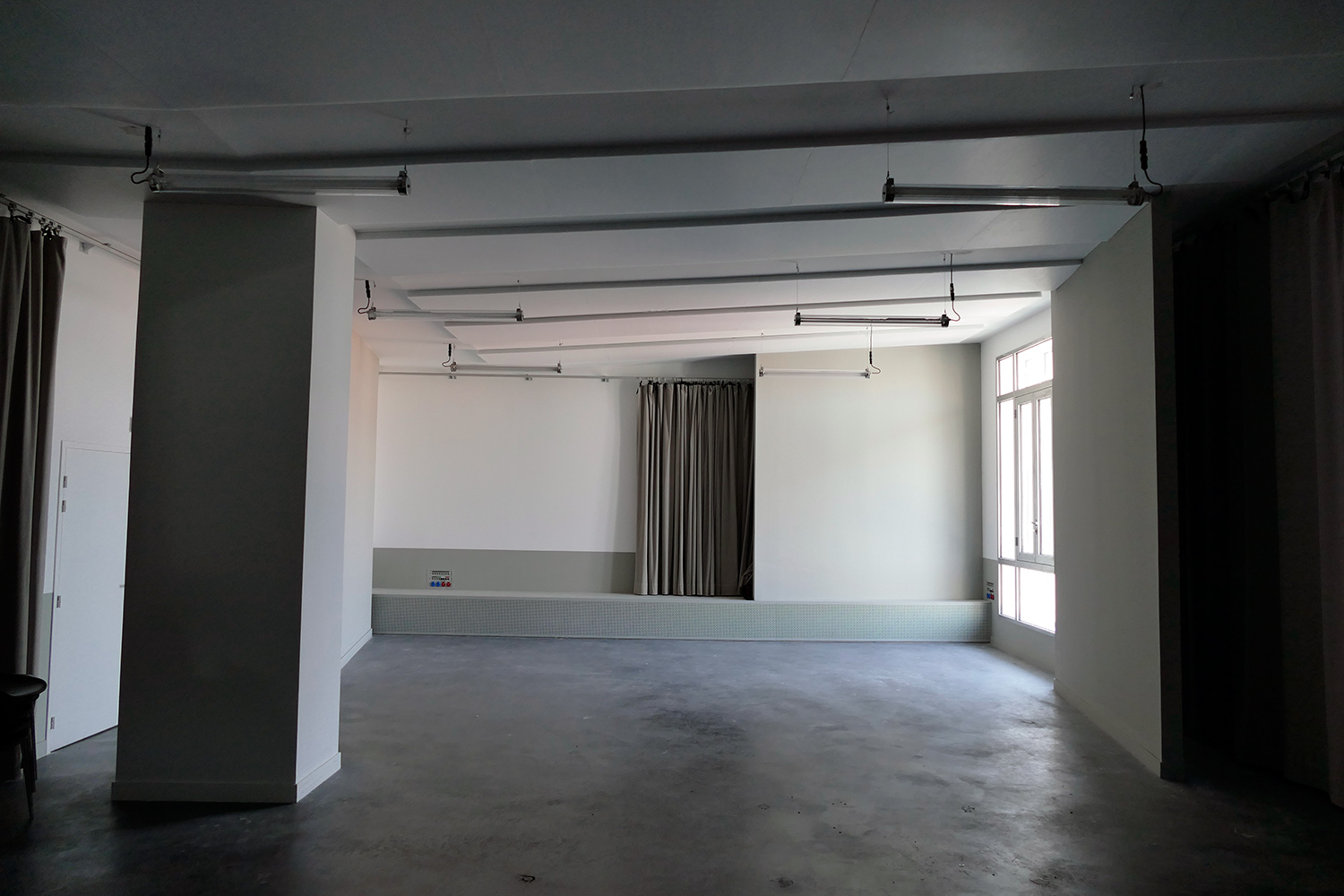 The tilted ceiling of the Recording Studio avoids parallel surfaces and is treated with stripes of white acoustic absorption. In the background, curtains can be used to vary the acoustics and the perforated bench integrates a low speed ventilation system.

Photo © Kahle Acoustics