Stadthaus Winterthur
Since the late 19th century former State House, landmarked building designed by Gottfried Semper, hosts the Musikkollegium, the hall required some architectural adaptations for better acoustical conditions. Lumière 2011 Award + Lichtdesign 2012 Award.
Information Sheet
Renovation/Transformation Stadthaus Winterthur www.musikkollegium.ch
Location Winterthur, Switzerland. Landmarked Building.
Project Cost 1.5 million CHF (approximately 1 million €).
Time Frame Evaluation and recommendations: 2002. Implementation of first phase of acoustics improvements: 2003 and 2004. Second phase: 2009.
Owner Stadt Winterthur, and Musikkollegium (City Orchestra).
Architect(s) Johann Frei, Johann Frei Architekturbüro, Winterthur frei-architekturbuero.ch
Lighting Vogt & Partner, Winterthur vogtpartner.eu
Seat Count A 900-seat chamber orchestra hall. Total area 700 m².
Uses Concert hall for the Musikkollegium Winterthur, symphony orchestra concerts as well as chamber music and recitals.
Services First phase: Evaluation of existing condition, proposal for and implementation of acoustical improvements for on-stage acoustics with absorbing and reflecting panels integrated around the stage, post-opening services.
Second phase: Ellipsoidal lightings have been specifically designed in close collaboration with the artist and the architect, as they function as well as acoustical reflectors above the conductor and the first seat-rows of the hall.
Team Eckhard Kahle, Kahle Acoustics.
1/7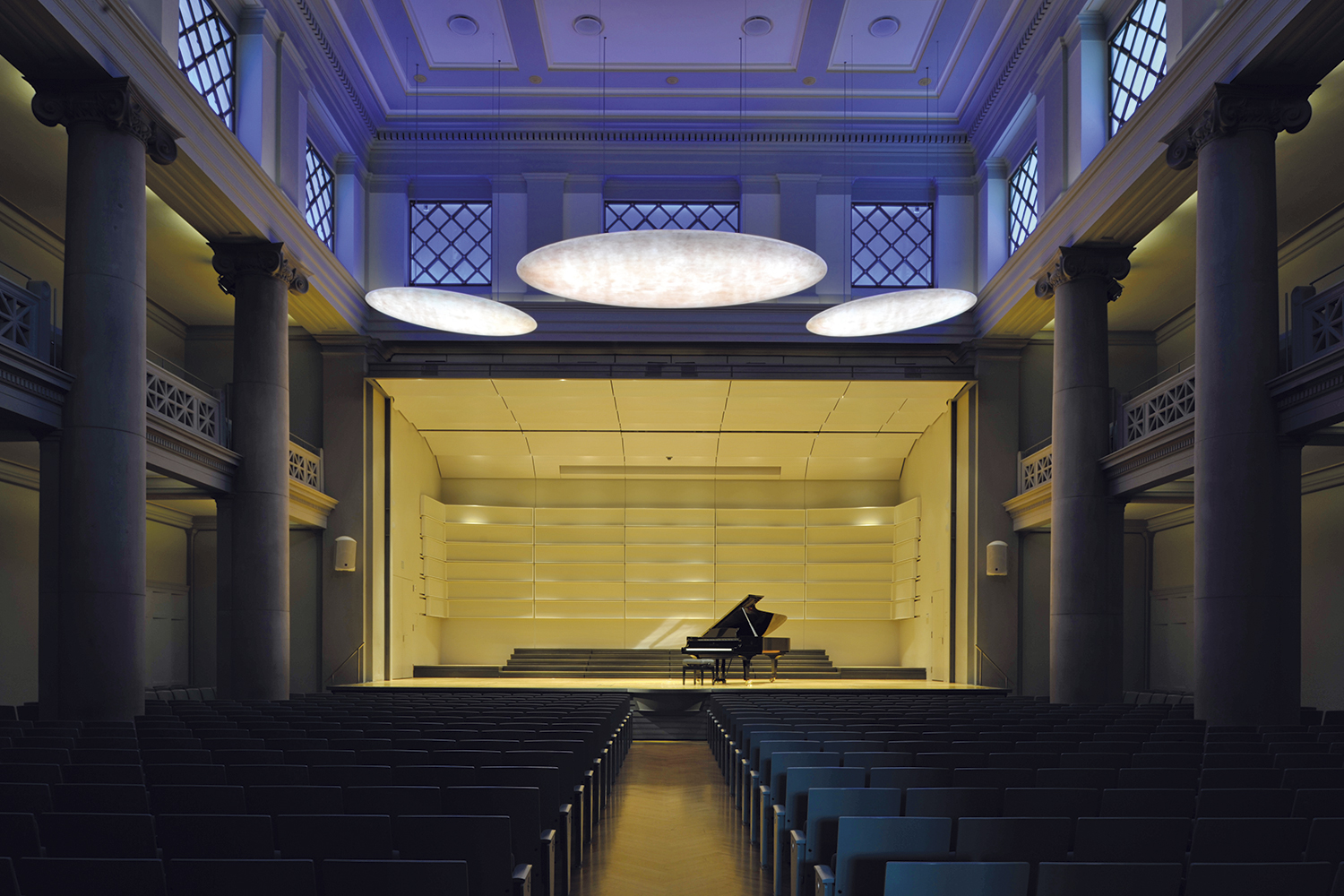 2009. The Stadthaus stage after the second renovation phase.

Photo © Johann Frei Architekturbüro
2/7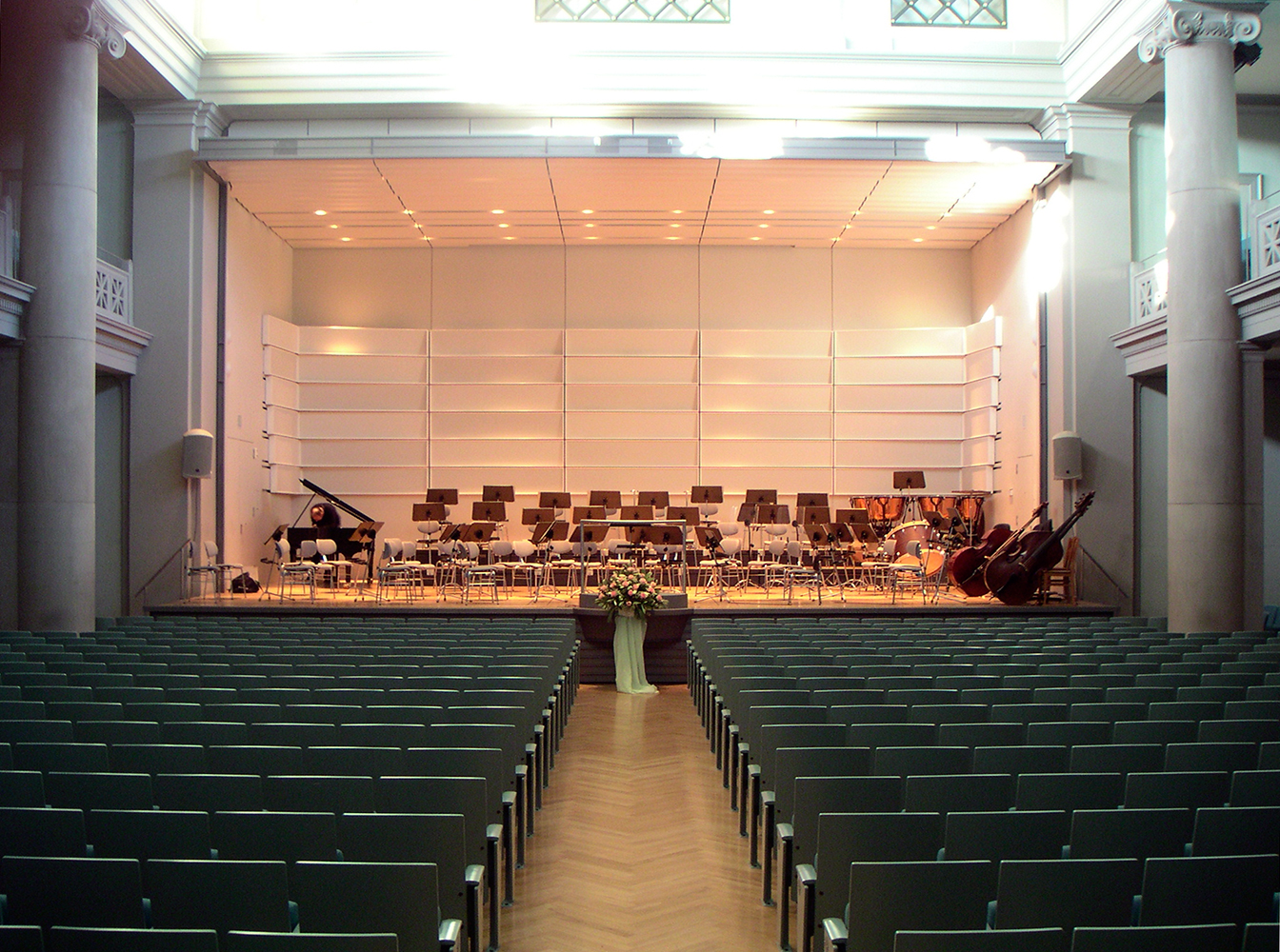 2003. The Stadthaus stage after the first renovation phase.

Photo © Johann Frei Architekturbüro
3/7
2003. The Stadthaus stage after the first renovation phase.

Photo © Kahle Acoustics
4/7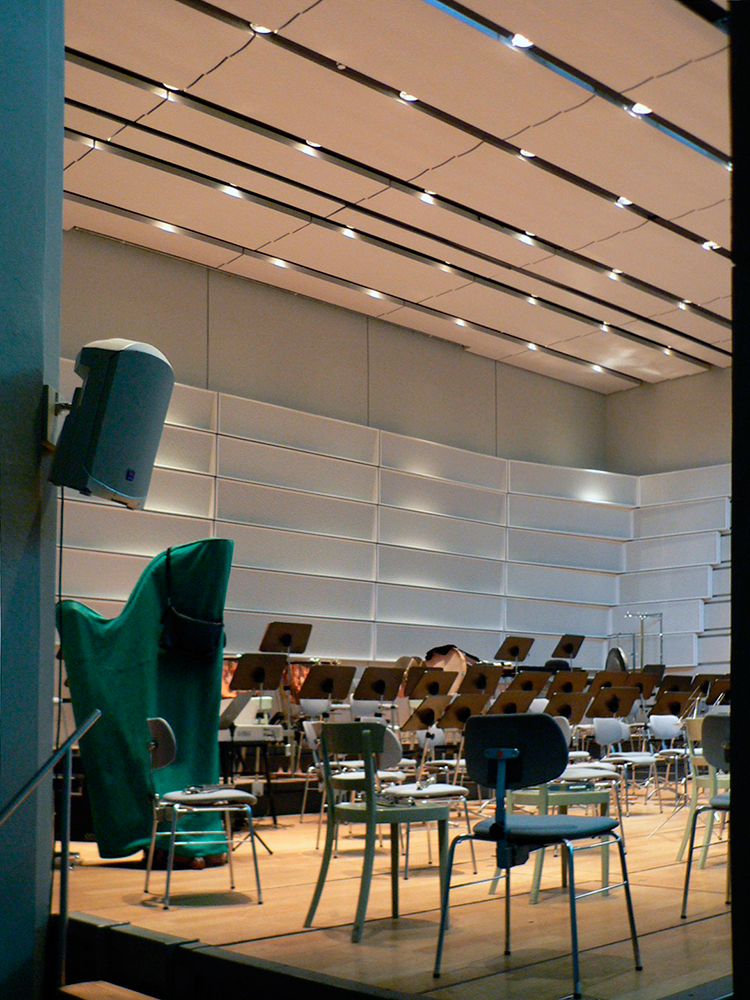 2003. View of the stage.

Photo © Kahle Acoustics
5/7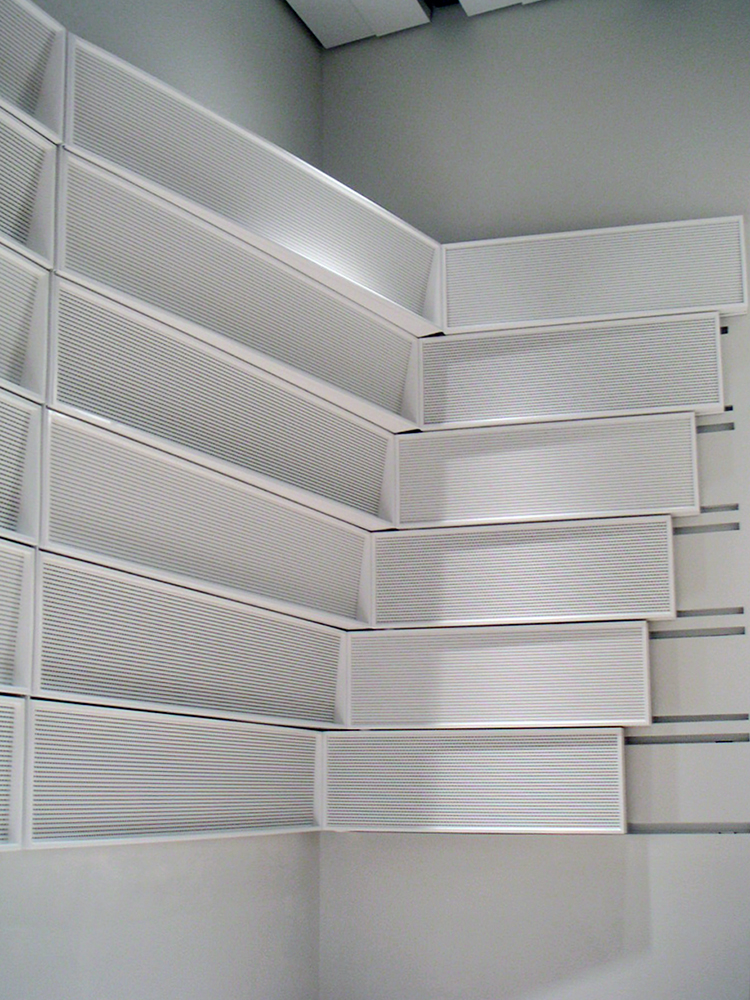 Adaptable acoustic panel system.

Photo © Kahle Acoustics
6/7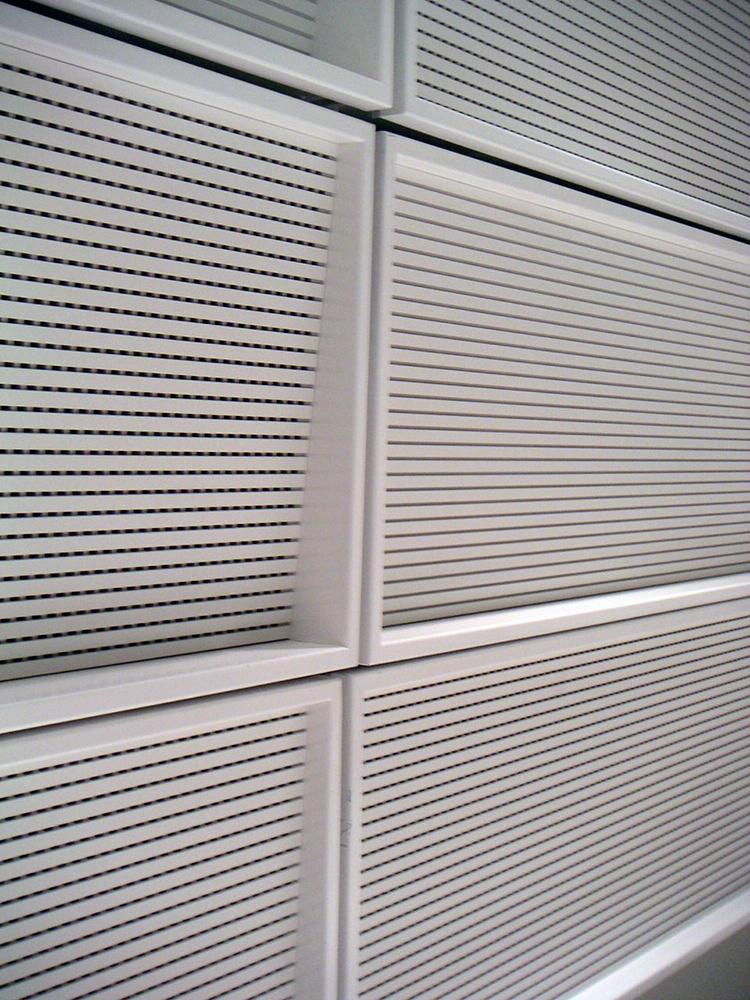 Detail of acoustic panels.

Photo © Kahle Acoustics
7/7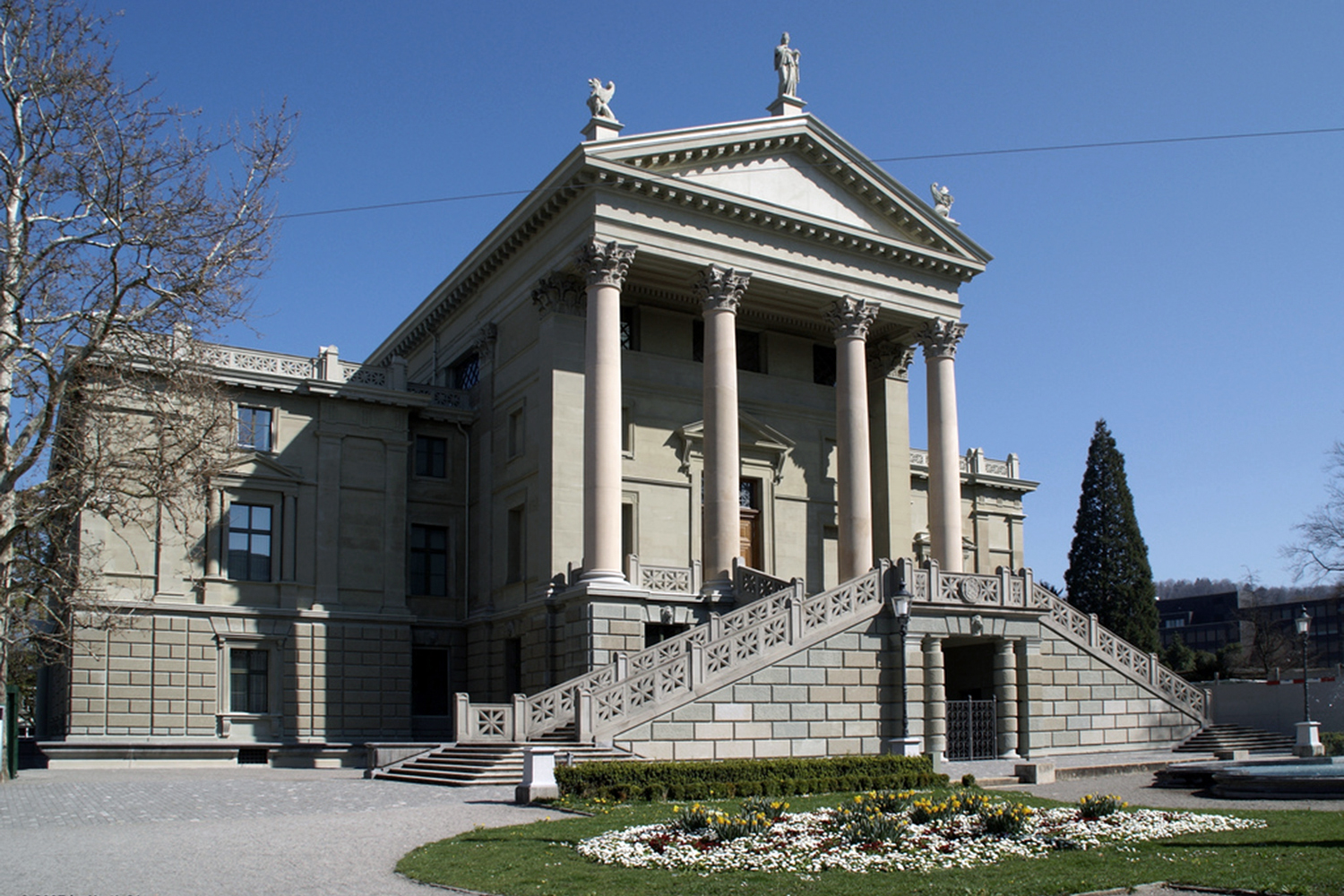 Stadthaus Winterthur.

Photo © Martin