Eikenes Sal - University of stavanger
The 230-seat Eikenes sal concert hall — also called "LKS" —– at the University of Stavanger, while an enjoyable space to perform in, lacked acoustical life and envelopment. Kahle Acoustics visited in 2019 to listen to the hall with the music faculty and subsequently developed a set of curved wooden reflectors, along with a flexible mounting system, to enable an acoustic optimisation of the space. Once the reflectors had been installed, the staff and students adjusted the reflectors, under guidance from KA via video calls and 3D models, to adjust the reflectors to create reflections back to the musicians on stage as well as into the audience. During a subsequent visit, Kahle Acoustics collaborated with the faculty to further refine the panel locations and angles. The result is a hall with excellent acoustic definition of the instruments, increased projection, clarity and envelopment, as well as optimised on-stage acoustics for the musicians.
Projectgegevens
Inregeling/Interventie Eikenes Sal - University of Stavanger www.uis.no
Locatie Stavanger, Norway.
Periode June 2019-April 2020 + January 2022.
Klant Stavanger University, Faculty of Performing Arts.
Plaats van interventie A 230-seat hall for recitals and concerts mainly used by the music students in the Faculty of Performing Arts at the University of Stavanger.
Geleverde diensten Acoustic consulting services starting with listening and measurements of the existing room, 3D modelling to development the acoustic optimization concept, organisation of the fabrication of the reflectors, supervision of the installation and acoustic optimisation of the reflector positions and angles in close collaborations with the students and staff of the Faculty of Performing Arts.
Adviseur(s) Vincent Berrier, Evan Green and Eckhard Kahle, Kahle Acoustics.
1/6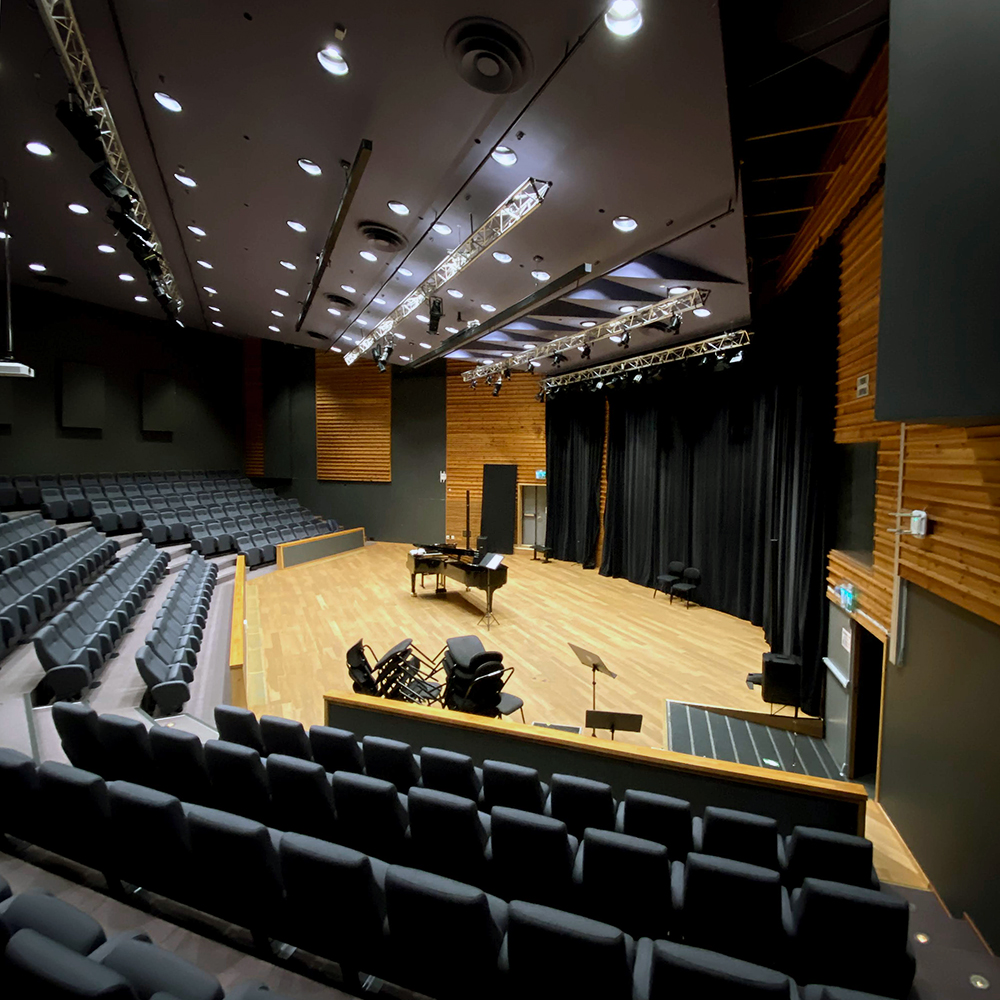 1/ Before acoustic optimisation, the LKS hall lacked acoustic definition and envelopment.

Foto © Kahle Acoustics
2/6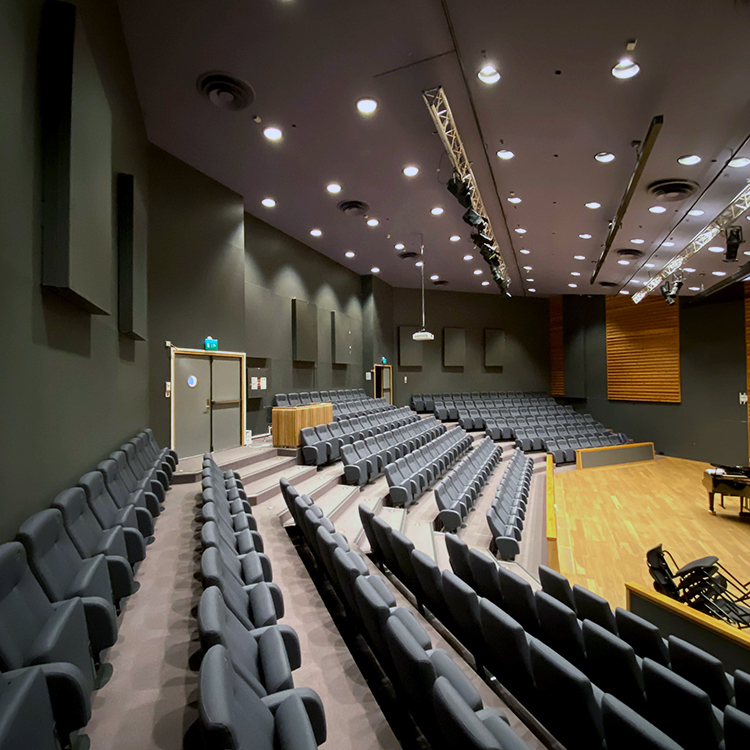 2/ The rear wall behind the audience prior to the optimisation project already had variable absorption panels installed. These panels were adjusted, to improve the reflection paths back to the musicians on stage.

Foto © Kahle Acoustics
3/6
3/ Arrays of curved wood reflectors were mounted onto a rail system on both sides of the hall. The panels close to the stage are optimised to enhance "cross-communication" paths between the musicians across the stage. In the audience area, the panels are angled to increase acoustic envelopment.

Foto © Kahle Acoustics
4/6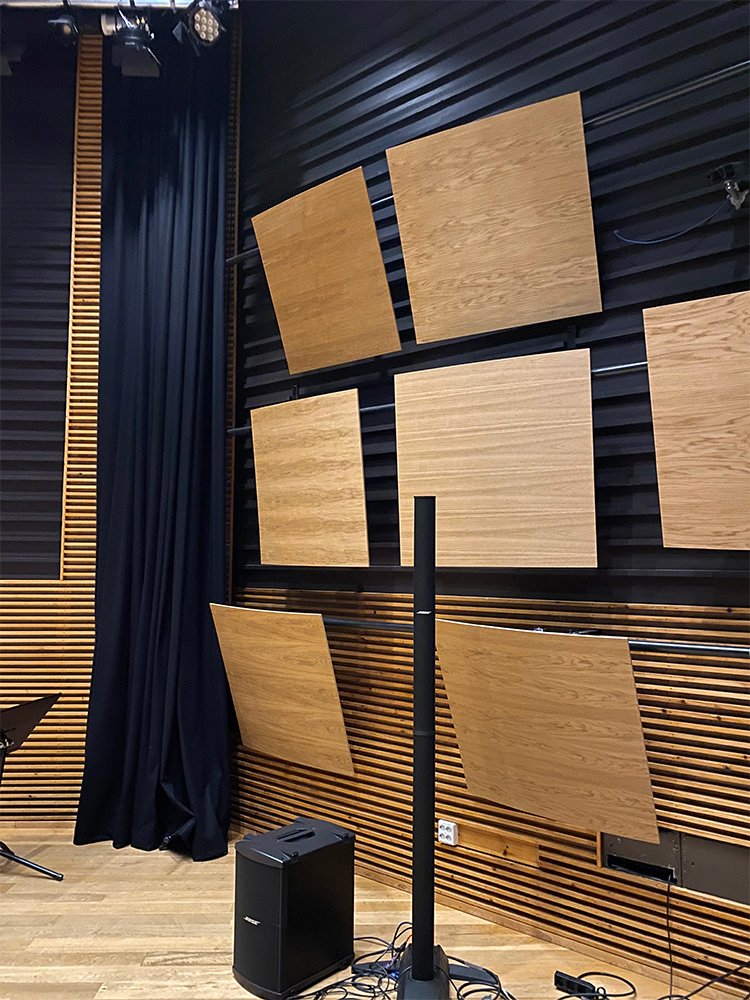 4/ Detail of the acoustic reflectors on stage. The lowest panels are strongly tilted to reduce resonances and loudness levels on stage.

Foto © Kahle Acoustics
5/6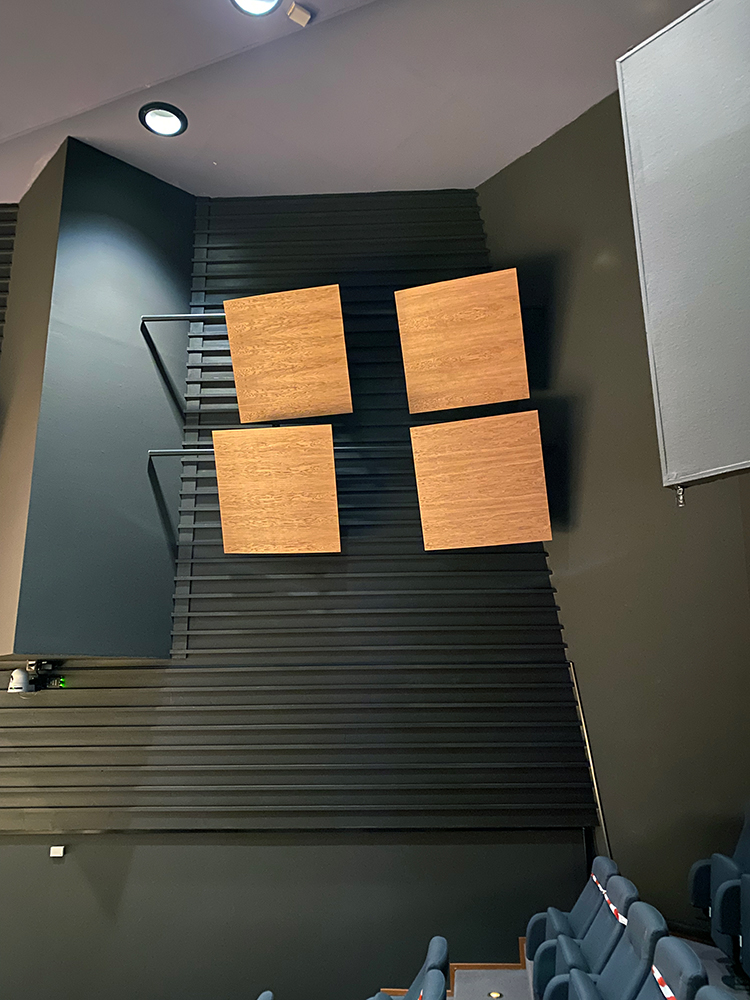 5/ In the rear of the hall, the panels are angled downwards and rotated in plan to direct early lateral reflections into the audience. These panels create a much better definition of the space along with an enhanced sense of acoustic envelopment and connection with the musicians.

Foto © Kahle Acoustics
6/6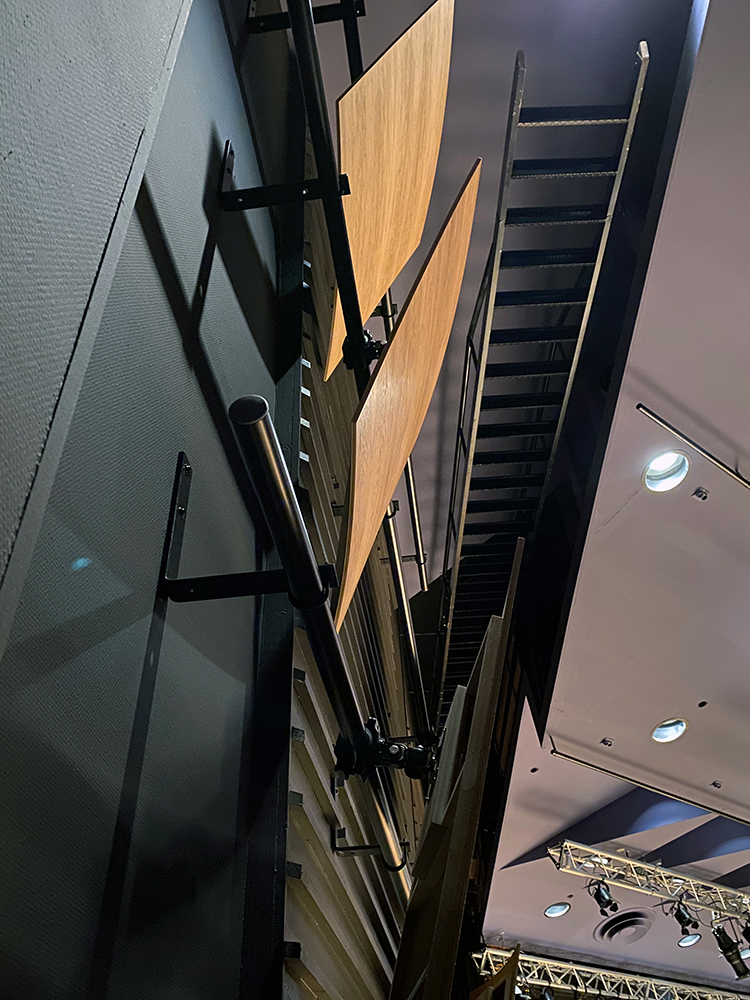 6/ A flexible mounting system for the panels was developed, to enable the acoustics to be optimised in-situ. This also enables future adaptations, as the use of the hall develops.

Foto © Kahle Acoustics