Salle Pierre Dervaux, Angers
Kahle Acoustics was invited to be part of the renovation team for the Salle Pierre Dervaux, one of the rehearsal rooms of the Orchestre national des Pays de la Loire. Regarding acoustics, the aim was to increase the room response, enhance orchestral balance as well as improving musical communication across the orchestra.
Projectgegevens
Renovatie/Transformatie Inregeling/Interventie Salle Pierre Dervaux.
Locatie Angers, France.
Bouwkosten Non available.
Opdrachtgever City of Angers, Loire Métropole.
Architect(en) Rdb Architectes, Angers www.rdb-architectes.com
Capaciteit 2 600 m³ for 60-80 musicians. Total area 650 m².
Gebruik Salle Dervaux, one of the two rehearsal rooms for the Orchestre national des Pays de la Loire in Angers.
Adviseur(s) Juan Óscar García Gómez, Johan Brulez, Eckhard Kahle, Kahle Acoustics.
Renovatie/Transformatie
Periode Studies: 2014-2016. Renovation: January-June 2017. Opening: July 2017.
Werkzaamheden Comprehensive acoustic consulting services including development of the acoustic concept, design and construction supervision. Design of the acoustic furniture (benches and reflectors). Post-opening services.
Inregeling/Interventie
Periode Spring 2016-Summer 2017.
Geleverde diensten Previously, the rehearsal room was considered as flawed by the musicians. Following listening tests and objectives acoustic measurements, Kahle Acoustics diagnosed a severe lack of reverberation that not only impacted the acoustical response for the musicians but also cross-communication within the orchestra. The implemented solution includes several components:
1/While the old suspended ceiling was fully absorbing, the new suspended ceiling, installed one-meter higher than the previous one, is a mix of reflective and absorbing panels: absorbing panels above loud instruments (percussion and brass), and reflective panels above the strings. This change has increased the response of the room and has simultaneously improved the orchestral balance.
2/Curved acoustic reflectors have been suspended under the ceiling in order to enhance cross-stage communication, to provide improved acoustical feedback to the musicians and to orientate more reflected sound towards the conductor.
3/Two types of floor-standing acoustic furniture have been designed. In the percussionists' alcove, three curved acoustic reflectors on stands provide acoustic feedback to the percussionists as well as to the rest of the orchestra. In addition, four movable acoustic benches with reversible backrests can be placed to adapt the acoustical response of the lower part of the room. The reflective backrest redirects the sound energy towards the ceiling; the absorbing backrest reduces the overall sound intensity. The top of the benches incorporates a curved reflector in order to enhance cross-communication within the orchestra.
1/8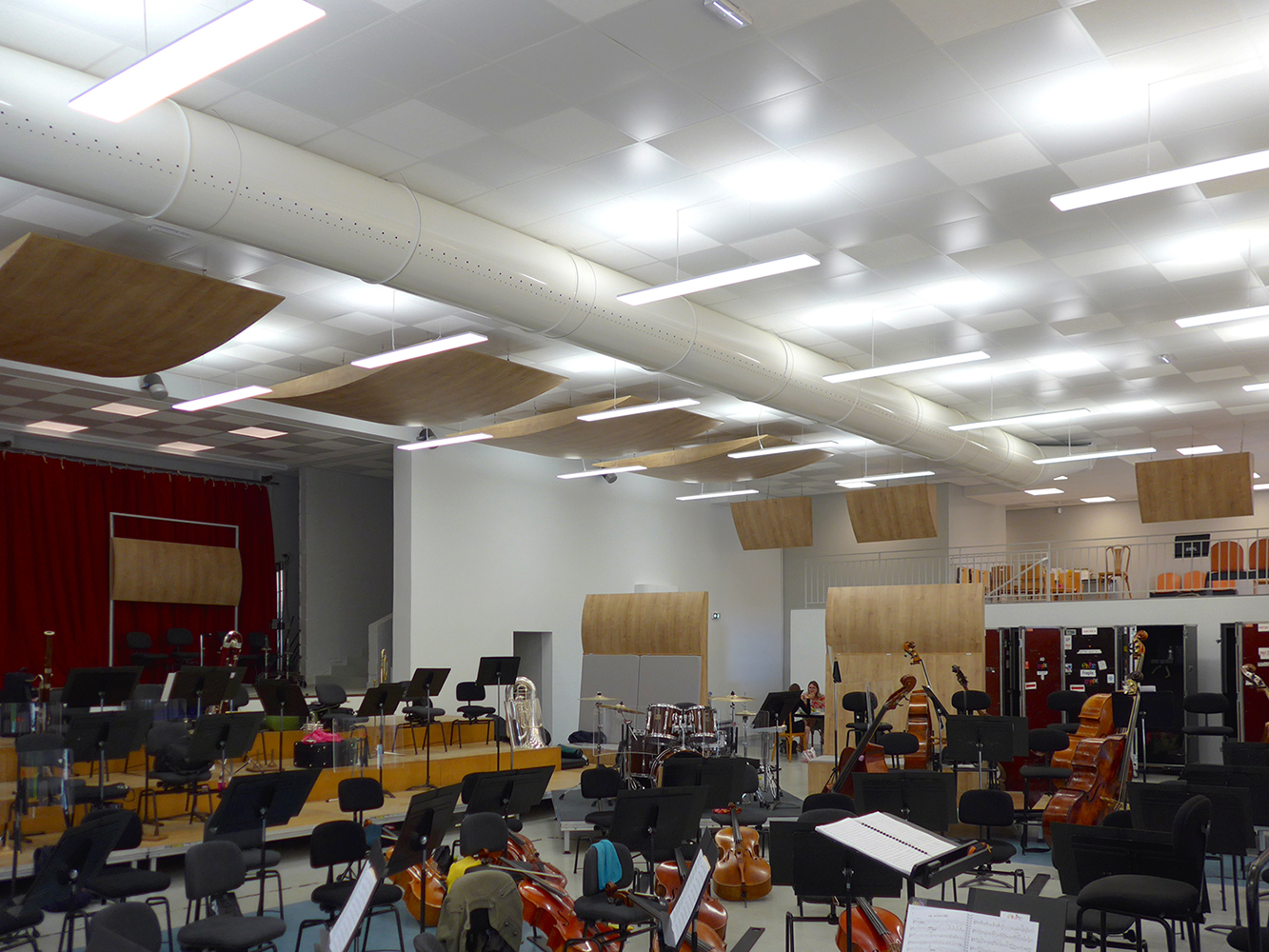 The new suspended ceiling has been installed one-metre higher in order to increase the acoustic volume of the rehearsal room. A mix of acoustically reflective and absorptive panels has been used: absorbing panels have been placed above the loudest instruments (percussions and brass) and reflective panels above the strings. This has both increased the response of the room and improved orchestral balance.

Foto © Kahle Acoustics
2/8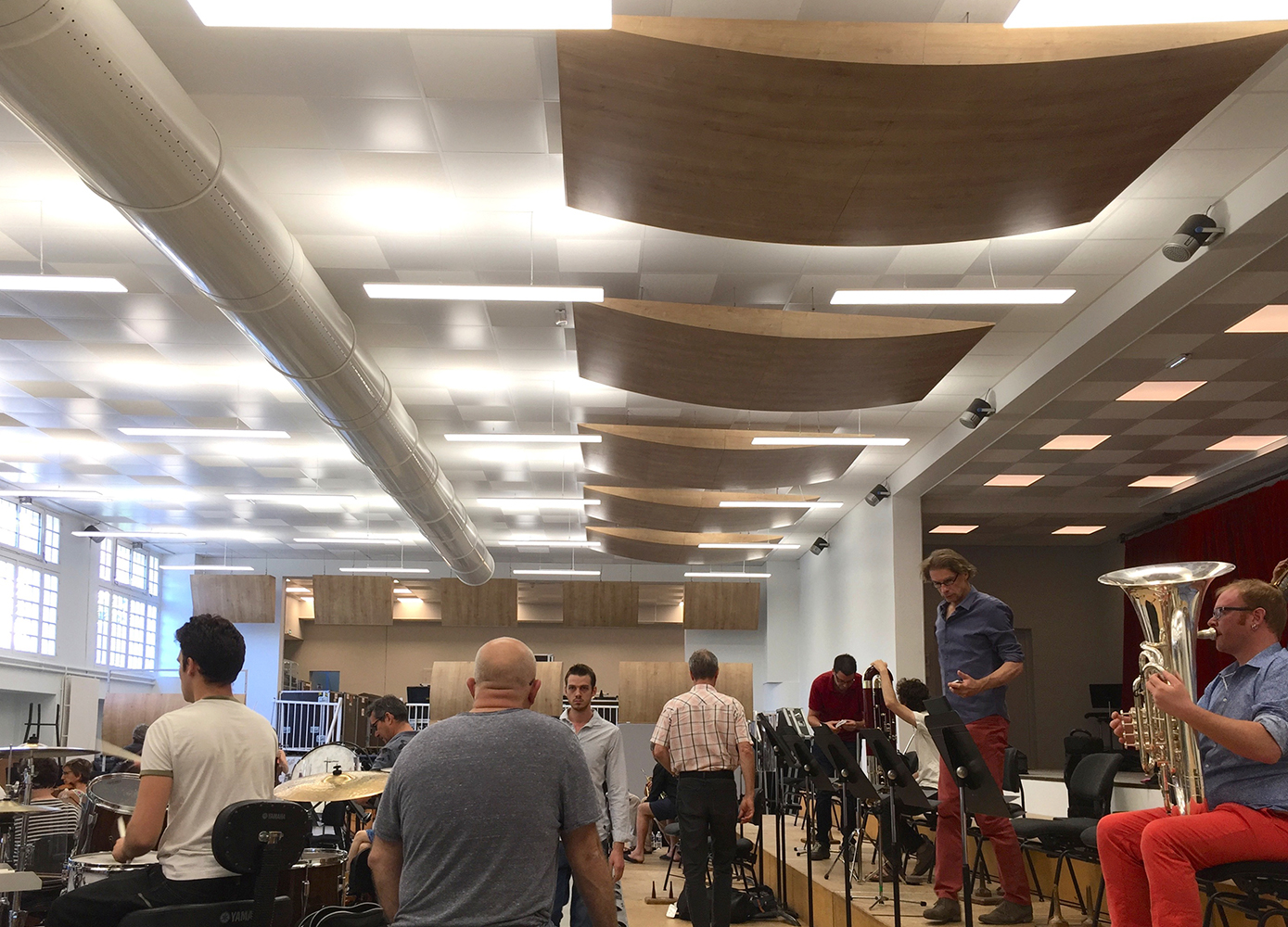 Curved wood acoustic reflectors suspended below the ceiling improve cross-stage communication and orientate more sound towards the conductor.

Foto © Kahle Acoustics
3/8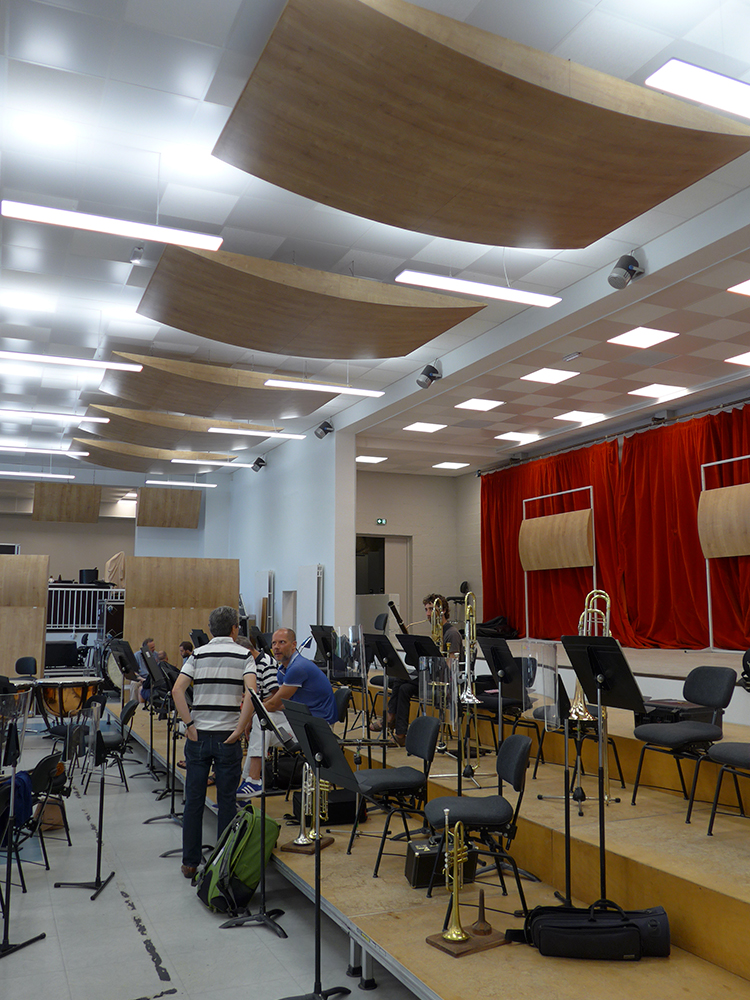 Curved wood acoustic reflectors suspended below the ceiling improve cross-stage communication and orientate more sound towards the conductor.

Foto © Kahle Acoustics
4/8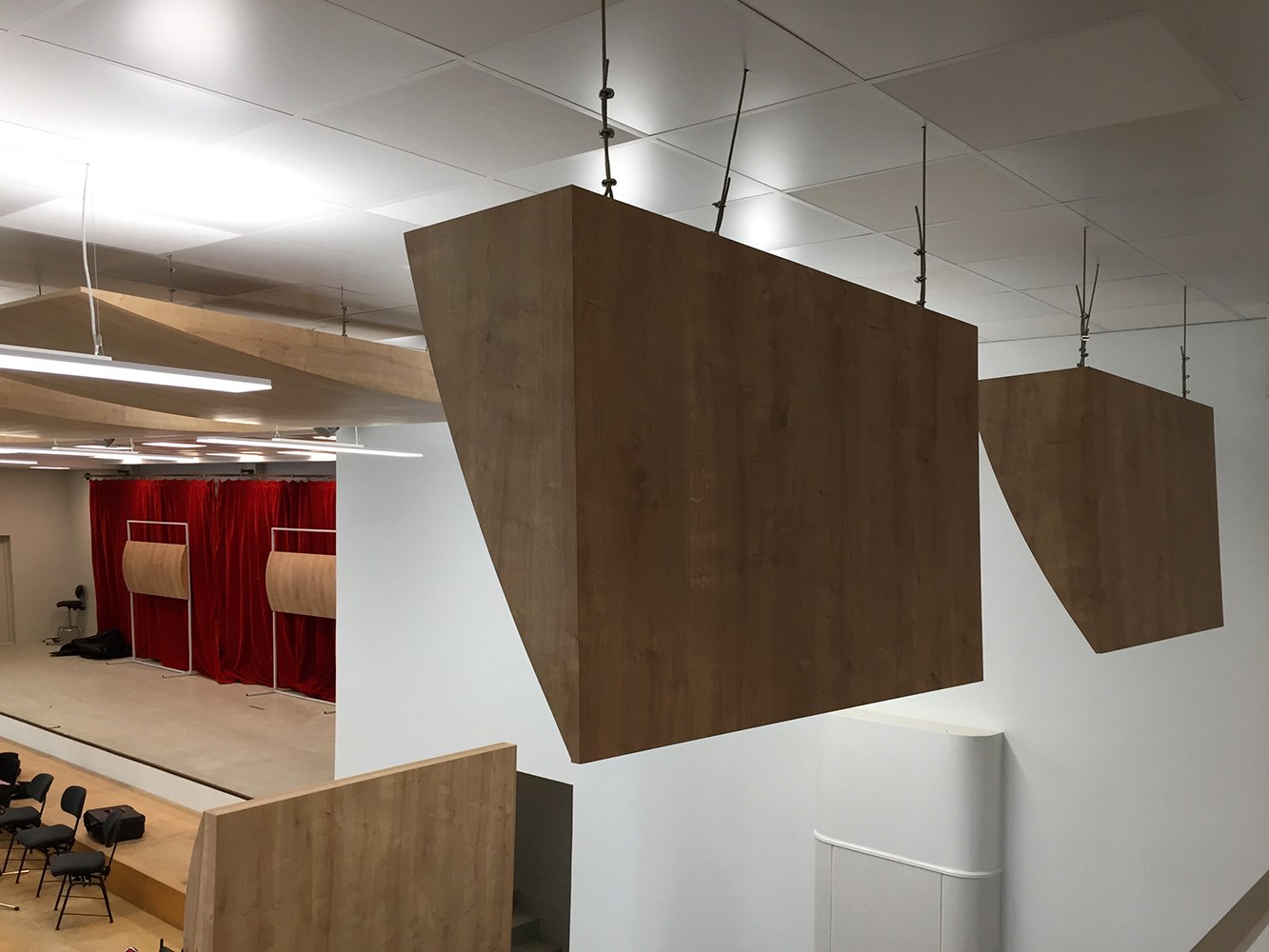 Curved wood reflectors to each side of the orchestra provide cross-communication sound reflections.

Foto © Kahle Acoustics
5/8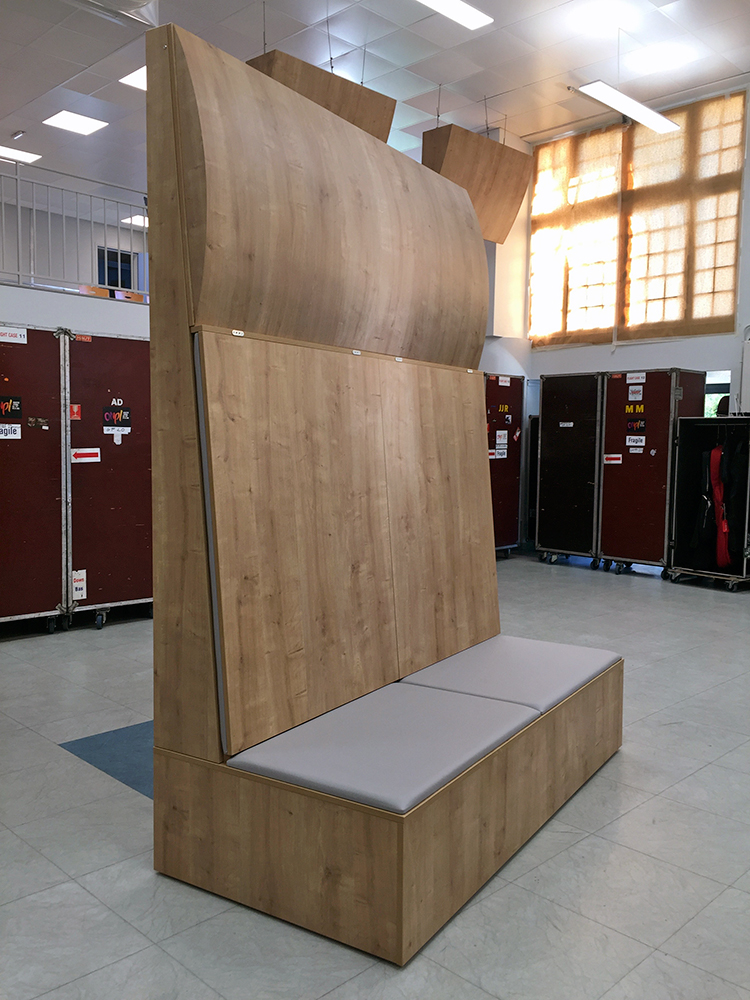 Four movable acoustic benches with reversible backrests can be positioned to adapt the acoustical response of the lower part of the room. With the backrest in the reflective mode sound energy is directed towards the ceiling.

Foto © Kahle Acoustics
6/8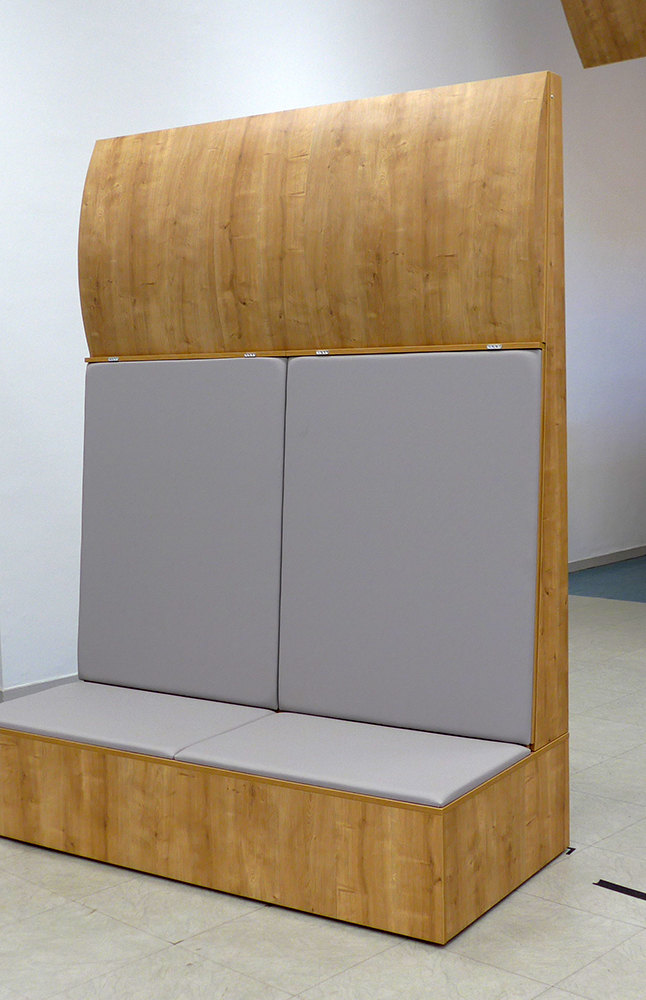 Acoustic bench. In the absorbing mode, the overall sound intensity can be reduced. The top of the four acoustic benches incorporates a curved reflector in order to enhance musical communication across the orchestra.

Foto © Kahle Acoustics
7/8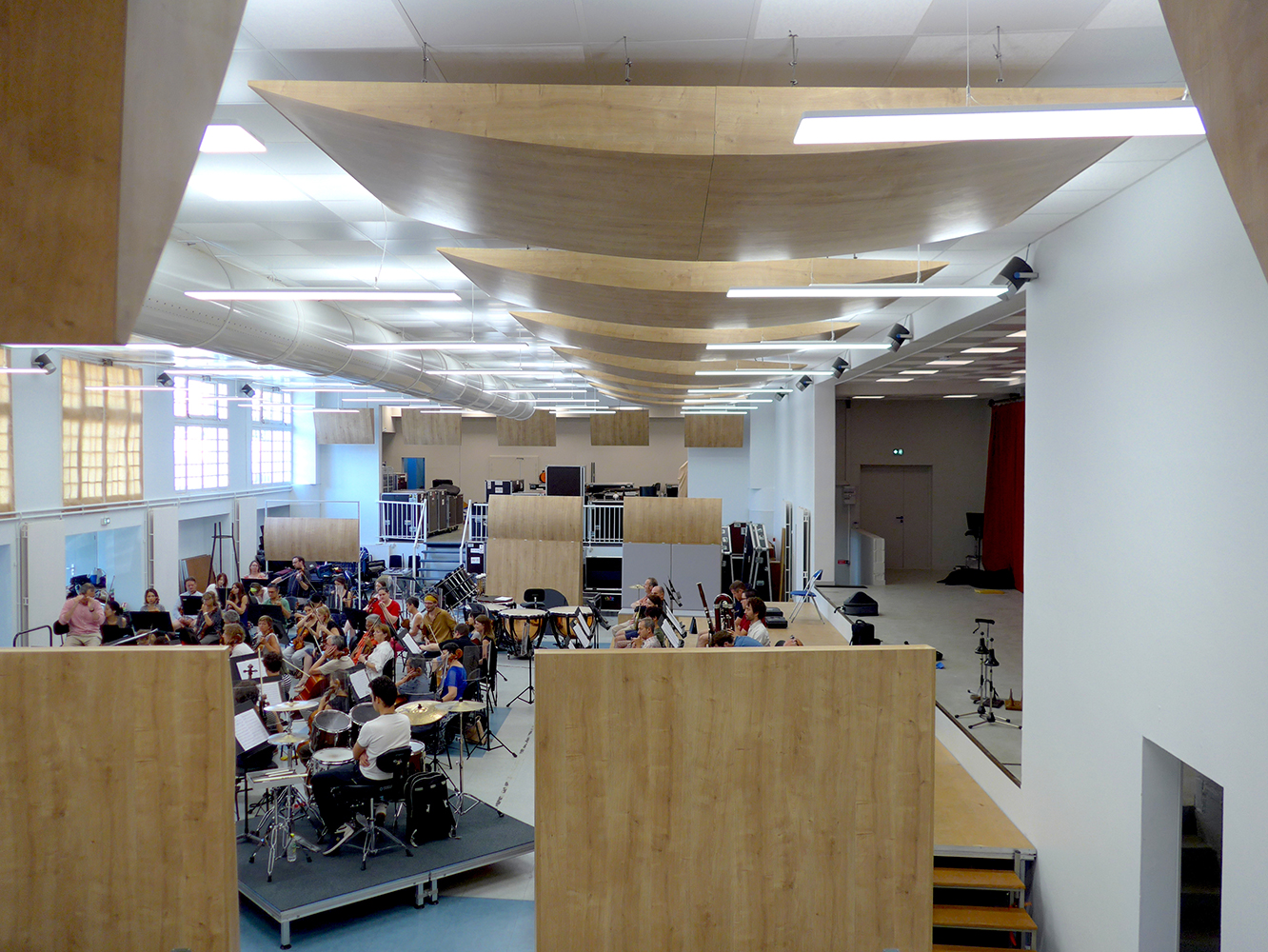 The acoustic benches are positioned with two on each side and alternating absorptive and reflective sides in order to improve cross-communication between the musicians.

Foto © Kahle Acoustics
8/8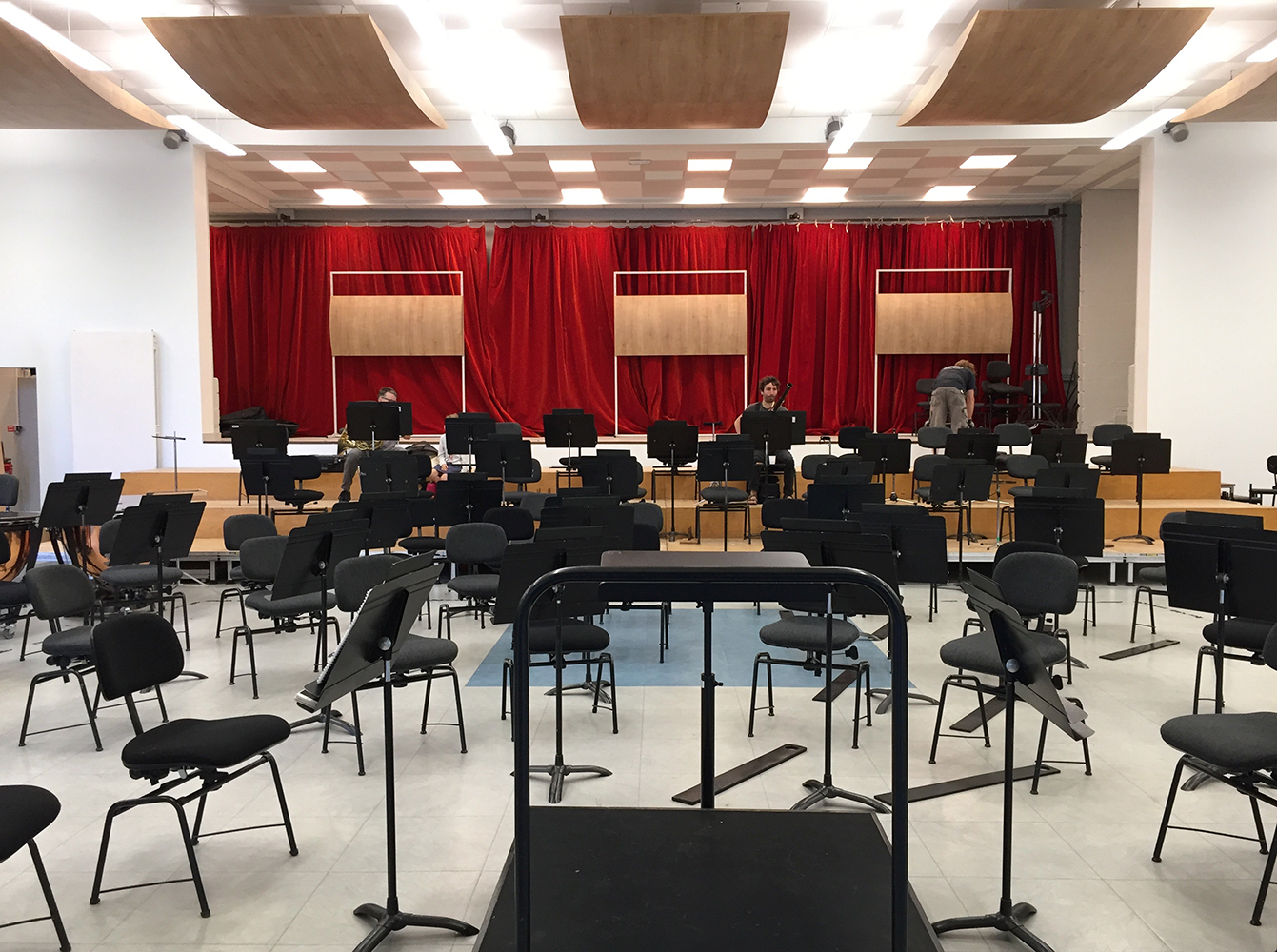 To better control the percussion loudness, the stage curtain has been moved behind the musicians and is typically fully deployed in order to increase the absorption in the alcove. The three movable curved acoustic reflectors in front of the curtain provide sound feedback to the percussionists as well as subtle reflections to maintain sufficient front-back orchestral communication.

Foto © Kahle Acoustics