Fuzhou Strait Culture and Art Centre
The starting point for the design was "Extraordinary experiences for ordinary users", with the aim of creating a new type of cultural centre. The SCAC, Fuzhou Strait Culture and Art Centre, similar in size to the Sydney Opera House, is on the south-eastern coast, in a major commercial area between Hong Kong and Shanghai and it is the world first's ceramic theatre and concert hall.
Information Sheet
New Build Fuzhou Strait Culture and Art Centre.
Location Mawei New Town, Fuzhou, Fujian Province, China.
Project Cost 2 billion Yuan (approx. 320 million €).
Time Frame Competition: 2014. Design: 2014-2015. Construction: 2015-2017. Opening: October 2018.
Owner Mawei New Town construction Development Co. Ltd.
Architect(s) PES-Architects, Helsinki www.pesark.com • China Construction Engineering Design Group Corp, Fu.
Artist Samuel Hsuan-yu Shi (Ceramic Artist), Taiwan.
Seat Count The Fuzhou culture centre comprises an opera house with 1 600 seats (based on the Italian horseshoe theatre), a concert hall with 1 000 seats (based on the vineyard paradigm), a multifunctional theatre with 700 seats (shoebox hall), an art exhibition building, a movie centre, and commercial premises. Gross floor: 153 000 m².
Uses The opera house hosts Chinese and classical Western operas. The concert hall hosts classical and amplified music performances. The multifunctional theatre holds conferences, theatre (trade), and shows and amplified music concerts.
Services Room acoustic design for the main performance spaces (1 000 seat concert hall and 1 600 seat opera hall), from competition to final design.
Team Eckhard Kahle, Thomas Wulfrank, Yann Jurkiewicz and Juan Óscar García Gómez, Kahle Acoustics. In collaboration with Henrik Möller, Akukon Oy, Helsinki, and Wang Jing Bo (TJAD, Tongji University).
1/9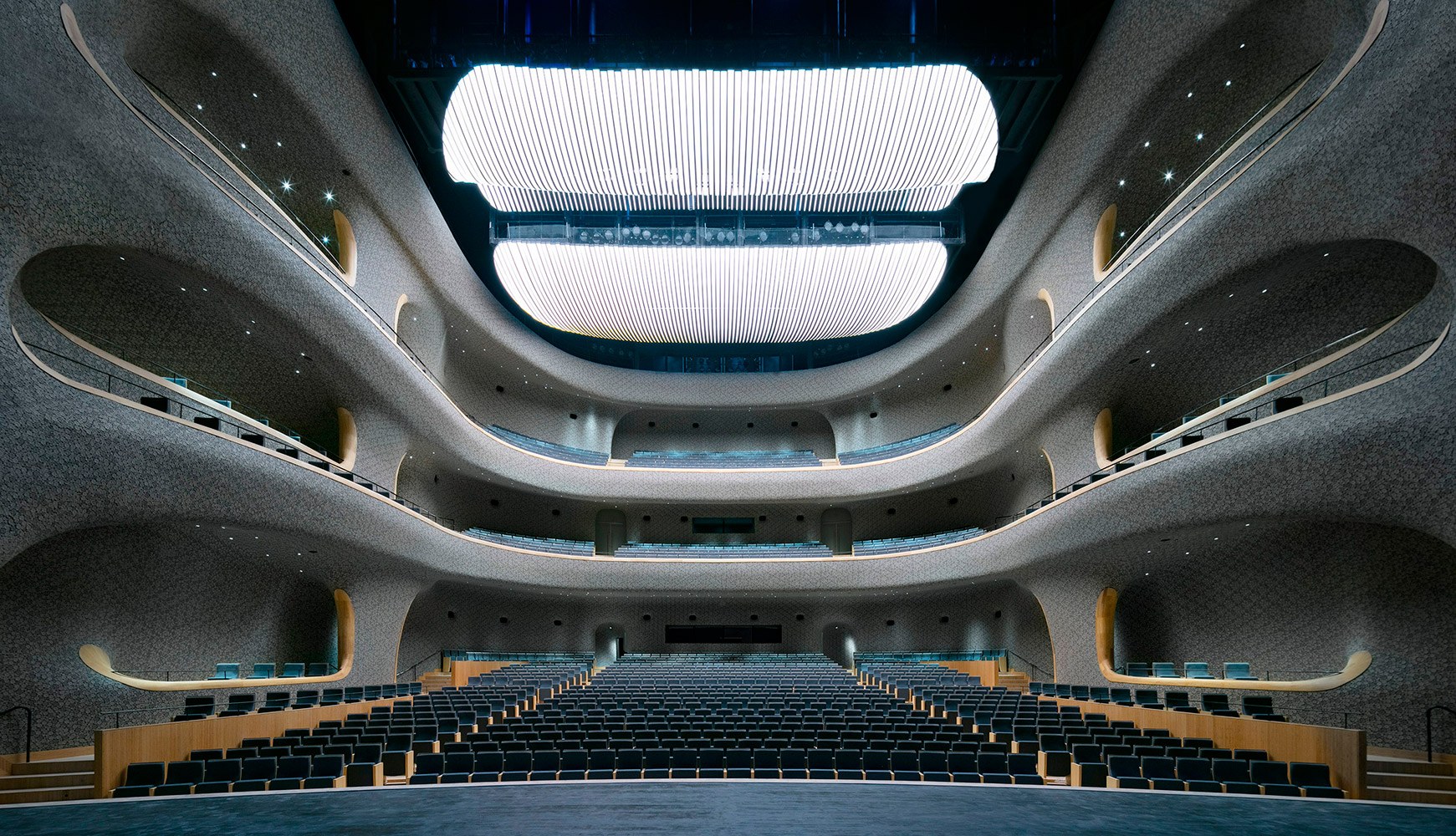 The complex 3D sidewalls of the opera hall have been carefully shaped to optimise the coverage of early lateral reflections towards the audience in the parterre and on the balconies. In addition, the ceiling has been made partially open in order to couple the upper acoustic volume above the reflectors to the main acoustic volume. • The ceiling reflector above the orchestra pit has been shaped to complete the early reflection coverage to the audience and to the musicians in the orchestra pit.

Photo © Marc Goodwin, PES-Architects
2/9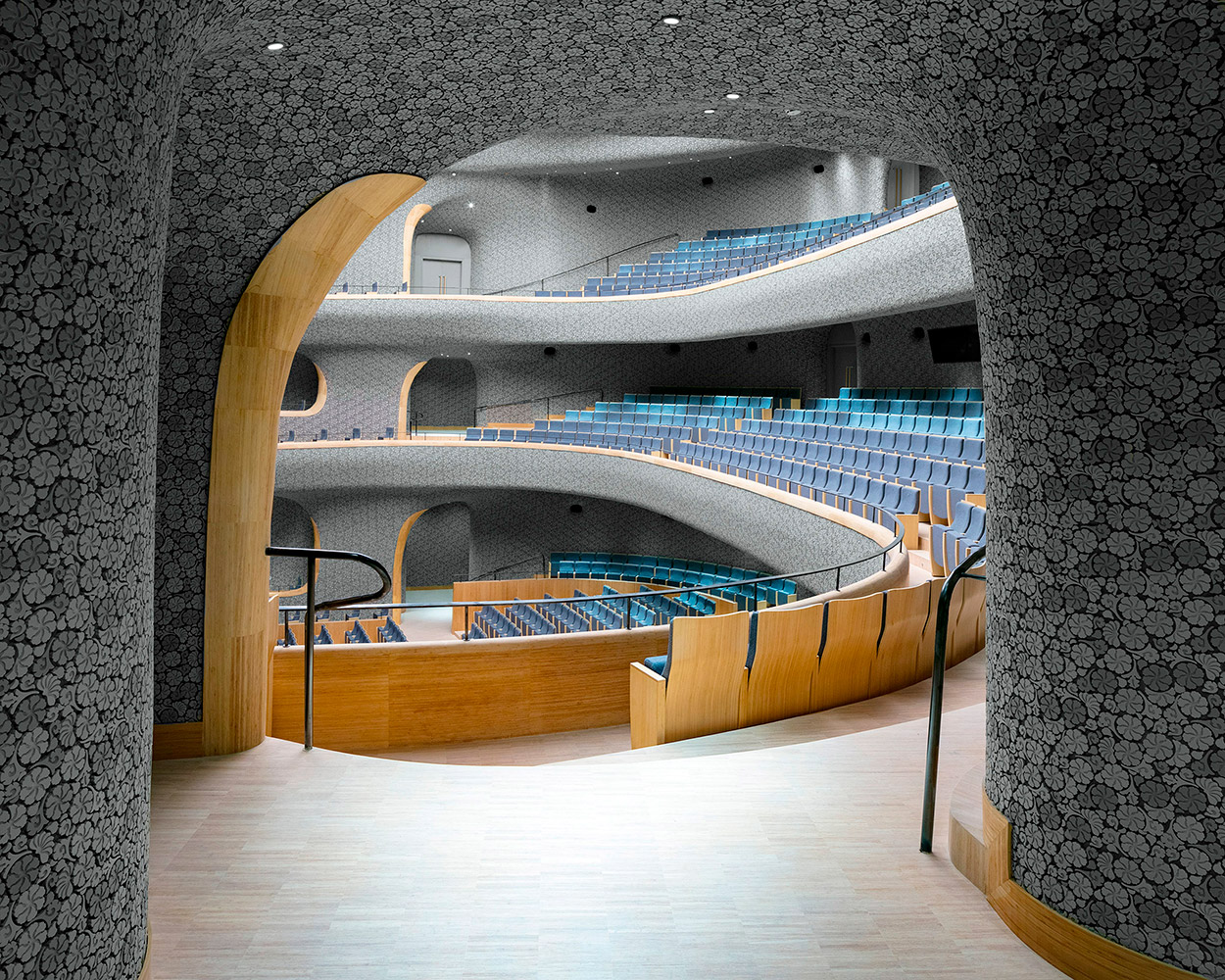 Free-formed shapes continued into cave-like tunnels connect the foyer of the opera hall with the 3 levels.

Photo © Marc Goodwin, PES-Architects
3/9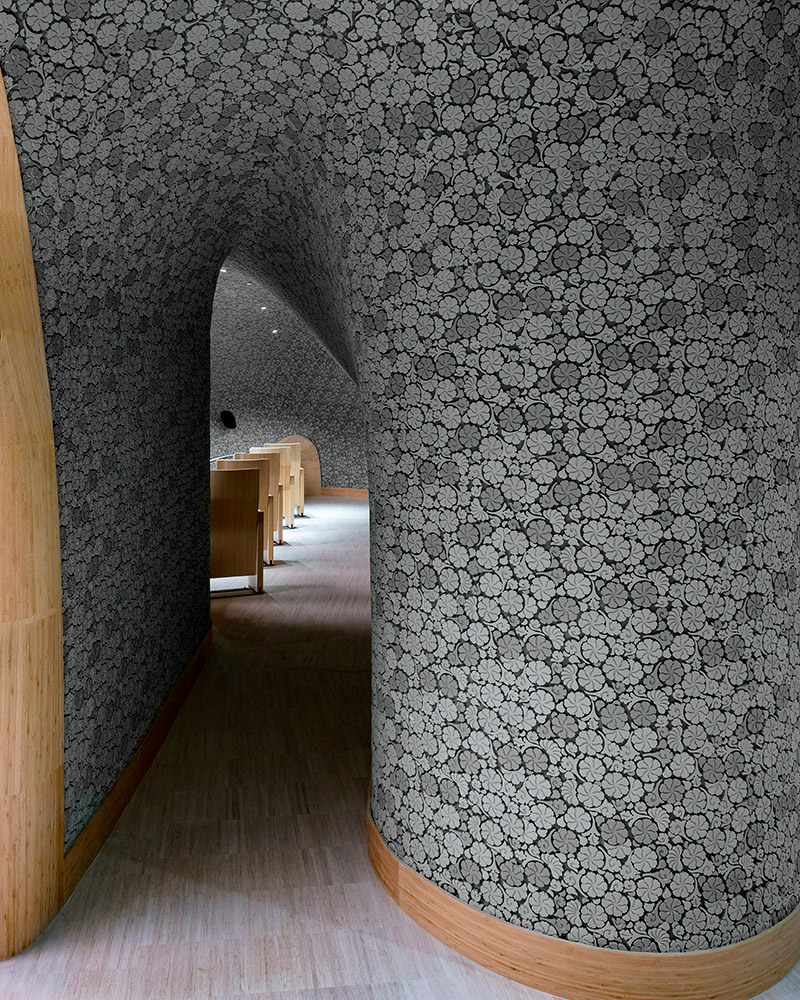 Convex and concave curvatures have been combined together into a unique wall sculpture that behaves like a large and efficient acoustic reflector.

Photo © Marc Goodwin, PES-Architects
4/9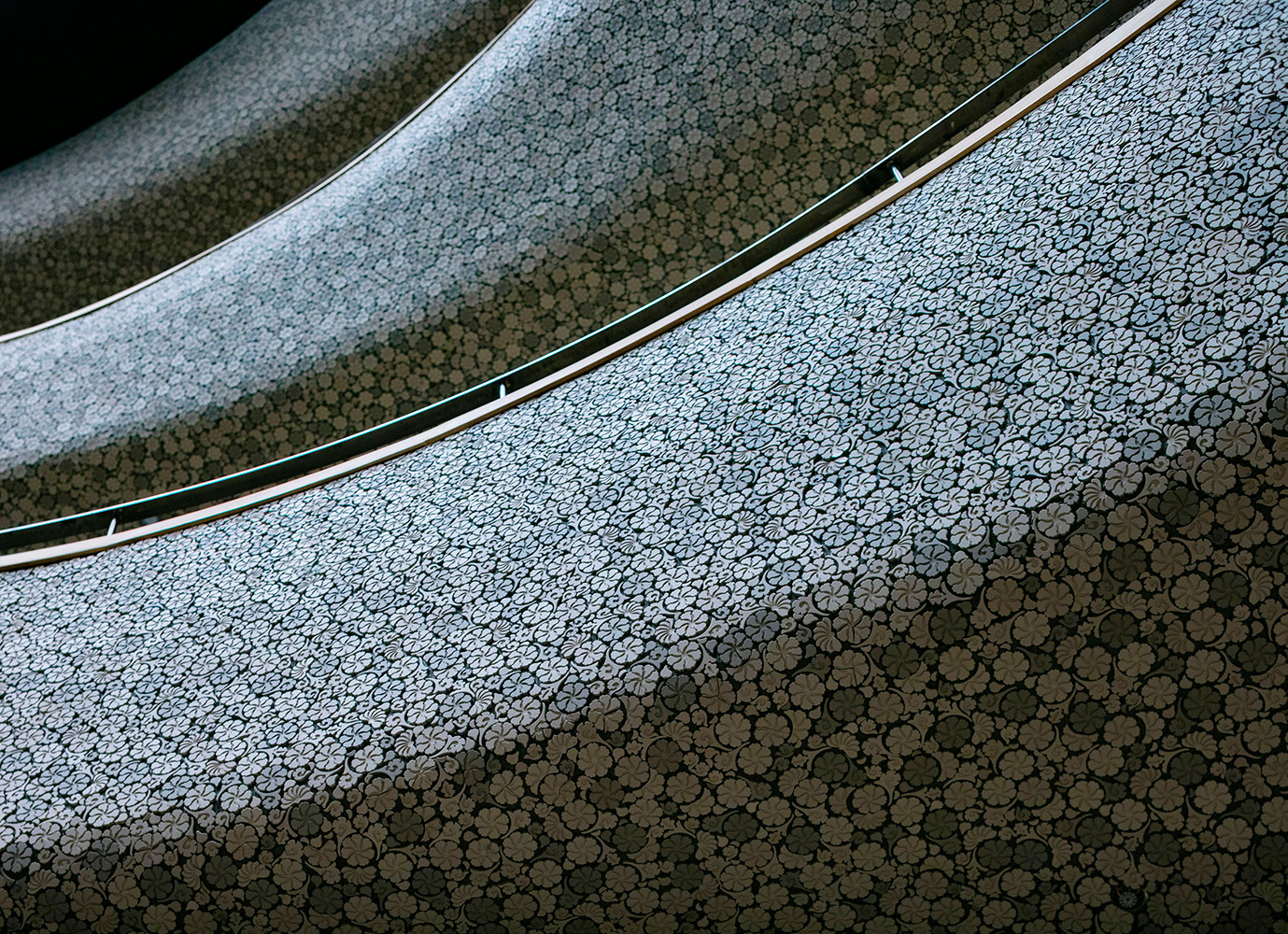 Convex and concave curvatures have been combined together into a unique wall sculpture that behaves like a large and efficient acoustic reflector. On this wall sculpture a mild diffusion pattern has been superimposed in the form of 8 mm thick flower shaped ceramic tiles, softening the high frequency reflections to create a more round and warm sound and avoid harshness that could arise from flat ceramic surfaces.

Photo © Marc Goodwin, PES-Architects
5/9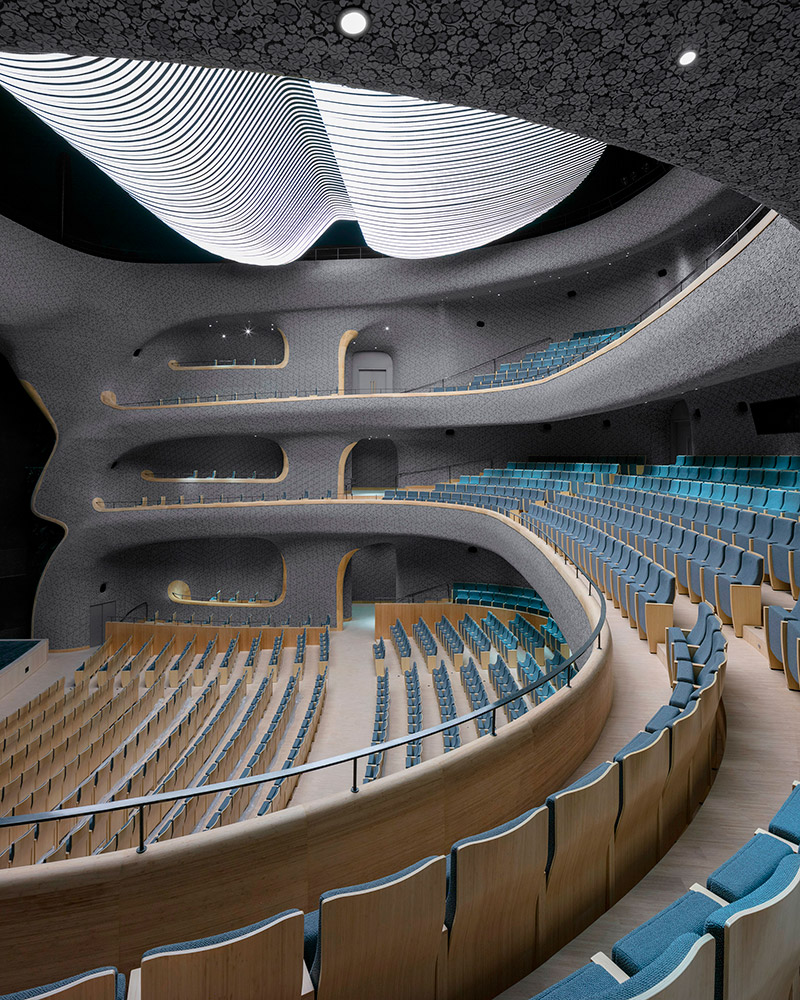 The ceiling reflector above the orchestra pit has been shaped to complete the early reflection coverage to the audience and to the musicians in the orchestra pit.

Photo © Marc Goodwin, PES-Architects
6/9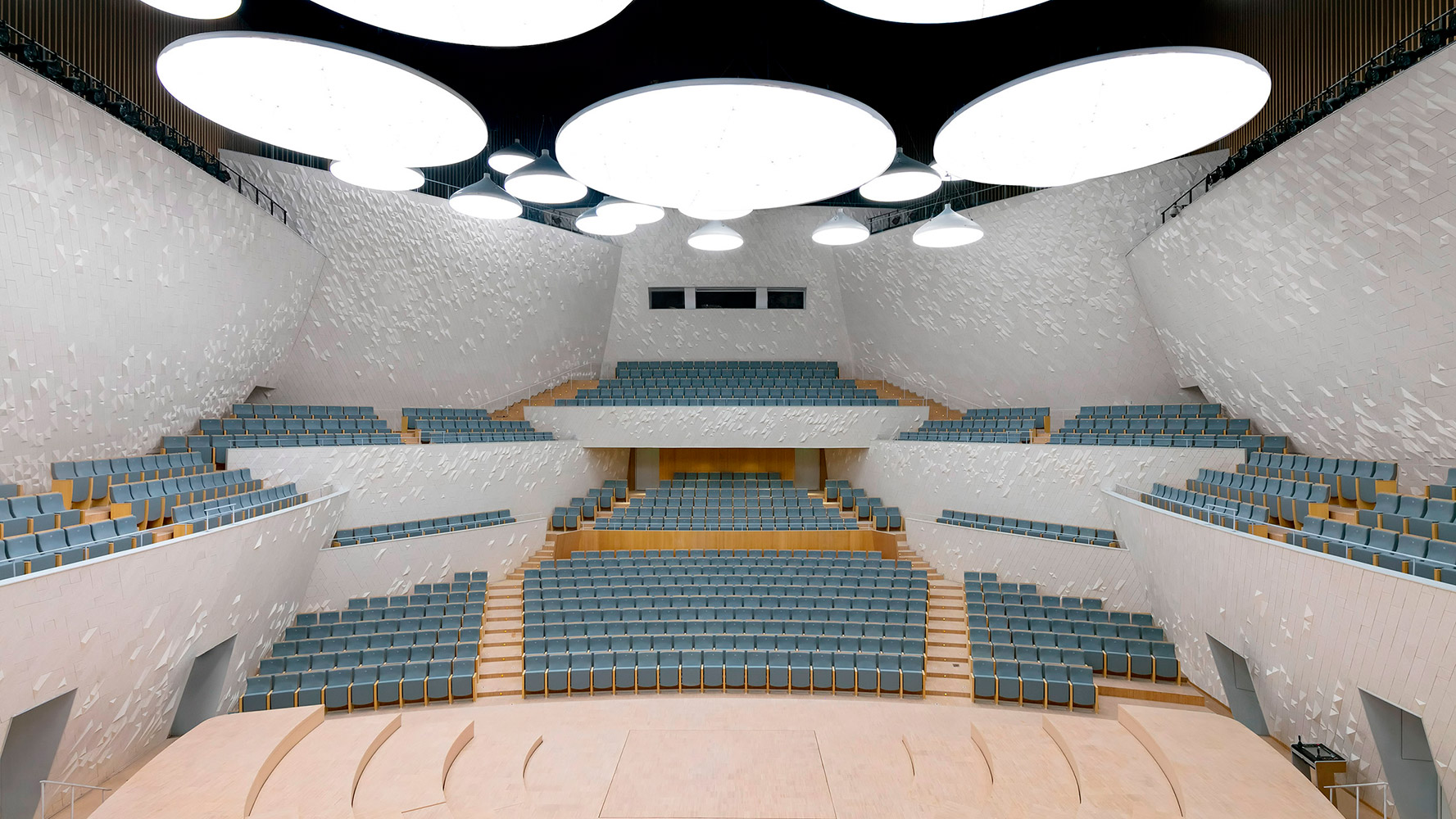 Concert hall: Two levels of convexly curved inclined walls surround the orchestra and the audience, creating a multitude of early lateral and enveloping reflections.

Photo © Marc Goodwin, PES-Architects
7/9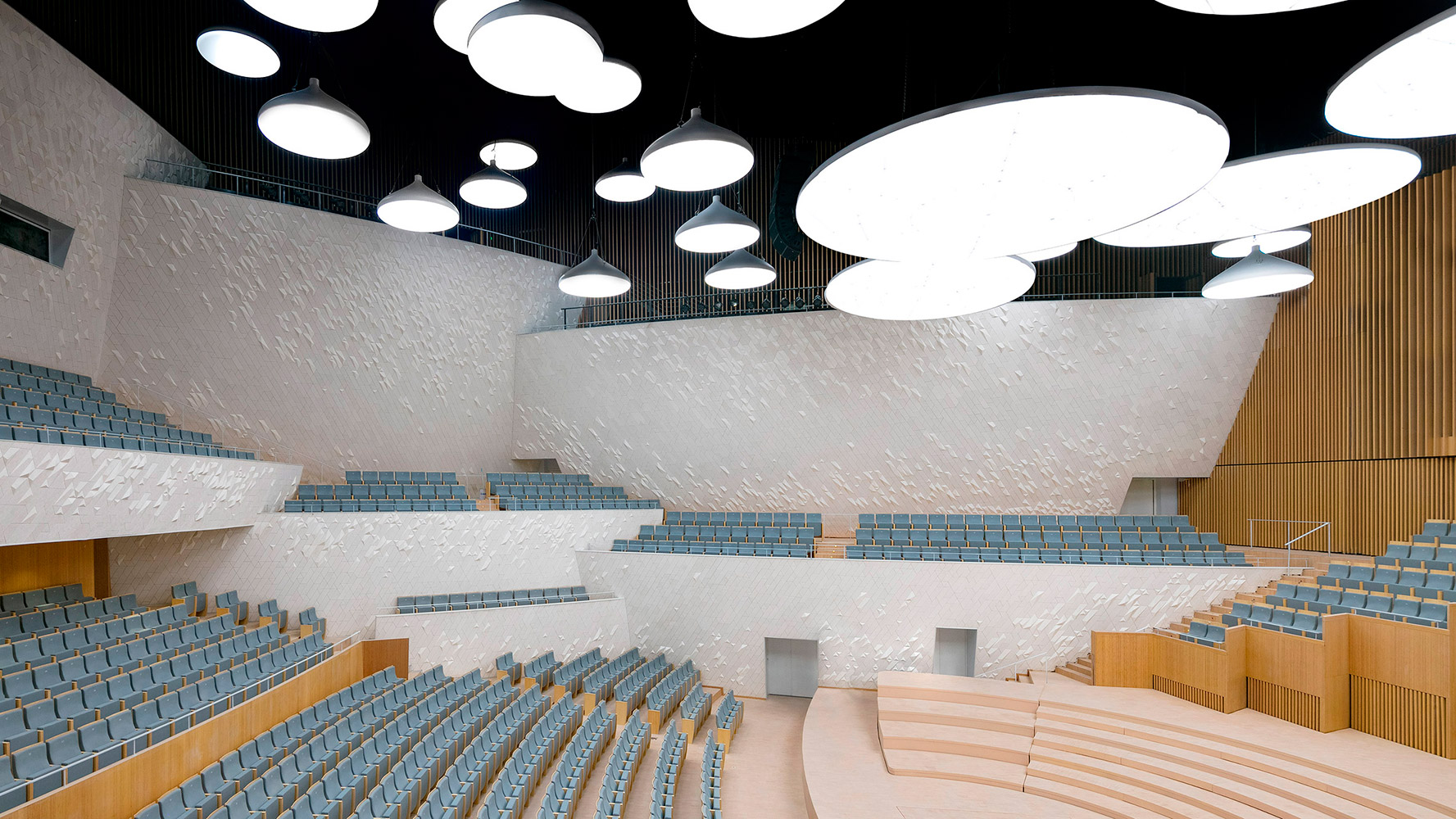 Concert hall : Reflective ceiling pendants with integrated LED-lighting suspended above the stage and above the audience provide additional acoustic reflections to all audience members as well as acoustic support to the musicians on stage. Their size and curvature were defined in order to preserve an appropriate balance between low and high frequency reflected sound.

Photo © Marc Goodwin, PES-Architects
8/9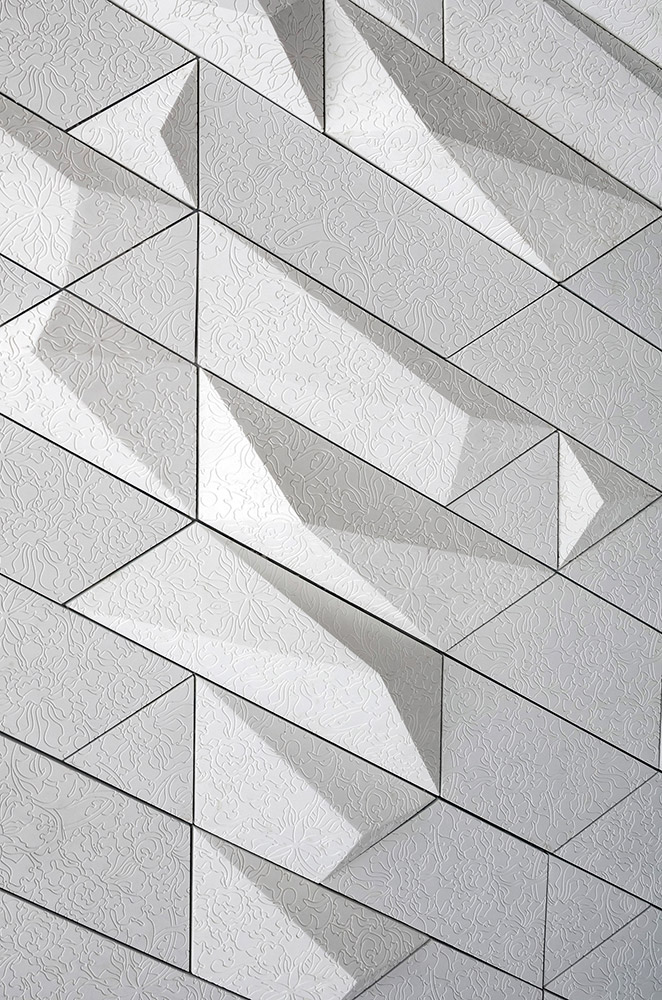 Concert hall: Specific zones of these walls (those creating late reflections) are treated with a diffusive acoustic treatment consisting of a pseudorandom pattern of protruding ceramic tiles. The flat ones enhance reflection and the angulated 3D shaped ones are for diffusion.

Photo © Marc Goodwin, PES-Architects
9/9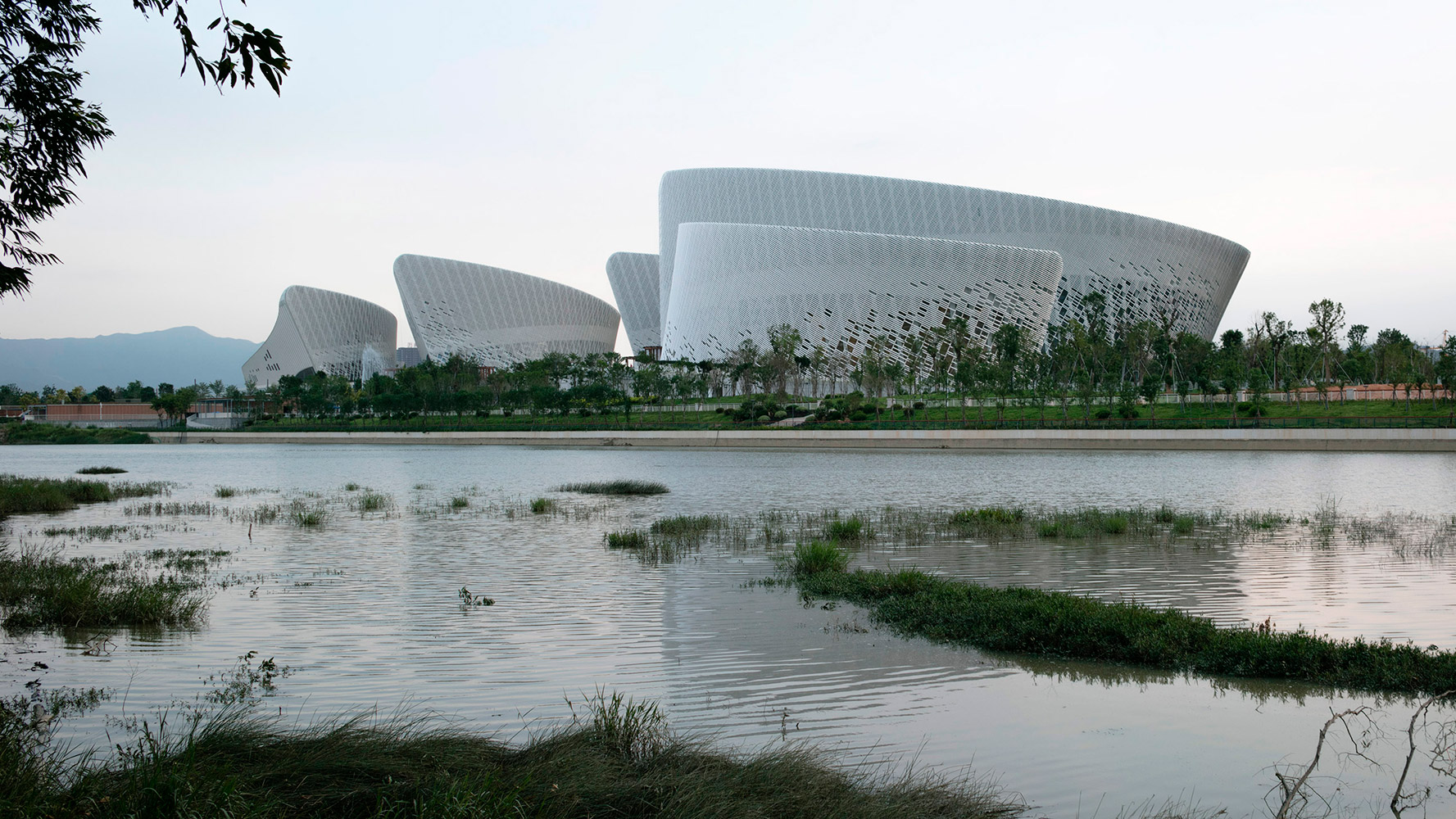 These five "Jasmine Petal" or white-coloured ceramic tiles clad the exterior of the SCAC or Strait Culture and Art Centre of the city of Fuzhou.

Photo © Marc Goodwin, PES-Architects