Shandong Grand Theater
Construction of the cultural center of Shandong — one of the most important provinces in China, with around 100 million inhabitants — comprising a 1 500-seat concert hall, a 1 600-seat opera hall and a multifunctional hall, in three independent buildings.
Information Sheet
New Build Shandong Grand Theater.
Location Jinan, China.
Project Cost 1.1 billion RMB Yuan (approximately 130 million €).
Time Frame Competition won in 2010, Design in April 2010, start of construction late 2010, opening October 2013.
Owner Institute of Jinan West Railway Station Area.
Architect(s) Paul Andreu Architecte www.paul-andreu.com • Richez Associés, Paris richezassocies.com • BIAD, Beijing (local architects and engineers) www.biad.com
Theatre Planner(s) dUCKS Scéno, France www.ducks.fr
Seat Count A 1 500-seat concert hall, a 1 600-seat opera hall and a 500-seat multifunctional hall. Total area 72 000 m².
Uses Concert hall: medium and large symphonic orchestras (with choir), chamber music orchestras, recitals. Opera hall: Occidental and Chinese opera, musicals, magic shows, etc. Multifunctional hall: amplified music, theatre, fashion shows, etc.
Services Full acoustic concept and detailed design of the 3 performance rooms and ancillary spaces. Full comprehensive acoustic services, including room acoustics, sound isolation and noise & vibration control.
Team Thomas Wulfrank, Project Manager, Eckhard Kahle, Kahle Acoustics. In collaboration with Zhang Kui Sheng Design Institute, Shanghai, for local construction supervision.
01/14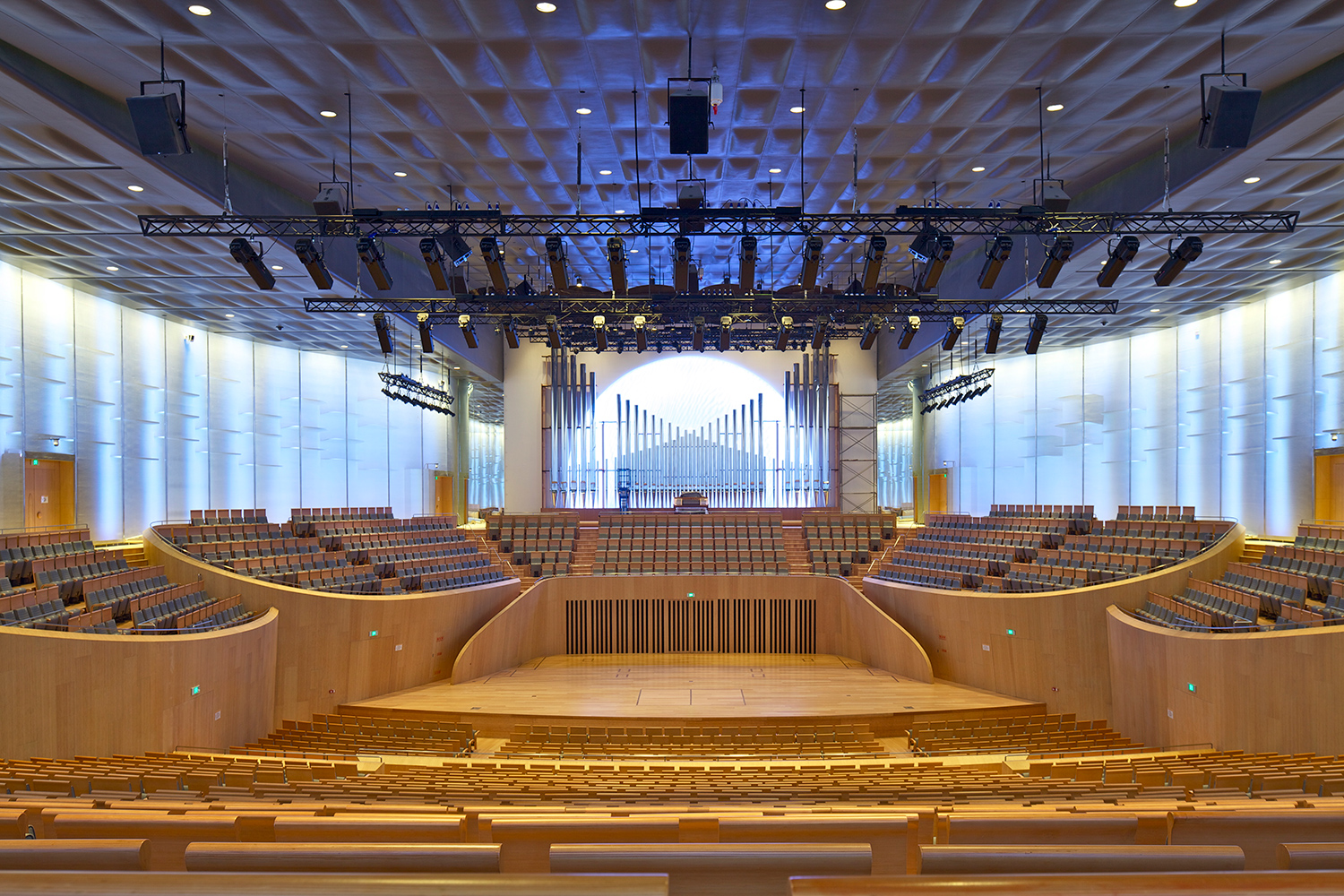 The 1 500-seat concert hall with the organ placed behind the choir balcony.

Photo © Philippe Ruault
02/14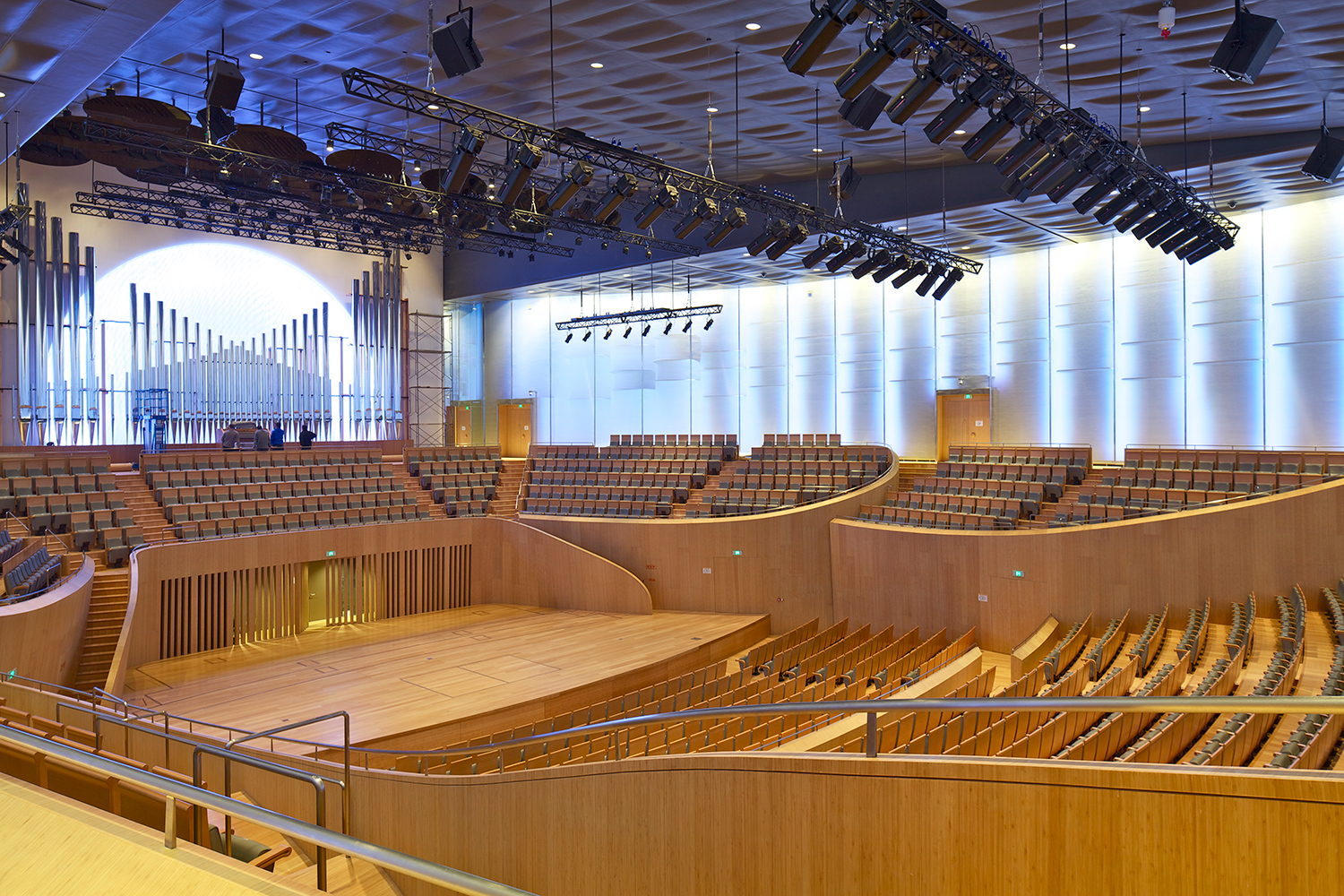 Inscribed in an oval floor plan, the hall combines elements from the vineyard type and the shoe-box concert hall.

Photo © Philippe Ruault
03/14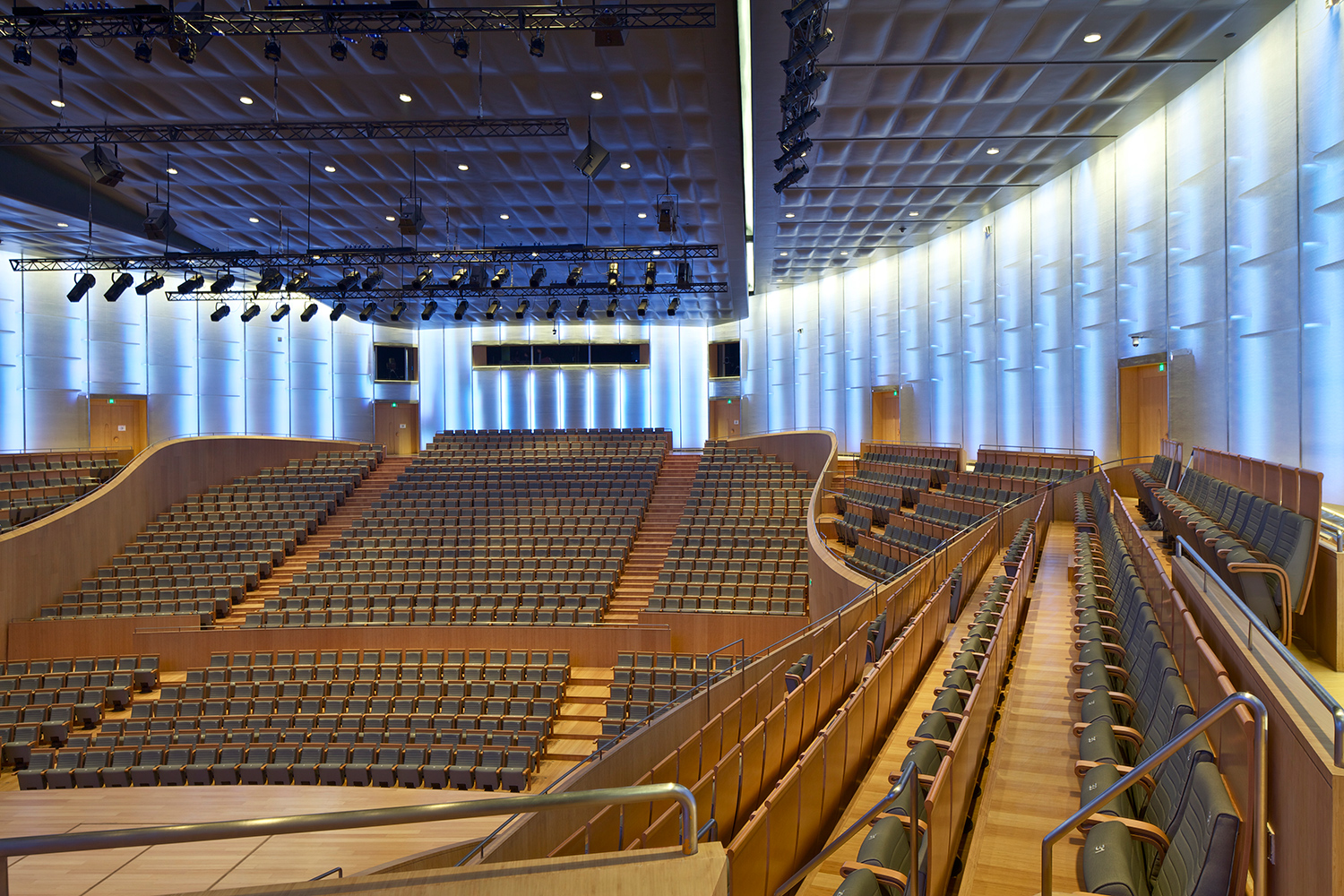 The nearly horizontal shelves on the walls behind the transparent metal mesh send reflections back down to the audience. The interstitial space is also used for the architectural lighting of the hall.

Photo © Philippe Ruault
04/14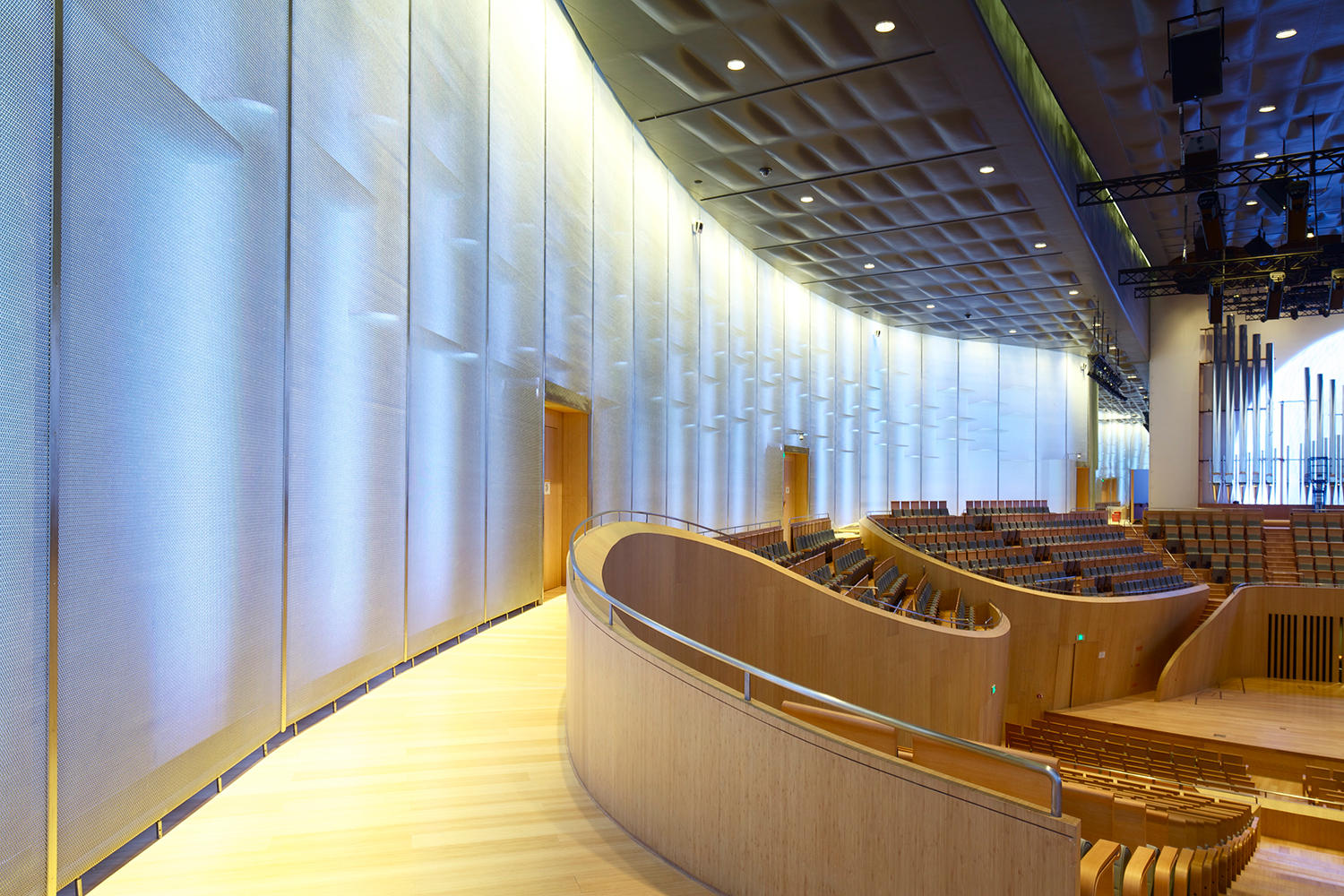 The wooden separation walls of the vineyard terraces are slightly inclined vertically in order to optimize reflections towards the audience.

Photo © Philippe Ruault
05/14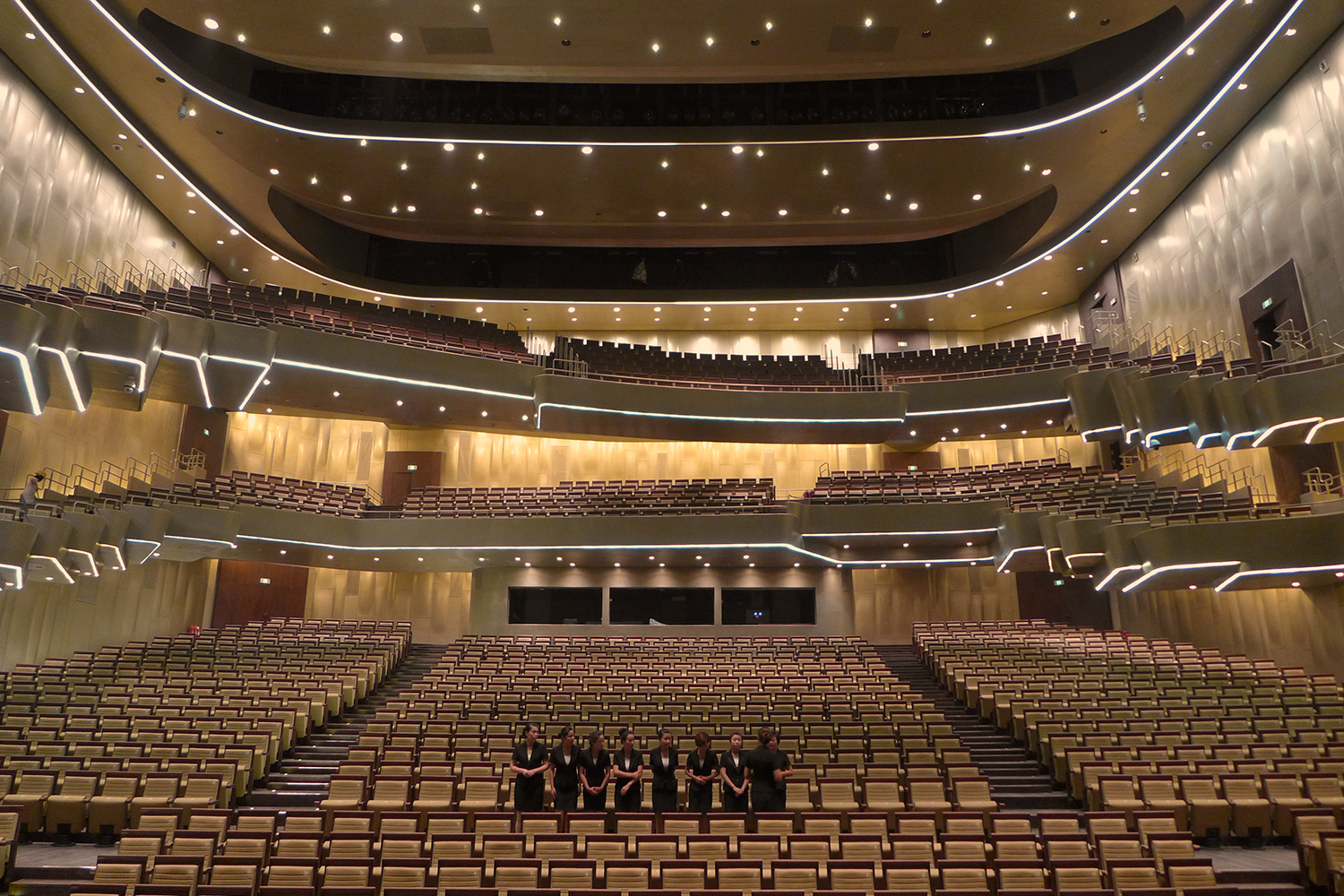 The 1 600-seat opera hall with asymmetrical balconies.

Photo © Philippe Ruault
06/14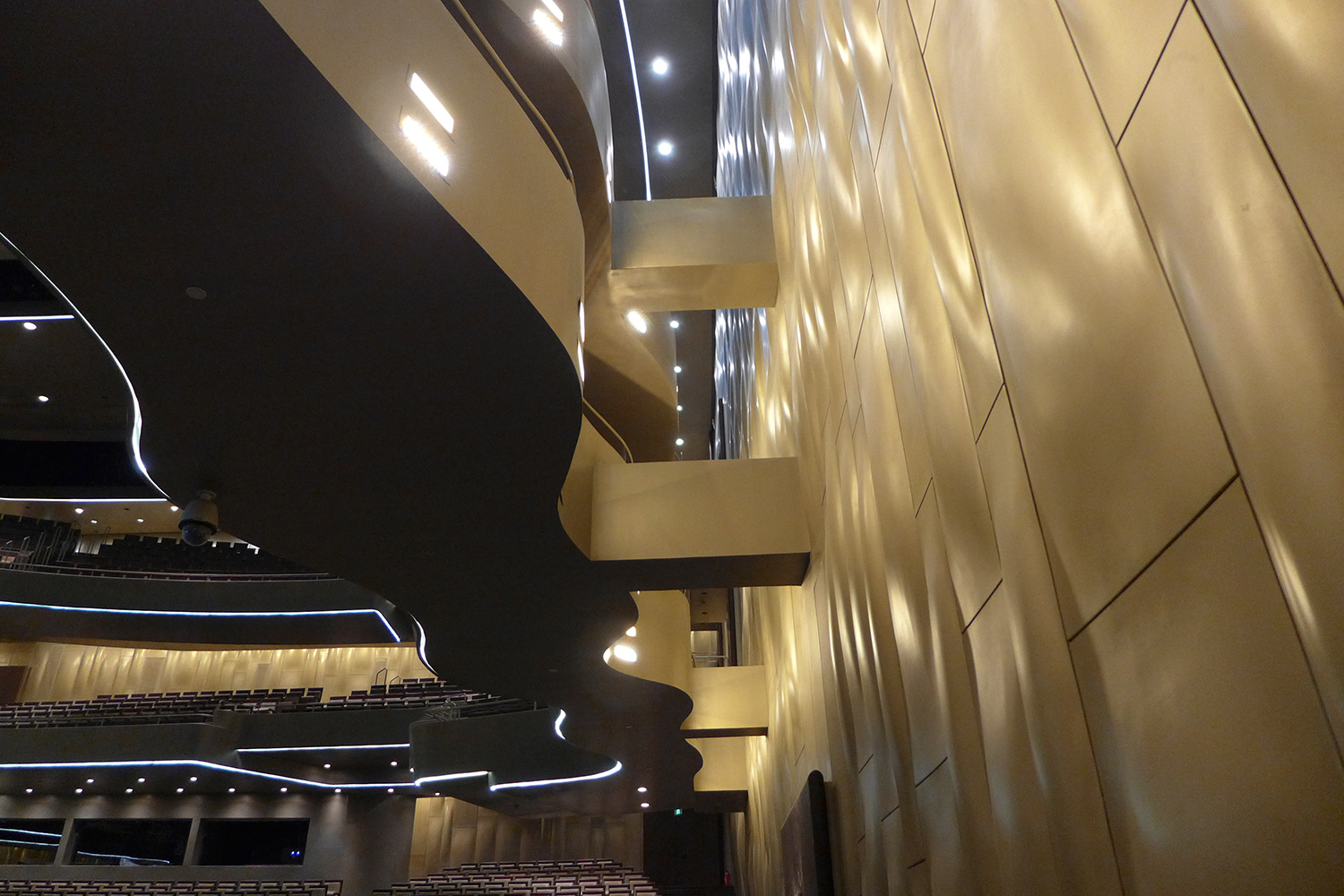 Opera Theater: The free form balconies are suspended off the strictly square envelope of the hall.

Photo © Philippe Ruault
07/14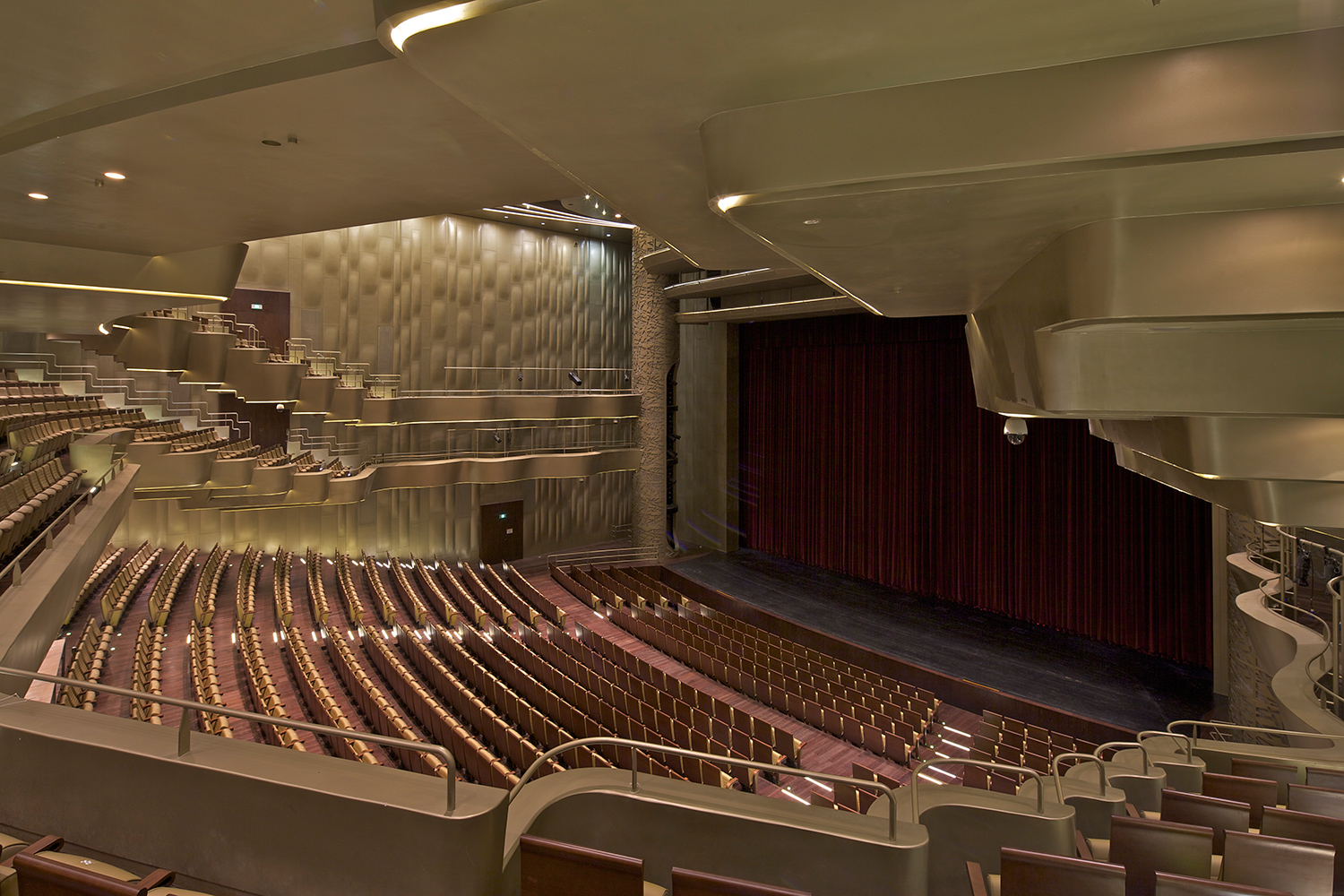 Opera Theater: The balconies terminate against a column framing the stage and equally serving as side lighting position.

Photo © Philippe Ruault
08/14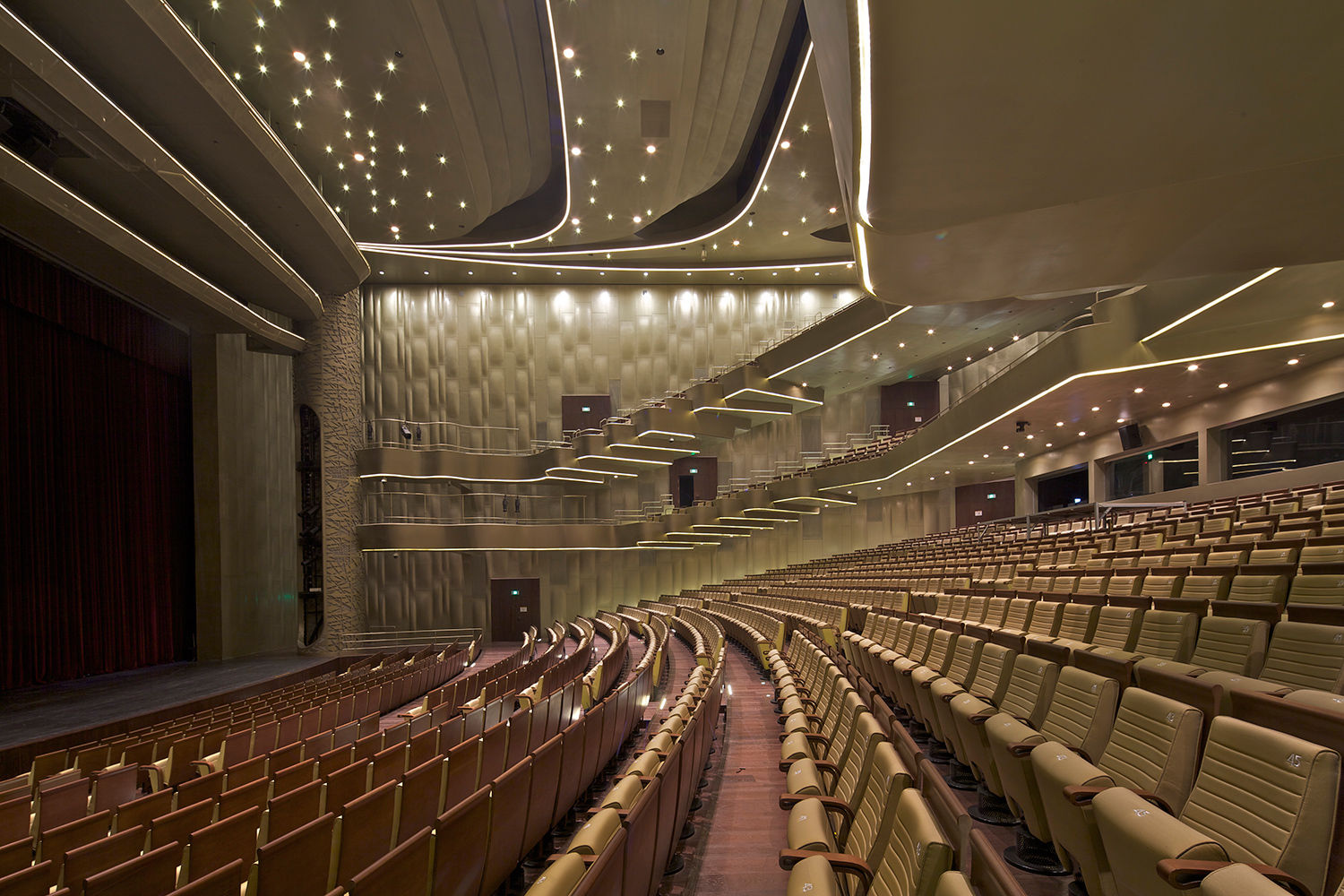 Opera Theater: Side view of the opera theater.

Photo © Philippe Ruault
09/14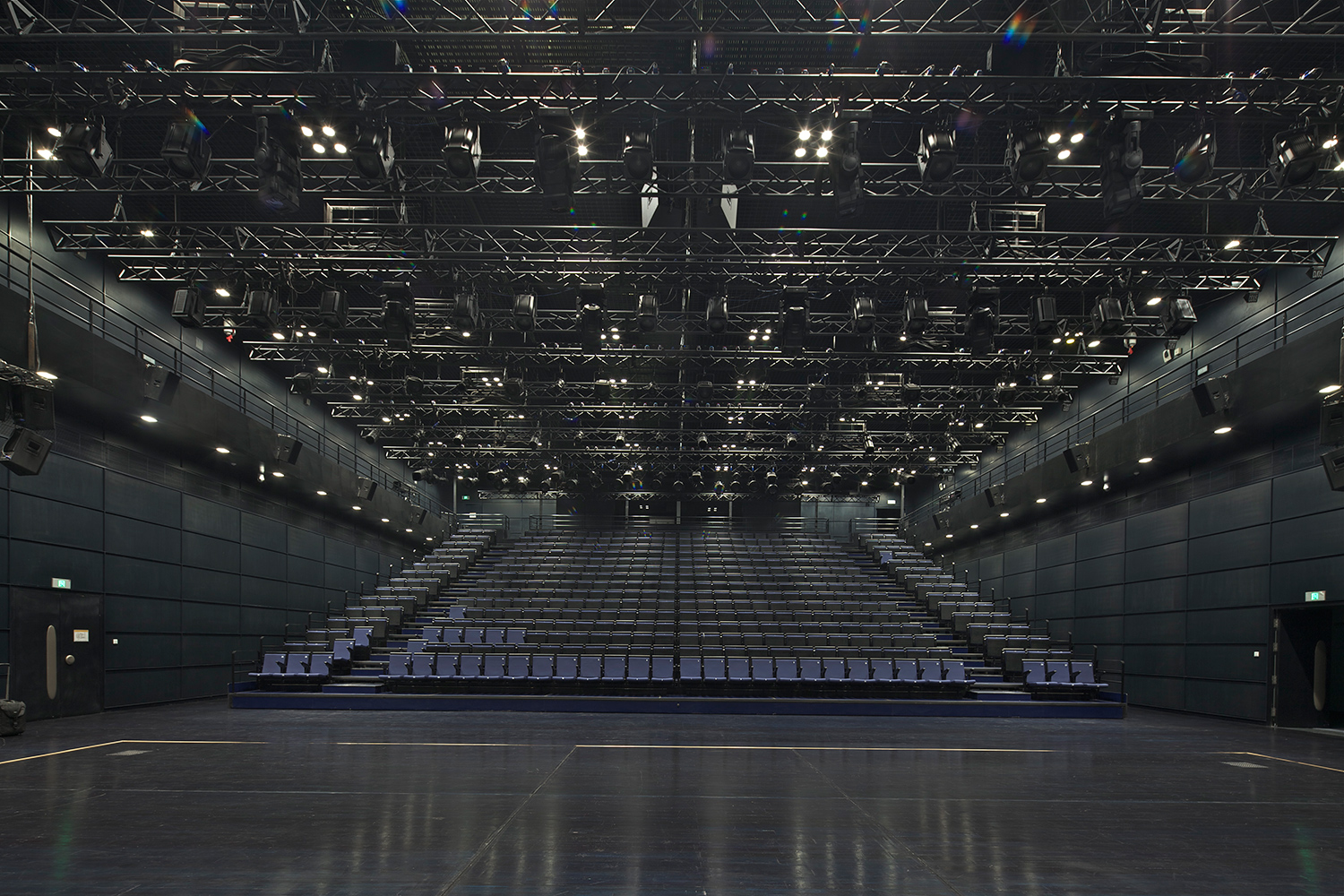 Interior view of the 800-seat multifunctional hall with bleacher seating.

Photo © Philippe Ruault
10/14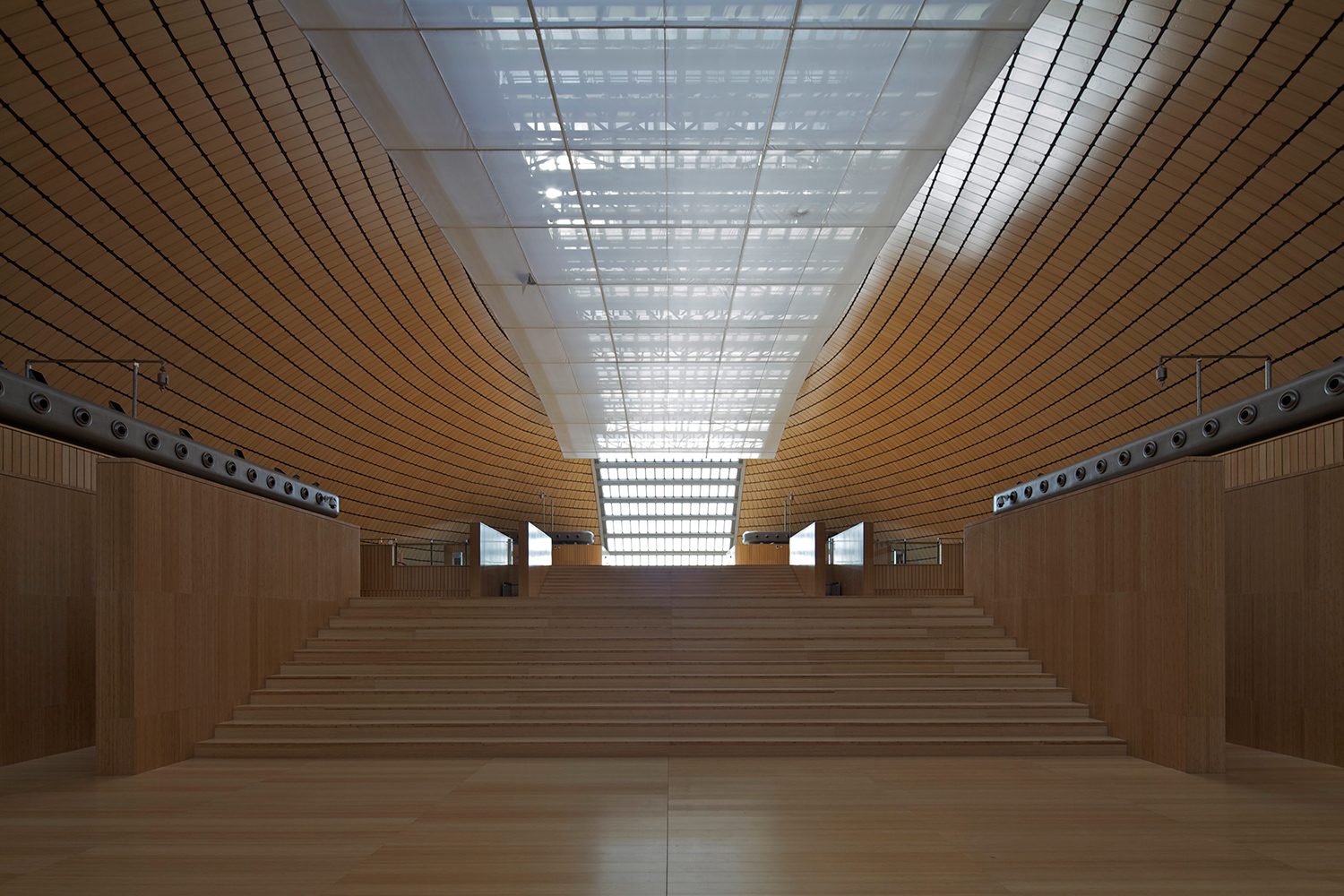 Sky lobby above the concert hall.

Photo © Philippe Ruault
11/14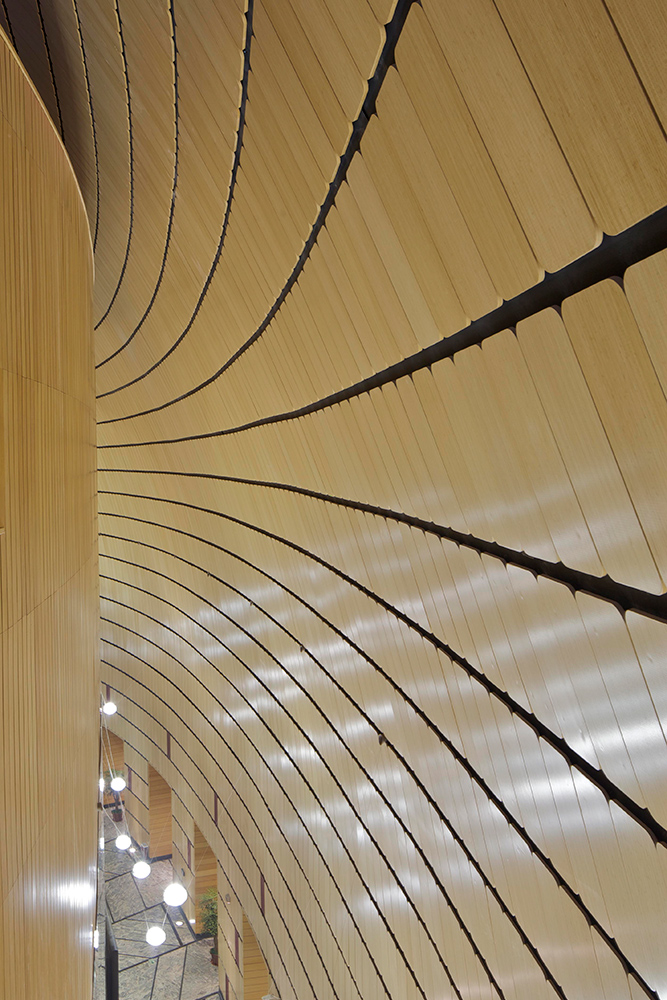 Detail of the lobbies and sky lobbies treatment with micro-perforated bamboo panels mounted in front of black absorbing finish.

Photo © Philippe Ruault
12/14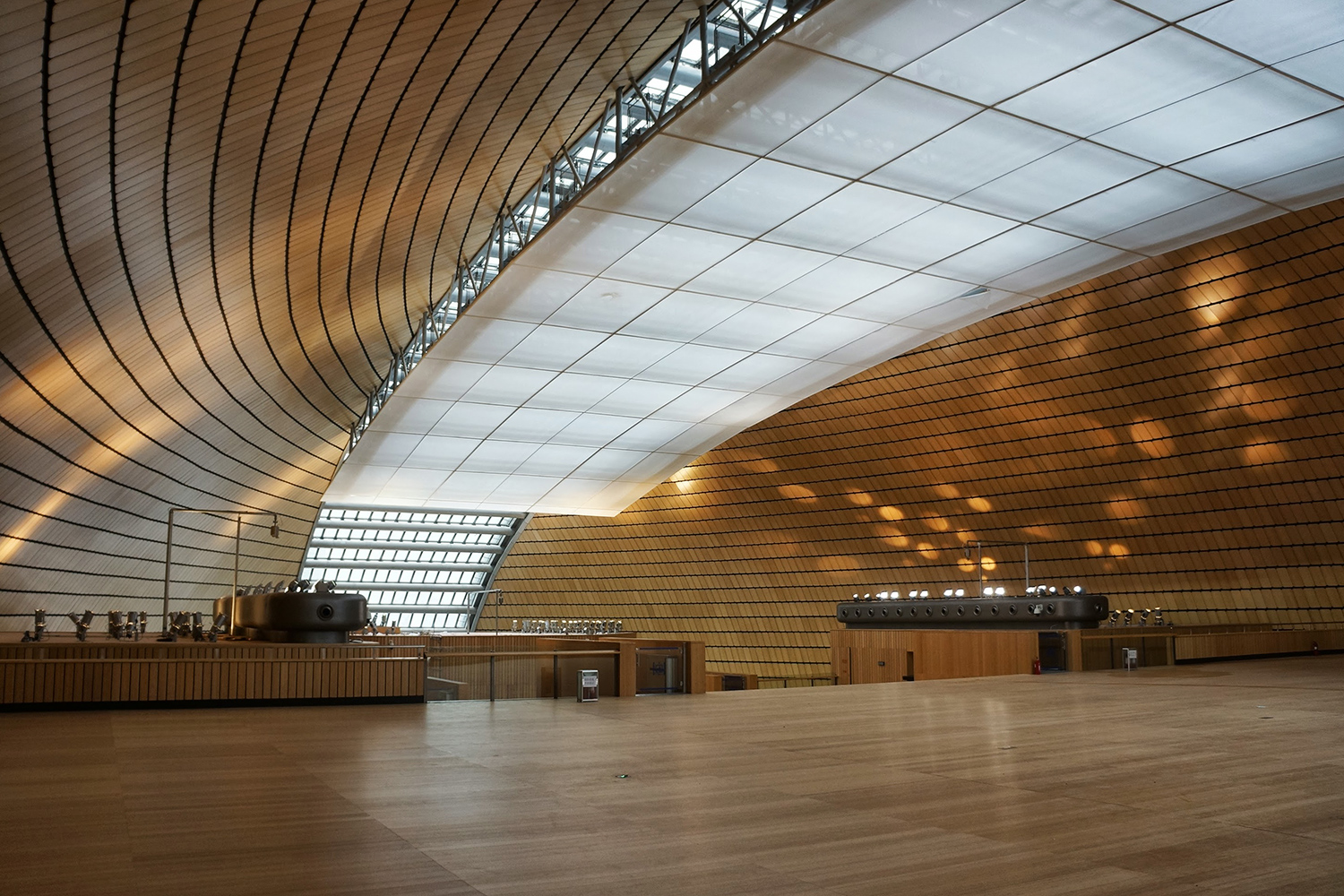 Sky lobby above the opera theater.

Photo © Kahle Acoustics
13/14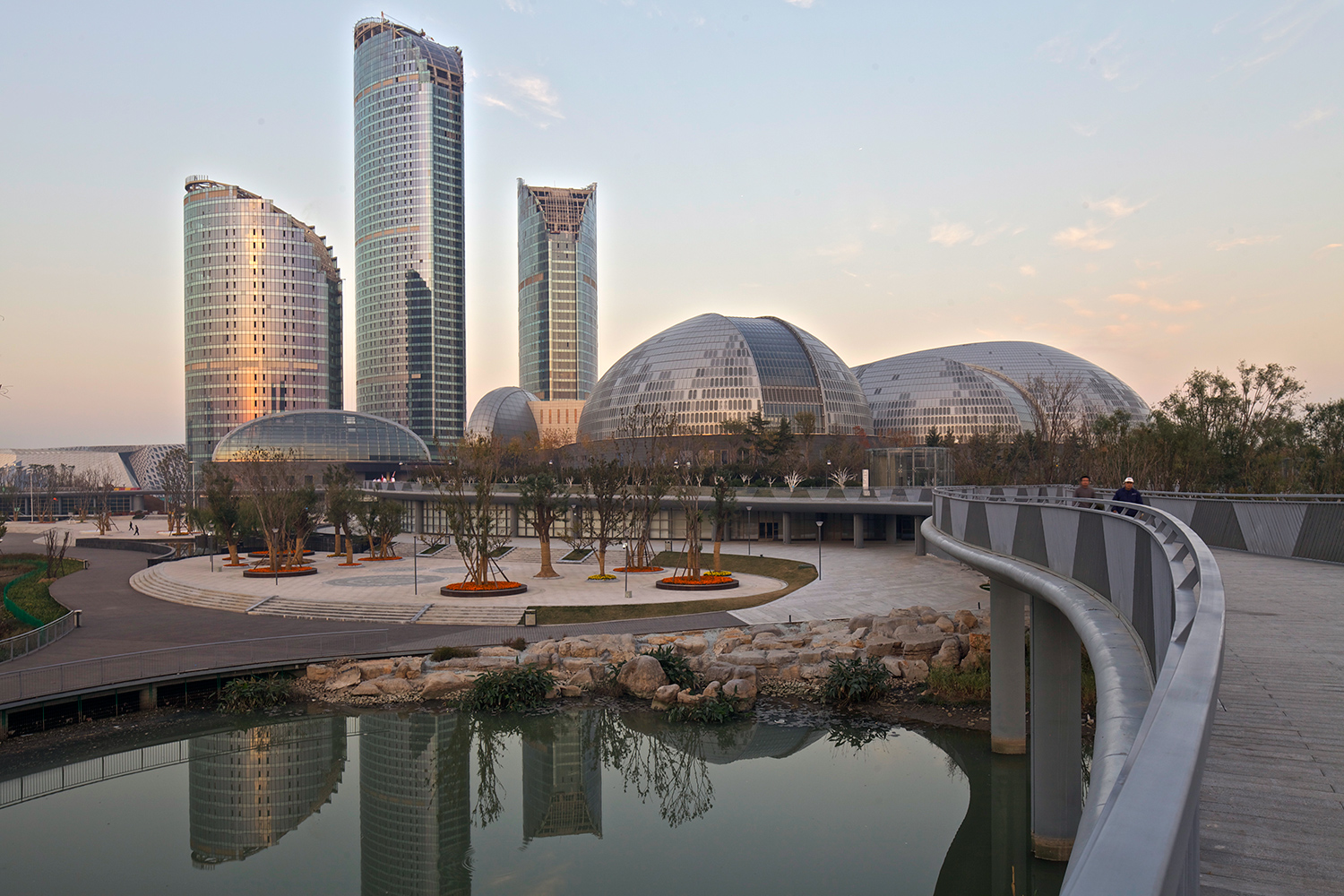 Exterior view of the Shandong Grand Theater with the adjoining sky-scrappers as seen from the Lashan River walkway.

Photo © Philippe Ruault
14/14
Night view from one of the adjoining skyscrapers showing the oval shape of the performance buildings.

Photo © Philippe Ruault