Sinfonia Varsovia Concert Hall
Sinfonia Varsovia Orchestra will build the largest concert hall in Poland, on the site of the former Warsaw Veterinary School and its vast park. The existing historic buildings will be rehabilitated to accommodate a music academy as well as smaller concert and rehearsal halls. Kahle Acoustics is client acoustician to Sinfonia Varsovia for the entire duration of the project, from definition of the acoustical programme and architectural competition through all design and construction phases to opening.
Information Sheet
New Build Sinfonia Varsovia Concert Hall www.sinfoniavarsoviacentrum.pl
Location Warsaw, Poland.
Project Cost 110 million €.
Time Frame Acoustic programme: 2009. Architectural Competition: 2010. Design: 2015-2021. Construction: 2022-2026. Opening: 2026.
Owner Orkiestra Sinfonia Varsovia, Warsaw, Poland.
Architect(s) Atelier Thomas Pucher, Graz, Austria www.thomaspucher.com
Acoustician(s) to Owner Kahle Acoustics, Brussels, Belgium.
Acoustician(s) to Design Team Müller-BBM, Berlin, Germany www.muellerbbm.com
Seat Count New building: 1 800-seat concert hall and 300-seat chamber music hall also used for orchestra rehearsals. Renovated building in the park: 100-seat concert hall, restaurant and orchestra administration. Renovated buildings around the park: Music Academy, rehearsal spaces for orchestra and choir, practice rooms and a 250 m² experimental music and dance hall. Total area 37 800 m².
Uses Residency of Sinfonia Varsovia Orchestra. Symphonic concerts, chamber music and recitals. Experimental music and research. Music academy.
Services — Acoustician to Owner Definition of the acoustical brief, participation in space planning and room data sheets, feasibility study and elaboration of architectural competition documents and evaluation of the competitors' project files. Supervision of design conformity and construction supervision. Opening services.
Team Eckhard Kahle, Kahle Acoustics.
1/8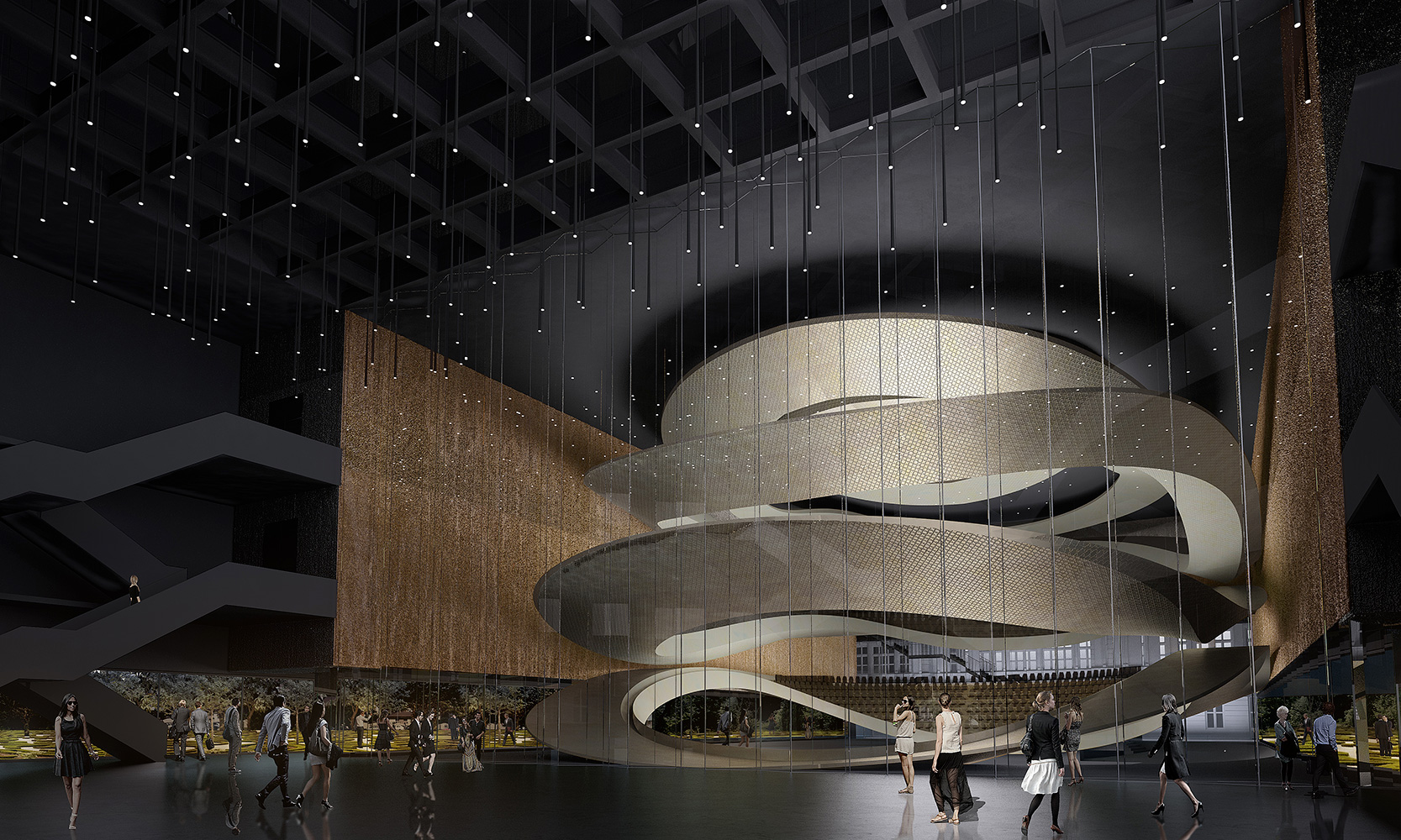 The concert hall is entirely visible from the foyer through an immense double glass wall separating them.

Photo © Atelier Thomas Pucher
2/8
The concert hall from the first balcony behind the orchestra. The soffits and fronts of the balconies contribute to the acoustic reflections towards the audience and the musicians, providing both intimacy and envelopment.

Photo © Atelier Thomas Pucher
3/8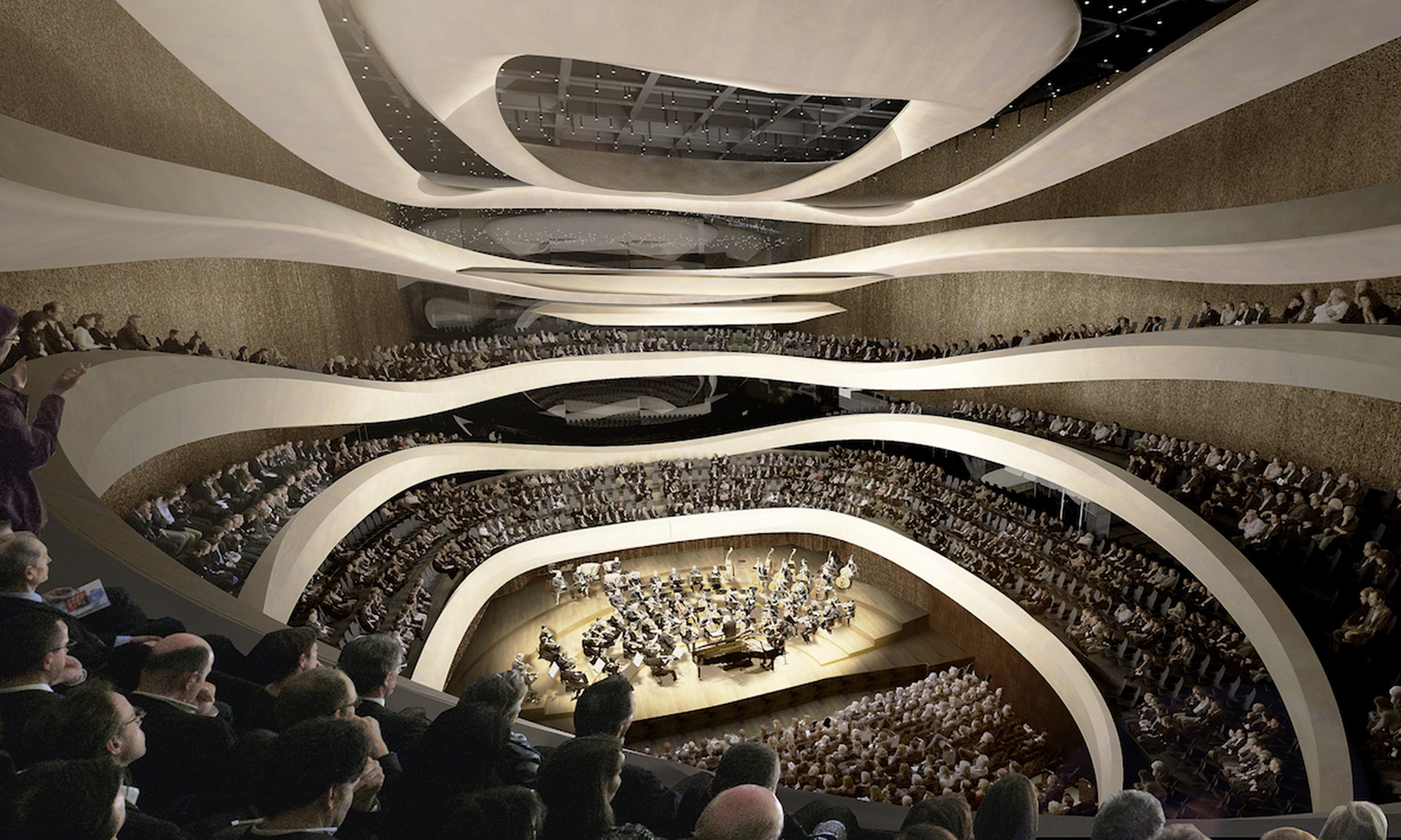 Section of the future concert hall, which combines the shapes of a shoe box hall and of a vineyard hall. Its three levels of balconies of free and enveloping forms allow both a visual and sonic proximity with the orchestra from each place. Its volume can accommodate both symphony orchestras and chamber music.

Photo © Atelier Thomas Pucher
4/8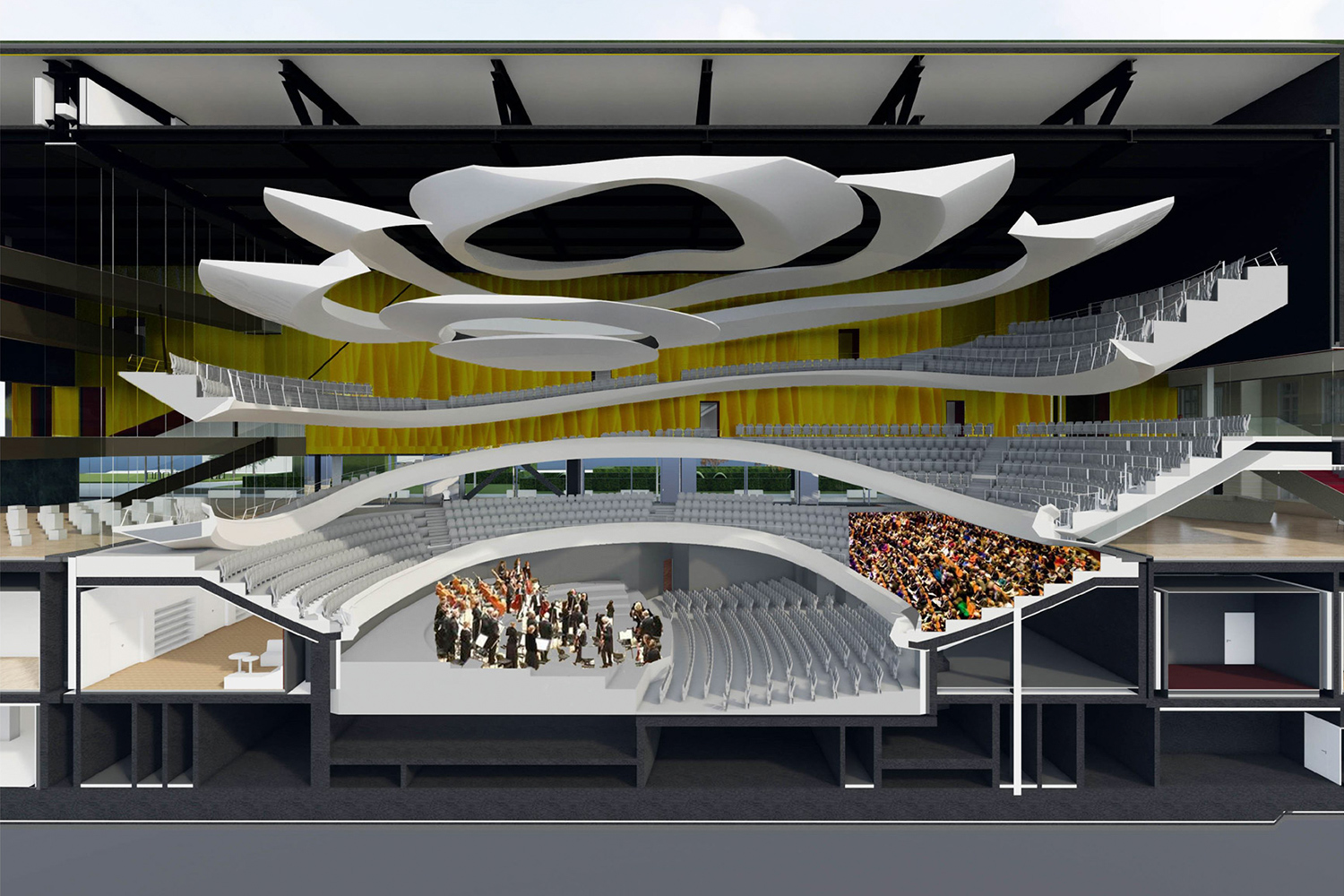 Section of the future concert hall, which combines the shapes of a shoe box hall and of a vineyard hall. Its three levels of balconies of free and enveloping forms allow both a visual and sonic proximity with the orchestra from each place. Its volume can accommodate both symphony orchestras and chamber music.

Photo © Atelier Thomas Pucher
5/8
Aerial view of the site. At the top, the building that houses the large concert hall and the chamber music hall is behind the wall that surrounds the public garden. At the centre of the park, the renovated old building accommodates a 100-seat concert hall, a restaurant and the orchestra administration. Four buildings surround the park. Top left: Musicians entrance and choir room. Top right: Foyer of the large orchestra hall. Bottom left: Music Academy. Bottom right: Experimental music and dance room.

Photo © Atelier Thomas Pucher
6/8
Section view of the site, with the concert hall on the right, and adjacent buildings dedicated to the Sinfonia Varsovia Orchestra around a public garden. The wall surrounding the garden is raised several metres above ground so as to remain connected to the city while defining the space. The top of the wall is accessible to the public, offering a panoramic view of the city.

Photo © Atelier Thomas Pucher
7/8
Upper foyer along the concert hall (left), and footbridge to the upper balcony.

Photo © Atelier Thomas Pucher
8/8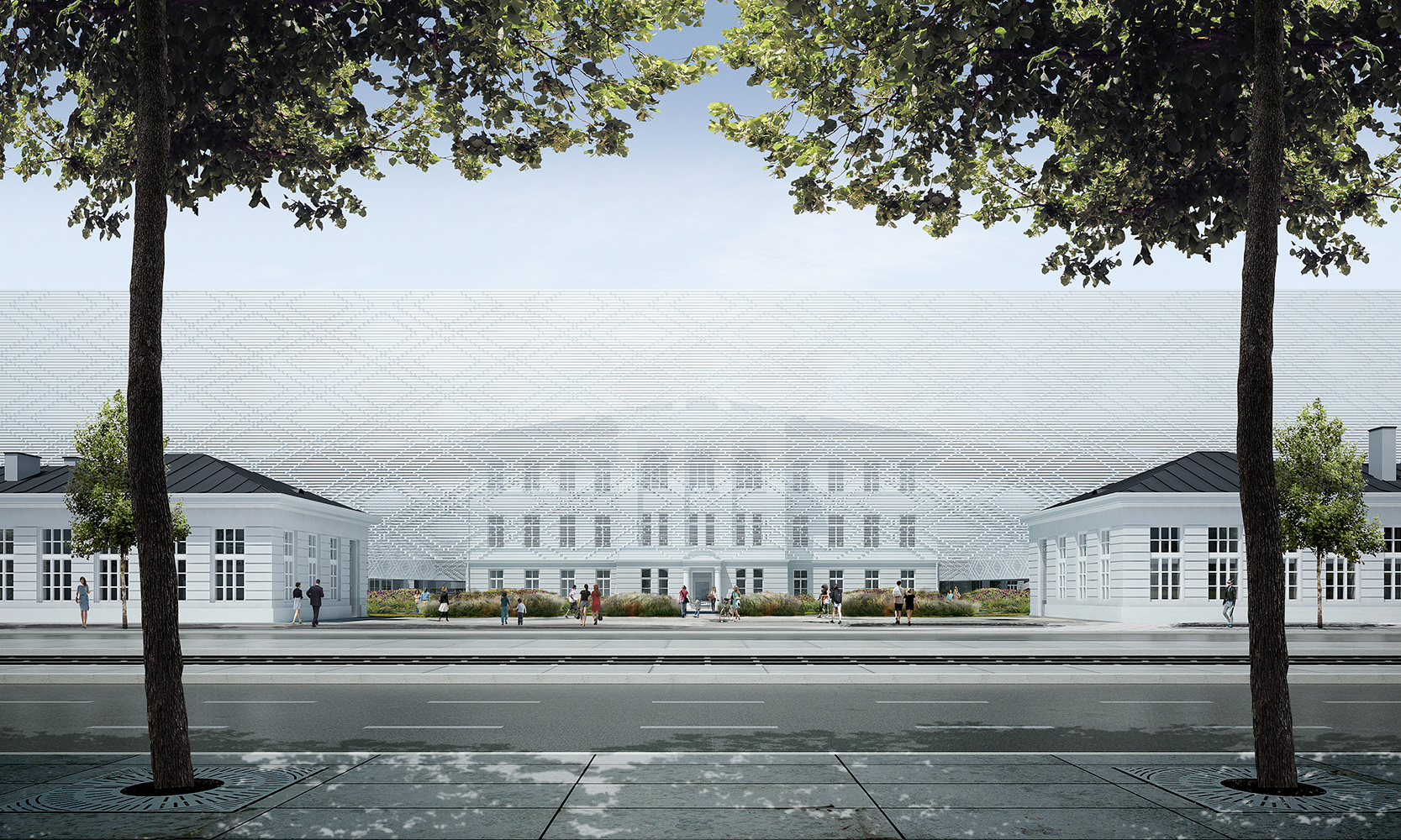 View of the park entrance under the raised wall, between the two buildings that accommodate, on the left, the music academy, and on the right, a 250 m² experimental music and dance room. Behind the park wall, one can see the building that houses a 100-seat concert hall, a restaurant and the orchestra administration.

Photo © Atelier Thomas Pucher