GES-2, Moskou
Renzo Piano Building Workshop is transforming the historic GES-2 power station in Moscow into a space dedicated to contemporary culture, art and performance. Built in the early 1900s, the former industrial building was taken over by the V-A-C Foundation who will operate and curate the space with a programme revolving around visual arts, performing arts, music and also science. The campus also includes "making spaces" for artists, including workshops and a recording studio, as well as artists' accommodation.
Projectgegevens
Renovatie/Transformatie GES-2 v-a-c.org/en/ges2
Locatie Moscow, Russia.
Bouwkosten N/a.
Periode Concept and Design: 2017-2018. Construction: 2019-2020. Opening: 2021.
Opdrachtgever V-A-C Foundation, Moscow, Russia.
Architect(en) Renzo Piano Building Workshop, France www.rpbw.com • APEX Project Bureau, Russia www.apex-project.ru
Capaciteit A 100 m long exhibition space — the Nave — which includes a performance area for 100 audience, surrounded by a virtual acoustics system. For large events, the Nave can accommodate up to 3 000 standing audience. The Auditorium, furnished with a Gala seating system, has a variable seat count ranging from 300 to 450 seats. Ancillary spaces including a recording studio, galleries, teaching spaces, a restaurant and offices. Total building surface area: 20 000 m².
Gebruik Contemporary art exhibitions; large performances of opera, classical and contemporary music in the Nave; chamber music, lectures, drama and cinema in the Auditorium.
Werkzaamheden Full acoustic consulting and design scope for GES 2 including development of concept design and brief for room acoustics and audio systems, design of virtual acoustics systems, development of architectural solutions, recording studio design, building acoustics and noise control, site supervision and commissioning.
Adviseur(s) Evan Green, Cees Mulder, Eckhard Kahle, Kahle Acoustics. In collaboration with Akukon Oy, Finland.
01/15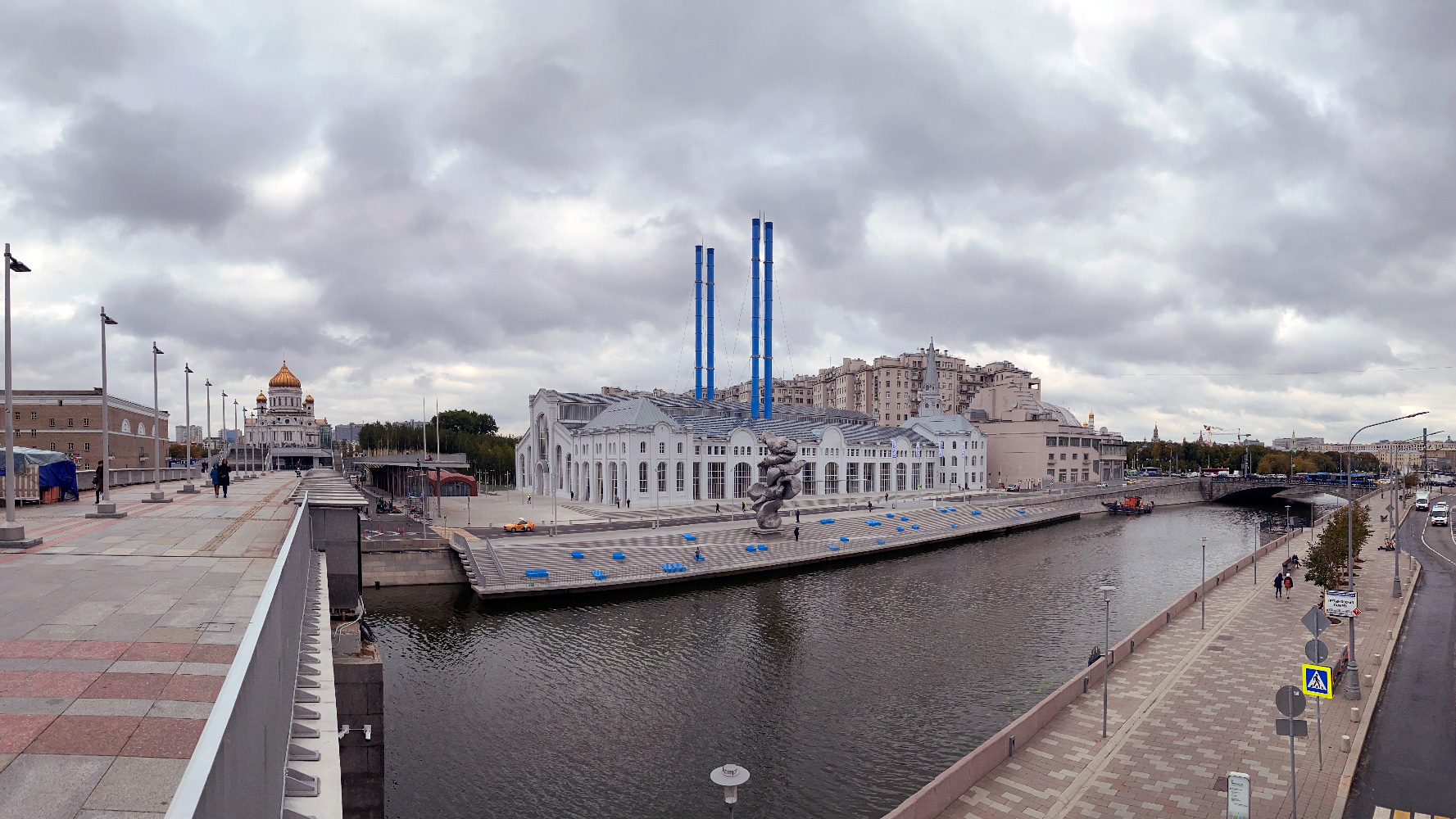 The historic GES-2 power station in Moscow has been converted into a centre for contemporary culture, art and performance. Its four blue chimneys catch the cleanest air at 70 m altitude, one of many an example of the sustainable approach of Renzo Piano Building Workshop on the building.

Foto © Kahle Acoustics
02/15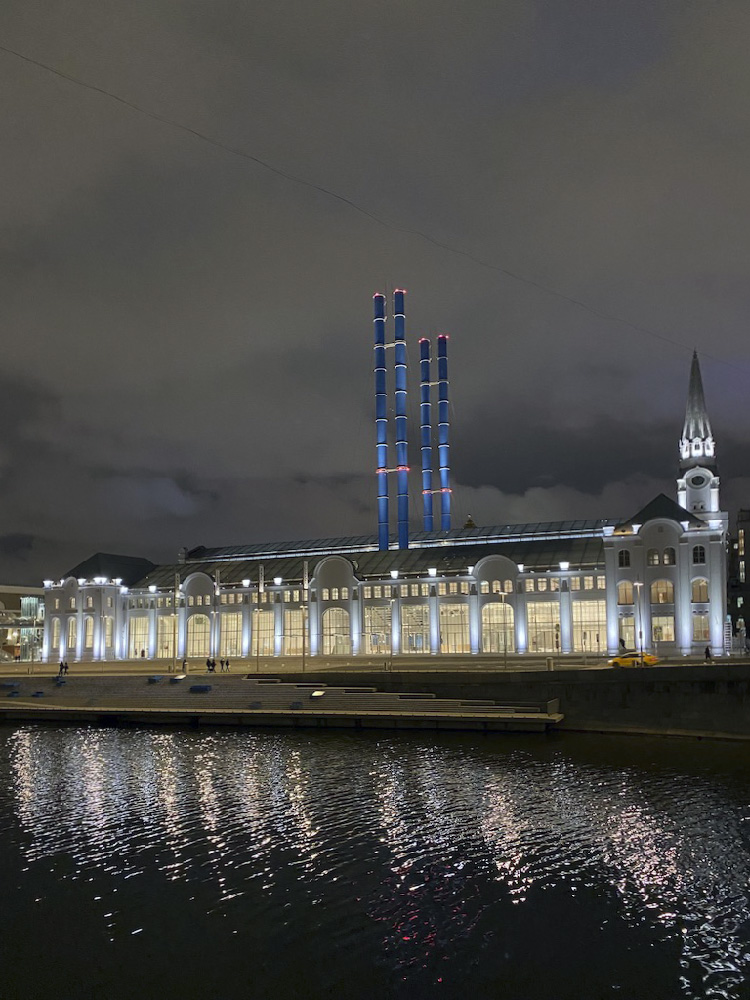 The historic GES-2 power station in Moscow has been converted into a centre for contemporary culture, art and performance. Its four blue chimneys catch the cleanest air at 70 m altitude, one of many an example of the sustainable approach of Renzo Piano Building Workshop on the building.

Foto © Kahle Acoustics
03/15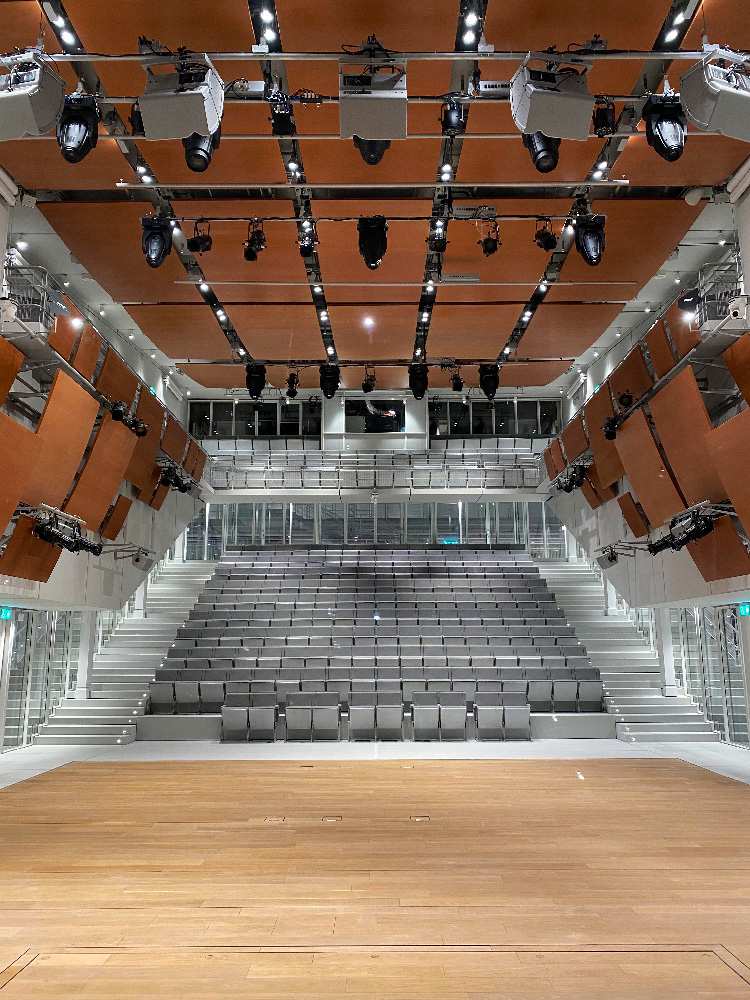 The Playhouse is a multi-functional performance space with a seat count ranging from 300 to 420 seats. The dedicated performance space is highly flexible: a Gala system in the wooden floor area provides additional seating, while an extensive system of acoustic banners and electroacoustic enhancement enables the acoustics to be varied from very dry for cinema use all the way to a resonant acoustic for chamber music concerts.

Foto © Kahle Acoustics
04/15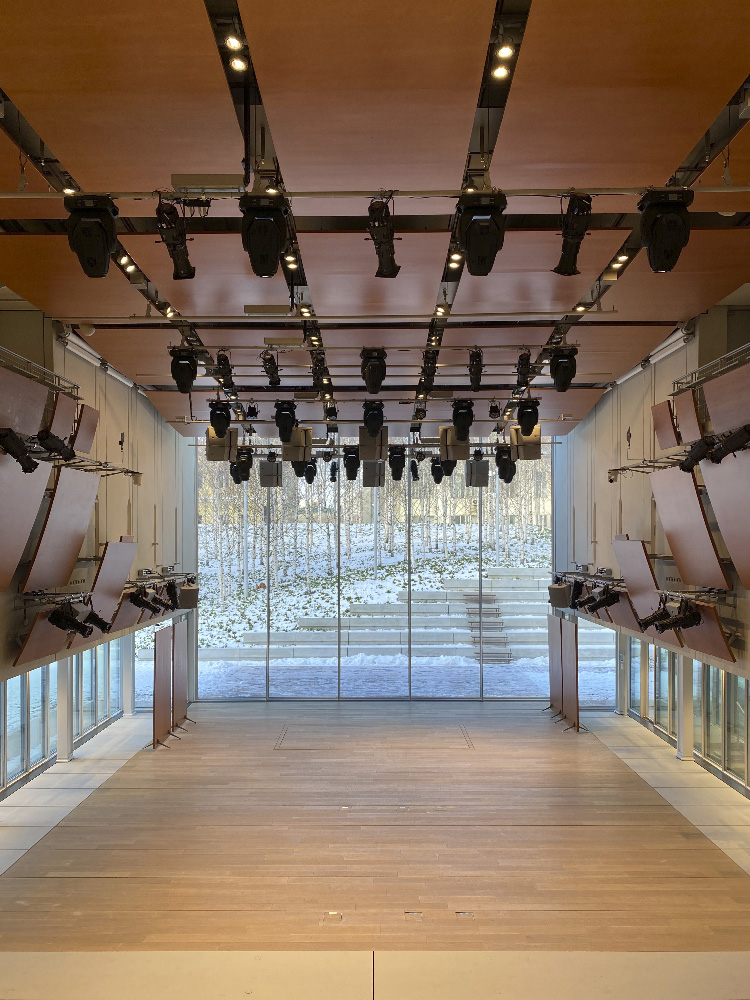 View from the Playhouse seating towards the stage and birch tree forest beyond. The curved wooden acoustic reflectors provide optimised early reflections to enhance speech intelligibility and musical clarity.

Foto © Kahle Acoustics
05/15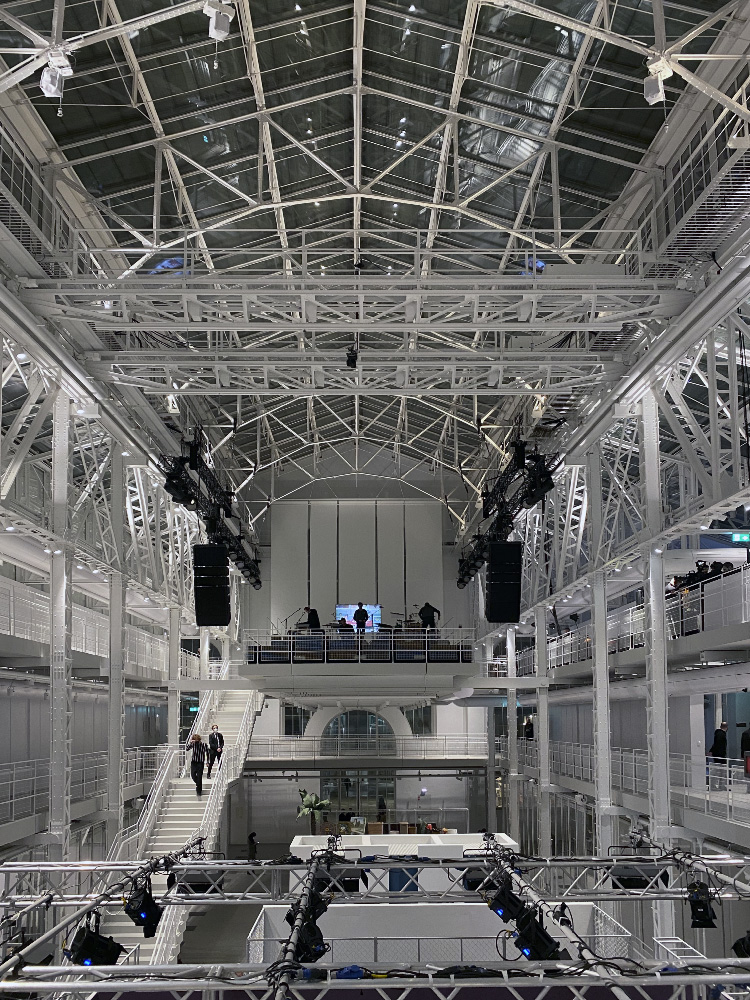 The main space in GES-2 is the 100 m long Prospekt. Various platforms, stairs and galleries enable performances in multiple locations, with audience distributed throughout the space.

Foto © Kahle Acoustics
06/15
Detail of the galleries passing through the existing roof structure. The original roof structure was retained and strengthened to carry an array of translucent solar panels.

Foto © Kahle Acoustics
07/15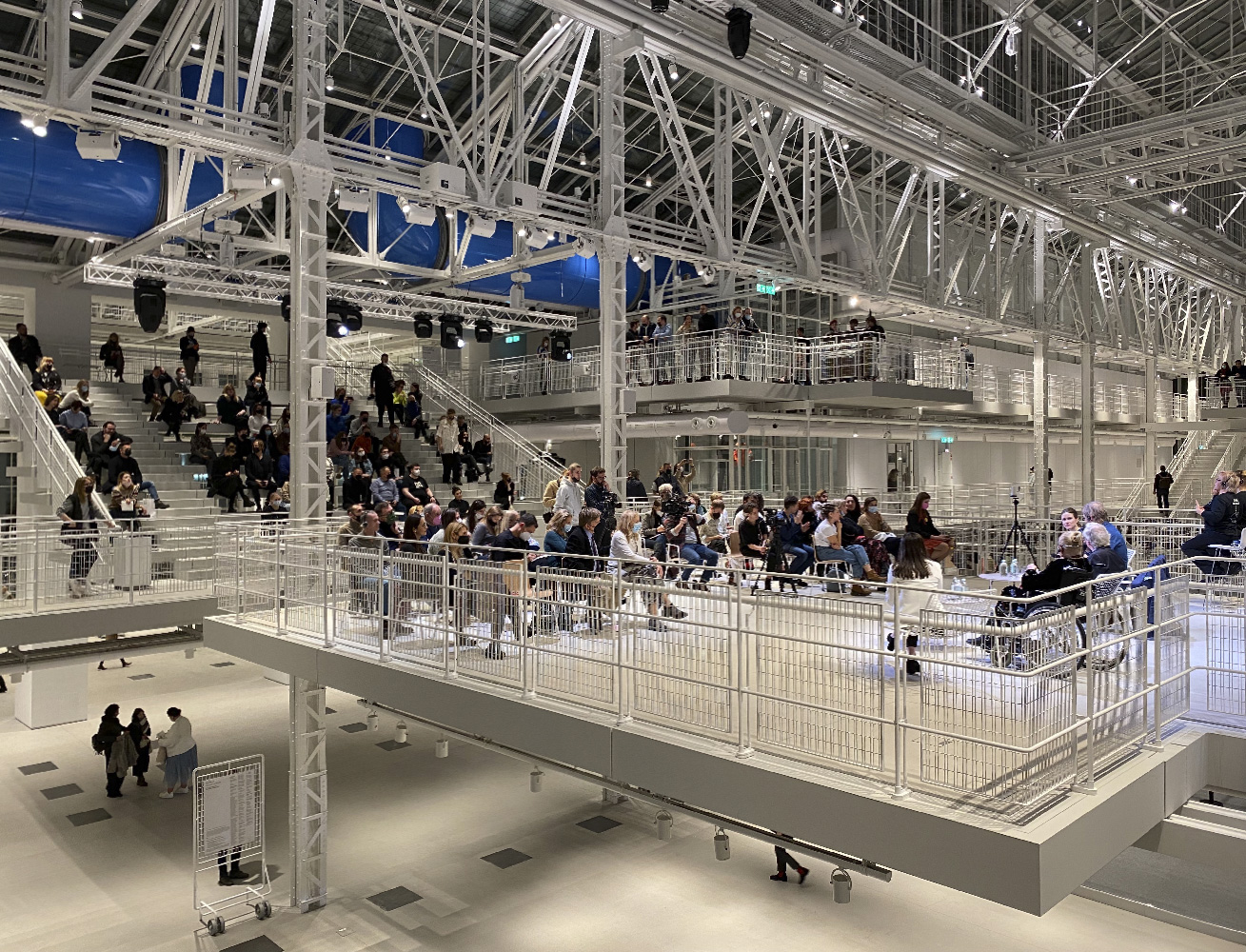 The Central Platform and informal stepped audience seating at the centre of the Prospekt. A virtual acoustic environment has been created around the Platform and audience using a cloud of loudspeakers and microphones. This provides acoustic intimacy and acoustic envelopment for the performers and audience within this "bubble".

Foto © Kahle Acoustics
08/15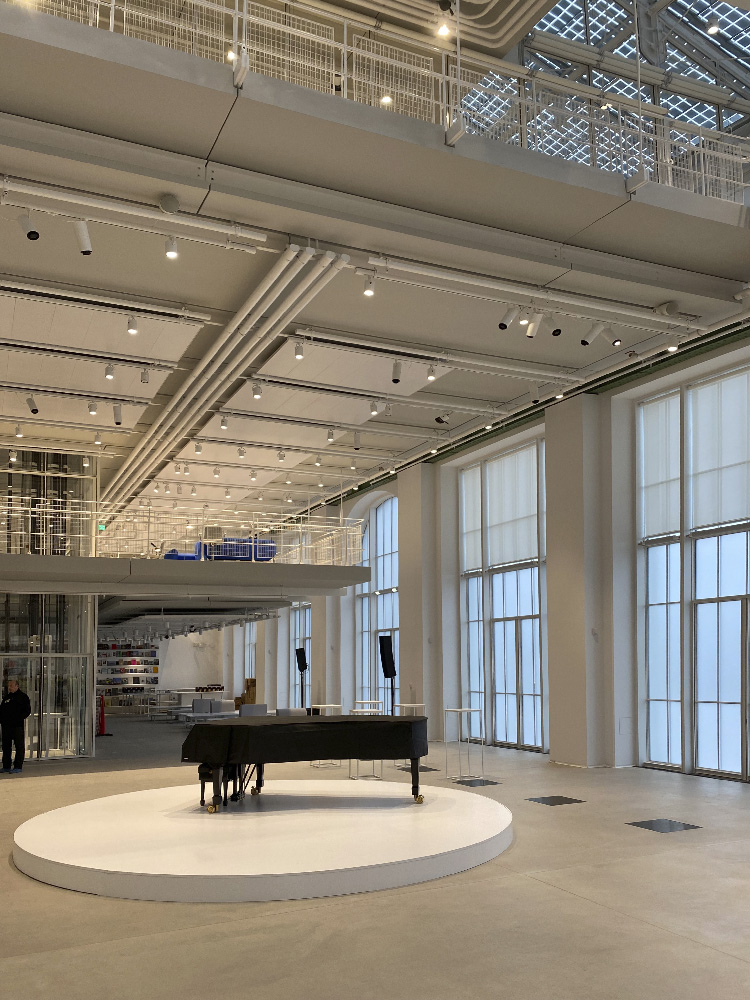 The Piazza is the main entrance to the building and includes a library, cafe and bookshop. The space is acoustically treated and equipped for informal performances.

Foto © Kahle Acoustics
09/15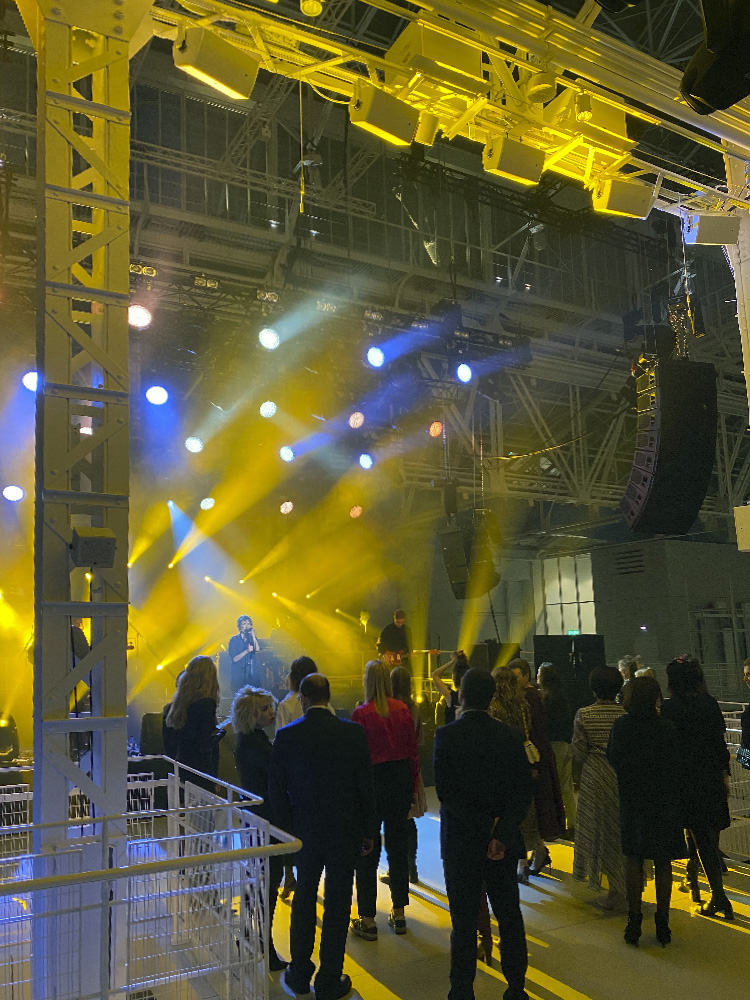 The Central Platform can be rigged with additional loudspeakers and lighting for various types of events including live amplified concerts.

Foto © Kahle Acoustics
10/15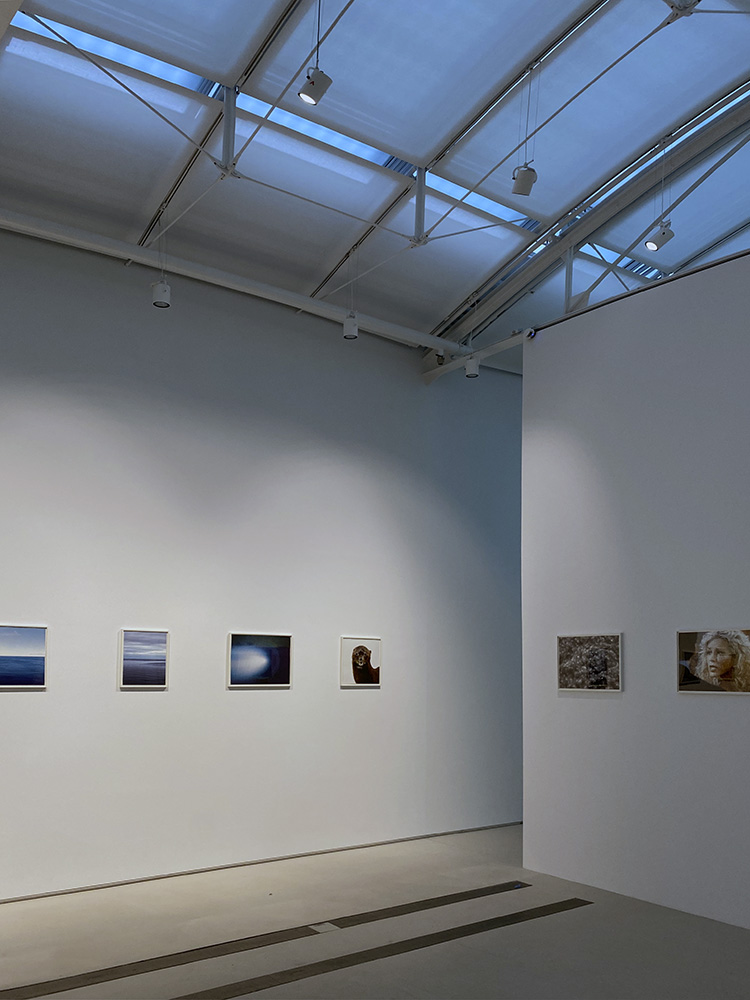 Multiple exhibition spaces have been created within the historic building, offering different dimensions, perspectives and combinations of natural daylight. Acoustic absorption has been integrated into the galleries in multiple ways, here with sound absorbing ceiling blinds.

Foto © Kahle Acoustics
11/15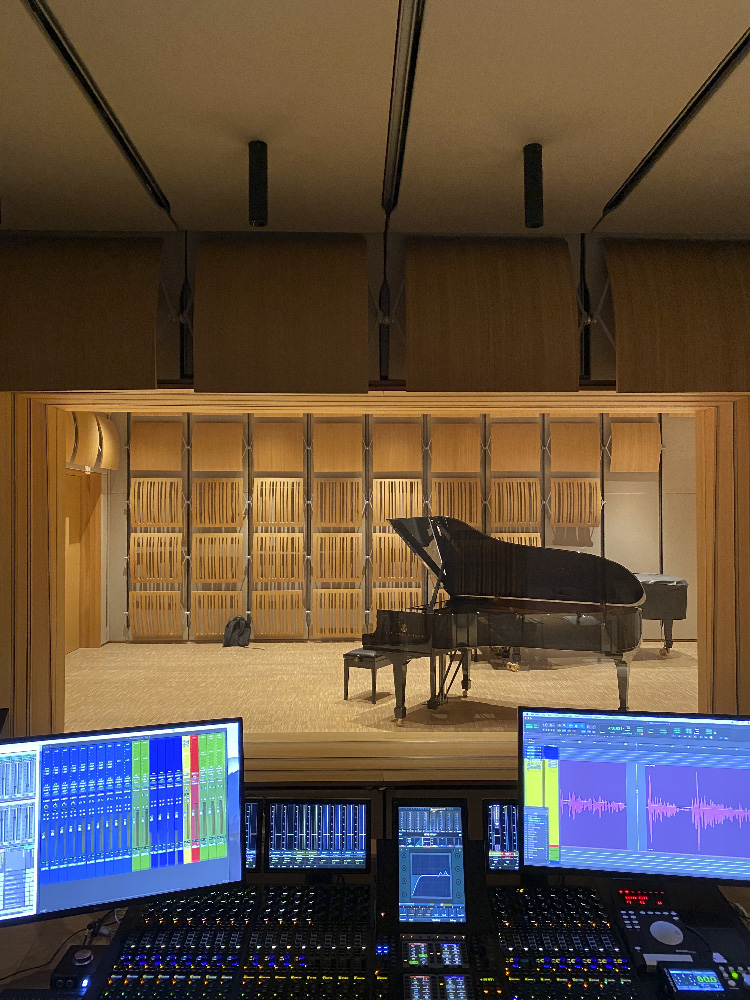 A Recording Studio with Control Room, Live Room, Booth and editing suites has been constructed in the basement under the historic Vaults. The view from the Control Room to the Live Room shows the different types and quantities of custom-fabricated wooden panels that are used in each space to optimise the acoustics to their specific uses.

Foto © Kahle Acoustics
12/15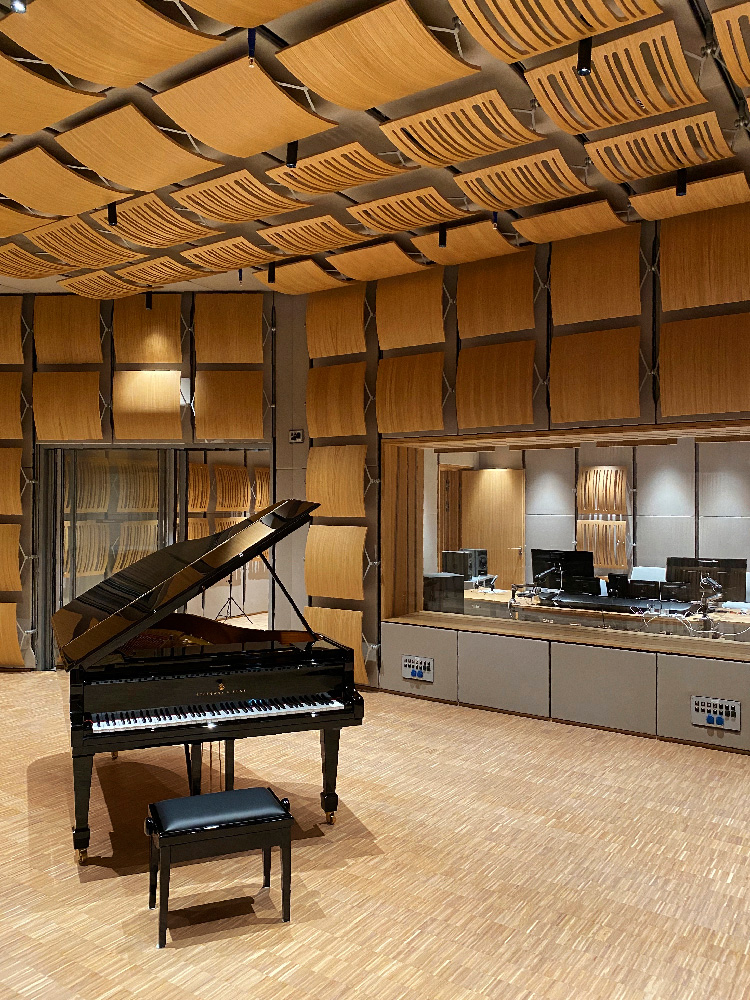 View from the Live Room towards the Control Room and Booth. Behind the wooden panels, each room in the Recording Studios has a fabric surface covering acoustically optimised absorbers, including optimised bass absorption membranes.

Foto © Kahle Acoustics
13/15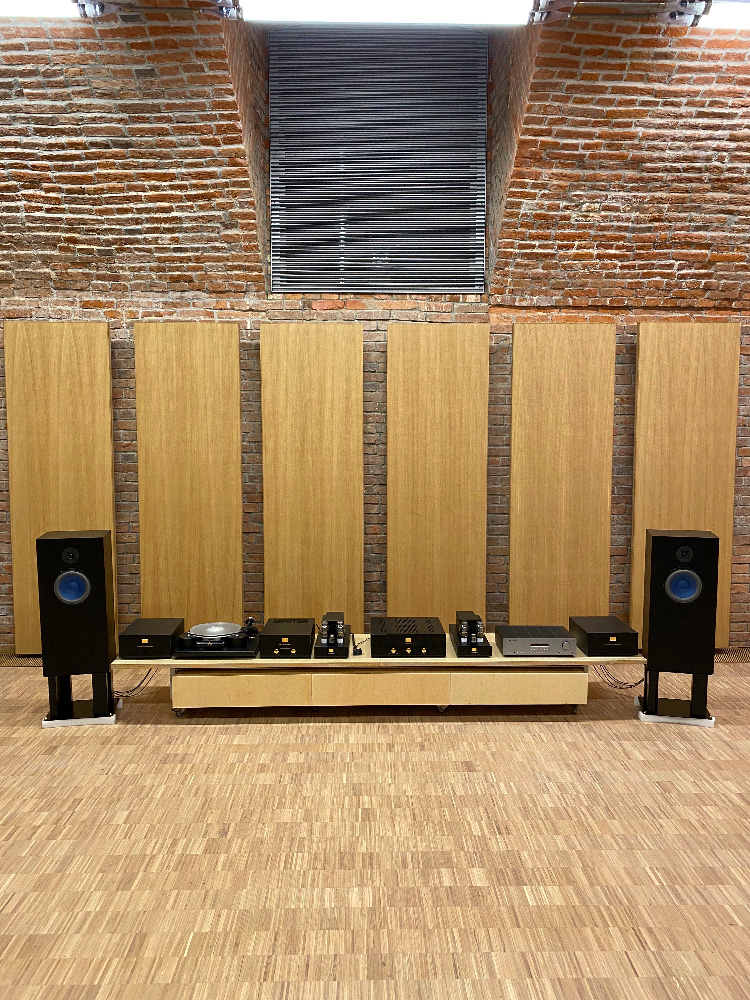 The Listening Room in one of the historic vaults has a variable acoustic and can be used as an additional Live Room for recording or for high quality listening to the dedicated hi-fi system.

Foto © Kahle Acoustics
14/15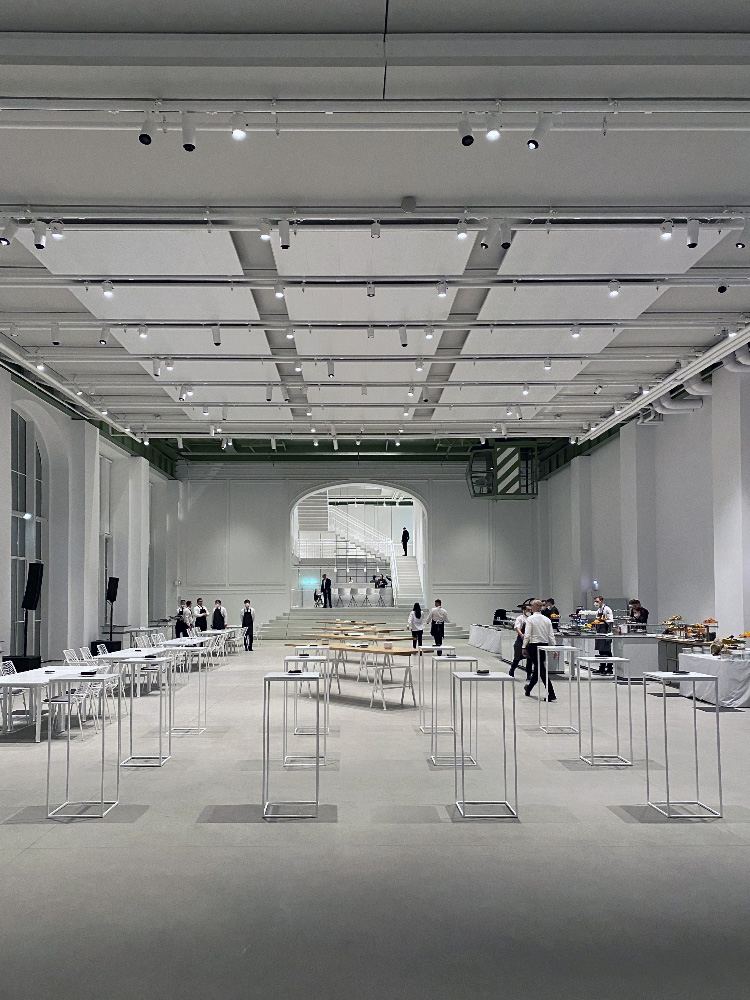 The Piazza viewed towards the cafe and restaurant, here set up for the opening party. Custom-designed sound absorbing panels on the ceiling create a calm environment for banquets, and control the acoustic for informal performances.

Foto © Kahle Acoustics
15/15
The Garden at night with the main building and Vaults in the background. A birch tree forest has been created, rising from the main building and covering the underground car park. Sound artists can also use the outside space creatively by activating the hidden loudspeakers, integrated along the winding path through the trees.

Foto © Kahle Acoustics