Philharmonie de Paris
The Philharmonie de Paris is the iconic building in the Parc de La Villette. Its enveloping and modular typology offers multiple seating and stage configurations as well as a large range of variable acoustics.
Projectgegevens
Nieuwbouw Philharmonie de Paris philharmoniedeparis.fr
Locatie Parijs, Frankrijk.
Bouwkosten 380 miljoen €.
Periode Definitie van het akoestisch programma van eisen, co-organiseren van de architectuurwedstrijd: 2006. Ontwerp: 2007-2009. Bouw: 2010-2014. Opening: Januari 2015.
Opdrachtgever Association Philharmonie de Paris (Ministère de la Culture, Ville de Paris en Région Île-de-France), Frankrijk.
Architect(en) Jean Nouvel, Ateliers Jean Nouvel, Parijs www.jeannouvel.com • Brigitte Métra, Métra & Associés, Parijs (concertzaal) brigittemetra.com
Theateradviseur(s) dUCKS Scéno, France www.ducks.fr
Akoestiek van Opdrachtgever Kahle Acoustics, Brussel • Altia Acoustique, Parijs.
Akoestiek van Ontwerpteam Harold Marshall, Marshall Day Acoustics, Auckland • Yasuhisa Toyota, Nagata Acoustics, Los Angeles (als speciaal adviseur voor Jean Nouvel).
Capaciteit Symfonische concertzaal met 2 400 zitplaatsen, een kamermuziekzaal met 450 zitplaatsen, repetitiezalen en kantoren. Totale oppervlakte 25 000 m².
Gebruik Hoofdconcertzaal voor het Orchestre de Paris en uitgenodigde symfonieorkesten. Aanvullende programmering omvat versterkte muziek, wereldmuziek en jazz.
Werkzaamheden Akoestisch adviseur voor de opdrachtgever, van de definitie van het akoestisch programma, werfopvolging, opening en post-opening.
Adviseur(s) Eckhard Kahle, projectleider, Yann Jurkiewicz, Brian F.G. Katz, Thomas Wulfrank, Kahle Acoustics. In samenwerking met Altia Acoustique, Parijs.
Pers
01/16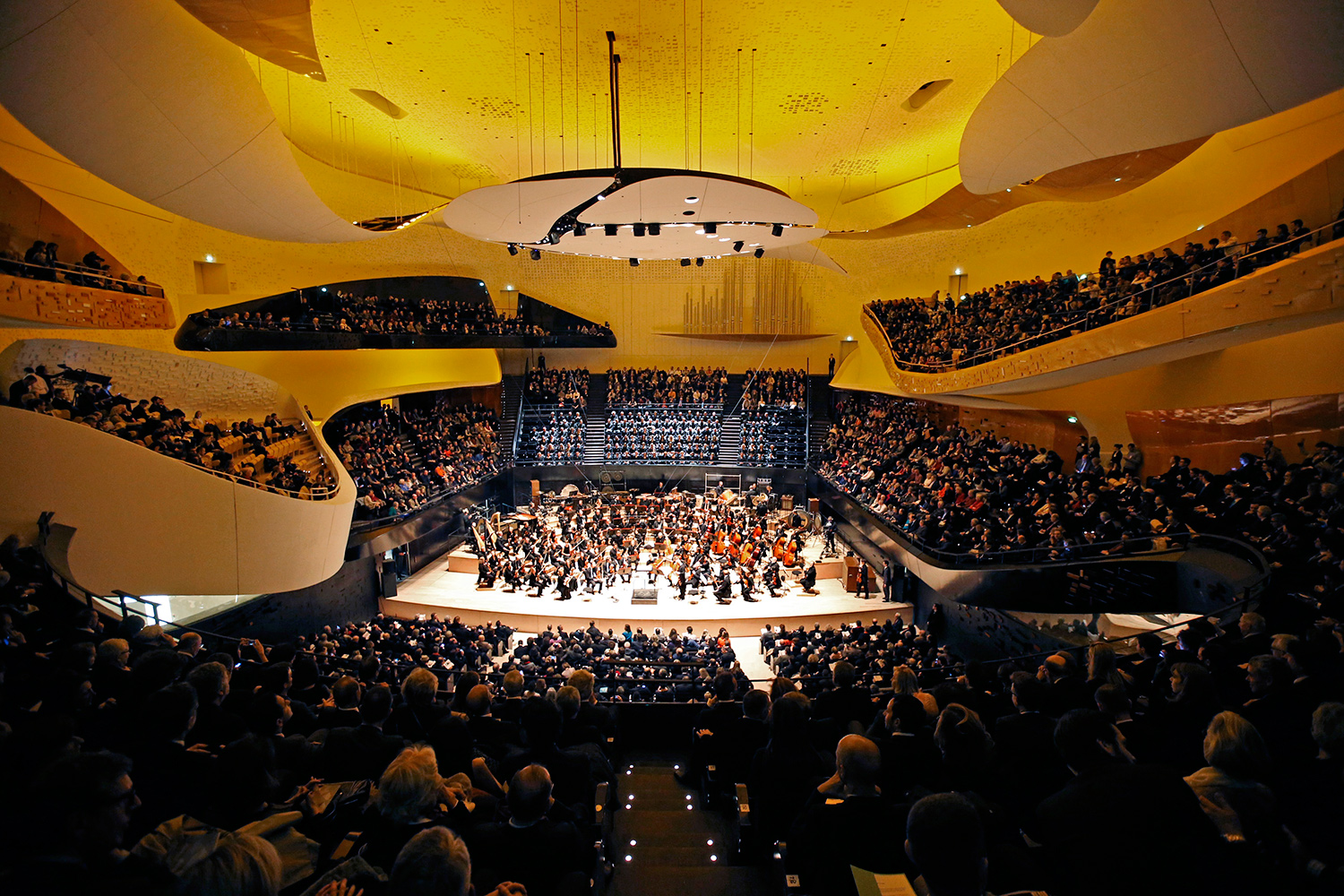 View of the 2 400-seat hall during the opening.

Foto © Charles Platiau
02/16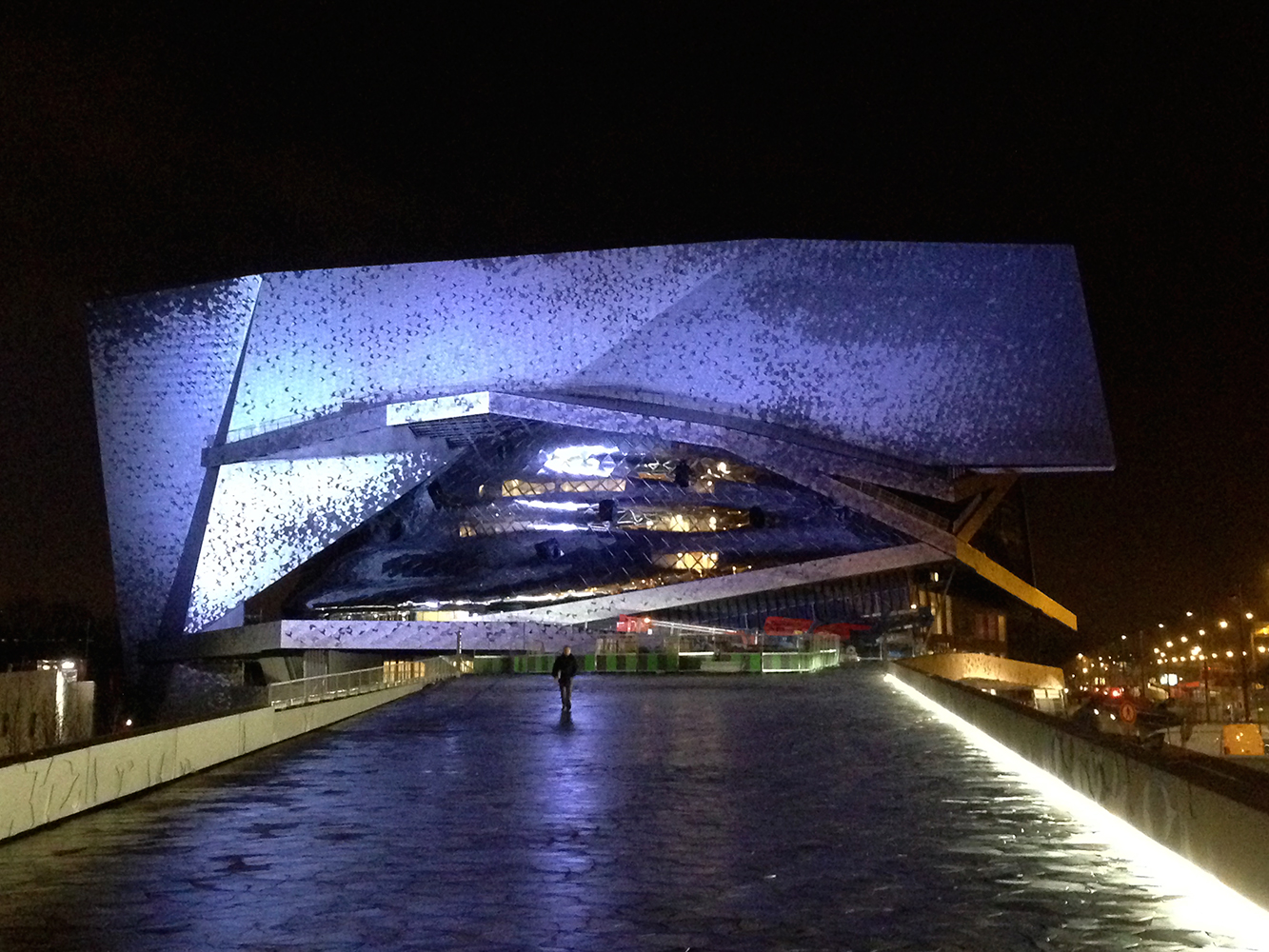 View by night of the Philharmonie de Paris's entrance.

Foto © Kahle Acoustics
03/16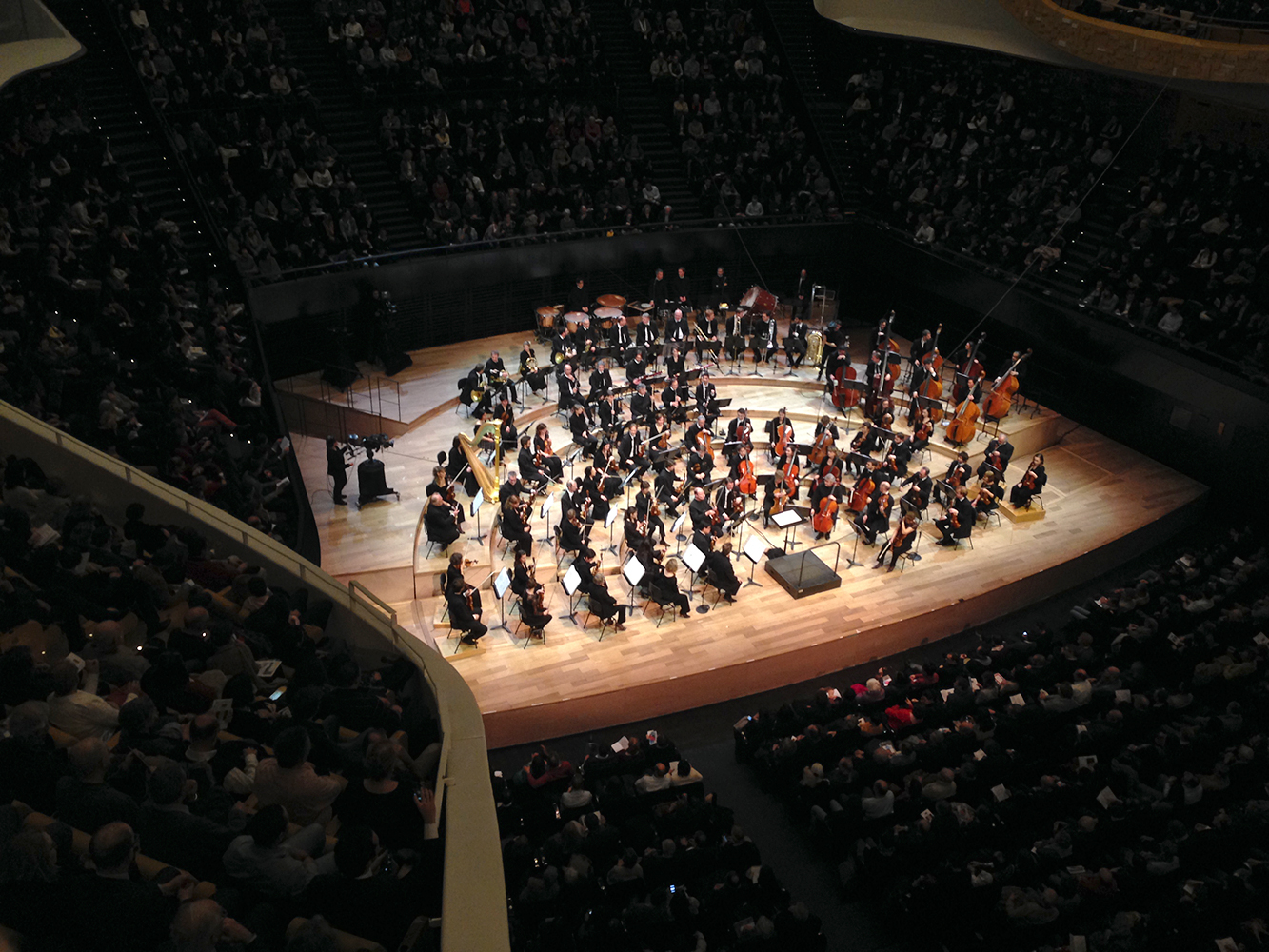 In the 2 400-seat concert hall, the audience surrounds the Orchestre de Paris.

Foto © Kahle Acoustics
04/16

Panoramic view of the 2 400-seat hall with its envelopping typology where the farthest viewer is only 32 metres away from the conductor The hall consists of an inner, "floating" volume nested within a larger outer volume, allowing direct sound, lateral reflections and reverberation to interweave in order to combine excellent clarity and transparency with ample resonance.

Foto © Nicolas Borel
05/16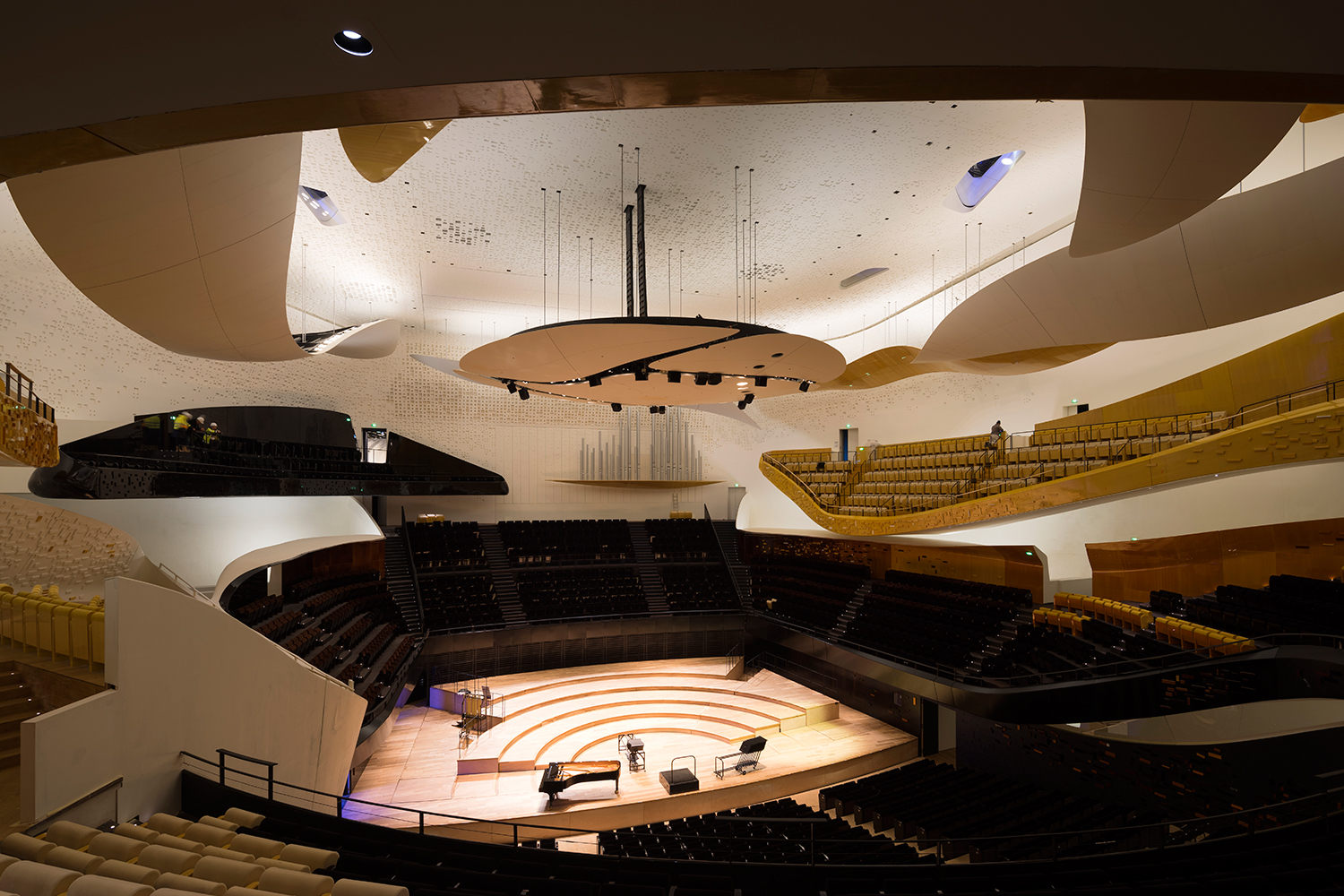 The 283-m² stage of the Grande Salle features motorized platforms and can accommodate any orchestral formation. The choir balcony being retractable, a frontal stage can be put in place. The floor seating can be removed in order to enlarge the stage or accomodate standing audience.

Foto © Nicolas Borel
06/16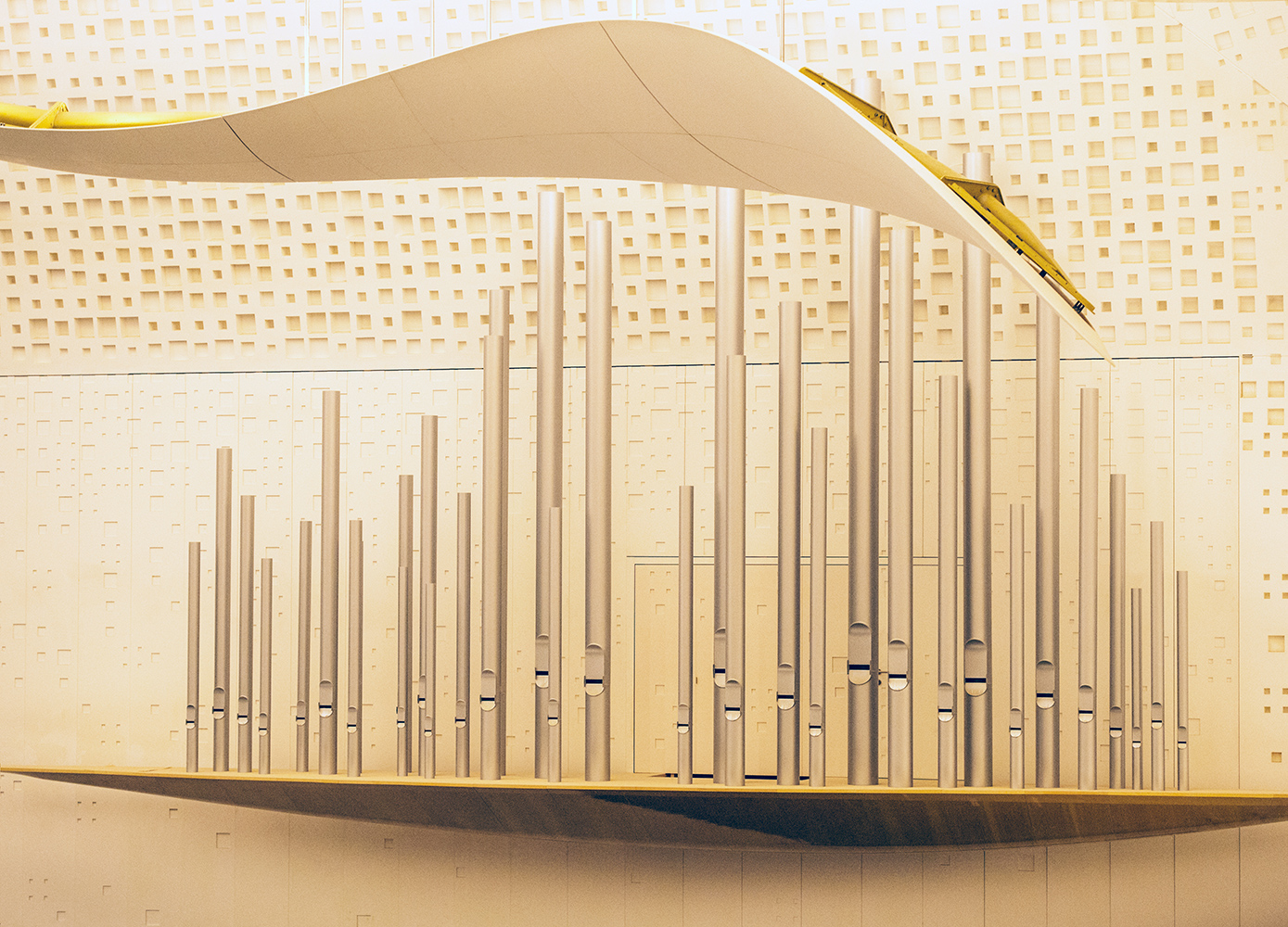 The 15-metre high by 20-metre wide organ — manufactured by The Ateliers Rieger — has been conceived for the symphonic repertoire.

Foto © Beaucardet
07/16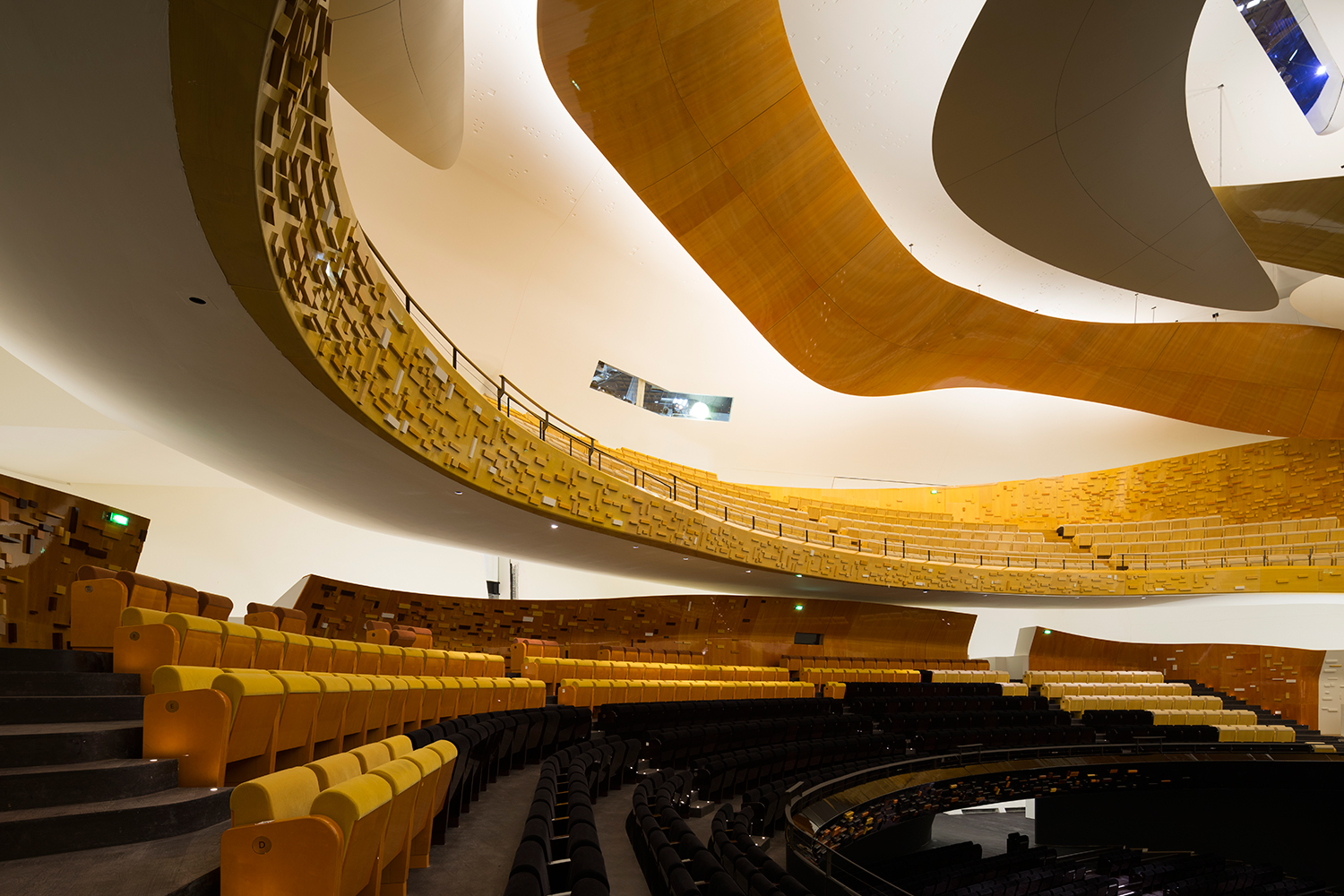 View onto the floating balconies, with their ribbon-like back walls and the suspended cloud-shaped reflectors. All surfaces, from the balcony fronts to the balcony soffits as well as the back walls and the reflectors contribute to the acoustic reflections.

Foto © Nicolas Borel
08/16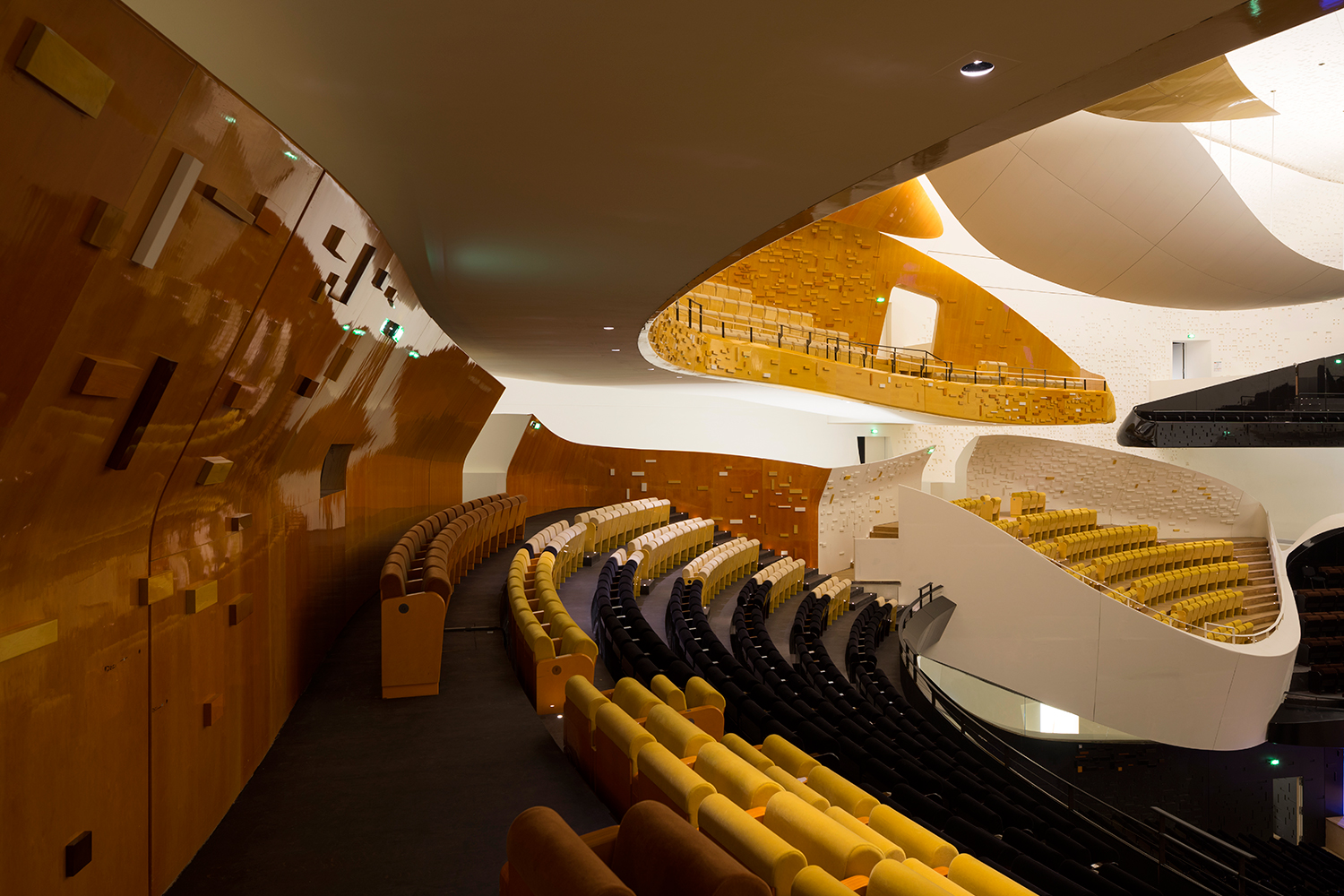 The important quantity of reflecting surfaces contributes to the early lateral reflections, providing intimacy and envelopment to every spectator.

Foto © Nicolas Borel
09/16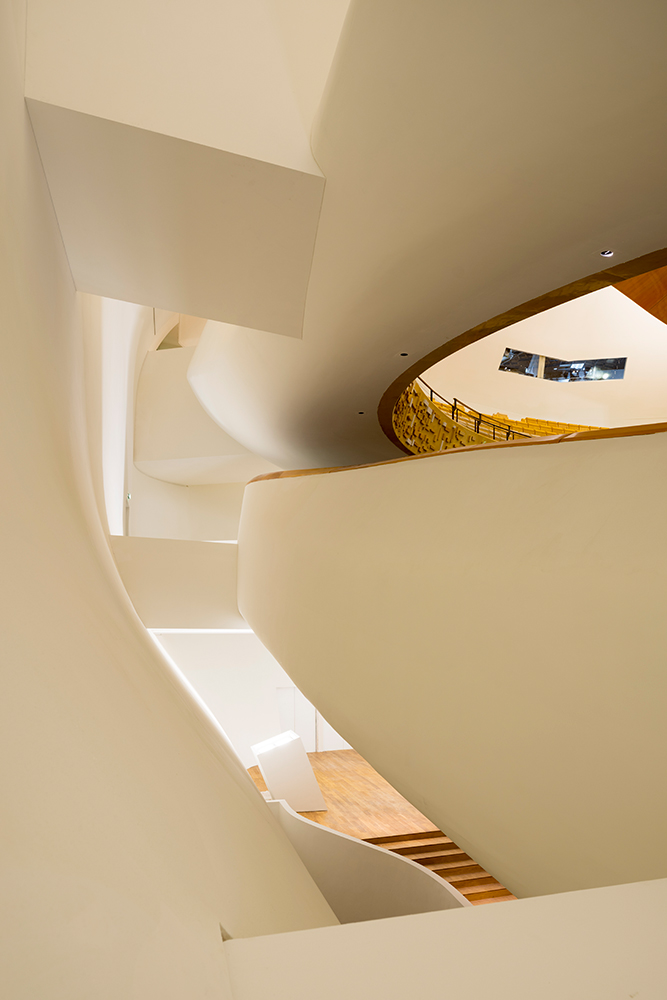 Detail of the outer acoustic volume, located between the back of the balconies and the outer wall of the hall, which contributes to the long reverberation of the sound.

Foto © Nicolas Borel
10/16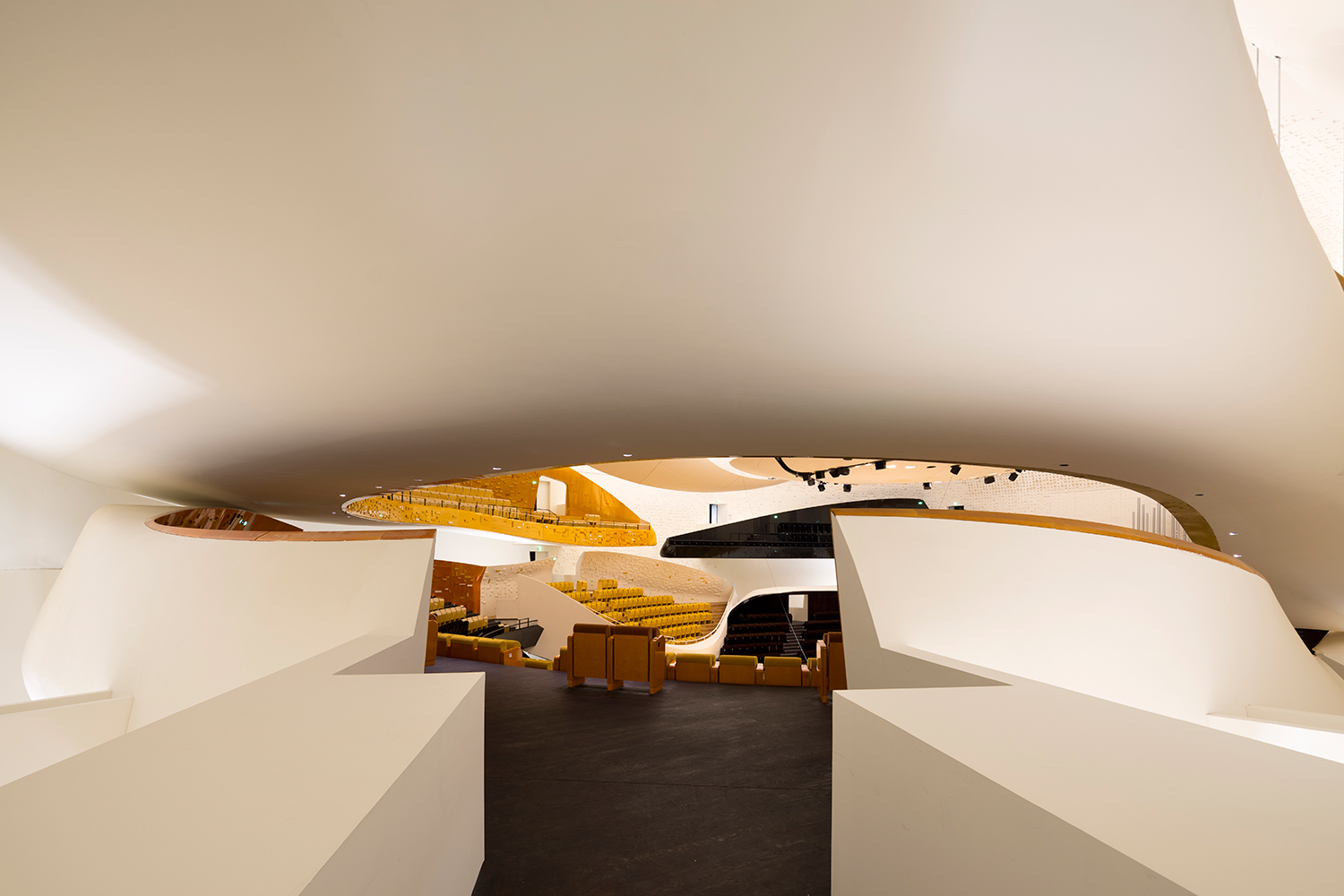 Detail of one of the entrances leading into the Grande Salle through the outer acoustic volume.

Foto © Nicolas Borel
11/16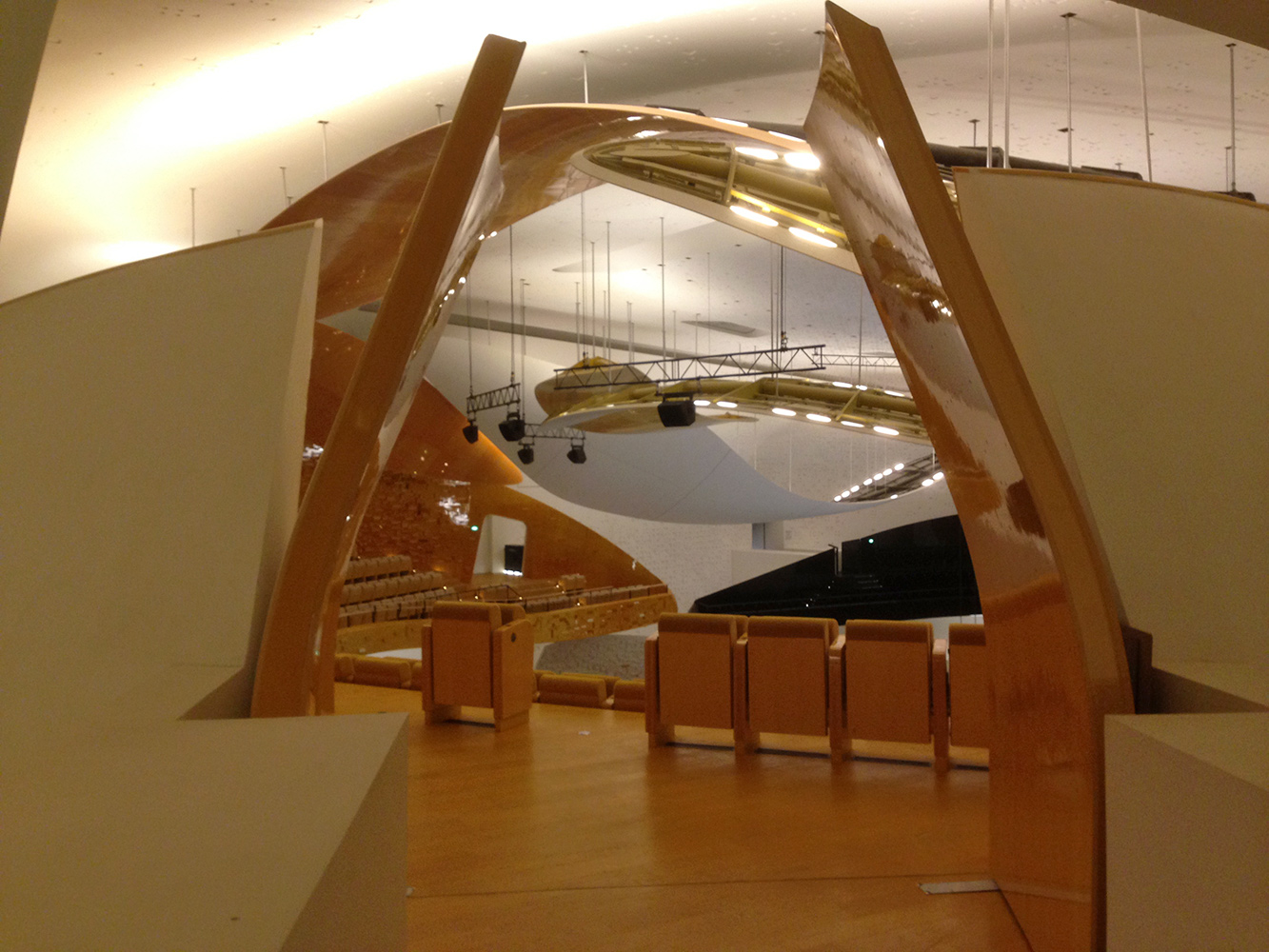 Access doors to the second floor balcony.

Foto © Kahle Acoustics
12/16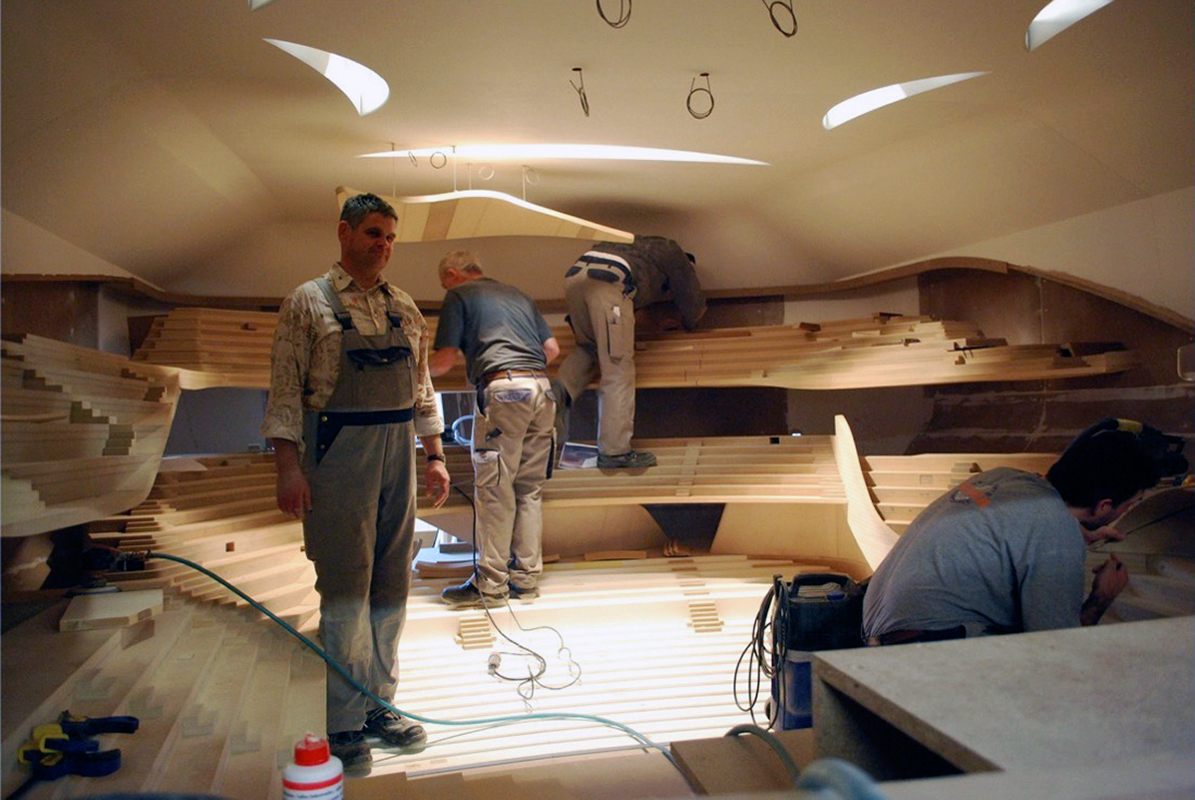 1:10 scale model of the 2 400-seat concert hall.

Photo © Kahle Acoustics
13/16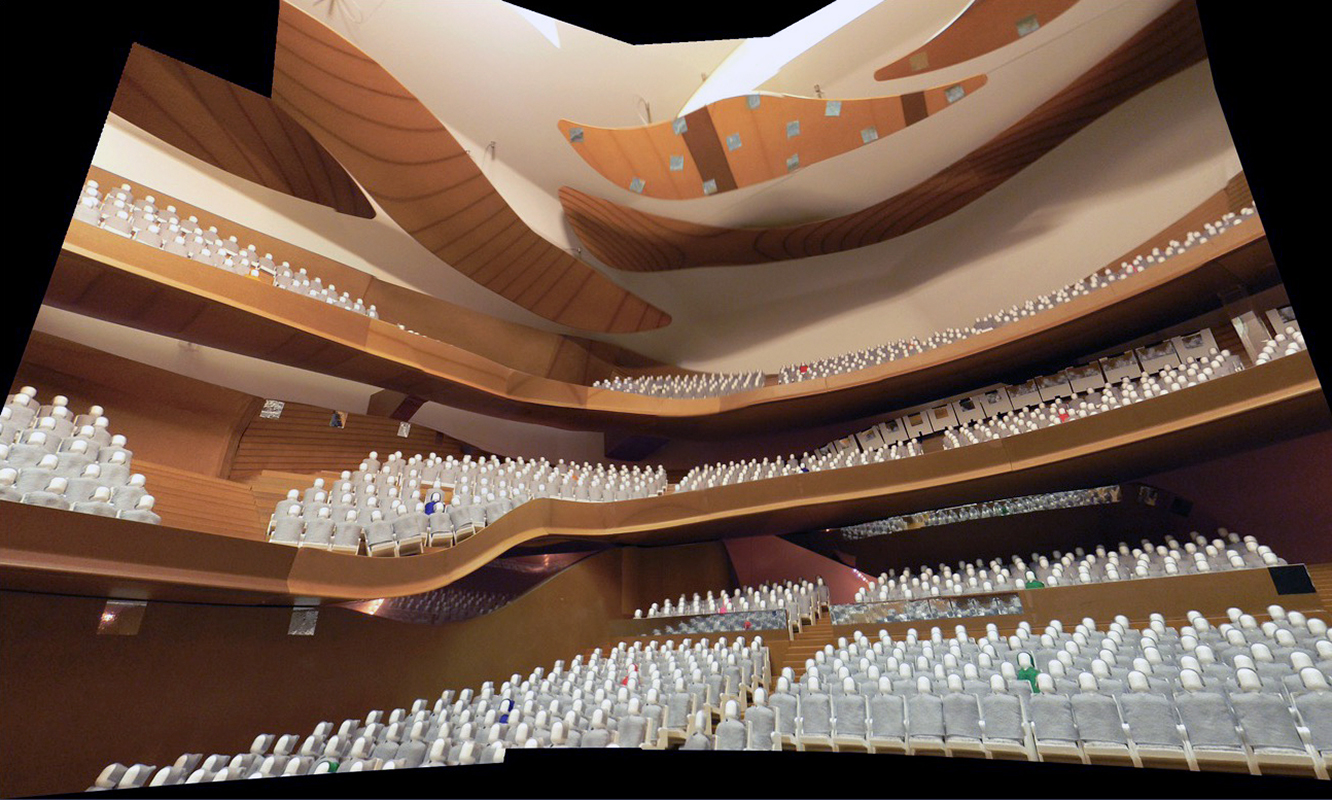 1:10 scale model of the 2 400-seat concert hall.

Foto © Kahle Acoustics
14/16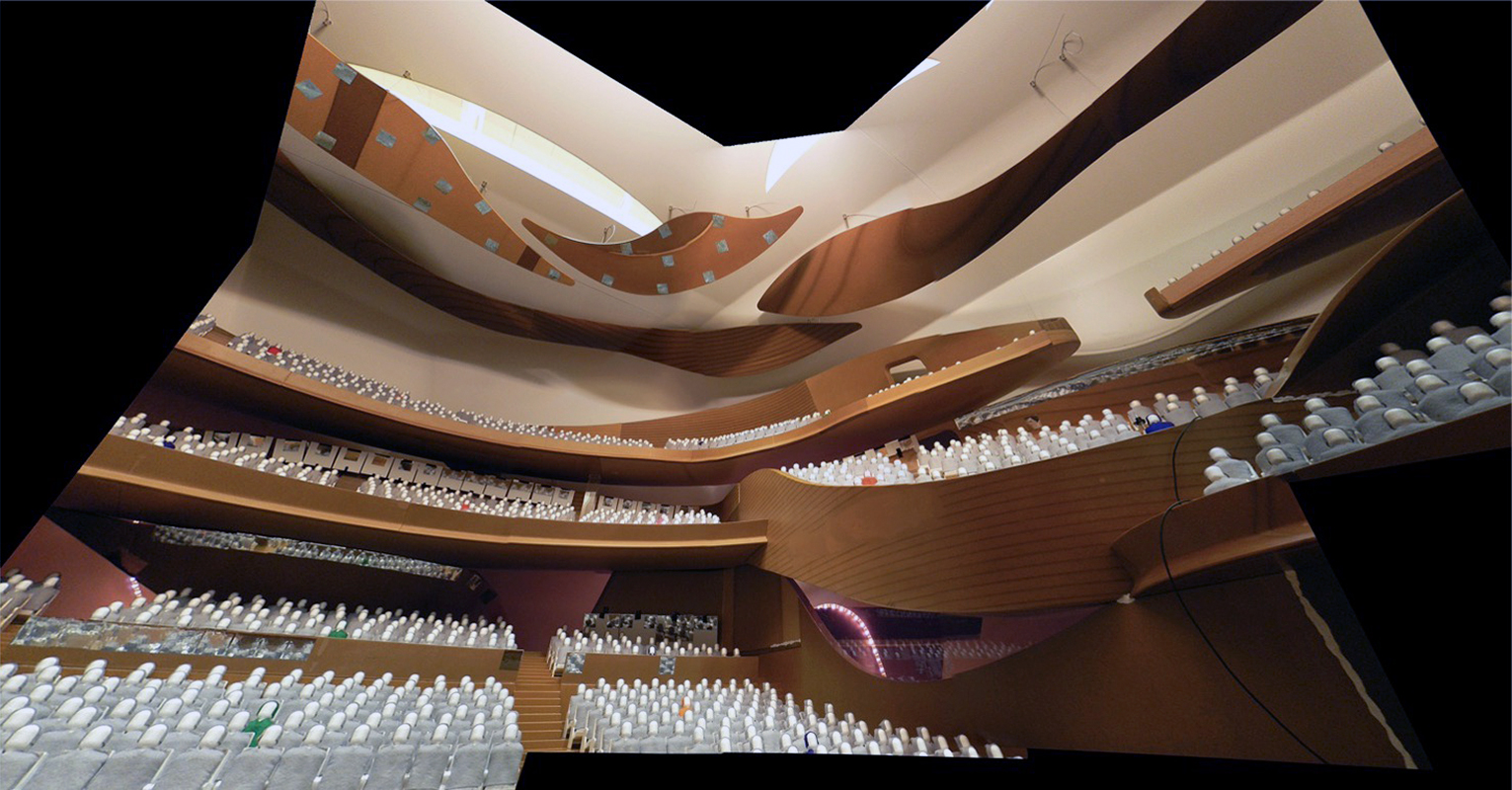 1:10 scale model of the 2 400-seat concert hall.

Foto © Kahle Acoustics
15/16
1:10 scale model of the 2 400-seat concert hall.

Foto © Kahle Acoustics
16/16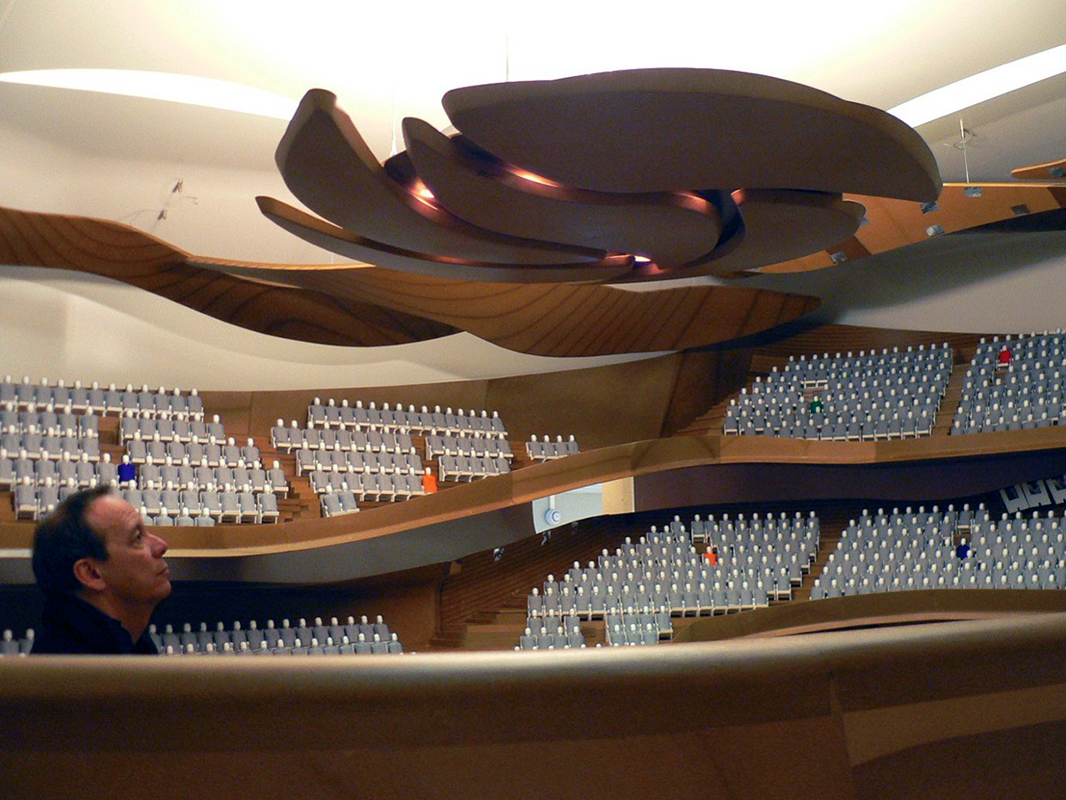 1:10 scale model of the 2 400-seat concert hall.

Foto © Kahle Acoustics