Théâtre de Beaulieu
Originally opened in 1954, the Théâtre de Beaulieu remains to this date the largest in Switzerland. Its renovation and upgrade include the design of a new acoustically optimised orchestra shell and the integration of an electronic reverberation system to enhance natural acoustic reverberation. The Théâtre hosts miscellaneous shows ranging from contemporary dance, drama, classical concerts, including those with the Orchestre de la Suisse Romande and with the Orchestre de Chambre de Lausanne, to jazz and pop concerts. This renovation grants the Théâtre with a great acoustic versatility and ensures an excellent quality for all uses.
Projectgegevens
Renovatie/Transformatie Théâtre de Beaulieu beaulieu-lausanne.com/theatre-de-beaulieu/
Locatie Beaulieu, Lausanne, Switzerland.
Bouwkosten 55 million CHF (approx. 50 million €).
Periode Competition: 2016. Design: 2017-2019. Building Phase: 2019-2022. Opening: 2022.
Opdrachtgever Beaulieu SA.
Architect(en) Fehlmann Architects, Lausanne, Switzerland www.farch.ch
Theateradviseur(s) Thierry Guignard, France guignardsceno.fr • Scenographicc, France scenographicc.fr
Capaciteit The main hall capacity is 1 600 seats. Total area: app. 660 m² for ground floor and 420 m² for balcony.
Gebruik The main hall hosts drama, theatre, dance, musicals, amplified music concerts as well as non- amplified music concerts such as operas and symphonic concerts, including a concert series by Orchestre de la Suisse Romande, Geneva.
Werkzaamheden Acoustic investigation and feasibility study, creation of specification documents for tender, with the architect redesigning the interior to optimize the acoustics, designing variable acoustics, construction supervision and acoustic commissioning of the hall.
Adviseur(s) Yann Jurkiewicz, Eckhard Kahle, Kahle Acoustics.
01/10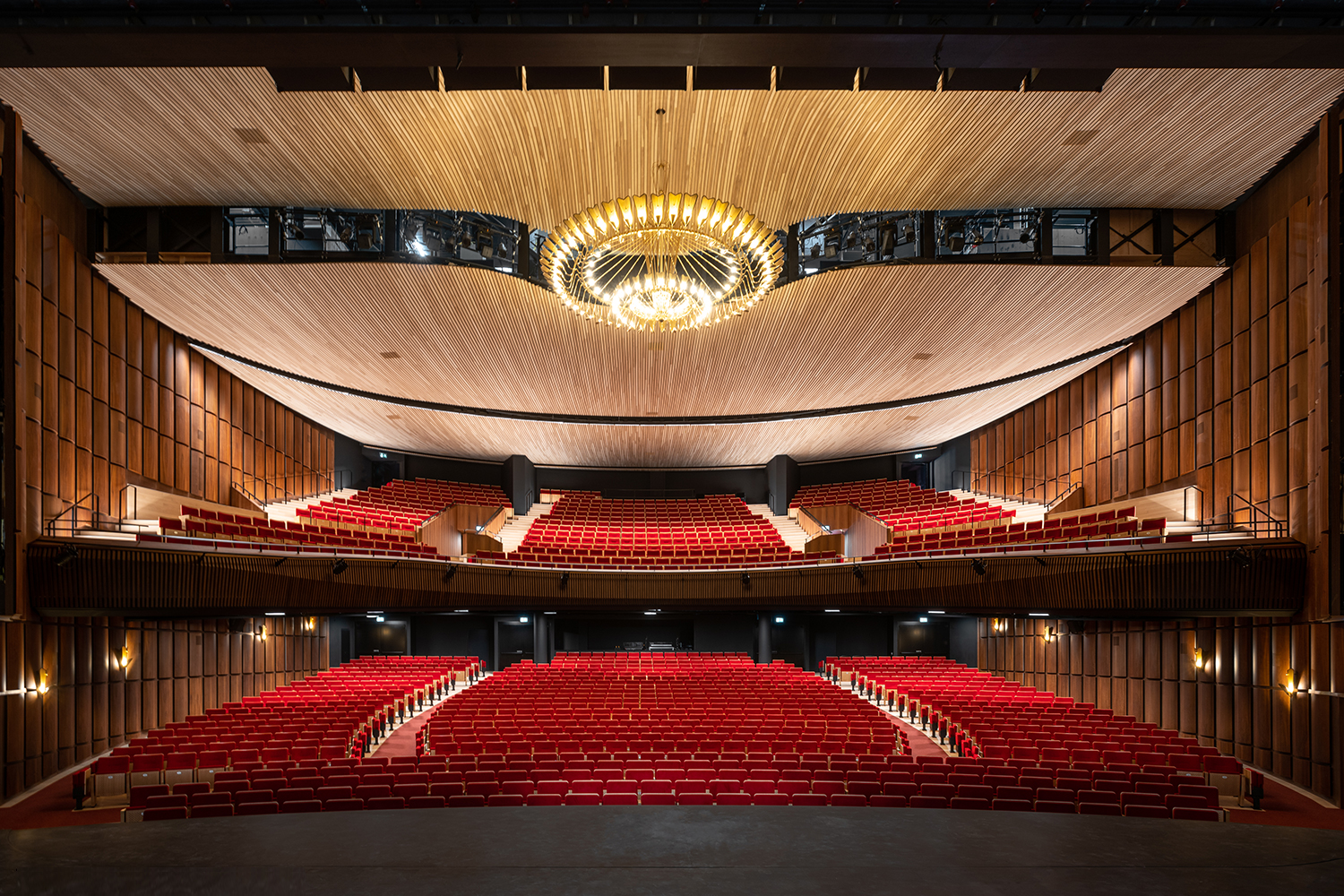 The renovated auditorium as seen from the stage. In the renovated hall, the new ceiling is set 1m meter higher than previously, and made of curved wood slats in a closed, acoustically reflective arrangement. On the walls, the curved wooden shells of the previous hall have been partly maintained and partly replicated.

Foto © Fehlmann Architectes
02/10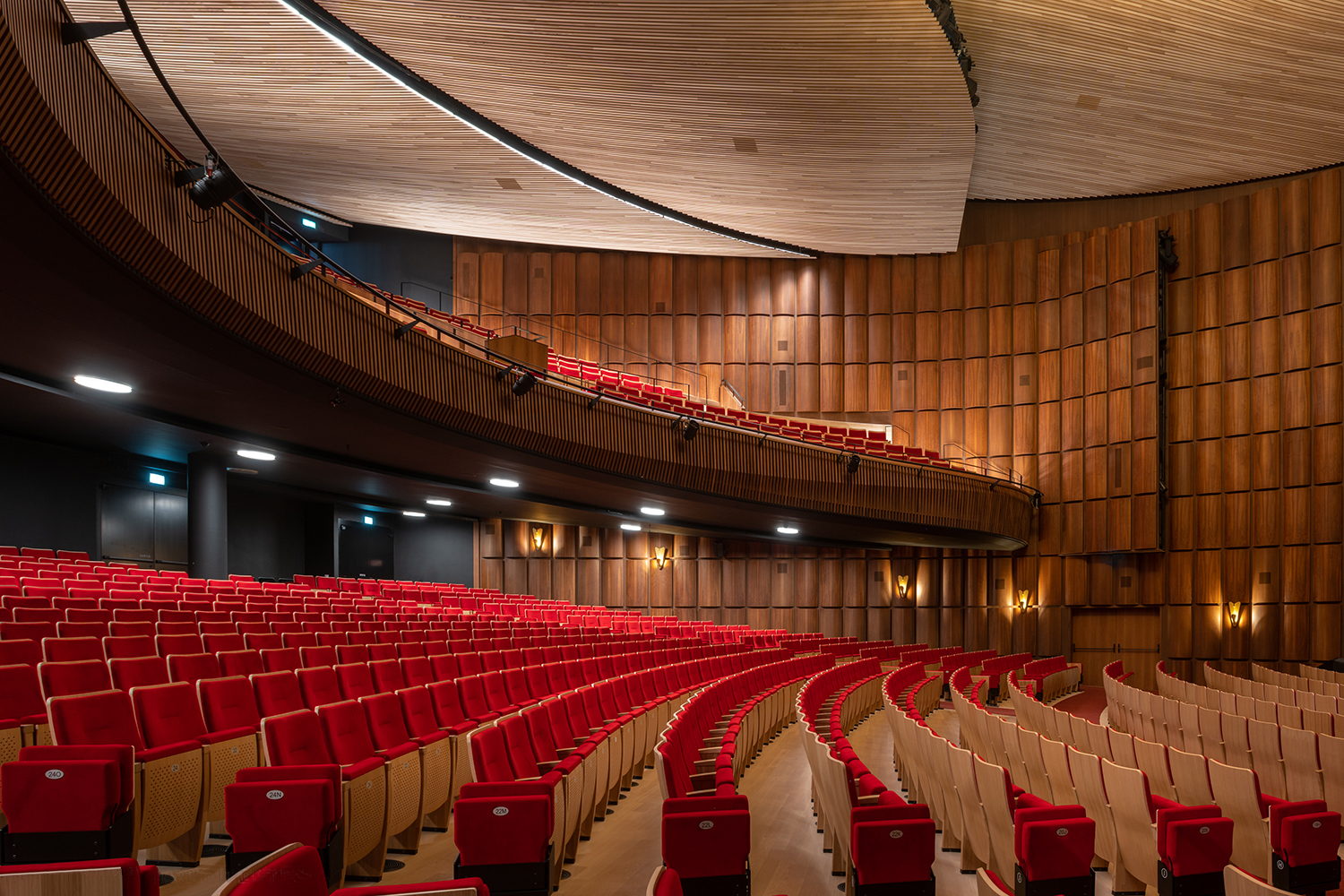 The renovated auditorium as seen from the parterre.

Foto © Fehlmann Architectes
03/10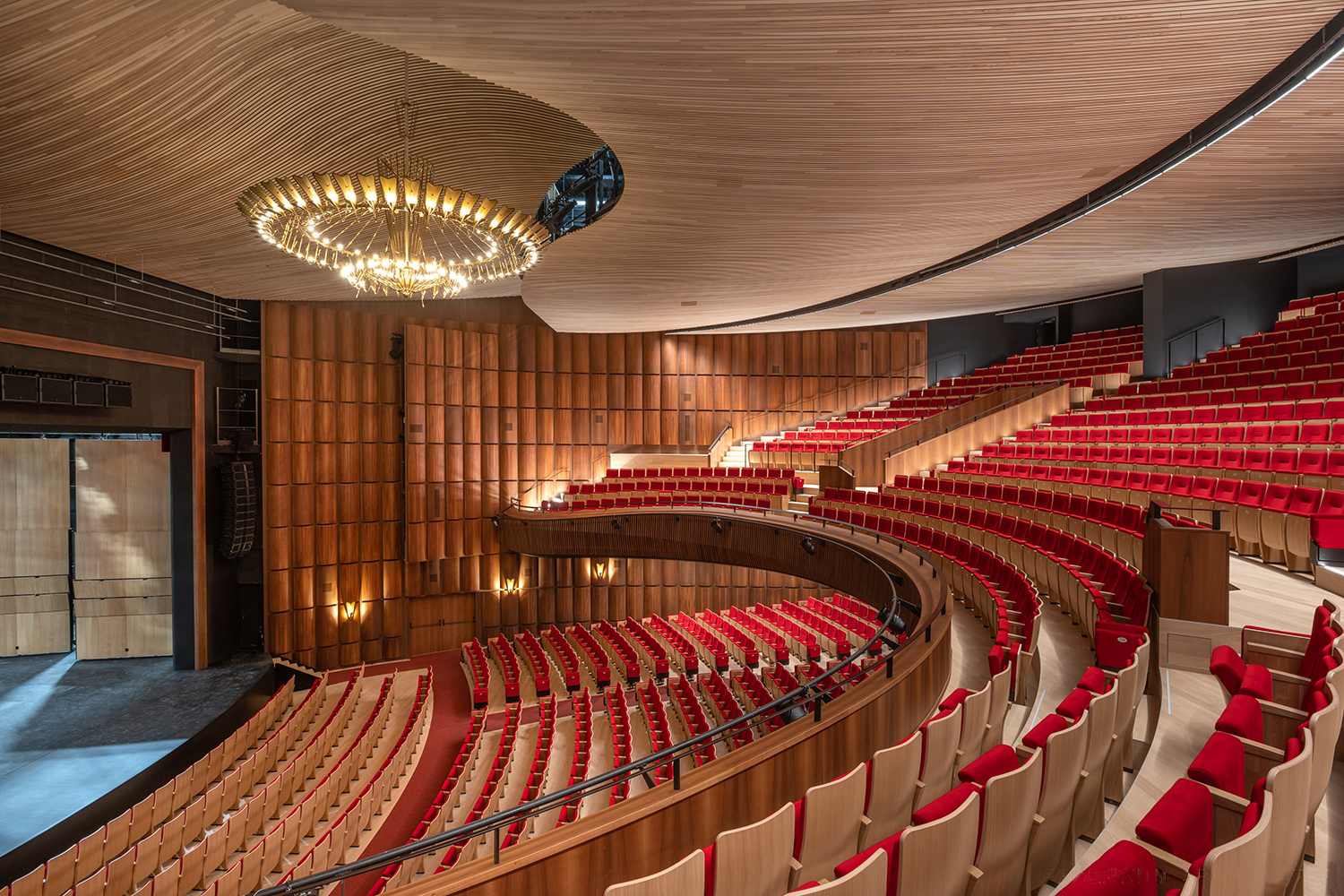 The renovated auditorium as seen from the first balcony. In the renovated hall, the new ceiling is set 1 meter higher than previously, and made of curved wood slats in a closed, acoustically reflective arrangement. On the walls, the curved wooden shells of the previous hall have been partly maintained and partly replicated.

Foto © Fehlmann Architectes
04/10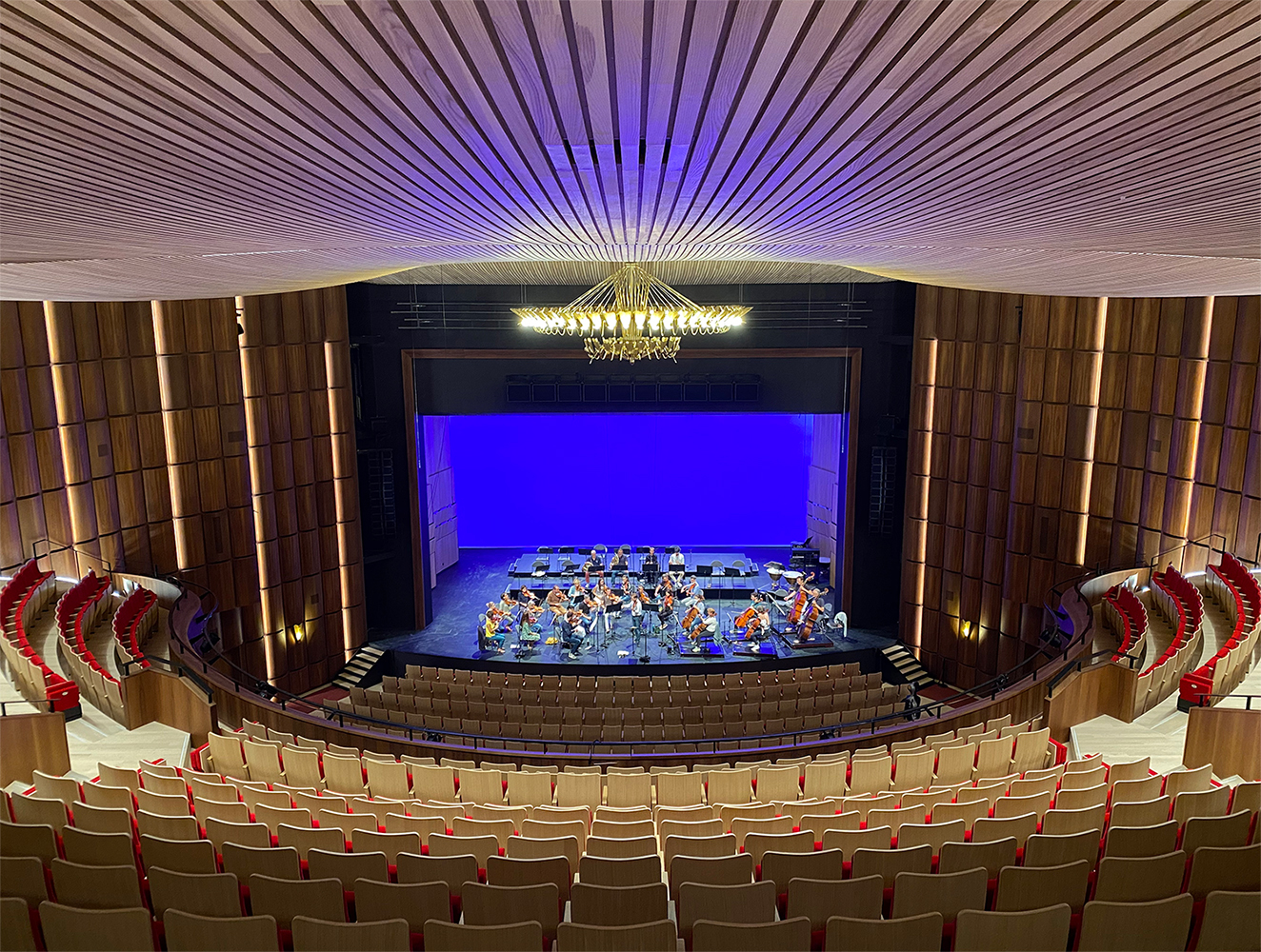 View from the last row of the balcony. In the renovated hall, the new ceiling is set 1 meter higher than previously, and made of curved wood slats in a closed, acoustically reflective arrangement. On the walls, the curved wooden shells of the previous hall have been partly maintained and partly replicated.

Foto © Kahle Acoustics
05/10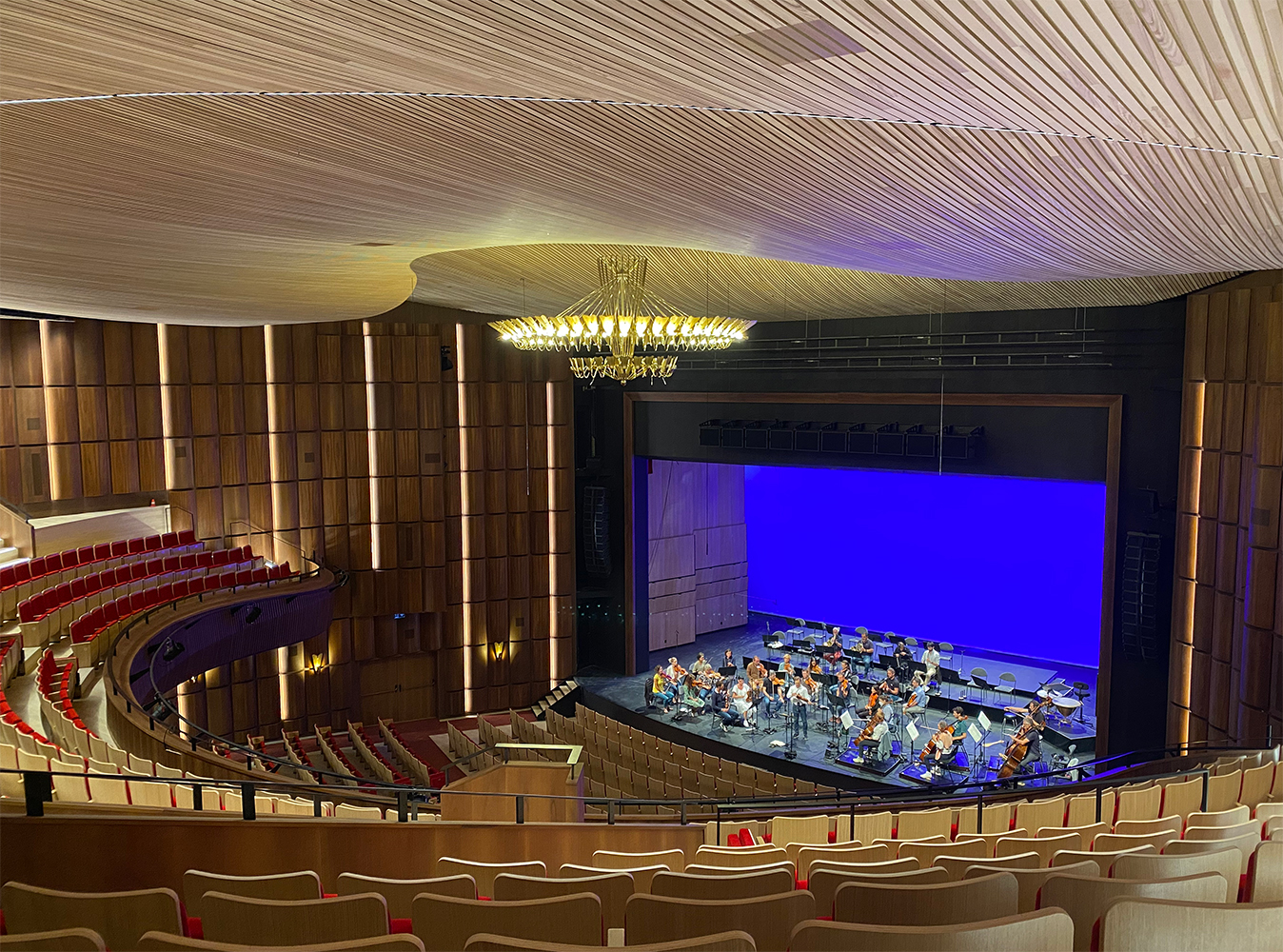 The stage of the Théâtre de Beaulieu was equipped with a new modular orchestra shell allowing classical concerts to be held with excellent listening conditions on stage. The sidewalls and the ceiling of the shell are cladded with curved wooden panels, while a semi-reflective fabric closes off the rear of the stage, allowing for lighting effects or video-projection.

Foto © Kahle Acoustics
06/10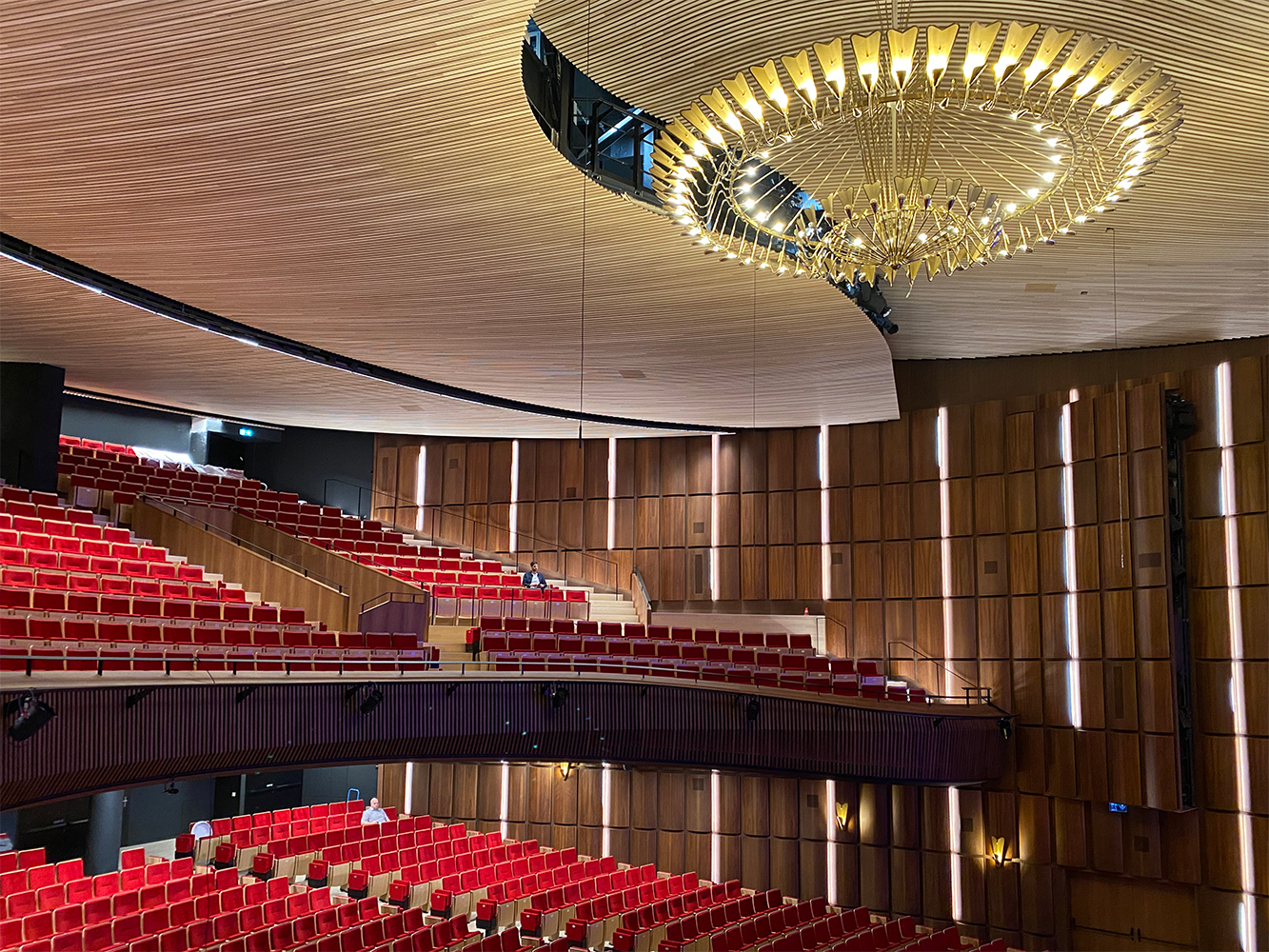 View of the auditorium from a seat on the side balcony. The new ceiling follows a complex curved shape, which was precisely optimized for the most homogeneous acoustic experience achievable. In particular, concave ceiling areas were carefully checked and adjusted to avoid excessive acoustic focussing.

Foto © Kahle Acoustics
07/10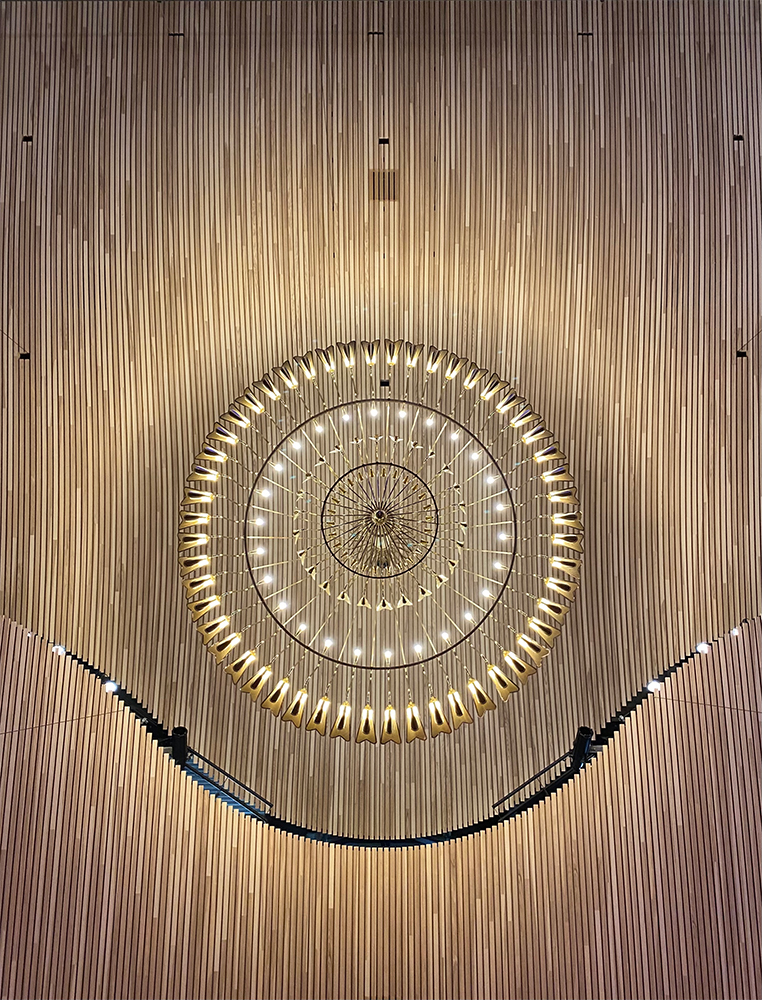 The iconic chandelier of the Théâtre de Beaulieu was preserved and now nestles in the curves of the new ceiling.

Foto © Kahle Acoustics
08/10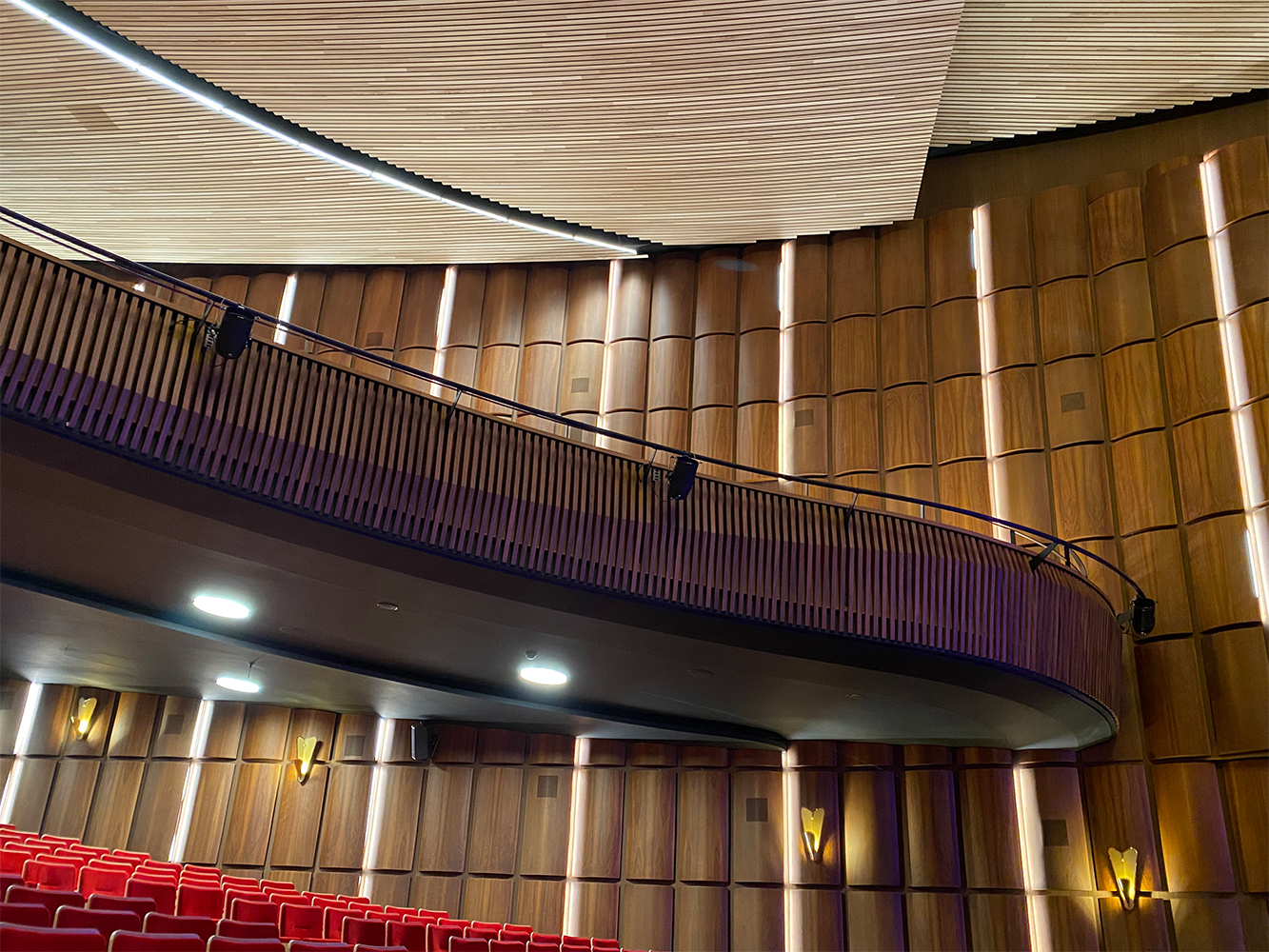 The new balcony front cladding consists of individually optimised wooden bars. It follows an optimised shape that counteracts the previously existing acoustic focusing effects.

Foto © Kahle Acoustics
09/10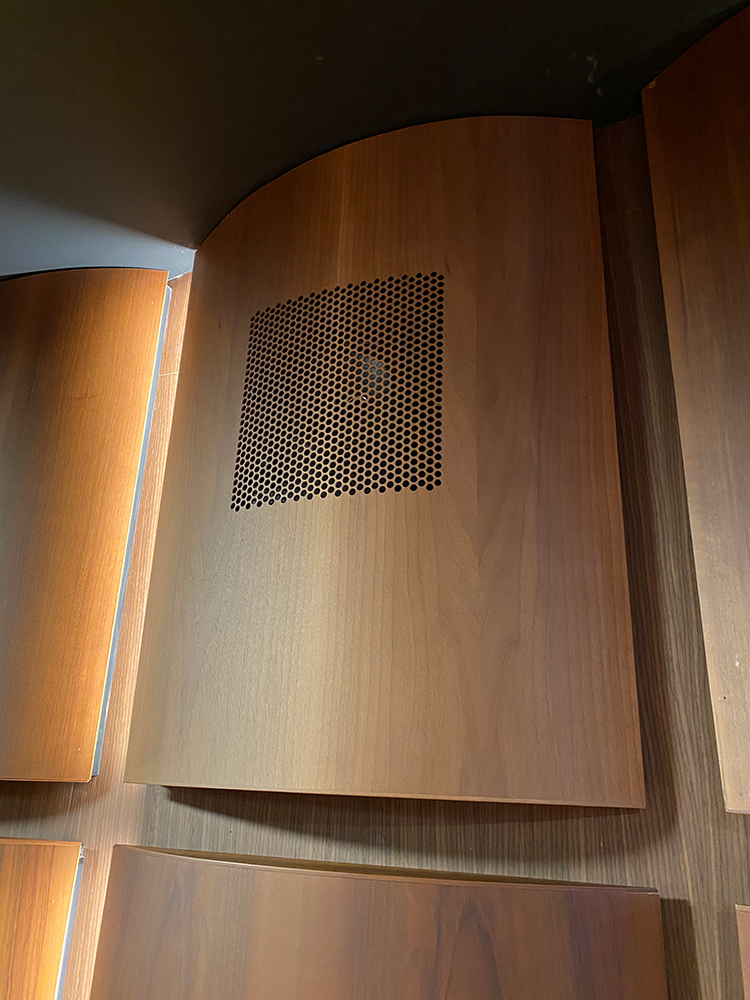 Integration of loudspeakers and microphones of the active acoustic system.

Foto © Kahle Acoustics
10/10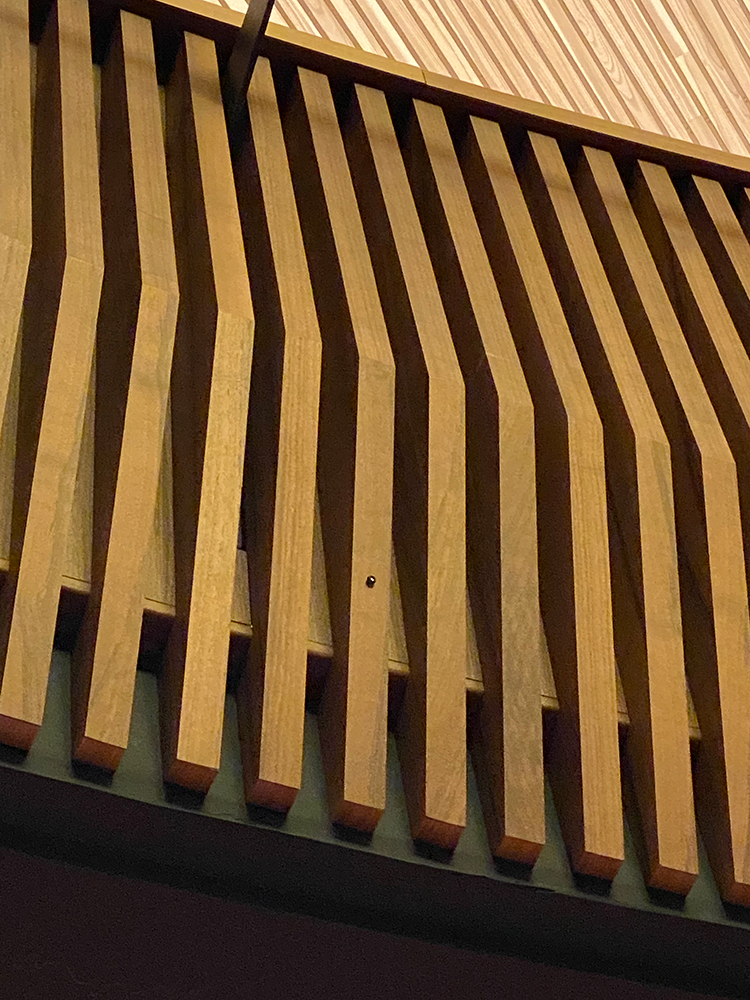 Integration of loudspeakers and microphones of the active acoustic system.

Foto © Kahle Acoustics