Andermatt Concert Hall
A world-class concert hall at 1 400 m above sea level: the Andermatt Concert Hall is at the heart of the redevelopment of Andermatt into one of Switzerland's largest resorts. Every facet of the origami-inspired interior of this flexible, 650-seat venue has been acoustically optimised; furthermore, an electronic reverberation system discreetly lengthens the reverberation to adapt the acoustics for different music styles, ensembles and sizes of audience.
Information Sheet
New Build Andermatt Concert Hall www.andermatt-swissalps.ch
Location Andermatt, Switzerland.
Project Cost 11 million CHF (10 million €).
Time Frame Design: 2017-2018. Construction: 2017-2019. Opening: June 2019.
Owner Andermatt Swiss Alps & BESIX, Switzerland.
Architect(s) Studio Seilern Architects, UK www.studioseilern.com
Theatre Planner(s) dUCKS Scéno, France www.ducks.fr
Seat Count Concert hall with flexible seating between 500 and 650 seats. Total gross area: 2 072 m².
Uses The concert hall is primarily intended for classical music and music festivals. The flexible staging can accommodate solo recitals, small ensembles as well as large orchestras (up to 75 musicians, opening concert with the Berliner Philharmoniker). Other uses include conferences, banquets and amplified concerts.
Services Full-service acoustics consulting for the concert hall and ancillary spaces, including room acoustics design, acoustical shaping and optimisation of the concert hall, tuning of the acoustics for opening, sound isolation design and services noise control.
Team Evan Green, Eckhard Kahle, Kahle Acoustics.
Press
01/11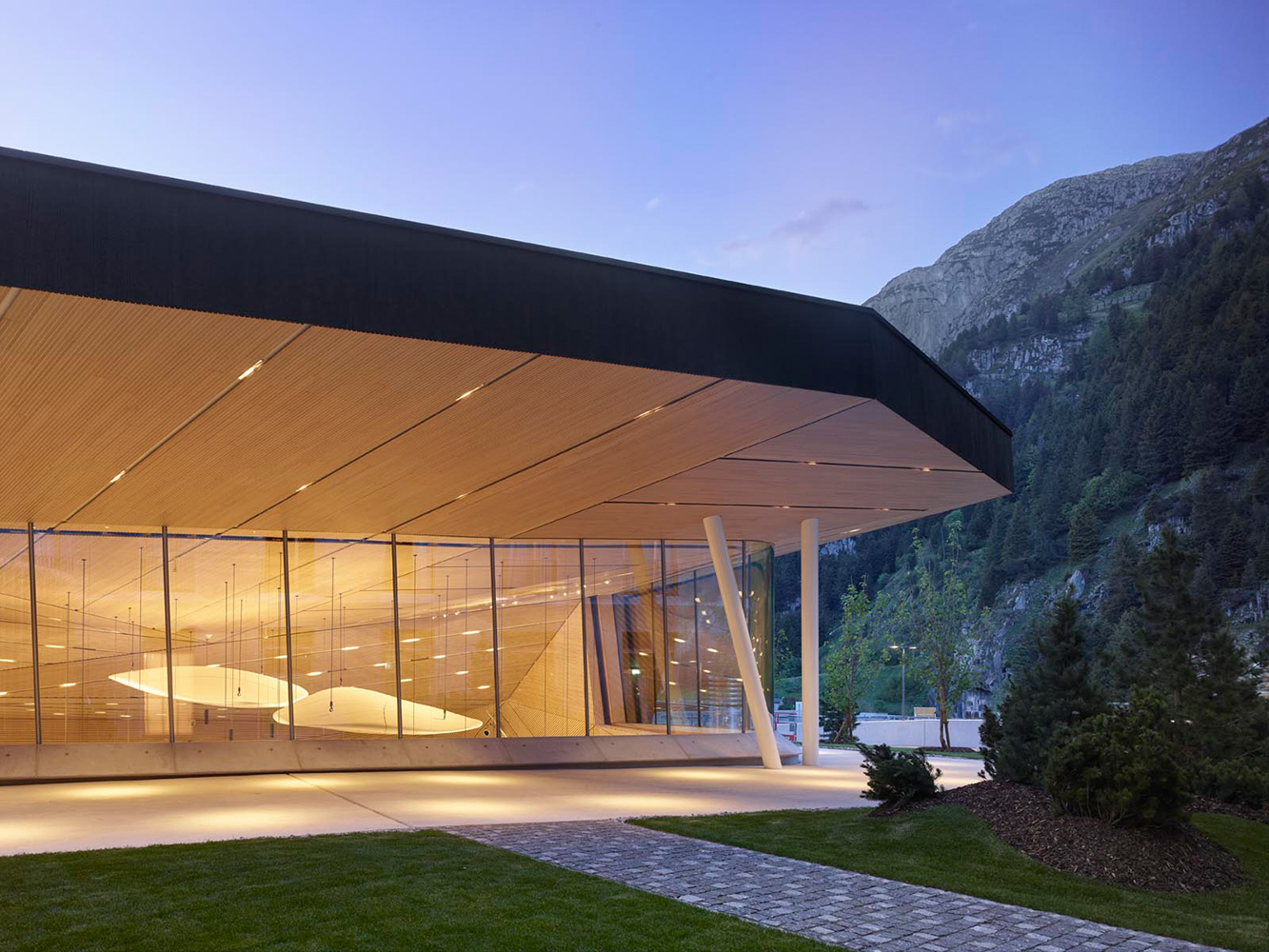 The acoustic reflectors of the Andermatt Concert Hall can be seen through the glass wall at street level with a breath-taking landscape surrounding the concert hall pavilion.

Photo © Roland Halbe
02/11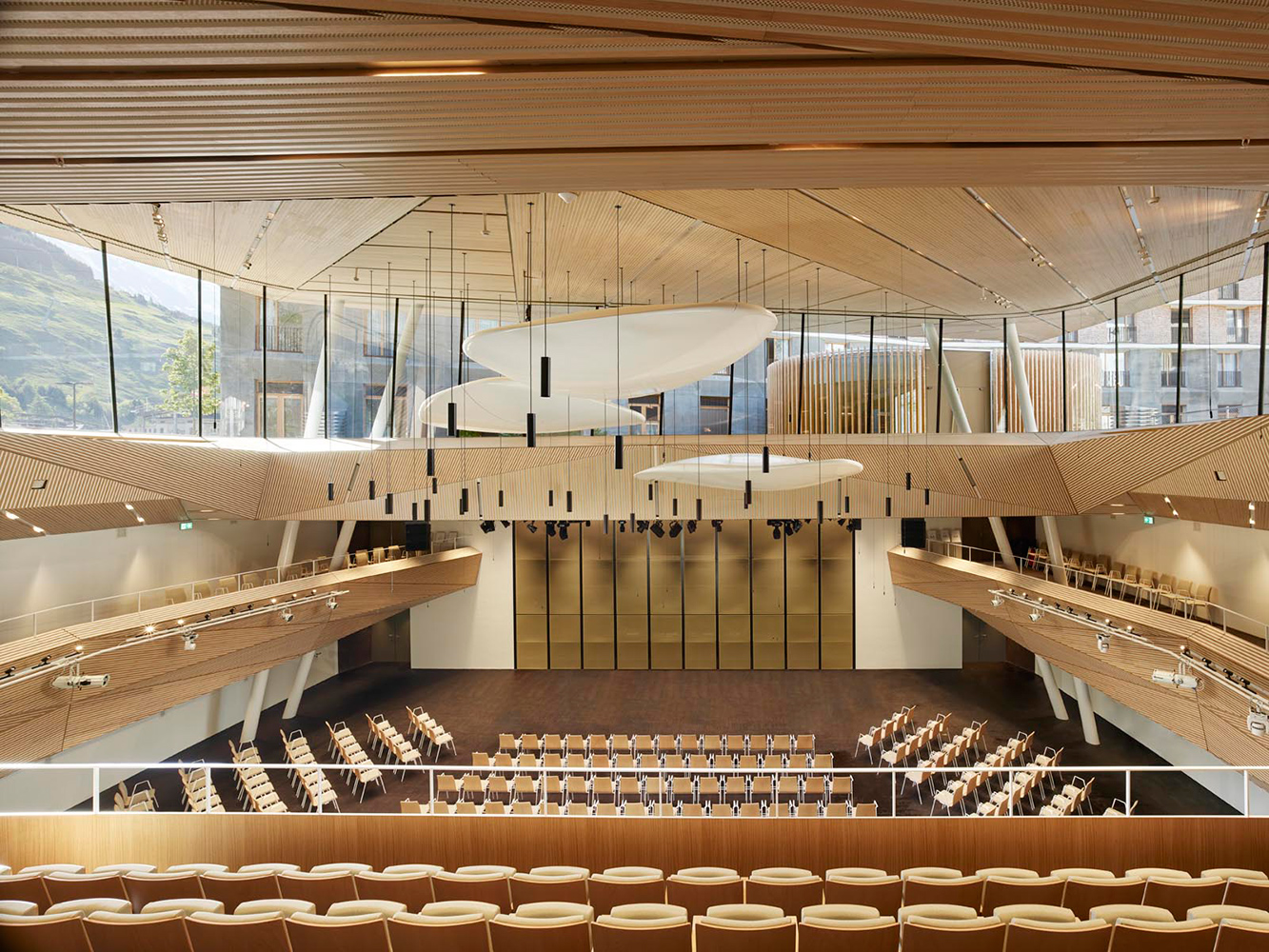 View from the balcony: The glass façade provides natural daylight and a view to the mountains, while passers-by have an enticing perspective into the hall. Every facet of the origami-inspired interior was optimised in angle to provide early sound reflections to the musicians and to every audience member.

Photo © Roland Halbe
03/11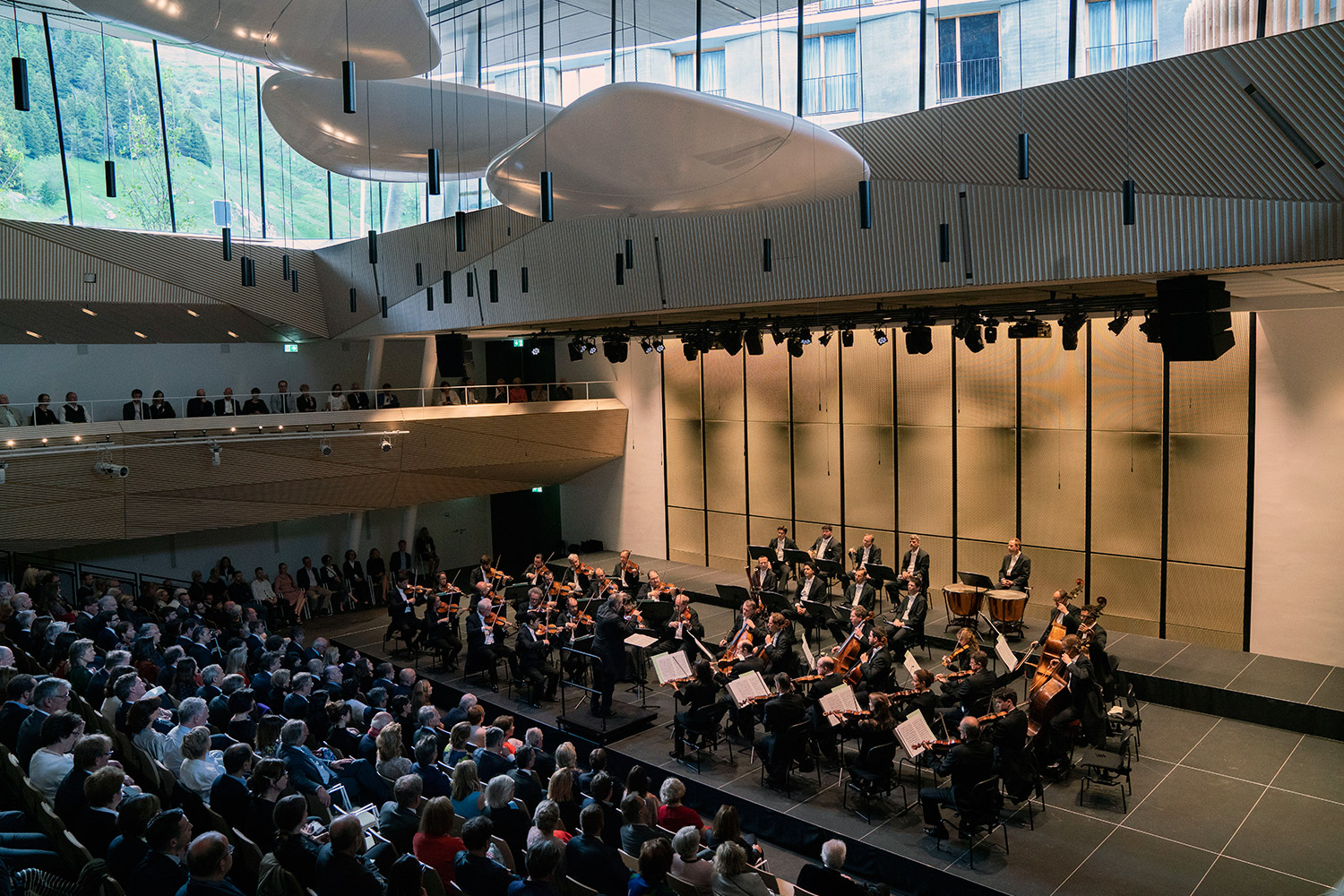 The opening concert with the Berlin Philharmonic Orchestra. The golden surfaces of the stage wall are acoustically transparent: these hide acoustic reflectors and absorption surfaces, which are used to optimize the orchestral balance and projection to the audience. The facets of the balcony fronts provide cross-communication reflections between the musicians.

Photo © Rittershaus Berliner Philharmoniker
04/11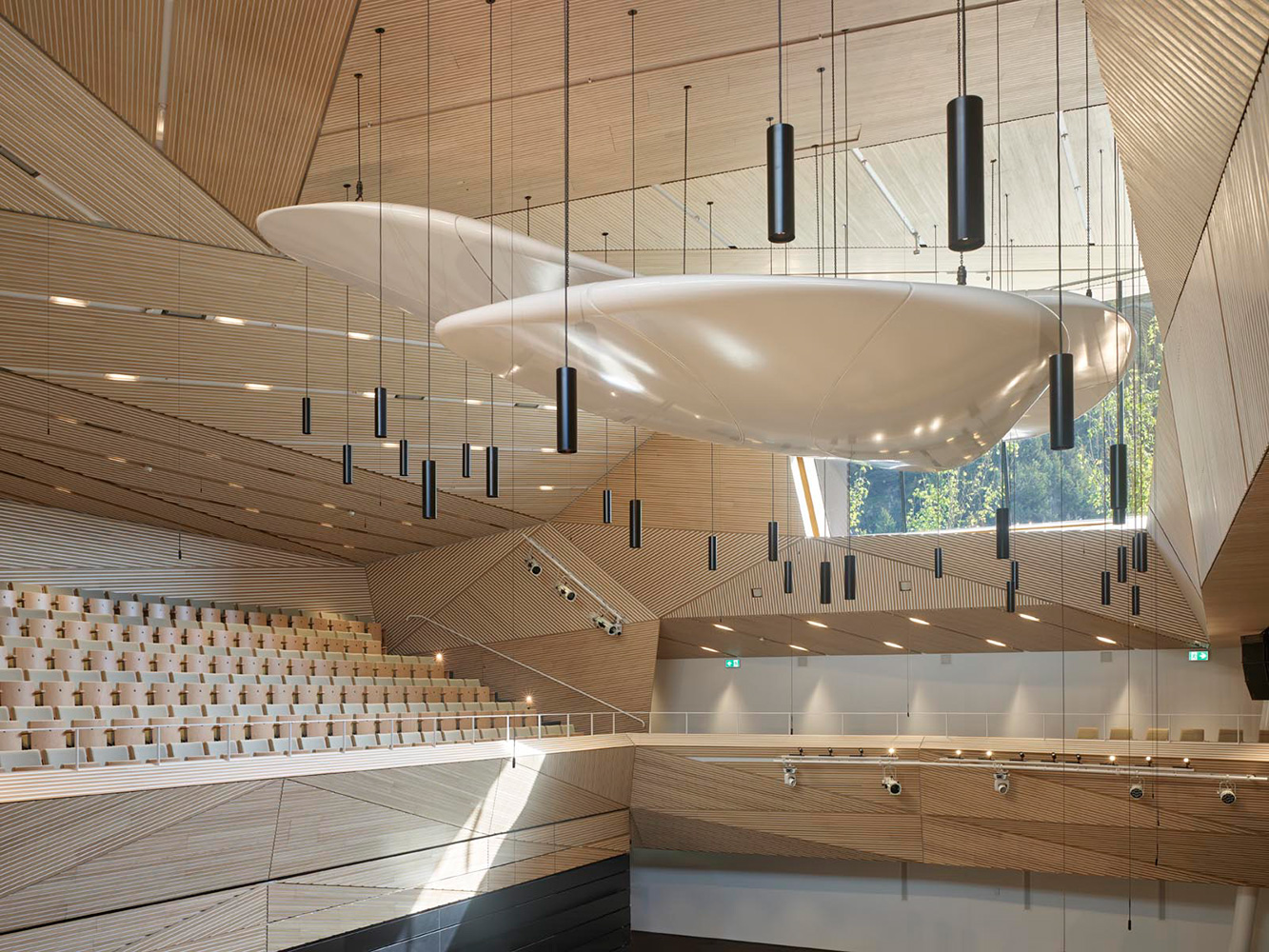 For the reverberation system, over 30 microphones and 70 loudspeakers have been almost invisibly integrated into the architecture. The system works together with the optimised natural acoustics and enables the reverberation time to be subtly extended for classical concerts.

Photo © Roland Halbe
05/11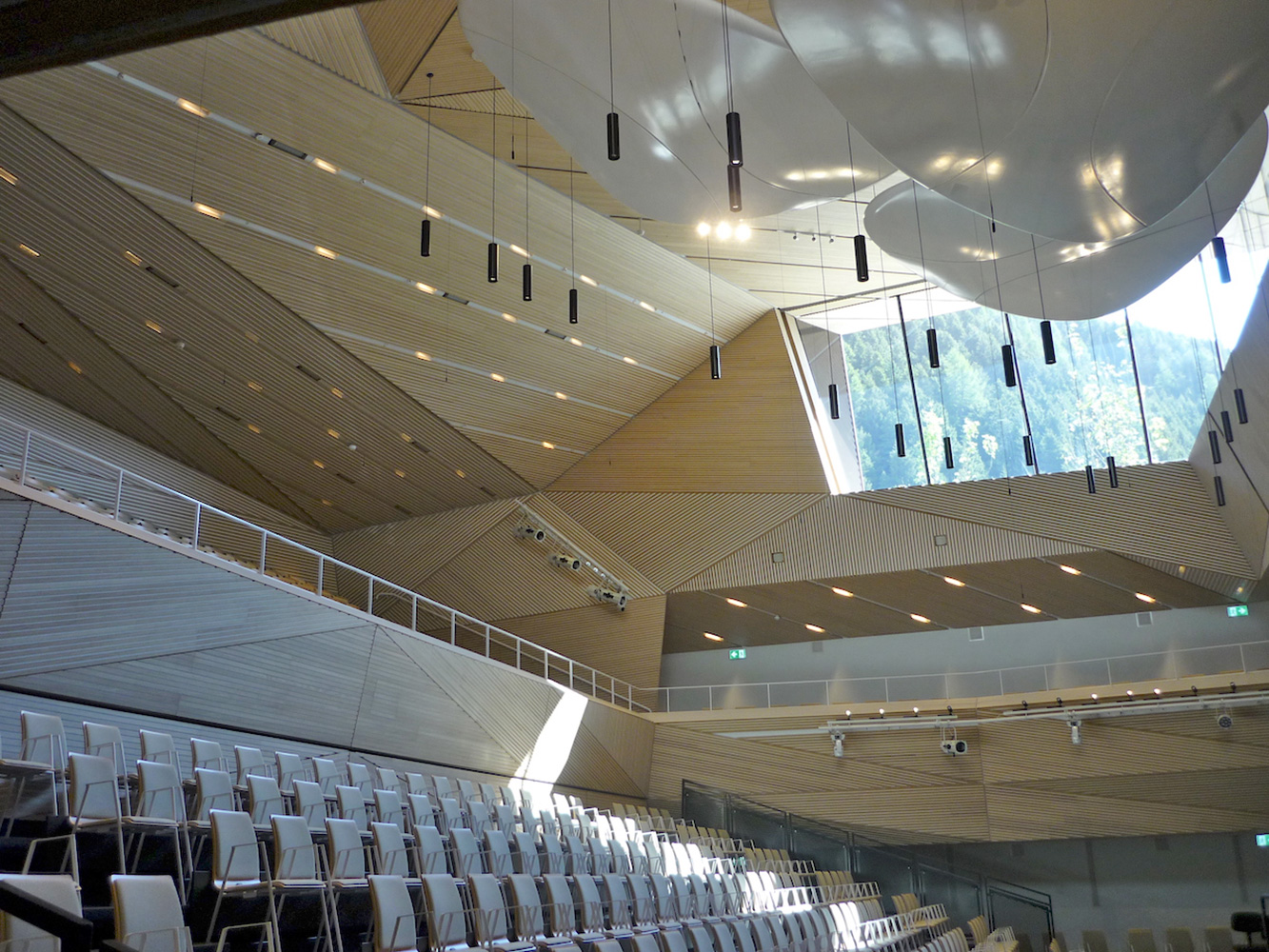 For the reverberation system, over 30 microphones and 70 loudspeakers have been almost invisibly integrated into the architecture. The system works together with the optimised natural acoustics and enables the reverberation time to be subtly extended for classical concerts.

Photo © Kahle Acoustics
06/11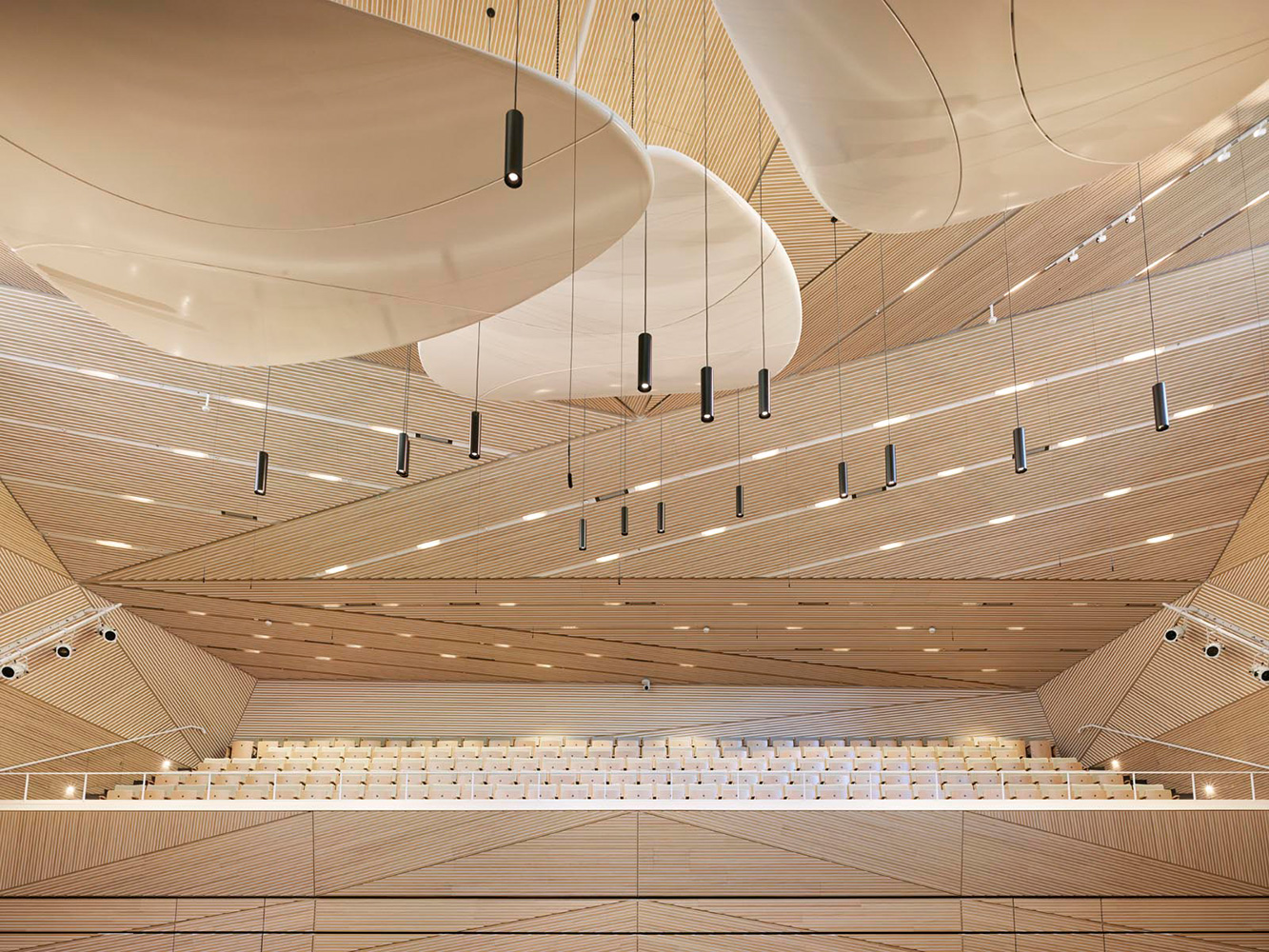 View of the main balcony. The origami surfaces facing the stage have been angled to provide a good room response back to the musicians. The angled facets to the side of the audience have been acoustically optimised to create lateral reflections for an immersive, enveloping natural acoustic.

Photo © Roland Halbe
07/11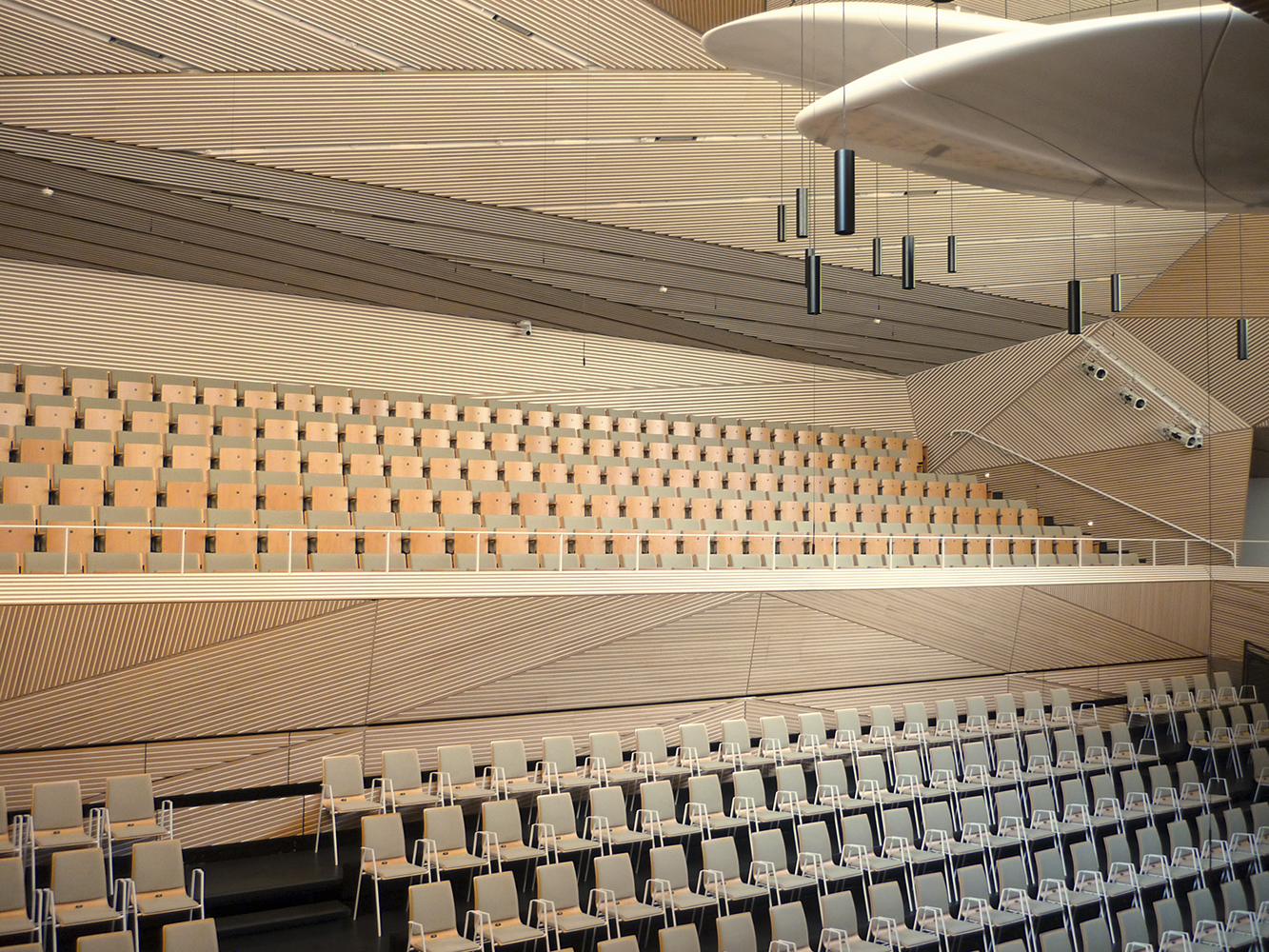 View of the main balcony. The origami surfaces facing the stage have been angled to provide a good room response back to the musicians. The angled facets to the side of the audience have been acoustically optimised to create lateral reflections for an immersive, enveloping natural acoustic.

Photo © Kahle Acoustics
08/11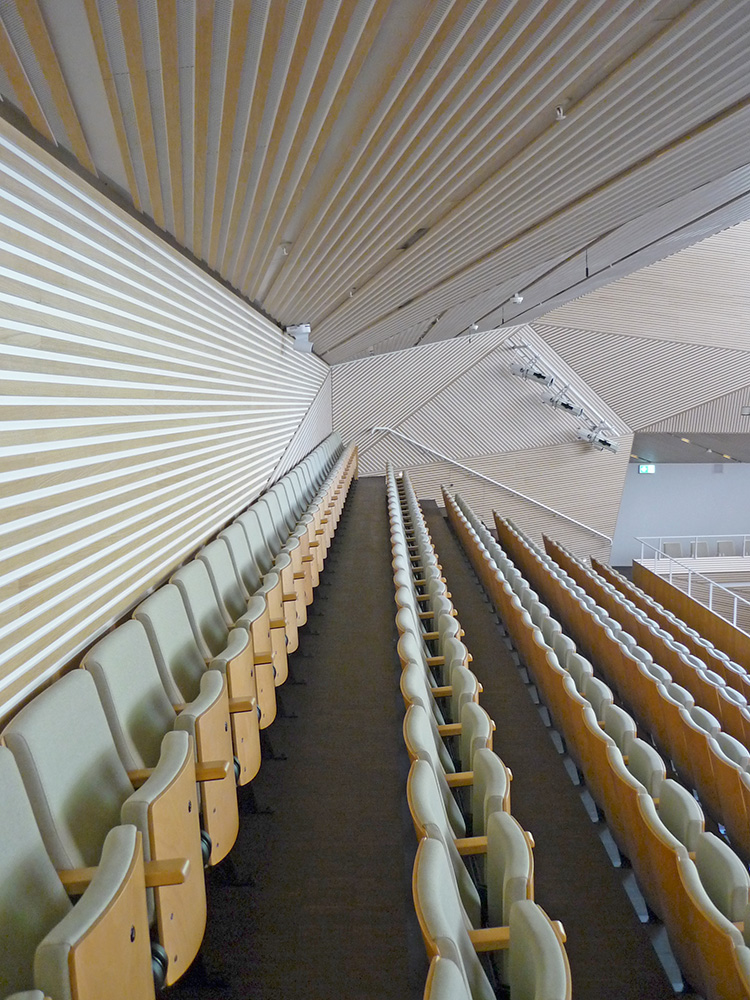 View of the main balcony. The origami surfaces facing the stage have been angled to provide a good room response back to the musicians. The angled facets to the side of the audience have been acoustically optimised to create lateral reflections for an immersive, enveloping natural acoustic.

Photo © Kahle Acoustics
09/11
The project started life as an underground conference room. By raising the roof in the majority of the space, the acoustic volume was doubled and a visual connection to the surrounding mountains was created. Due to an access road across the site, only a portion of the roof could be elevated, leading to a lower ceiling over the stage: reflectors and absorption panels in the stage ceiling counteract the height difference and acoustically connect the two areas of the hall.

Photo © Roland Halbe
10/11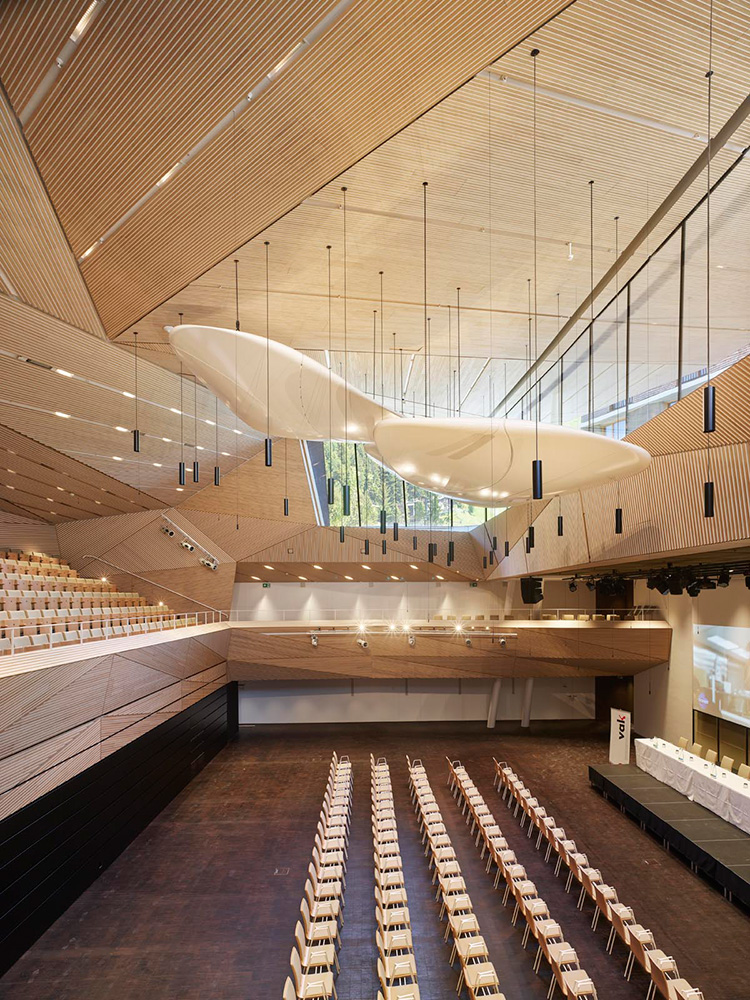 The project started life as an underground conference room. By raising the roof in the majority of the space, the acoustic volume was doubled and a visual connection to the surrounding mountains was created. Due to an access road crossing the site, only a portion of the roof could be elevated, leading to a lower ceiling over the stage: acoustic reflectors and absorption panels in the stage ceiling counteract the height difference and acoustically connect the two areas of the hall.

Photo © Roland Halbe
11/11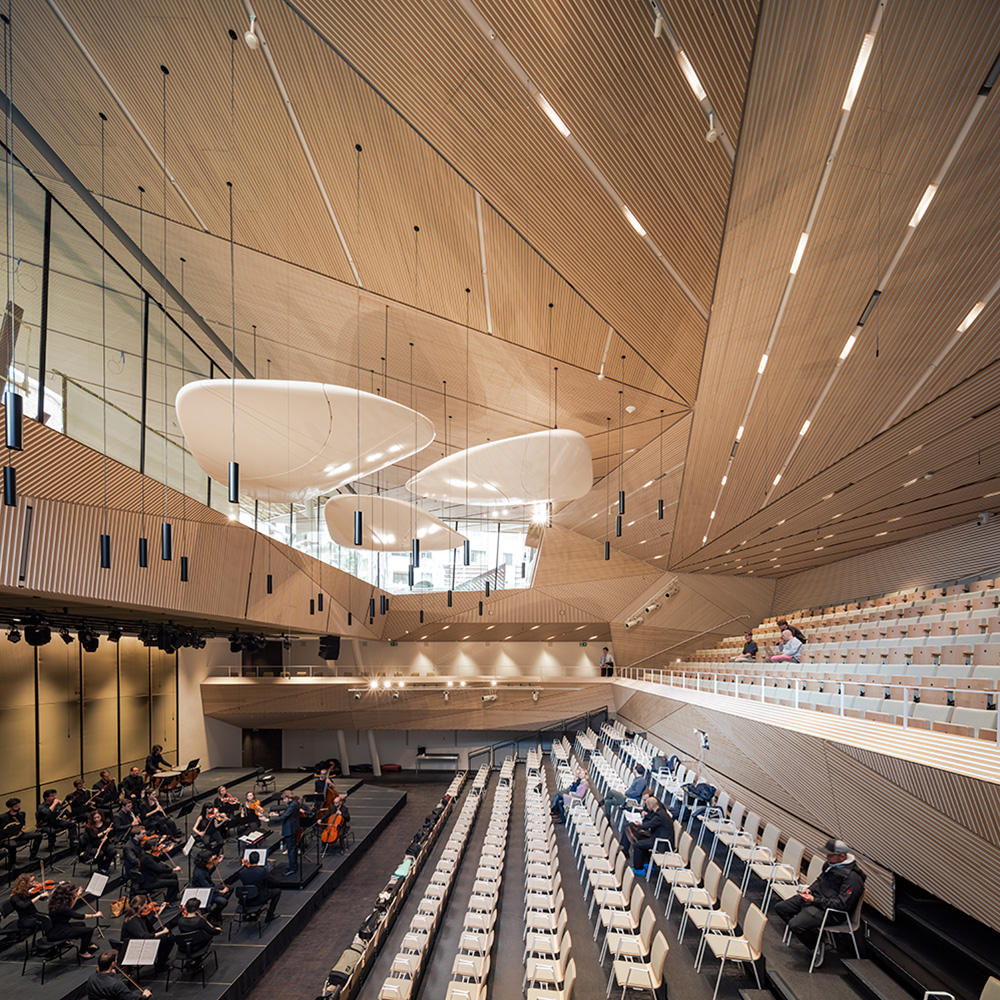 A retractable seating system enables up to 9 rows of seating to disappear under the main balcony to create a flat floor for banquets and other conference events. The suspended reflectors provide reflections to the entire audience and between the musicians: their shape was optimised using 3D acoustic software.

Photo © Omer Kanipak